Stilvolles Chalet für alpine Ferien in der Schweiz - für 10, 6 oder 4 Personen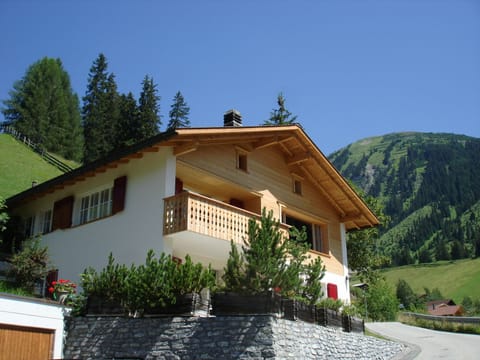 Ausgezeichnet
(4 Bewertungen)
Hütte in Canton of Grisons
10 Gäste · 5 Schlafzimmer · 2 Badezimmer
---
Gründe für eine Buchung
Inklusive wesentlicher Ausstattung
Pool, Küche/Kochnische, Internet/WLAN und mehr
Buchen Sie mit Vertrauen
Wir arbeiten mit den besten Reiseportalen zusammen, damit Sie die perfekte Urlaubsunterkunft zu einem attraktiven Preis erhalten.
---
Über diese hütte Unterkunft
Eingebettet in Canton of Grisons, dieses attraktiv ganze hütte für EUR 452 pro Nacht ist ein großartig Option für Ihr nächstes Reise. Das Chalet in Wieselti ist ein stilvolles Chalet zur Selbstverpflegung im Herzen des Schanfiggtals. Das Chalet bietet komfortable Unterkünfte zur Selbstverpflegung mit herrlichem Panoramablick und ist ein idealer Ort in den Bergen, um eine breite Palette von Winter- und Sommeraktivitäten zu erleben.

Das gemütliche Chalet befindet sich im traditionellen Bergdorf Langwies, in idealer Lage zwischen dem beliebten Skigebiet Arosa (15 Autominuten) und Chur, der historischen Landeshauptstadt Graubündens. Der Arosa-Skipass beinhaltet die Zugfahrt zum Bahnhof Langwies. Im Winter sind abends häufig Hirsche zu Gast, und das Chalet befindet sich in Gehweite zu den örtlichen Annehmlichkeiten des Dorfes.

Das Chalet ist nach Süden ausgerichtet und bietet Platz für bis zu 10 Personen - 2 Schlafzimmer in der oberen Wohnung und 3 Schlafzimmer in der unteren Wohnung. Es besteht die Möglichkeit, das gesamte Chalet oder jede Wohnung einzeln zu mieten. Die angegebenen Preise gelten für das gesamte Chalet. Bitte rufen Sie an, um die Verfügbarkeit zu prüfen.

Das Chalet verfügt über 2 Garagenplätze, 2 Flachbildfernseher, DVD und Hi-Speed WiFi. Frische Bade- und Bettwäsche wird gestellt und die Betten sind bei Ankunft bezogen. Brennholz wird für gemütliche Feuer zur Verfügung gestellt und gut ausgebaute Straßen ermöglichen einen einfachen Zugang zu den Skipisten in Arosa, dem Dorfladen in Langwies oder den Rodelbahnen im nahe gelegenen St. Peter. Im Sommer können Sie auf der Terrasse im Freien grillen.

Wenn Sie es vorziehen, können Sie den Nahverkehrszug nutzen. Der Bahnhof ist 10 Gehminuten entfernt und bietet regelmäßige Verbindungen nach Arosa und Chur. Das Ticket nach Arosa ist in Ihrem Skipass enthalten!

Arosa ist 150 km oder 1,5 Autostunden vom internationalen Flughafen Zürich entfernt.

Das örtliche Geschäft, das Restaurant, der Friseur und das Tourismusbüro erreichen Sie vom Chalet aus in 10 Minuten zu Fuß. Hilfe ist immer in der Nähe, in Form von René, unserem freundlichen Hausmeister, der (fast) jederzeit zur Verfügung steht, um unseren Gästen bei Fragen zu helfen, die entweder das Chalet oder die Umgebung betreffen. Im Interesse aller unserer Gäste sind Haustiere nicht gestattet und wir bitten Sie, im Chalet nicht zu rauchen.
Ausstattung
Pool
Küche/Kochnische
Internet/WLAN
Kamin
Parkplatz
Waschmaschine
Balkon/Terrasse
Spülmaschine
Fernseher
Rollstuhlgerecht
Familienfreundlich
Karte von Canton of Grisons
Ausgezeichnet
(4 Bewertungen)
Hütte in Canton of Grisons
10 Gäste · 5 Schlafzimmer · 2 Badezimmer
---
Gründe für eine Buchung
Inklusive wesentlicher Ausstattung
Pool, Küche/Kochnische, Internet/WLAN und mehr
Buchen Sie mit Vertrauen
Wir arbeiten mit den besten Reiseportalen zusammen, damit Sie die perfekte Urlaubsunterkunft zu einem attraktiven Preis erhalten.
---
Bewertungen
4.5 / 5

"Ausgezeichnet"

(4 Bewertungen)
5.0
Mar 2022
The chalet is equipped to a very high standard with a beautiful kitchen, large living space upstairs and magnificent views. Originally we invited ten as there are ten bed places but were very glad we ended up with only seven as the two double beds are only 4' wide and not big enough for the average couple. We therefore used the two double beds as singles.
5.0
Jul 2016
I stayed in the chalet for a week in July with 11 friends. We had a lovely time! The manager met us at the train station and brought our luggage to the house. The house is well-equipped with plenty of dishes and utensils for a week of cooking. We thoroughly enjoyed the view from the balcony upstairs, and ate our breakfast there usually. There are many opportunities for hikes in the mountains, as well as a short train ride to the town of Arosa. In Arosa there is a gondola to a restaurant and a panoramic view of the alps. It is also a short ride to Chur, which has many cultural opportunities. We had a delightful dinner in the next town, Litziruti. Some members of our group took short walks along the river, and others of us walked for hours in the mountains. We found that there was more to do than we had time for. We would happily return for another vacation!
5.0
Mar 2016
We stayed at the Chalet im Wieselti with our extended family (10 people in total) and had a great week. The chalet was very comfortable and could easily accommodate us all. The amenities are great and it really felt like a home away from home. Location was excellent for us, close enough to Arosa for skiing but also great hiking possibilities from the doorstep. The owners and caretaker were very helpful and friendly and we will definitely be back!
5.0
Oct 2015
we had a lovely time, the house was beautiful and clean, overall an amazing holiday. thanks
5.0
Feb 2015
It was a perfect vacation. The Chalet is very clean, comfortable, equipped with all important things and with perfect Service nearby the house.
4.0
Aug 2014
we were very impressed with the owner, she communicated with us numerous times before our trip and checked in by email on the first day. the chalet is very spacious, clean, well equipped kitchen, magnificent view. We really enjoyed our stay and look forward to returning some day...
3.0
Jul 2014
The view from the front windows of this chalet, down into the valley towards Chur and up the valley toward Litziruti and Arosa, are wonderful. However, the chalet is located just a few metres above the main road between Chur and Arosa, which means there is almost non-stop traffic noise from just before 0600 until between 2000 and 2100. This traffic includes trucks, buses, cars, motorcycles, and many are being operated by people who believe they are race car/bike drivers. Driving between Langwies and Chur is a challenge unless you are very used to mountain driving and the trip even takes some courage for the passenger. The chalet has well-equipped kitchens, with all the required cooking and preparation tools. There is HD satellite service but the TVs are old-fashioned and do not transmit the better quality picture to the viewer. The bedrooms are very small, with very little space around the beds to get in or out of bed without bumping into a wall. There was also a very limited provision of linen with only enough provided for each occupant, rather than enough for linen changes, one bath towel, one hand towel, one facecloth per person, and sheet and duvet/pillow covers for each bed which was to be occupied (and we were there for two weeks so did expect at least the offer of clean towels). The caretakers, the Ashwandens, were very friendly and convenient as they live next door. The village of Langwies was very friendly and has a good shop, the Dorfladen, and a good pub/restaurant, the Edelweiss Gasthaus. The train to and from Chur is an excellent way to travel down into the valley and the timings are extremely reliable. Hiking into the mountains was a real treat, especially with the prospect of good food and drink along the way, such as was available from the Pirigen and Heimeli. Days spent walking were terrific with fresh air and lovely vistas.
5.0
Feb 2014
Mit unseren zwei kleinen Jungs haben wir ein paar Tage Schneeurlaub in den Bergen genossen. Wir haben die obere der beiden Wohnungen gemietet und einige unvergessliche Tage verbracht. Das sehr stilvoll eingerichtete Chalet mit traumhaftem Blick hat uns verzaubert. Im Haus fehlt es an nichts. Eine perfekt ausgestattete Küche (inklusive Nespresso-Maschine), ein offener Kamin mit genügend Feuerholz und Anfeuerhilfen, zwei Zimmer für Eltern und Kinder, ein gemütlicher Essbereich mit grossem Holztisch und ein noch gemütlicherer Wohnbereich mit Panoramablick auf die Berglandschaft. Dass die Einrichtung in einwandfreiem Zustand und auch sauber und gepflegt war, sei der Vollständigkeit halber erwähnt. Für eine Familie zu viert ist die obere Wohnung absolut perfekt. Für grössere Gruppen müsste die untere Wohnung dazugemietet werden. Auch wenn der Bahnhof Langwies in vertretbarer Fussdistanz liegt, ist ein eigenes Auto (insbesondere mit Kindern und Skiausrüstung) sinnvoll. Nach Arosa sind es ca. 10 Minuten - wobei die Fahrt mit der Eisenbahn durchaus empfehlenswert ist! Das Haus ist auf jeden Fall zu empfehlen - und auch für uns war es hoffentlich nicht der letzte Besuch im "Wieselti"
4.0
Aug 2013
Great chalet, well equipped and spacious enough for eight adults to cook, eat, drink and relax together! There was even enough room for occasional extra dinner guests. Split across two floors, which could each be self-contained, the layout was flexible and suited the needs of our two families both with university-aged children - in other words it had TVs, Wi-fi etc. Great location in terms of walking, cycling with good access to Arosa, Chur and intervening villages, by car or train. The weather was fantastic and we enjoyed a variety of local events including an Alpfest in Peist and the traditional 1 August festivities. If you like walking, you'll be spoiled for choice - we particularly enjoyed the trek to the Gruner See (take your swimming togs), followed by food at the Berggasthaus Strassberg, and the walk to the Restaurant Heimeli (more good food) on the way to the Strela Pass. The cable car up the Wiesshorn and then the gondola down from the Hornli was a fun day. The train is a great resource for weary walkers - runs like clockwork and will even take your bike. Langwies is up a valley and in the mountains, so there is the trip down to Chur before you can visit other places, but we spent a day enjoying historic Lucerne and one day we nipped over the border into Lichtenstein and Austria, Some of our party were returning to Langwies after 40 years, others had never been to Switzerland but we all agreed it was a truly memorable holiday! We were very lucky with the weather - only one wet day and some spectacular evening storms. The location and local amenities were excellent, the caretaker and people generally were friendly and the chalet well-maintained - has much more to offer than a standard 'holiday let'. I'd happily recommend Chalet im Wieselti for a unique break and would love to revisit in winter.
5.0
Jul 2013
My husband and I had a most enjoyable and memorable stay in the upper appartment of Chalet Im Wieselti in Langwies. Arriving after dark, we woke the next day to the tinkling of cow and sheep bells in the surrounding fields/meadows, the whistle of the train as it neared the famous Langwies viaduct and breathtaking and uninterrupted panoramic views (from all the main living areas of the chalet) of snow-capped mountain peaks, verdant pinewoods, colourful wildflower meadows and the pretty little alpine village of Langwies. We had hot and sunny weather throughout our entire stay and enjoyed evenings relaxing on the beautiful balcony after a days hiking. The chalet was spotlessly clean, the lounge and dining areas were particularly spacious and the kitchen was extremely well equipped. We also had access to the downstairs laundry facilities. The caretaker, who lives next door, was very welcoming and available to assist with anything. The owners were also most helpful in providing information and advice on the chalet and the surrounding area and responding promptly to emails. The location is fantastic - quiet, peaceful and rural - it felt like we were stepping back in time. We rarely took the car out as there were so many scenic and interesting walks from the chalet itself. One of the unexpected highlights of our walks were the friendly family-run mountain restaurants serving excellent food with sun terraces that had magnificent views. The beautiful resort of Arosa (which we also found to be quiet and unspoilt) was a short drive away (or we could have taken the train) and was perfect for shopping, walking and cable car rides. We would highly recommend both this property and location to others. Infact, we enjoyed it so much that we are already planning to return to this magical place in the Swiss Alps.
5.0
Jun 2013
Beautiful, clean chalet with a beautiful view. Unfortunately we had a week of wet, rainy, snowy weather but the coziness of the chalet was definitely a plus. We enjoyed the fireplace and the rest of the living space. Kitchen was awesome, living space was generous, master bedroom was very tight and the only suggestion is to bring bath towels. We only had 4 simple towels for 4 adults for one week. The garage was great and the check in/out with the neighbor was easy. Access to the owners via email was always easy and met with prompt responses. Washer Dryer in the unit was helpful. I would definitely recommend this property to others.
Häufig gestellte Fragen
Wie viel kostet dieser hütte im Vergleich zu anderen in Canton of Grisons?

Der Durchschnittspreis für eine Anmietung in Canton of Grisons beträgt EUR 158 pro Nacht. Diese Miete liegt EUR 294 über dem Durchschnitt.
Ist das Parken in diesem hütte inbegriffen?

Ja, das Parken ist als Ausstattungsmerkmal bei Stilvolles Chalet für alpine Ferien in der Schweiz - für 10, 6 oder 4 Personen aufgeführt. Für weitere Informationen empfehlen wir Ihnen, sich mit dem Anbieter der Unterkunft in Verbindung zu setzen, um zu erfahren, wo Sie parken können.
Gibt es in diesem hütte einen Pool?

Ja, bei Stilvolles Chalet für alpine Ferien in der Schweiz - für 10, 6 oder 4 Personen steht ein Swimmingpool zur Verfügung. Genießen Sie das Wasser!
Ist Stilvolles Chalet für alpine Ferien in der Schweiz - für 10, 6 oder 4 Personen haustierfreundlich?

Leider ist dieser hütte nicht haustierfreundlich. Versuchen Sie erneut zu suchen und filtern Sie nach "Haustiere erlaubt"
Welche Ausstattungsmerkmale sind bei Stilvolles Chalet für alpine Ferien in der Schweiz - für 10, 6 oder 4 Personen verfügbar?

Wir haben 11 Ausstattungsmerkmale für diese Unterkunft gefunden. Dazu gehören pool, küche/kochnische, internet/wlan, kamin und parkplatz.