Prince Valley Guesthouse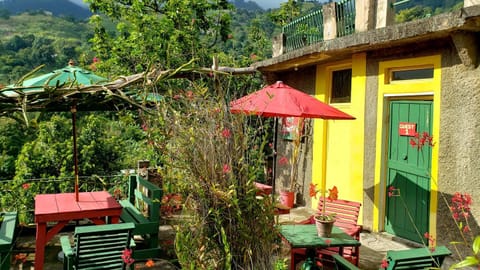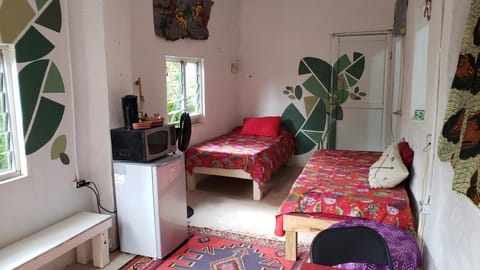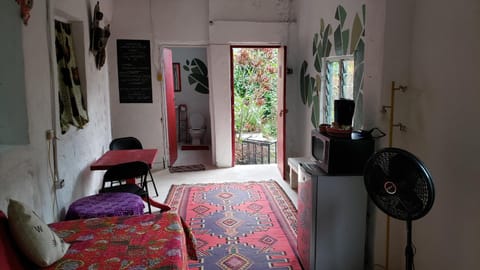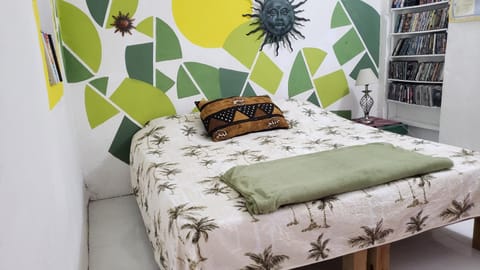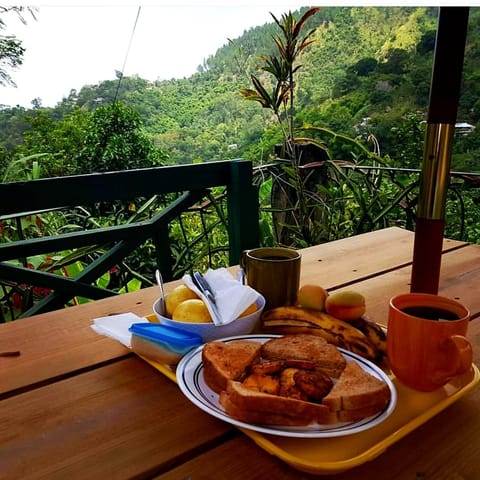 Pension in St. Andrew Parish
Pool
Haustiere erlaubt
Küche/Kochnische
Über diesen pension 
miete
Gelegen in St. Andrew Parish, dieses attraktiv pension für EUR 33 pro Nacht ist ein großartig Auswahl für Ihr nächstes Reise. Das Prince Valley Guesthouse in Irish Town verfügt über einen Garten, eine Gemeinschaftslounge, eine Terrasse und eine Bar. Die Unterkunft bietet eine 24-Stunden-Rezeption, Flughafentransfers, Zimmerservice und kostenfreies WLAN.
Pool
Haustiere erlaubt
Küche/Kochnische
Internet/WLAN
Rauchen erlaubt
Parkplatz
Waschmaschine
Balkon/Terrasse
Fernseher
Garten
Karte von St. Andrew 

Parish
100 % verifizierte Bewertungen
4.6 / 5

"Herausragend"

(114 Bewertungen)
You can eat at the restaurant, the charge is ok. Food was good! Also the view to the valley was fantastic. The owner was very kind to drop me at the nearby coffee farm for a visit
It's very basic accommodation so don't expect too much. Room is very clean but there was a weird unpleasant smell. Shower water is cold only so try to shower before darkness as it gets even colder at night
Bobby and Ruth's place was our favorite nature and cultural experience on the island.
Feb 2023
Where to start! - the tree house cabin - the coffee that was from the grounds - the restaurant was very cool - tons of hiking around - safe area - local community was super friendly -& so much more
Probably the cold showers and the cold pool because it wasn't hot there… but we were also there in December …
The best place ever! The treehouse stay was AMAZING!!
Feb 2023
We LOVED it!!! And we are already missing the place. Bobby is a very kind person and this place is like a heaven. We enjoyed the treehouse so much, that I did want to leave it. We did some hiking, coffee platations visiting/tours and we were just relaxing by listening to birds and eating delecious beakfests and dinners of Chef Terrence.
Well, the shower water was cold be we had known about it when choosing Bobby's place... and in the end, I find it just refreshing :)
Coffee farm & nature
Sep 2022
We had a very pleasant stay, surrounded by nature and a friendly community. We had lunch ever evening cooked for us by an excellent cook. We loved the fresh fruit coming from the farm that we had for breakfast. Our sons had a lot of fun in the swimming pool that was cleaned completely before they used it. We enjoyed it a lot!
The location needs overall some refurbishing.
We had a Jamaican breakfast of salted fish and vegetables, ackee, fried dumplings, green bananas etc. It was very good. The staff were friendly and gave good service.
In our room the shower was cold water only. Really that was the only draw back.
tThis is a wonderful place to feel at home in the Blue Mountains.
Oct 2022
Very friendly host and beautiful surroundings
the views are exceptional and the grounds make you feel at home
Very chill, nice people, good food
Nothing to not like, get ready for an adventurous road to get there (recommend SUV)
A gorgeous rural spot with access to great hiking. The people and the food were wonderful!
Oct 2022
This unique property is tucked away in a true mountain paradise. Everyone we met was so helpful and kind, and really went above and beyond to help us do the hiking we wanted to do. There is a wonderful outdoor eating/sitting area sheltered from rain, and with gorgeous views of the valley. The chef, Terrence, cooked incredible meals, and is just an all around lovely human being. We were able to sample various local fruits raw and cooked. we asked ahead for a heartier breakfast than the one that comes with the room, and Terrence prepared a Jamaican breakfast feast. It is a strenuous uphill climb to get to local hikes (e.g. Catherine's Peak, Hollywell National Park). Guest house staff were able to help us find a local taxi driver to get us to Hollywell on our first day, and Terrence doubled as a fantastic hiking guide. He is a wealth of knowledge about the local flora and fauna, Jamaican and local history. We were sorry to stay only one night, and would love to come again. This guest house and the local area are perfect for getting away from city and tourist hubbub, and immersing in Jamaican mountain nature, coffee plantations, etc.
There was a slight mildew odor in the room (which makes sense given the wildly high humidity on the mountain). We tend to be pretty sensitive to mildew, and we did ok with it for our one night stay. It would be great to have screens on all of the windows so they could be left open without concern for mosquitoes—mosquitoes were relatively few for us in October, but we didn't want to chance it.
Mystical mountain retreat
Jan 2022
The views were sublime and our room was cozy and clean. Really loved the dinner they served us too! Be aware that driving there is an adventure and kinda scary at times but worth it for this unique experience.
The staff were all really lovely and friendly, and informative. They cared about their guests having a good time, and it showed. The food in both the morning and evening was excellent and it was very relaxed, I couldn't recommend it enough.
What a nice place ! It was an unbelievable experience for me. I will come back again !
Jun 2022
The room was so comfortable and cool. You don't need an A/C... There was even a charger in the room for smartphone ! I've never seen that before anywhere. Everything was clean, I was like home. Breakfast was basic but so good and healthy. And let's talk about Robert... He is so kind ! Always trying to help you and solve your problems. He was like a friend but also a Dad. One night, I was drunk and woke him up because I didn't feel well. So he talked to me and made me feel so good. I will really miss him !
I didn't like to leave this place :)
The rooms up in the mountains are awesome! It's a quiet little place. Because of the climate and the whether you see a lot of rainbows, plus this amazing view = magical place! Ruth and Bobby are so nice and welcoming. We enjoyed our stay a lot. It's a highly recommend!!
The property was authentic old Jamaica. The hosts were very warm and welcoming. The views were awesome.
Wish we'd had thick, rich blue mountain coffee.
The place was perfect. Excellent cooking and Ruth was so kind.
The location was amazing- really peaceful and beautiful. Accommodation rustic and charming. Lovely murals and artwork around, clean and everything you need- fridge and kettle in room, clean towels, etc. Plunge pool is a lovely touch and lots of little places to sit and enjoy the view with a red stripe! Staff lovely, very friendly and helpful and happy to go the extra mile to help and just give that extra touch to everything. Food was also lovely- continental breakfast was delicious and completely in keeping with accommodation ( and great coffee!) But also Jamaican breakfast available to order which looked great and evening meals were super tasty- good hearty Jamaican fare. Bobby if I've missed anything out I apologise! We really enjoyed our time with you!
Nothing but I guess to give an honest review I'd have to mention the roads which are awful( but not much to be done about that!) The track down from the main road was not for the faint hearted but that's just Jamaica so I doubt it will put anyone off! Also just to be fair, no hot water, but again, in the setting it was completely normal and just part of rustic Jamaica!
Paradise. Felt like staying with family.
Feb 2022
The location is I credible. You get the most beautiful view of the mountains and the house itself is built with multiple patios to enjoy the view. We slept so well in the cool mountains air. The owners Bobby and Ruth are incredibly kind. on multiple occasions they went out of their way to make us feel comfortable. it felt like we were visiting family rather than staying in a guesthouse. Everyone in the area is super helpful and lovely. some great cafes in driving distance, nice hikes close by, little shops and bars a 10-15 min walk away. You can't really go out for dinner but it doesn't matter because the Prince Valley cook is exceptional. A must do for everyone going to Jamaica.
Nothing, everything was perfect.
a lovely peaceful stay in a breathtaking location
Oct 2021
the location and the very lovely owners
the drive down is a little worrying in a hire car but it is manageable
amazing experience!!
Jun 2022
the hosts were super accommodating and helpful. they organised our hike and provided a fantastic dinner lunch which was incredible and affordable, we can't wait to return!
A great retreat in the blue mountains
May 2022
The hosts were exceedingly helpful in providing directions to get to the property via public transport prior to the stay, and equally hospitable in person when I got there. The location was also excellent for visiting the blue mountains. There are plenty of deck chairs on the property to rest on while admiring the mountain setting. I hiked down to Gordon Town and caught a route taxi to Mavis Bank to head towards Blue Mountain Peak the next day.
Will be visiting again
Mar 2023
The breakfast was excellent. The location was breathtaking
No Hot water in the room shower . Some rough road close to location.
I wish I had stayed longer!
Dec 2022
Thanks so much to Ruth and Bobby for a lovely stay. Such a beautiful location capped by your hospitality and lovely meals. The highlight of my week in Jamaica!
Stunning, peaceful location.. Is one most special places I've stayed. Endless trees and birds to enjoy. Lovely tree house like rooms with idyllic views. Amazing food by Terence. Ruth and Bobby are wonderful friendly hosts, great chats, was hard to leave!
MIXEND REACTION FROM FAMILY OF 4
Mar 2023
NEED TO STATE ABOUT LOCATION IN MORE DETAIL rUSTIC NATURE OF PROPERTY
please go it's amazing
Dec 2021
so beautiful and tranquil staying here was like home from home beautiful couple so welcoming x
Ruth and Bobby are really great people that will make you feel super comfortable. You will have an awesome view and it's a great place not only for hiking, but also for relaxing in nature.
It's better to go there with a rented car. We came by taxi and it is a bit difficult to get a taxi from the guesthouse to different locations for day trips.
great, relaxing hiking base
May 2022
relaxed, peaceful, beautiful surroundings, many hiking trails to explore. wish we could have stayed for longer.
Really lovely people, really take care of me when i was there and feel sick. Had a great time there and the owners are realle lovely
Wie viel kostet dieser pension im Vergleich zu anderen in St. Andrew Parish?

Der Durchschnittspreis für eine Anmietung in St. Andrew Parish beträgt EUR 94 pro Nacht. Diese Miete ist EUR 61 günstiger als der Durchschnitt.
Ist das Parken in diesem pension inbegriffen?

Ja, das Parken ist als Ausstattungsmerkmal bei Prince Valley Guesthouse aufgeführt. Für weitere Informationen empfehlen wir Ihnen, sich mit dem Anbieter der Unterkunft in Verbindung zu setzen, um zu erfahren, wo Sie parken können.
Gibt es in diesem pension einen Pool?

Ja, bei Prince Valley Guesthouse steht ein Swimmingpool zur Verfügung. Genießen Sie das Wasser!
Ist Prince Valley Guesthouse haustierfreundlich?

Ja! Diese pension ist haustierfreundlich. Für weitere Informationen empfehlen wir Ihnen, sich mit dem Buchungsanbieter in Verbindung zu setzen.
Welche Ausstattungsmerkmale sind bei Prince Valley Guesthouse verfügbar?

Wir haben 10 Ausstattungsmerkmale für diese Unterkunft gefunden. Dazu gehören pool, haustiere erlaubt, küche/kochnische, internet/wlan und rauchen erlaubt.