Qandeel - Dar Botto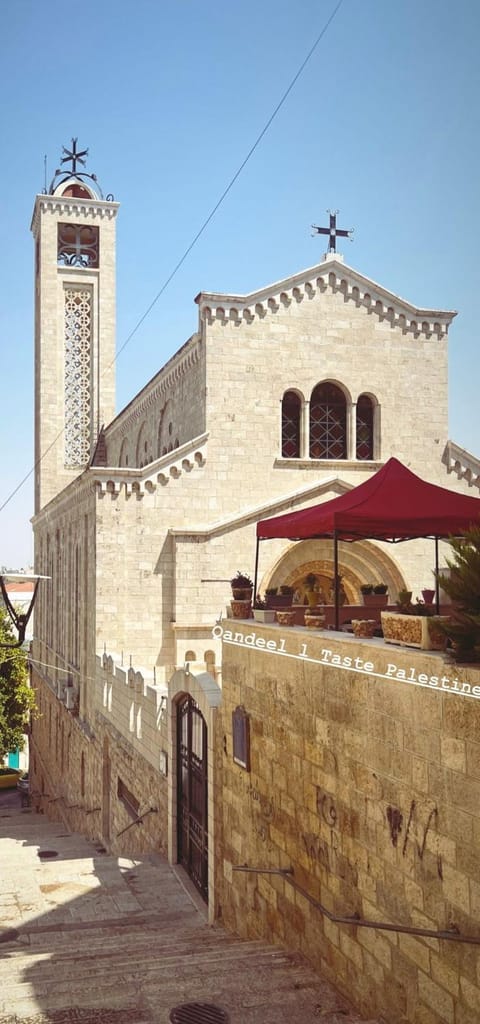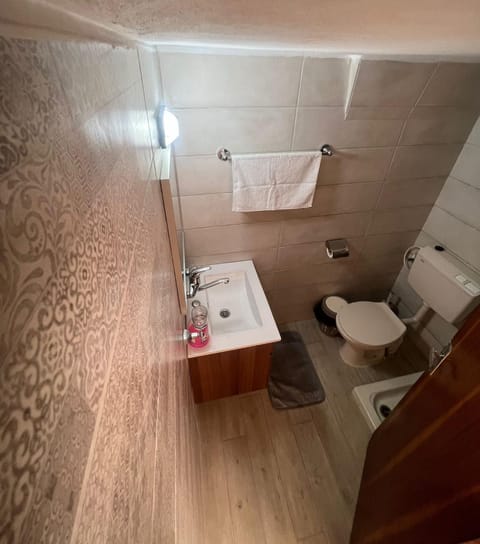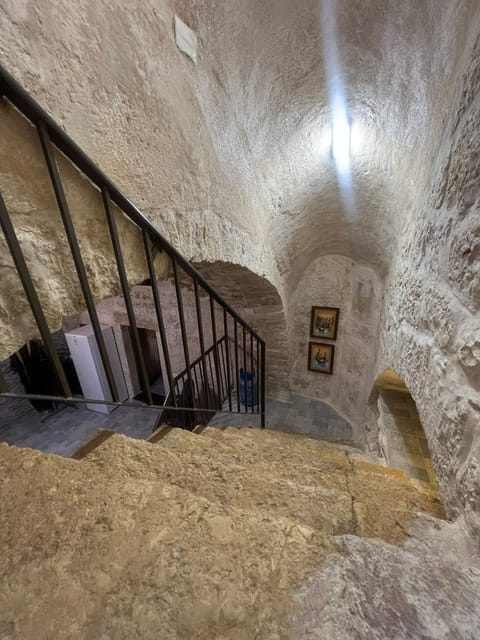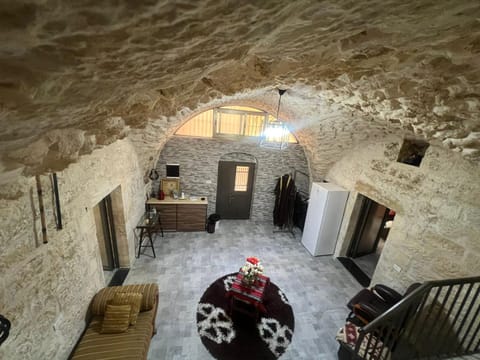 Pension in Jerusalem District
Klimaanlage
Küche/Kochnische
Internet/WLAN
Über diesen pension 
miete
Eingebettet in Jerusalem District, dieses schön guesthouse für EUR 84 pro Nacht ist ein phantastisch Option für Ihr nächstes Pause. Das Qandeel - Dar Botto bietet klimatisierte Unterkünfte und eine Gemeinschaftslounge in Bethlehem, 500 m vom Manger-Platz entfernt. Die Pension mit kostenfreiem WLAN liegt etwa 400 m von der Umar-Moschee und 600 m von der Katharinenkirche entfernt.
Klimaanlage
Küche/Kochnische
Internet/WLAN
Waschmaschine
Balkon/Terrasse
Fernseher
Familienfreundlich
Karte von Jerusalem 

District
100 % verifizierte Bewertungen
4.6 / 5 (26 Bewertungen)
Great place to stay
Feb 2020
We had a wonderful time at Qandeel Guesthouse. It is a cozy place located right in the beautiful old town of bethlehem. Our hosts Irene and Mona were very sweet and welcoming and helped us with any question that we had. Also they provided us with homemade palestinian breakfast, which was delicious. Thank you for your hospitality !
The best experience and stay in Israel!
Nov 2022
The property is centrally located and within walking distance of Nativity of Christ and other heritage sites. If coming for medical Exam Immigration Visa , next door you will find Dr. Robert Sabash, making this place ideal for close proximity and convenience, which was the purpose of our trip. We came for a medical appointment for immigration, and discovered exceptional Hosts. They assisted in every facet of our Trip, which included fair taxi services by Michael and other taxi drivers who went out of there way to help us under the care of the Host per what we needed. An amazing breakfast that felt as if it was served by a 5 star hotel. The rooms are authentic in the Bethlehem experience so get ready to experience the best that Bethlehem has to offer. Our family felt as though we were honored guests. The Host offered a hospitality experience that was above and beyond any we have ever experienced, similar to 5 star stays we have been at I n the past. I want to say sincerely, If you want the best of everything on your trip, you gotta stay at Qandeel Dar Botto. Thank you, Botto family for such a wonderful experience. Truly Amazing!
The owners are fabulous! Super kind and helpful.
The location provided via booking.com wasn't exactly correct, so we struggled to find the entrance. Perhaps email them ahead of time to get the exact location before you arrive.
We had a wonderful time and could not have asked for a more lovely host. Thank you Irene. :)
Jul 2022
The host was just amazing made you feel at home, her hospitality was top notch. Breakfast was perfect and we did have some good conversation. She gave us some history about the accommodations and told us we were home. We would most definitely stay here again. Location was a short walking distance to the square and the markets.
The only thing for myself was the bed was too hard, I have a slightly bad back and need a softer mattress, although I did sleep well. Just woke up a bit stiff.
The accommodation was really worth the money. I travelled there with my parents and we had a full experience living in an old Palestinian house. Everything was clean, the host were available for any questions and the breakfast wonderful. Highly recommended!
Nice peaple, nice traditional house,good area, in the centre of the old town. Good breakfast, fresh orange juice, fresh bread, local produce. They kept our luggage for few hours. Irene helped us with the taxi drivers and she gives any information you need. Keep the good work!!
Our toilet was outside the room in a kitchen where they make your breakfast. It was cold and humid, besides the offer of trying to warm the place for us.I wouldn't recommend for the winter.
Irene is super lovely and helpful and the room was really nice
Experience Bethlehem the authentic way (and just beneath Nativity church)
Mar 2023
Irene and her husband created a warm-hearted and authentic place just beneath the Nativity church in the heart of Bethlehem. You will live in an 200 years old house in a newly reconstructed room which gives you the intense feeling of having changed time (although enjoying the amenities of modern times). Everything is made individually: From the warm welcome, to the room and the served breakfast (the bread comes from a little bakery beneath). On top the owners will tell you about all necessary sites of the city but - more important - about daily life (and traditions) of (Christian) Palestinians and their families. Learned a lot! The place is highly recommended and is truly a "hidden champion" in Bethlehem for everybody who likes to experience Bethlehem the authentic way!
Lovely new guesthouse in Bethlehem with fascinating history
Feb 2020
Irene and her family were wonderful to meet and she had clearly done a lot of work to renovate the property which has been in the family for a long while. Historical elements were particularly interesting and we have a lot of respect for everything that they have achieved need to make sure it is a warm and friendly guest house. The bed was ultra comfortable in the big room - we were given a couple of heaters which helped as it was very cold in the room when we arrived. The breakfast cooked by her mother in law was awesome - very simple but hit the spot. Irene was also kind enough to keep our luggage during the day and wait for us over the time we originally said.
We spent nearly 2 hours walking around in Bethlehem trying to find the property - this was because the walking directions on booking.com were totally incorrect, nobody we asked knew of the guesthouse and when we were actually outside or nearby, there was no indication that we were at the destination - (ie street number, nearby locations or signs), hence we missed it at least once. We had no internet or phone credit to call whilst we were walking around. It is hence really important that it is easily found for guests - even automatically emailing a clear description with directions once booked would be useful. Also the description of the double room needs to be clarified - the private bathroom is technically private but is not in the room. You have to cross a kitchen to enter the bathroom which is sufficient but actually quite small. Potentially for a full guesthouse someone else may think they can use it as it's in the kitchen (communal area) away from the room. I can see someone else commented on this earlier. These factors should be made clear on the room description so there are no surprises. The other rooms in the property seem to have en-suite bathrooms. Also my husband didn't realise there was a switch outside in the kitchen for the hot water so endured a very cold shower! Perhaps a sign near the switch would help. Finally it's important to be aware that the guesthouse is cash only for payment so perhaps booking.com needs to specify the price in ILS because we ended up paying a little bit more than what was quoted in GBP for us.
unique homely place to stay In Bethlehem
Jan 2023
had such a wonderful stay thanks to Irene and here gorgeous family. they were so helpful and kind and couldn't do enough to make sure we had a great time in Bethlehem and Palestine. the hotel is in a good location just a short walk from the main square. we stayed in the family room, which was lovely and comfortable.
Great host. Nice B&B house with 3 bedrooms for guests. The host lives with her family next door and she is quick to respond and help. Nicely decorated although the rooms downstairs are a bit dark. Ideally located in the old city. Great breakfast.
We would definitely come back and stay at Qandeel dar Botto!!
Aug 2022
Breakfast was wonderful! Irene remembered each day what we liked.
Bed mattress not as soft as we were used to, but certainly fine.
we loved our stay here. we can't wait to return. it was a unique and wonderful experience with fantastic hosts.
Jan 2023
beautiful, historic property. perfect location. amazing hosts. comfortable and clean rooms. great communication.
Thank you Irene for this wonderful and authentic experience in the centre of Bethlehem!
Mar 2023
Authenticity, Culinary experience, Availability, Useful advices, Check-out flexibility
Nothing - everything was great
Wie viel kostet dieser pension im Vergleich zu anderen in Jerusalem District?

Der Durchschnittspreis für eine Anmietung in Jerusalem District beträgt EUR 141 pro Nacht. Diese Miete ist EUR 57 günstiger als der Durchschnitt.
Ist das Parken in diesem pension inbegriffen?

Das Parken ist nicht als verfügbares Ausstattungsmerkmal bei Qandeel - Dar Botto angegeben. Für weitere Informationen empfehlen wir Ihnen, sich mit dem Anbieter der Unterkunft in Verbindung zu setzen, um zu erfahren, wo Sie parken können.
Gibt es in diesem pension einen Pool?

Wir haben keinen Pool gefunden, der als Ausstattungsmerkmal für diesen pension aufgeführt ist. Es kann sich lohnen, noch einmal zu prüfen, ob ein Pool für Ihren Aufenthalt wichtig ist.
Ist Qandeel - Dar Botto haustierfreundlich?

Leider ist dieser pension nicht haustierfreundlich. Versuchen Sie erneut zu suchen und filtern Sie nach "Haustiere erlaubt"
Welche Ausstattungsmerkmale sind bei Qandeel - Dar Botto verfügbar?

Wir haben 7 Ausstattungsmerkmale für diese Unterkunft gefunden. Dazu gehören klimaanlage, küche/kochnische, internet/wlan, waschmaschine und balkon/terrasse.