Suites Mendibil con parking gratuito dentro de la propiedad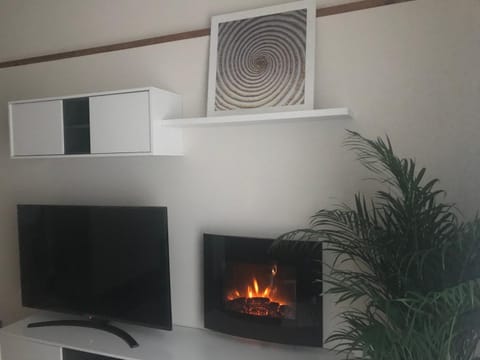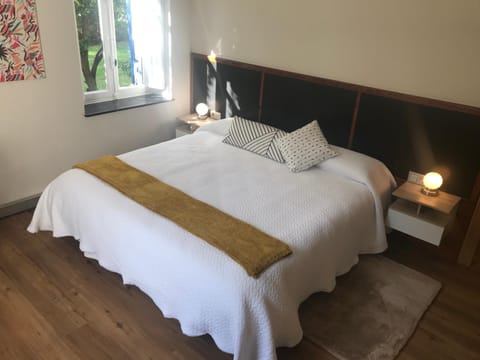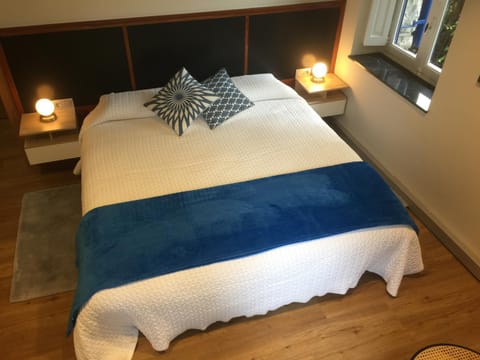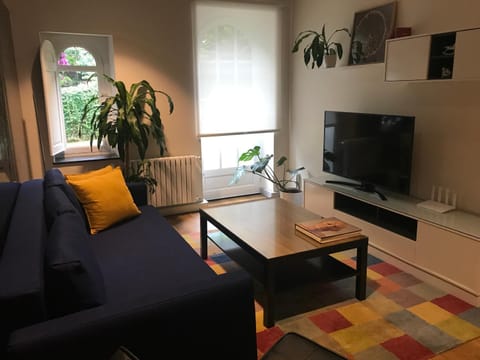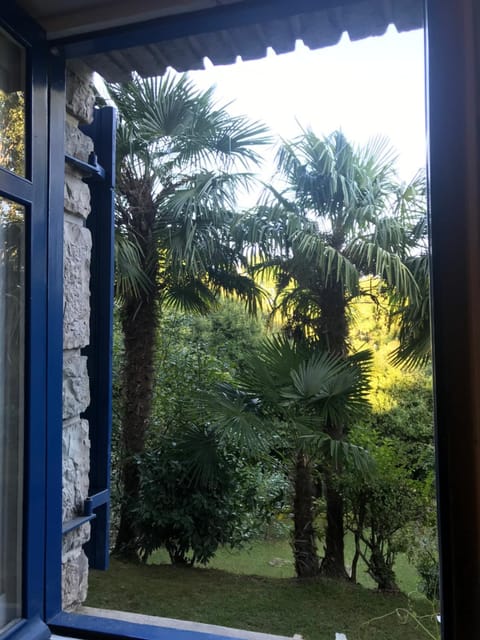 Über diese pension Unterkunft
Befindlich in Irun, dieses attraktiv pension für EUR 45 pro Nacht ist ein großartig Option für Ihr nächstes Pause. Set in Irún, 1 km from FICOBA, Suites Mendibil con parking gratuito dentro de la propiedad features views of the garden. The property is around 1.8 km from Hendaye Train Station, 14 km from Pasaiako portua and 16 km from Saint Jean de Luz Train Stati...
Ausstattung
Pool
Haustiere erlaubt
Küche/Kochnische
Internet/WLAN
Kamin
Rauchen erlaubt
Parkplatz
Waschmaschine
Whirlpool/Spa
Fernseher
Garten
Bewertungen
5.0 / 5

"Herausragend"

(487 Bewertungen)
100 % verifizierte Bewertungen
Would love to stay here again, wonderful place and hospitality!
Sep 2023
This property is close to everything and owner was amazing, very accommodating!
Un verdadero placer
Sep 2023
Special and memorable.
Sep 2023
The suite was big and comfortable and you could see the host put uttermost care in all the details to make the guest feel at home.
Well located family feel suite
Aug 2023
Design of the suite was lovely. Romy was an outstanding host with great tips and advice.
Beautiful home, best bed this trip, friendly couple giving great tips
Jul 2023
The bed was amazing! Very friendly couple giving great tips. Beautiful basque home and super good value for money
The hosts were amazing. Nothing was too much trouble and extremely friendly. Also the room was excellent....super comfy bed. Fab location to the centre and added extra close to a park to walk our fur babies.
The host was so welcoming and helpful! The neighborhood was ideal and everything about the space was pristine.
Everything was great. It could have been a little cheaper but you got what you paid for.
Best stay in Spain
May 2023
Our hosts couldn't have been more helpful, they were so friendly. It was very comfortable, like our own home. Facilities were excellent. Our hosts provided great information on tourist attractions in the area. We will return.
Care and attention given to guests, exceptional sleeping comfort, Romy is a wonderful host who takes special care of her
May 2023
Romy, host, was fantastic from start to finish. Such clear communication at all times. Our room was terrific. Big lounge, separate bedroom and bathroom. The bed was so comfortable and the linen was amazing. we had a great nights sleep. The kitchen was next to us which was great for breakfast and we utilised it during our stay. We had a great overnight stay and would recommend it to anyone to stay at Mendibil, you will not be disappointed.
Nothing, everything was great
Stylish, comfortable and quiet with a wonderful host. Great location close to town.
May 2023
What a wonderful find! Romy our host greeted us and showed us where to park our car on the property. Very safe. Then we were treated to a cup of tea and shown around the apartment and kitchen. The rooms are very stylishly and tastefully decorated. Everything you needed was on hand. WiFi, coffee maker, hairdryer, bottle of water, usb charger etc. Netflix was available on the TV too. The bed was enormous and very comfortableWe opted for breakfast which was ready at 8.00 and we had the kitchen to ourselves. There was bread, juice, coffee tea, cheese, pastries, cereals and much more. Excellent value @ €6.00. There was a water bowl and food bowl for our little dog and a dog bed too. She even had a doggie treat. Not knowing the area we asked for a recommendation for a restaurant. Romy suggested a small gastro bar just 5 minutes walk away and even made a reservation for us. The food was great, lovely atmosphere and friendly staff.
To be honest we can't think of anything more we needed.
A stylish and comfortable apartment with generous and thoughtful hosts.
Dec 2022
Romy and Jesús are such perfect hosts that you feel almost that you should buy them a little gift for having you to stay! No effort was spared in making us feel incredibly welcome in their exceptional apartment home. This is a stylish, beautifully decorated, perfectly equipped, clean and comfortable place to stay in Irún. We couldn't have asked for more from the apartment or from our hosts. Thank you!
absolutely stunning value
Dec 2022
absolutely fantastic reception from the owners beautiful room, elegantly furnished. , lovely breakfast. just 2 minutes walk to the central plaza. when looking for the hotel drive slowly look to your right for a Swiss chalet type building with a small sign saying HT. there is not any big neon hotel sign. I look forward to returning there.
Lovely! Perfect location to our journey to France. Thank you Romy for a great stay!
Dec 2022
The breakfast was perfect, great selection and great value. Romy, was a great host. Helpful in every way, including a good recommendation for an evening meal, which she booked ahead for us. The accommodation exceeded expectations, including making our dog welcome too with bed, bowl of water and doggie treat. Would always book again when we have to make our journey from Spain to France.
Un sitio espectacular para descansar y desconectar.
Generous, kind Romy has the very best suites EVER
Oct 2022
Everything was absolutely perfect, Romy went above and beyond to make my stay special and she exceeded by far all my expectations
There was nothing I did not like, everything was beyond perfect
The place is very nice and location is very convenient. Romy and Jesus are amazing hosts. Everything is very well organised. We would recommend this place.
very comfortable and friendly
Sep 2022
the place was great, the bed was very comfortable and I got all the information I needed to start the northern Camino
The suite was beautiful, comfortable and well-equipped. The hosts were very friendly and hospitable. We enjoyed our stay a lot.
Perfect accommodations!!
Sep 2022
I've been traveling for weeks now and Mendibil has been the best place I've stayed so far! I was greeted by Romy who showed me around the room, gave me local tips and made me feel so welcome! The place was so nice! Beautifully decorated, sweet touches, the temperature was perfect and the bed was so very comfortable! Breakfast was wonderful and perfect before I started the Camino del Norte. The location is very convenient to the market, shopping and many restaurants! Would definitely stay again and would recommend to anyone staying in Irun!
the hosts were very nice and welcoming, would love to stay for more time.
Sep 2022
the property was very clean and comfortable, the breakfast was very complete and delicious, included every food you can imagine. All the amenities were included.
Oasis in city centre
Sep 2022
This is a most beautiful and welcoming home! It's meticulously clean , very airy & bright and has a lot of comfort items to make you (& your dog ) feel at home. Both check-in and check-out were professionally handled and easy. City centre location with free parking and great restaurants within walking distance. We would definitely stay there again. Thank you R E & G & 🐕 .
There was nothing I didn't like
Excellent accommodation the night before starting the Camino.
Sep 2022
Owner - Romy could not have done more for us. Camino baggage drop - this is a listed property for Correos. Location - near the Euskotrain station from Bilbao and San Sebastian, very near the centre of the town and just off the Camino. Cleanliness - the place was spotless. Peaceful - very quiet and tranquil. Local knowledge - good recommendations of places to visit, eat and drink.
Really there was nothing we did not like. I would definitely recommend this as a place to stay the night before starting the Camino Norte.
lovely suite, very comfortable , clean and stylish, five minutes walk from the town centre. Safe secure parking, good breakfast, and lovely accommodating hosts
Very lovely hosts and an awesome apartment
Jun 2022
Romy and her husband are the most wonderful hosts. They are incredibly nice and accommodating. The apartment is insane. Very large, you immediately feel comfortable and homey. Also, you can park the car safely (you should be able to park well) and the area is very good.
The house is really great, but unfortunately the apartment is on the lower floor. Above lives a family that was not really very quiet and through the floors you really hear every step. Even more so when someone doesn't make an effort to be considerate. However, this is really no fault of Romy and her husband. They really try everything to compensate for this small deficiency. I'm sure many don't care, but I wanted to be honest and mention it. I really have to say that I thought long and hard about mentioning it, but there are just people who are very sensitive to noise (me too) and before they might get bad reviews from people who really find it annoying, I think it's better to warn those people directly and let them decide for themselves whether or not to tolerate it. In any case, the apartment deserves very good reviews.
Friendliest of welcomes, Romy had prepared info for us for sightseeing and was always contactable. The attention to detail was Impeccable.
Nothing to comment about here.
Excellent place to overcome jet lag and start the Camino
May 2022
Very clean and comfortable. Very quiet neighborhood. Great beds and shower. nice breakfast. Host was so nice and welcoming and oriented us to where the Camino started and where to find supper .
Simply great, do not hesitate a second to book!
May 2022
Everything was perfect from the time of booking to the real experience. I was warmly welcomed by the host even though I arrived a bit late. The suite was above my expectations. The bed was very comfortable as was the rest of the facilities. My early breakfast was just what I needed to start the day. I appreciated the little words on a board in the morning…too bad it was too short in fact.
Great location, very close to the Camino del Norte. The suite was beautifully decorated, very clean and spacious! We had access to the kitchen, and our host Romy prepared a wonderful breakfast. She also gave us a restaurant recommendation, and other pertinent information. Highly recommended! Also very quiet, and a comfortable bed.
Comfortable, clean & modern
May 2022
Very comfortable and clean and in a great location close to amenities but still very quiet. Romy & Jesus were welcoming, friendly and very helpful. Accommodation was tasteful and modern, light and spacious. Would certainly stay again.
Great place to start the Camino
Apr 2022
Great location for pilgrims starting the Camino del Norte. Good communication and a very warm welcome by Romy. Rooms are very spacious, clean and warm with a nice view of the garden. Bed very comfortable & super fast wifi. Fab breakfast.
So wonderful that I wish I could have stayed forever!
Apr 2022
Everything was just perfect - Romy and Jesus are the best hosts a traveler could ask for; the accommodations were clean, comfortable and well-stocked; the breakfast was great and the location was perfect. Just fantastic! Romy is an excellent communicator and pays perfect attention to details.
Nothing - it was perfect.
Everything. It was fabulous and a very good find. The host could not have been more helpful and the apartment was just perfect.
Häufig gestellte Fragen
Wie viel kostet dieser pension im Vergleich zu anderen in Irun?

Der Durchschnittspreis für eine Anmietung in Irun beträgt EUR 69 pro Nacht. Diese Miete ist EUR 24 günstiger als der Durchschnitt.
Ist das Parken in diesem pension inbegriffen?

Ja, das Parken ist als Ausstattungsmerkmal bei Suites Mendibil con parking gratuito dentro de la propiedad aufgeführt. Für weitere Informationen empfehlen wir Ihnen, sich mit dem Anbieter der Unterkunft in Verbindung zu setzen, um zu erfahren, wo Sie parken können.
Gibt es in diesem pension einen Pool?

Ja, bei Suites Mendibil con parking gratuito dentro de la propiedad steht ein Swimmingpool zur Verfügung. Genießen Sie das Wasser!
Ist Suites Mendibil con parking gratuito dentro de la propiedad haustierfreundlich?

Ja! Diese pension ist haustierfreundlich. Für weitere Informationen empfehlen wir Ihnen, sich mit dem Buchungsanbieter in Verbindung zu setzen.
Welche Ausstattungsmerkmale sind bei Suites Mendibil con parking gratuito dentro de la propiedad verfügbar?

Wir haben 11 Ausstattungsmerkmale für diese Unterkunft gefunden. Dazu gehören pool, haustiere erlaubt, küche/kochnische, internet/wlan und kamin.