Colinda Cabanas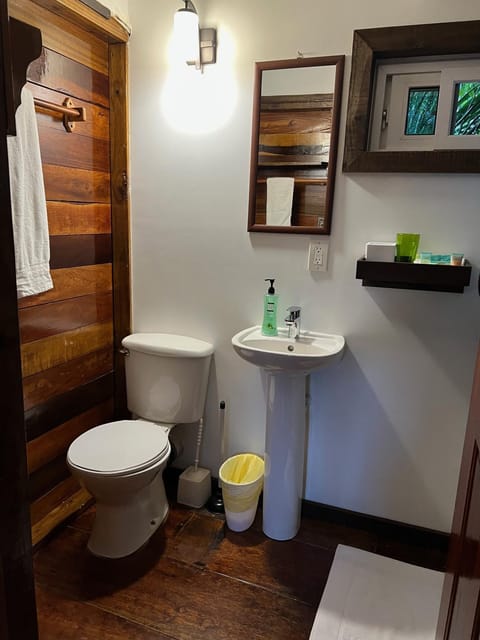 Sonstiges in Belize District
Pool
Klimaanlage
Küche/Kochnische
Über diesen sonstiges 
miete
Eingebettet in Belize District, dieses attraktiv rental für EUR 82 pro Nacht ist ein phantastisch Auswahl für Ihr nächstes Urlaub. Das Colinda Cabanas bietet 14 Suiten und Cabanas, die sich direkt am Strand befinden und eine herrliche Aussicht auf das weltweit zweitgrößte Barrier Reef bieten.
Pool
Klimaanlage
Küche/Kochnische
Internet/WLAN
Parkplatz
Waschmaschine
Balkon/Terrasse
Fernseher
Strand/Ufer
Garten
Familienfreundlich
Karte von Belize 

District
100 % verifizierte Bewertungen
4.8 / 5

"Herausragend"

(463 Bewertungen)
Love Calindas Cabanas
May 2021
What a wonderful magical place to stay! The staff was friendly and accommodating and the cabana was just perfect for two to four people.
Access to the beach, kitchen for cooking your own food, nice outdoor patio for lounging, seaside deck with hammocks, iguanas and cool tropical breezes.
Best place on earth!
Oct 2022
what a paradise. It is very clean, there is airco and a nice terrace for your coffee in the morning. We felt so welcome when we arrived. Kari the owner is lovely, friendly, really helpful and she gives good advice and recomendations where to go out for dinner. The rest of the staff is very friendly too! We had some health issues and Kari helped us with everything & brought us to the doctor on the island. Felt like family. We are so thankful and we hope to come back some day!
We had it "Made in the Shade".
Apr 2021
We upgraded to a cabin with AC as we came to Belize from a snowy mountain climate and we were not yet acclimated to the Tropics. We also stayed cool in the shade while listening to the many birds. I especially liked the loaner bikes so we could explore the Island and book our diving excursions. Our cabin was clean and spacious. Thank you for the relaxing stay.
Amazing facilities, stylish room, friendly staff, great value.
Feb 2023
We moved here after deciding to stay in wonderful Caye Caulker for a bit longer and our first hotel was booked. We were sooooo glad we moved - this was amazing, and cheaper than the other one. Really good value (for Belize). Fantastic facilities, clean and stylish. friendly staff, lovely comfy chairs and loungers on one of the few bits of beach on the island. We were just sorry we couldn't stay longer!
Nothing negative to report!
Great location, great people, great value. We will be back!
Mar 2022
We loved the beach front location. The cabana we rented was clean and comfortable and had everything you needed to enjoy your stay. We were able to cook breakfast every morning of our stay. The kitchen was small but user friendly. They provide you with clean drinking water and coffee.
We liked everything about our stay here. The price is so affordable for a little slice of Belize beachfront heaven. Do want people to know though that if you are looking for fancy this is not the spot for you. Comfortable, clean and incredibly friendly staff who are there to get you whatever you need.
We loved the island and Colinda's so much that we have decided to make this an annual trip.
Sep 2021
We loved everything about Colinda's. And it was the perfect distance from town. Close enough to walk, far enough to be peaceful and quiet. We especially liked sitting on our deck, looking out over the water and reading a book.
They've thought of everything
May 2021
We liked everything about the property. The room had a well stocked kitchenette with a good size fridge, coffee BEANS (with grinder), fan and A/C, a clothes line, and filtered water. The property has kayaks and snorkel gear to use for free, a lovely dock with comfortable chairs and hammocks, and each room comes with 2 bikes. We didn't hear other guests and felt like we had our own private getaway. The staff were super helpful and gave great recommendations. They booked us a lovely massage on the water and COVID testing for travel right here so we didn't have to go anywhere. Outstanding value. I highly recommend.
It would be nice to have more options for shade by the water.
Amazing Girls Trip!
May 2021
We had such an amazing stay at Colinda's. I look forward to visiting again! Everyone is friendly, readily available, and extremely helpful in booking excursions and navigating the island. Thank you!!!
I would definitely stay at Colinda Cabanas again!! It was perfect for our trip!
Oct 2022
Very well kept up!! the bikes were great to get around town! Having a kitchenette made for easy breakfast to save some money too! Each cabana is situated so it feels very private.
The bed was very firm- and the pillows were hard…that's seriously the only thing. But after a day busy scuba diving or windsurfing, I still slept just fine!
Fantastic staff and rooms. The place is so lovely and well kept.
Oct 2021
The staff were so lovely and accomodating. Picked me up from the ferry in a golf cart and were there to help with everything. I borrowed the kayaks and they did the laundry. Really lovely place to stay.
Lots of mosquitos, which was by no fault of the hotel just the rainy season. It is a bit of a walk into the main part of the town (maybe 10-15 mins) but they do have bikes.
The staff is wonderful!
Apr 2022
The staff were all super friendly and welcoming. They went out of their way to make our stay comfortable and to assist us with any travel arrangements we needed. The bikes that you get for free with the room were awesome!
The stay was fantastic and I would definitely stay here again.
Jul 2021
The staff were accommodating and helpful, look and location were appealing, everything was clean. It's a quiet spot toward the end of the island.
There was nothing I didn't like
We really enjoyed our stay here, the excellent hospitality of the owner, and highly recommend it!
May 2023
The staff was wonderful! The owner, Kari, is so lovely and helpful. The rooms are quaint and have everything you need for your stay. The grounds are adorable. We loved having the bikes included in our stay and used them daily! We had coffee at the cafe a few times and my husband couldn't stop raving about it! I have some sensitivities to smells and chemicals and they were very accommodating. You truly feel like "guests" not customers here!
We had a couple issues with the a/c and coffee grinder not working properly, but Kari was always very responsive in getting things fixed. The location is a little far from the main area of town, though "far" is relative here, meaning about a 5 minute bike ride! There was some sargassum washed up on this side of the island, as there is everywhere. We spent much of our time on the west side of the island because there was no seaweed and the water is calmer. Apparently, that changes based on the time of year and direction of the wind!
Great vacation relaxing and enjoying island life!
Jan 2023
The staff are amazing and go out of their way to make sure you have a wonderful stay!
The room was amazing! The air-condition was new, there were hot water in the shower also at rainy days. The wifi is super strong and the flat t.v in the bedroom was smart t.v! With Netflix, YouTube and more else! The kitchen facilities are so rich so we cooked and backed almost all of our meals!
quiet, couple's spot on the water
Apr 2022
The property is great, away from the party but close enough to walk or bike there if you want (anything on the island really is) CUTE dock on the ocean with a hammock at the end in the water. great porch on every cabana to drink a morning cup of coffee surrounded by coconut and banana trees. The bike included with the room was my favorite part! we didn't get to utilize the kayaks because it was quite windy during our stay but they looked like nice kayaks. 10/10 will be back.
The property has an excellent location and is a welcome relaxation spot. They provide bikes with the room which is the best way to get around the island. Only a 8 minute walk from the ferries and a 15 minute walk to the Split or faster with the bikes! Each room has a hammock on the patio and the staff are so friendly - can't wait to go back!
Nothing at all! It's perfect!
We had a great stay and enjoyed the wonderful view and excellent facilities of our beachfront cabin
Jun 2022
The ocean view from the room was amazing, the cabin was clean and had everything we needed including free bicycles and kayaks.
Not much to say, everything was quite perfect, Perhaps as an improvement, a new set of sharper kitchen knives would be great.
would go there again. Totally recommended
Jan 2023
The location was perfect, the staff was super helpful and welcoming, super quiet, nice beach access
One of the nicest properties on the the island.
Nov 2021
The Colinda Cabanas property was awesome! Directly on the water with tons of beautiful, breezy palm trees for shade. The cabanas were super cute. And the staff was amazing! So friendly and helpful with everything we needed. They called taxis, booked massages and gave us all of the info we needed. You can get cold drinks and a few souvenirs in the office. They even scheduled the doc to come and give us our pre-travel COVID tests right there on the property. We will definitely be back!
100% - 10/10 - Top shelf - Aces
Mar 2022
The Cabanas are comfortable, cute, clean. Staff is incredible and went out of their way to assist us, Juan booked appointment at barber for me, Keri researched many options to further our travels. Bikes really are a benefit and included, also the coffee maker, toaster, fridge/freezer are a bonus. Seriously book this place if it's available. We stayed in #12 and it has AC and a large deck surrounded by palms and you still can see the ocean a little.
Sunshine-y room, and lonely staff. Wonderful spot.
Life long memories
Feb 2022
Staff staff staff. Just above and beyond!
very thoughtful, clean nice place
Mar 2022
staff are very nice. bikes are available to use
Very enjoyable stay
Jun 2022
Really great accommodations, very clean, even better in person than the pictures & free bikes was awesome! Juan (on site) was so nice & helpful.
Quiet location close to the main street. Super cute and quaint establishment with a nice beach front and lounge area. Staff was super friendly. Definitely worth the stay!
A room without AC can get a little rough but it's doable! I truly have no complaints.
Quaint, the well kept grounds, the out front dock.
To far from downtown area. Bicycles are very rusted and difficult to peddle. Lots of oil to keep them loose. No air conditioning.
The people there are extremely nice and accommodating. Use of the bicycles were a big plus.
Jul 2021
The room was very small for 3 people.
Wie viel kostet dieser sonstiges im Vergleich zu anderen in Belize District?

Der Durchschnittspreis für eine Anmietung in Belize District beträgt EUR 135 pro Nacht. Diese Miete ist EUR 53 günstiger als der Durchschnitt.
Ist das Parken in diesem sonstiges inbegriffen?

Ja, das Parken ist als Ausstattungsmerkmal bei Colinda Cabanas aufgeführt. Für weitere Informationen empfehlen wir Ihnen, sich mit dem Anbieter der Unterkunft in Verbindung zu setzen, um zu erfahren, wo Sie parken können.
Gibt es in diesem sonstiges einen Pool?

Ja, bei Colinda Cabanas steht ein Swimmingpool zur Verfügung. Genießen Sie das Wasser!
Ist Colinda Cabanas haustierfreundlich?

Leider ist dieser sonstiges nicht haustierfreundlich. Versuchen Sie erneut zu suchen und filtern Sie nach "Haustiere erlaubt"
Welche Ausstattungsmerkmale sind bei Colinda Cabanas verfügbar?

Wir haben 11 Ausstattungsmerkmale für diese Unterkunft gefunden. Dazu gehören pool, klimaanlage, küche/kochnische, internet/wlan und parkplatz.