Amrita Villa Sidemen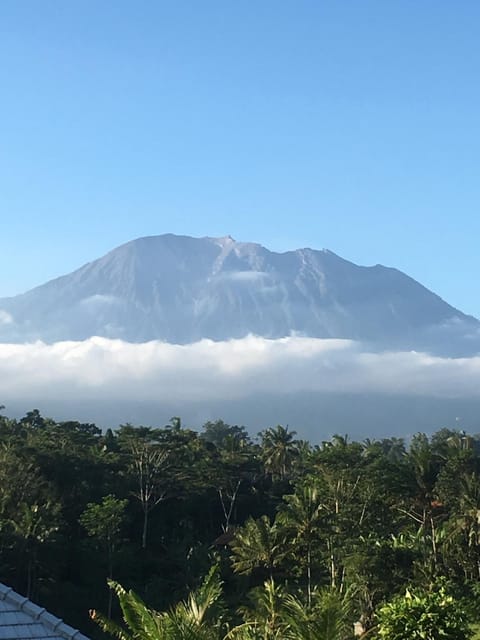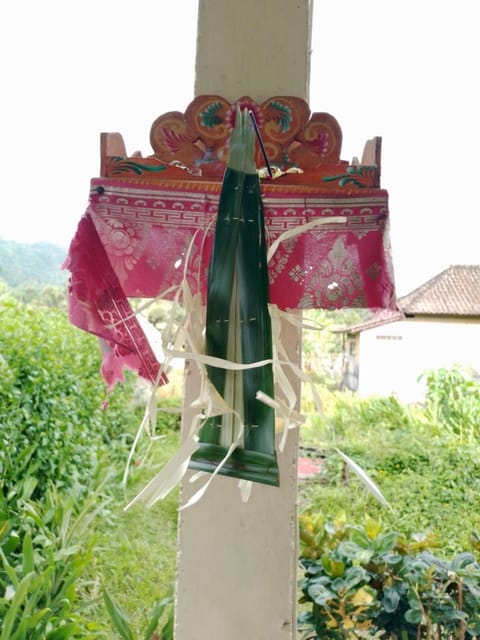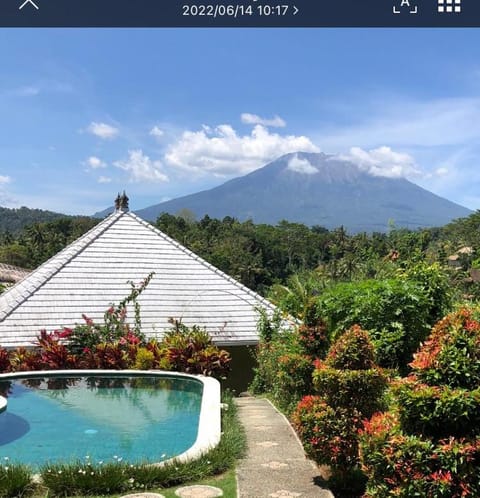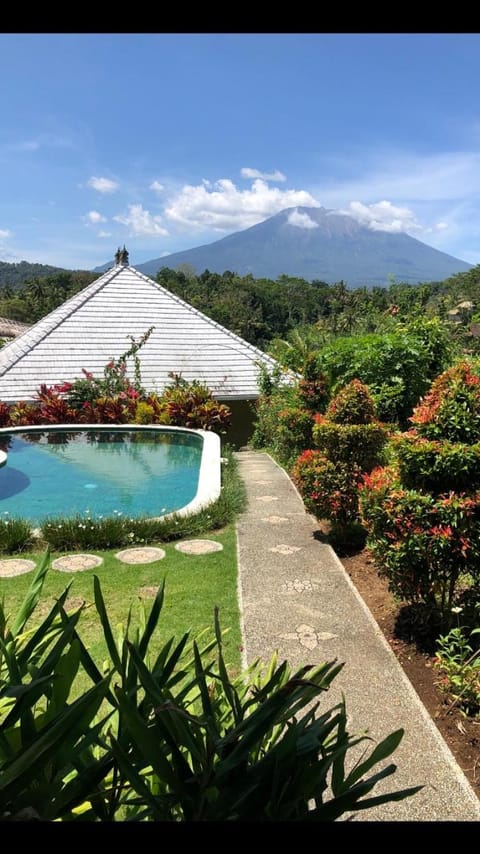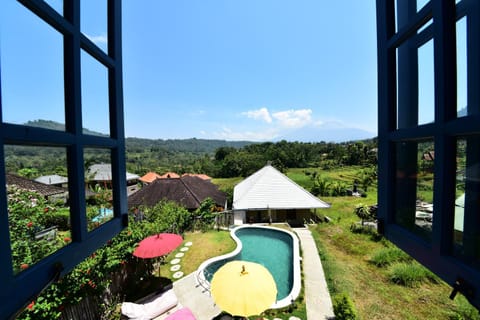 Sonstiges in Sidemen
Pool
Klimaanlage
Küche/Kochnische
Über diesen sonstiges 
miete
Gelegen in Sidemen, dieses schön rental für EUR 25 pro Nacht ist ein phantastisch Auswahl für Ihr nächstes Urlaub. Die Amrita Villa Sidemen in Sidemen liegt 30 km von Goa Gajah entfernt und bietet Unterkünfte mit einem Garten, kostenfreien Privatparkplätzen und einer Terrasse.
Pool
Klimaanlage
Küche/Kochnische
Internet/WLAN
Parkplatz
Waschmaschine
Balkon/Terrasse
Whirlpool/Spa
Garten
Familienfreundlich
100 % verifizierte Bewertungen
4.7 / 5

"Herausragend"

(46 Bewertungen)
Wonderful view on mount Agung, friendly staff, big room, great price. They have a water dispenser in the room which is more eco-friendly than the regular water bottles.
The room is basic but enough for a few nights. No AC but a ventilator, again enough for a short stay
Best views in Sideman
Nov 2022
We stayed in the King room. This is more like an apartment than just a room as the whole upstairs above the cafe is your own private space. It has a sitting area with nice big windows great for people watching and the bedroom is at the back so it has privacy and views of Mount Agung. The pool is shared with one villa at the back but when we used it we had it all to ourselves. We also did the rice paddy walk with the property manager and would recommend this if you stay here. The cafe downstairs only serves drinks but there are plenty of really good restaurants within 5 minutes walk, our favourite meal was at Bukit Artha, less than 100m away.
The place is super relaxing and the staff are super nice and helpful
Sep 2022
we had the upstairs room with 2 balconies and it's was just perfect!
We had a whole villa with a swiming pool for ourselves. The staff was absolutely amazing. While we were there, our daughter got a bit sick and they were so helpful. They brought breakfast to our villa, they got young coconuts for our daughter. Can't recommend enough
We would definitely come back to Sideman and stay at beautiful Amrita.
Sep 2022
We had a fantastic stay at Amrita in beautiful Sideman. Very quiet location surrounded by rice farms. There are only 2 rooms here which is ideal. Beds are super comfortable and our villa was more than we hoped for with big rooms, aircon, fridge, kitchenette, lounge and lovely back patio overlooking green lush rice fields. We had a couple of really amazing massages in our room organised by Amrita staff which were just wonderful and really set us up for a relaxing stay. There are heaps of fantastic places to eat within easy walking distance. wifi is good. Nyoman and staff are lovely and very helpful.
we loved everything here and would have booked for more days had the villa been available.
Basic, but pleasant lodgings in gorgeous Sidemen
Jul 2022
Villa Amrita Sidemen has only a couple of rooms: a bungalow set by itself and a room atop the roadside café. From the latter you get a 360-degree view of the valley, the distant rice terraces, and, on a clear day, Mt. Agung. It's conveniently located along Sidemen's only row of little hotels and restaurants. The staff are there to please, even if any services you require link to their family members—it's a small town after all. Breakfasts are basic but ample. Facilities are all fine—plenty of wifi, hot water and drinking water. There's even a small, pleasant pool if you find time to use it. It can get very cool and windy at night, and would be quiet but for the fact that it's on the main road, so you'll hear motorbikes at night.
Not much to dislike. If you're sensitive to privacy, you'll want to close the curtains. Geckos—everpresent roommates in Bali—can be surprisingly large here. The staircase up to the room is quite narrow and could be tricky for the less nimble. Would be nice to have bacon or sausage with breakfasts.
Very private villa with pool, all exclusively for us only.
The hosts were super welcoming and helped me rent a scooter. The room is big and very clean.
super friendly stuff with options for local tours and other services, brilliant view, basically equipped, everything functional and Bali style. there is a garden villa and an apparent on top of the main building- we had the villa with a family of four
maybe a bottle of water in the fridge - but all over nothing serious to complain about
Best ever massages from Putu Dasi. Massages in the Villa arranged by the staff .
Sep 2022
Quaint and lovely Bali house great for anyone or family looking for a true Bali experience but still with all the comforts. The 2 bedroom Villa is fabulous for a family. Lots of nice restaurants very close by. Staff are friendly and helpful. Massages in the Villa by Putu Dasi were best we have had in Indonesia.
This place is paradise
Mar 2020
Not only is it set with a perfect view of Mnt Agun, the village of Sideman is amazing, quiet, lush, with so many things to see and places to eat. I stayed in the Loft above the cafe, it was huge. With a reading nook and a porch. It was clean and quiet. I wanted to stay forever. They serve strong delicious coffee, and a wonderful breakfast. And can set you up with a guide to take you wherever you want to adventure.
I didn't like that I had to leave. I wanted to live there.
A quiet peaceful and relaxing stay.
Jun 2022
Lovely views from the suite above the café. Many restaurants nearby and guided tours available if needed.. Scenic location and very quiet and peaceful. Friendly atmosphere and helpful staff. Room very spacious and can relax in the many terraces. Clean and neat with whatever you want.
Nothing really. Have to keep in mind that the location is set in the countryside and to be prepared for insects.
Upscale rustic charm: a gem in Sideman
Jun 2022
Loved everything! Stayed in the large family villa and couldn't believe how beautiful, comfortable and homey it was. And so clean! It has a terrace that partially overlooks the rice terraces and has a view of Mt Agung (when it's not covered in clouds). Great location, nice bathroom, comfy bed, open and airy design. The little pool is wonderful as well as the cute cafe. Because there are only two units at this hotel, it feels like it's your private house and property. The staff are AMAZING, especially Nyoman. I did a highly recommended walking tour with him and he even invited me to his home a few times for both lunch and a night of tuak and snacks. Best part are the two dogs, Mahwin and Chico, who are super friendly and serve as protectors of the property. I kept extending my stay because I loved it here so much!
Most enjoyable, catching up with friends.
Jul 2022
Location was great and the staff were excellent
Peaceful and authentic indonesian feel. Very aesthetic. Good for 4-6 people.
Jul 2022
It was a comfortable stay. The atmosphere was peaceful as the villa is a standalone property with its own swimming pool and patio. It gave an authentic Indonesian vibe due to its location.
Availability of crookery was limited. The breakfast could be improved. (Would be helpful if mosquito nets could be installed).
I stayed in the apartment directly above the cafe. When you come up to the landing outside the barn door of the room, there's a small balcony with a table and two chairs. It faces the back of the villa where you can see Mt. Agung on a clear day. It also has a balcony in the front with a small table and two chairs facing the padi fields. There is no A/C in this place and at first I thought I made a mistake but honestly there's no need for it. If you open the doors to both balconies, you get a nice breeze through the room. There's also a sitting area with nice big wraparound windows and the bedroom in the back with more windows. Again, if you open the windows, you get a lot of cool breeze through. Well designed for cross ventilation. I was never hot in the room. The pool is shared with the villa at the back and has two lounge chairs and a swing facing it. It's surrounded by a garden. Very relaxing to sit and read or have a drink from the cafe. My booking came with breakfast and it was plenty for two persons. The room has a water dispenser, which was great as I didn't have to buy water or go down to the cafe to get refills. Also an electric kettle to make some tea or coffee. The WiFi in the room and cafe was very good. The shower has great pressure and lots of hot water. Very clean room. The gentleman and lady who work at this place are so genuinely kind and friendly and welcoming. I do not know how to ride a scooter so Nyoman, who is also a guide and the caregiver of the place (not the Nyoman who works at the cafe/villa) arranged for me to go on a full day tour of Besakih Temple, Lempuyang Temple, and Tirta Gangga. Sidemen is a very laid back village and a good getaway from the traffic and busyness of Ubud for a few days. There are a lot of places to eat around the villa but if you want some fancy drinks/dinner, check out Asri, which is in Samanvaya resort. Make sure to make a reservation as it's very popular.
Huge villa, clean pool, lovely people. Option to walk around the local agriculture terraces with one of the staff, was a good experience. Many restaurants a short walk away (some right next door). Peaceful.
Nothing really. Be careful leaving stuff on the sofa, the local gecko was using it for target practice.
Comfortable and welcoming,a wonderful few days in Sidemen
Oct 2022
Gardens and pool lovely.great views from upstairs room.Recommend walking tour through rice fields.Friendly and helpful staff
Kettle and fridge shared same socket,2 separate better
Fantastic house in great location, very friendly staff and amazing walk around Sidemen with Nyoman!
Fantastic experience, Ideal location! beautiful scenery, friendly staff, clean & cozy accommodation. The stay at Amrita exactly as I thought. They serve the best Cappuccino in Sidemen.
A great little villa with views of Mount Agung and rice terraces, spacious and airy. Good facilities and a filling breakfast. The host, Nyoman, was chatty and helpful. Sideman became our new favourite place in Bali, beautiful without the crowds of Ubud. Many super restaurants nearby, especially Warung Deva, which is almost opposite
Fantastic with amazing views and friendly people!
Nov 2022
Absolutely fantastic!!! The people who run this cafe and villa/ guest room are the loveliest people, so friendly and welcoming. I was greeted with an arrival drink and shown my room. The room was lovely, clean and spacious, with the most amazing view! Nyoman showed me the rice terraces and the waterfall the next day and it was such an amazing day! I wish I could have stayed longer, I will be back!!
I didn't stay long enough!
Wie viel kostet dieser sonstiges im Vergleich zu anderen in Sidemen?

Der Durchschnittspreis für eine Anmietung in Sidemen beträgt EUR 36 pro Nacht. Diese Miete ist EUR 11 günstiger als der Durchschnitt.
Ist das Parken in diesem sonstiges inbegriffen?

Ja, das Parken ist als Ausstattungsmerkmal bei Amrita Villa Sidemen aufgeführt. Für weitere Informationen empfehlen wir Ihnen, sich mit dem Anbieter der Unterkunft in Verbindung zu setzen, um zu erfahren, wo Sie parken können.
Gibt es in diesem sonstiges einen Pool?

Ja, bei Amrita Villa Sidemen steht ein Swimmingpool zur Verfügung. Genießen Sie das Wasser!
Ist Amrita Villa Sidemen haustierfreundlich?

Leider ist dieser sonstiges nicht haustierfreundlich. Versuchen Sie erneut zu suchen und filtern Sie nach "Haustiere erlaubt"
Welche Ausstattungsmerkmale sind bei Amrita Villa Sidemen verfügbar?

Wir haben 10 Ausstattungsmerkmale für diese Unterkunft gefunden. Dazu gehören pool, klimaanlage, küche/kochnische, internet/wlan und parkplatz.