Hummingbirds Cabins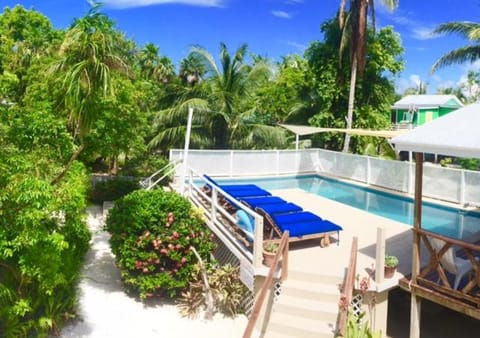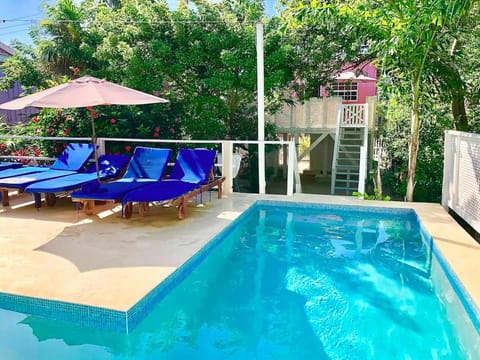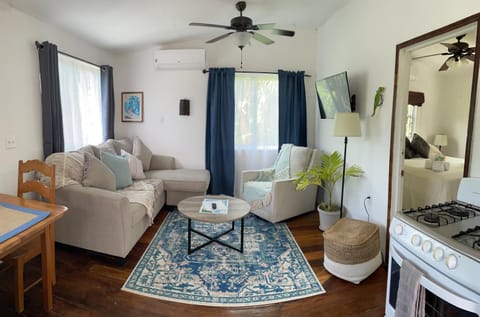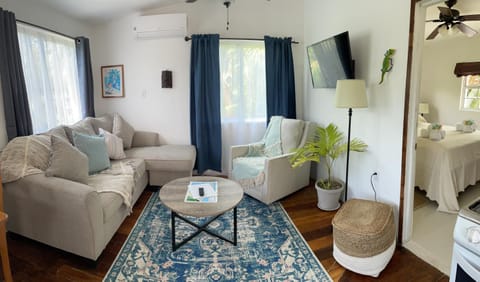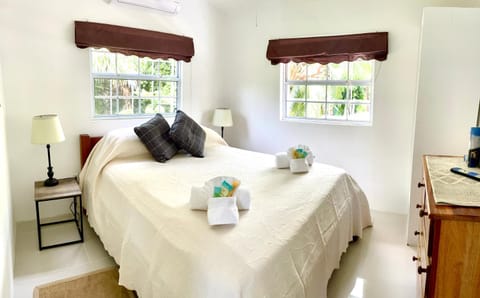 Villa in Belize District
Pool
Klimaanlage
Haustiere erlaubt
Befindlich in Belize District, dieses schön entire villa für EUR 75 pro Nacht ist ein großartig Option für Ihr nächstes Urlaub. Die Hummingbirds Cabins liegen weniger als 1 km vom Strand Caye Caulker entfernt und bieten kostenfreie Fahrräder, einen Außenpool und klimatisierte Unterkünfte mit einem Balkon und kostenfreiem WLAN.
Pool
Klimaanlage
Haustiere erlaubt
Küche/Kochnische
Internet/WLAN
Waschmaschine
Balkon/Terrasse
Fernseher
Garten
Familienfreundlich
Karte von Belize 

District
100 % verifizierte Bewertungen
4.5 / 5

"Ausgezeichnet"

(80 Bewertungen)
We stayed in the pool house. We loved the pool (very clean). The house was very clean and comfortable. It had all the kitchen appliances, dishes, and pots that we needed to cook meals. We loved that we were able to use the bikes free of charge during our stay. We also were able to wash and dry our clothes during our stay.
The TV works but has a weird bug. When you turn it on, at first the signal appears to be bad and everything is fuzzy. However this can be fixed by selecting Input on the remote, switching from TV to HDMI and then back to TV. Also the internet was very slow (we had difficulty connecting to it at all) because the router was not in the pool house.
We loved our stay here and will return when we come back to the Cayes.
Dec 2021
We loved how the property had everything you could need and they provided the little extras like as much water as you wanted in your water bottles, bike hire for free, towels for the pool and the owners were so helpful and accommodating when we needed to check in early and leave our luggage for collection on the last day. thank you for an amazing stay! We will come back!
everything was brilliant!
I wish we could've stayed longer
Nov 2022
Ver clean, quiet, away from the busier streets. Beautiful place!
took our bikes to the fruit shop for freash fruit
Mar 2022
this has a private pool which is amazing!!! we were here as a family with my daughters 19 and 21. great location , lived as pet of the island … this is in a neighborhood which we loved , they have bikes and we road all over the island… much better than a resort
Clean and had a lovely pool maybe not the best accommodations for a solo traveler
May 2023
the WiFi works good and air conditioning. it was clean and had everything I needed. the host was responsive and check in was easy.
The bed is very soft which was not very comfortable. I also will not that there is construction on high was not described in the listing. I want to note that the energy had a weird energy to and was a bit spooky. as a solo traveler I'm not sure I would stay again because of this.
We enjoyed our stay here.
Jul 2022
The staff were very helpful. Heydi helped book our taxis and even helped me order a pie for my sister's birthday. The grounds were very well kept. The beds were very comfortable. The AC worked well. The kitchen was well stocked.
It is a little far from downtown, which we did know when we booked. The shower had very little pressure, took awhile to warm up, and the shower floor tiles were slippery. Also be aware that the pool is shared amongst the 5 units on the property, even though the description says it has a private pool.
The property, service and location was all perfect. The property was perfect with the design and how the rooms were set up. It was a bit small but for the price it was all worth it. The location was a bit hard to find at first but that was also a benefit to the location, not being around a large crowd of people really did have its benefits too. The staff all greeted us and made it feel welcoming by taking their time out to get us to our destination and helping out as much as they can. The shower might had been the only downfall to the property but it was anything major that would really stand out but other than that I would highly recommend this place for a little getaway!
The showers were a bit small and the shower head almost fell off while being in the shower. The place was still really nice tho.
the pool was awesome. the staff was nice and the grounds clean. everything in the kitchen/living room was available with no trouble to access. loved the idea of the key with the auto off switch for the ac great idea to save energy.
the sink in the bathroom was in the way of the door opening. the outside light needs a shut off switch. and the beds were uncomfortable. all that is minor compared to the good qualities of the resort.
Call ahead to make sure you'll get what you think you're booking
Jul 2022
The people were kind. the pool was appreciated.
I booked a 2 bedroom cabin for my family, and upon arrival was given two separate rooms - one tiny room with attached kitchen and bathroom and IN ANOTHER BUILDING, another bedroom and bathroom. I was so upset to be separated as a family - especially as that was NOT what I booked.
All in all a very complete stay.
Feb 2023
The overall feeling of the environment with nice gardens, pool and belizian design.
We're so grateful to Heydi, Victor and the staff for their support before and during our stay.
Feb 2023
The location was perfect! Loved being so close to birding on the south side. The pool and screened porch were so appreciated for our group.
The Pink House is a peaceful home away from home.
Feb 2023
The landscaping was beautiful. Pink House was truly a home away from home - the bed cozy and the sofa comfortable. We had everything we needed. We also loved the porch, and the little cat we named Miguel, he greeted us frequently.
No fault to the property, but the sand flies were abundant during our stay.
great cottages to stay at while exploring the island
Jan 2022
the cottages were very cute, laid out well, very clean. let's you use the bikes
Super cabins. Great quite location. Only 10 minutes walk into town or 5 on the bikes. Heydi was super helpful. If you stay, I suggest the snorkel trip with Victor.
Really great. Nice quiet location 15 min walk away from the centre (5 mins on the free bikes they give you:)), nice pool, very well maintained outdoor and indoor spaces, everything was very clean, good patio space with hammock and chairs. Very secure, air con was good, nothing to fault really. Staff also really friendly, arranged our taxi to and from the water taxi which was really helpful too. Perfect stay
The rooms and bathrooms were too small and hard to navigate around. We thought the interior could use some upgrades, especially in the Pink Cabin. The Pool House was nice, needed upgrades. But everything was clean so that was a plus.
Pool was amazing, also property kitty was very sweet and nice! There was a full kitchen with coffee and coffee maker. There were plenty of towels which was appreciated. Also, to property provides bikes to use around the island, his made traveling around so convenient! Overall wonderful place and I'd book again! There is a wonderful restaurant open for breakfast and dinner literally 50 steps away called Suggestion Gormet, amazing food and they deliver!
Minor issue checking in, traveling without a phone plane meant we could only communicate when I had wifi, the host was unable to get back to us in time to have a conversation about check in (24+hours) but we found them once we got there pretty easily! (But, we were not the only guests to have this problem!)
Great place to enjoy Caye Caulker!
May 2022
Perfect apartment for a couple, very quiet and clean. Having bikes to move around the island is priceless. The swimming pool is an awesome alternative to escape the midday hot sun at the beach. Out contact was very responsive and helpful.
After 3/4 days would be nice having the linen changed/ washed.
It was a pleasant stay, would recommend staying here.
Oct 2022
Location was perfect. Pool, area and cottages were clean. Bikes were available and the list of taxi driver phone numbers was extra helpful!
I didn't like the separated cottages we were given but after discussing the booking issues, the owner was able to compensate us for the confusion on the booking.
Excellent stay, charming accommodation with a rustic feel. Good facilities, water provided, use of laundry facilities an
May 2023
location. quieter part of island, 10 mins walk to central part. swimming pool fabulous. Accommodation perfect for us!
It was a comfortable place and met our needs well for the time we were there
Mar 2023
It was comfortable and the pool was very nice. It was nice to have a kitchen and drinking water provided. It was in a quiet location and loved having the bikes available. We also enjoyed the screened porch.
Neighbors in apt. next door played their music all afternoon and evening by the pool so it was hard for others to enjoy the space. The way the TV was mounted it was crooked and hard to watch from the living room couch.
I loved how clean and comfy it was. it was close to everything (about a 10-15 walk or bike ride to the other side of the island). The AC worked great! And the house cat is so sweet!
great cabins, nicely decorated, nice pool, cabins include everything you need. friendly staff
far away from the Center of the island, very high taxes which makes the price unexpectedly high
Good facilities, especially the bicycles.
Very expensive, watch out for the extras.q
free bike, nice swiming pool, privacy
air condition only in the badroom, ants
Wie viel kostet dieser villa im Vergleich zu anderen in Belize District?

Der Durchschnittspreis für eine Anmietung in Belize District beträgt EUR 135 pro Nacht. Diese Miete ist EUR 60 günstiger als der Durchschnitt.
Ist das Parken in diesem villa inbegriffen?

Das Parken ist nicht als verfügbares Ausstattungsmerkmal bei Hummingbirds Cabins angegeben. Für weitere Informationen empfehlen wir Ihnen, sich mit dem Anbieter der Unterkunft in Verbindung zu setzen, um zu erfahren, wo Sie parken können.
Gibt es in diesem villa einen Pool?

Ja, bei Hummingbirds Cabins steht ein Swimmingpool zur Verfügung. Genießen Sie das Wasser!
Ist Hummingbirds Cabins haustierfreundlich?

Ja! Diese villa ist haustierfreundlich. Für weitere Informationen empfehlen wir Ihnen, sich mit dem Buchungsanbieter in Verbindung zu setzen.
Welche Ausstattungsmerkmale sind bei Hummingbirds Cabins verfügbar?

Wir haben 10 Ausstattungsmerkmale für diese Unterkunft gefunden. Dazu gehören pool, klimaanlage, haustiere erlaubt, küche/kochnische und internet/wlan.