Super Fun Sprinter ind shower, toilet & bike storage, max solar, 20 mpg.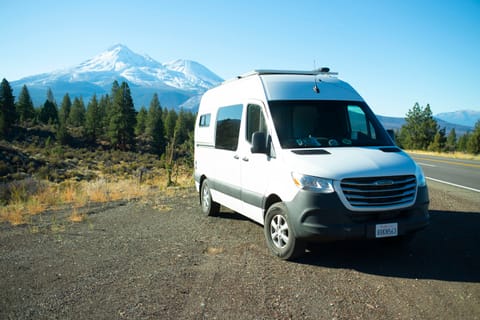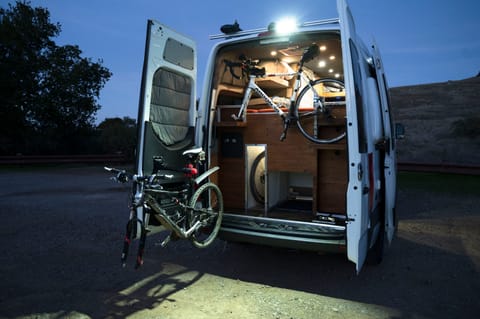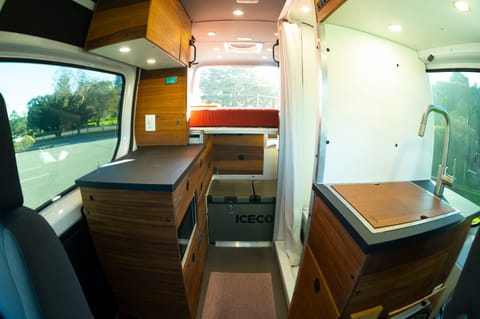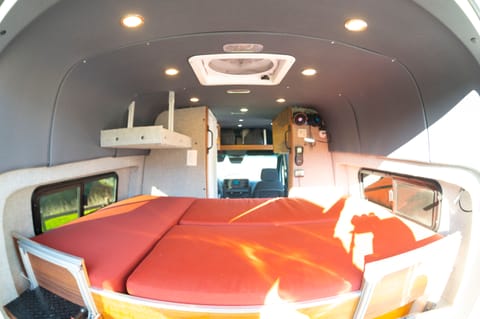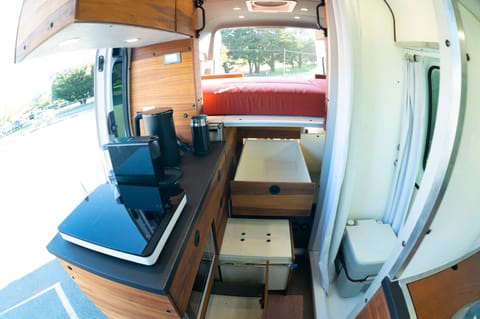 Wohnmobil in San Anselmo, CA
Haustiere erlaubt
Küche/Kochnische
Fernseher
Über diesen wohnmobil 
miete
Befindlich in San Anselmo, dieses attraktiv wohnmobil für EUR 187 pro Nacht ist ein phantastisch Auswahl für Ihr nächstes Urlaub. Super efficient diesel (20mi/g) low mileage 2WD Sprinter Camper. This van is fully equipped for road tripping and camping anywhere in comfort - from Nat Parks to stealth in suburbia. This van is designed to have exactly what is needed: Hot indoor shower stall for post rainy-hike or Double Century clean up, outdoor shower too. Inside 2x bike storage, so your toys won't get rusty. Microwave, coffee maker, induction cooktop, solar and electric water heater w 24 g water tank, big sink, indoor camping toilet, and plenty of storage for food, clothes and gear. Plus, a large 2 compartment fridge/freezer for those margaritas & ice. This van also has thermal full-blackout blinds for stealth camping even in the winter, plus a separate diesel heater to really blast the warmth if needed. This van's inside is fully electric - no propane, with a large battery & inverter and has efficient solar, alt charging and 30A onshore power meaning you'll always have enough juice AC & DC to power extended off-grid adventures. Stream movies at night with the cell booster, listen to the van's satellite radio anywhere, or just disconnect in style. The van also works well as an office away from the office with chairs that rotate 180 and an adjustable fold-away table for food or laptop. There is also a cell booster which add ~2 bars to the signal. The van has flares on each side to extend the bed length and slide-away step to access the bed. The bed area has usb charging and lights, shelf storage, a Max Fan and side windows that open, perfect for keeping cool in the evenings. The van works great for general travel, but was designed with cyclist's needs in mind. It can carry 2 bicycles inside for security (see pics) and has separate rear drawers for tools and gear, plus a built-in bike stand and work lights. It also has a tow capacity for trailer or (your own) extra bike rack. NO BURNING MAN.
Haustiere erlaubt
Küche/Kochnische
Fernseher
Karte von San Anselmo, 

CA
4.8 / 5

"Herausragend"

(7 Bewertungen)
Durchschnittspreis für Wohnmobile in San Anselmo

Der Durchschnittspreis für Wohnmobile in San Anselmo beträgt EUR 267.
Marke und Modell des Wohnmobils

Dies ist ein 2019 Sprinter .
Ist Super Fun Sprinter ind shower, toilet & bike storage, max solar, 20 mpg. haustierfreundlich?

Dies ist ein haustierfreundlicher Aufenthalt! Für weitere Informationen empfehlen wir, sich mit dem Buchungsanbieter bezüglich der Tierrichtlinien in Verbindung zu setzen.
Welche Ausstattungsmerkmale bietet dieses Wohnmobil?

Wir haben 3 Ausstattungsmerkmale für diese Unterkunft gefunden. Dazu gehören haustiere erlaubt, küche/kochnische und fernseher.