Jazz Makati Luxury Apartment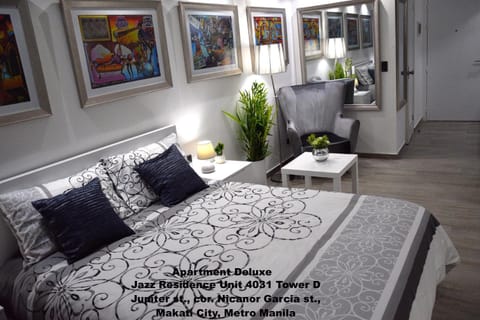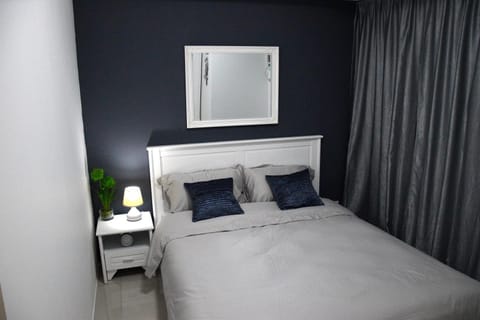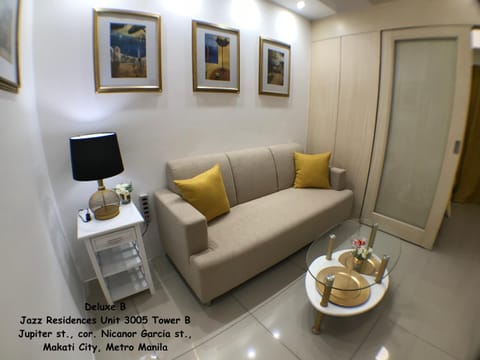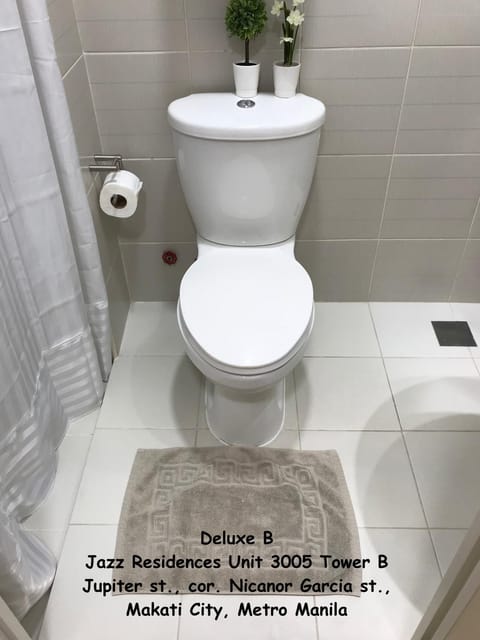 Apartment in Makati
Pool
Klimaanlage
Küche/Kochnische
Über diesen apartment 
miete
Eingebettet in Makati, dieses charmant entire apartment für EUR 54 pro Nacht ist ein großartig Option für Ihr nächstes Pause. Dieses klimatisierte Apartment mit Balkon begrüßt Sie in Makati Bel-Air im Herzen von Metro Manila. Im Jazz Makati Luxury Apartment genießen Sie Poolblick und wohnen 700 m von Century City entfernt.
Pool
Klimaanlage
Küche/Kochnische
Internet/WLAN
Rauchen erlaubt
Parkplatz
Waschmaschine
Balkon/Terrasse
Fernseher
Rollstuhlgerecht
Garten
100 % verifizierte Bewertungen
4.8 / 5 (61 Bewertungen)
Super value for money apartment
Jul 2022
We had the apartment deluxe which was good for 2. Very cosy, clean and comfortable. Basic amennities were provided. Check in and check out process was smooth and easy. Location was great, with a supermarket and some shops and restaurants below the apartment. Will definitely be back to stay here in future!
Nothing to complain about
Was greeted upon arrival and shown all the features of the room. It had a water filter machine - which was amazing as I hadn't seen it anywhere else before. Place was spacious, and fully equipped with all the necessities you'd need.
Very cosy apartment with all the furnishing you need! Tastefully decorated and acces to a brand new swimming pool with view of the city! I arrived late but the host made it very convenient for a late check out, will definitely book again!
my stay was comfortable and pleasant with a great owner
Aug 2022
updated facility and amenities with a great manager
security was a bit extreme and irrational when the shifts change
spectacular accomodation.
Mar 2023
The unit is spacious, well-thought out, clean, and comfortable.
Nothing. Everything was amazing.
Perfect stay, amazing host and great area.
Oct 2021
The property was clean and super comfy. Loved the bed and pillows! Probably the best sleep I had in a long time. The host was super friendly and the staff in the building were so nice. The condo building is right on top of the mall and the location was perfect. Will definitely be staying again! ☺️
Great and worth it!
Dec 2022
The property owner met us even though he was tired from a guest earlier and very kind to assist us on getting coupons for swimming.
There was one security guard who was rude.
I'll might be interested to stay again whenever I have plans in the future.
Nov 2021
The place was so clean, bed and pillows are very aromatic as well as the whole room… The scent of lavender was just so perfect for those who want to relax and enjoy their stay…
It is well maintained and well cleaned, very accessible, very clean, aromatic, with complete facilities and well-mannered staffs.
The place is clean, fully furnished and all what we need in our short stay is already provided. The unit owner is very accommodating too! Me and my fiance were really happy to stay here. The property and the services have exceeded our expectations! We can recommend this place to our family and friends and we also highly consider our future reservations on this place again!
A very nice and modern looking apartment in Makati with a very nice and helpful owner.
Apr 2022
The owner (Milan) was super nice and waited for me at the lobby and arranged for the keys! He was also very helpful in providing tips for the food near the apartment. The apartment looks very modern and nicely decorated (designed by the owner himself!!). The apartment was on 42nd floor and has a nice balcony. However, the city view is only one side. The other side views were blocked by the adjacent towers. The room was very clean. During my stay, on one of the days, the wifi didn't work, but it was the problem with the provider and the owner was nice enough to follow up and updated me on the service outage. At the bottom of the tower there is a mall and so there are some nice restaurants and fast food options were available. Over all an excellent place to stay, even though the price is little bit higher compared to other available options in Makati.
The apartment is equipped for light cooking and it has very limited utensils or cookware. So, if you have a plan of cooking in the apartment, you will have a very limited options. Also, during my stay, the swimming pool in the apartment complex was having maintenance. It would have been nice, if the pool was open.
Jazz Makati Luxury apartment made my stay in Manila pleasant.
Mar 2022
The location of Jazz Makati Luxury Apartment is quite convenient. The Green Belt is within walking distance. It's super clean. The interior is well appointed. The size of the room is just a bit smaller than I thought but it is pretty ok since the owner Milan arranged the furniture very well. I will choose this property again when I come to Manila.
Ah It's all good. The only thing is that Jazz Apartment is a huge compound. With so many units, it sometimes takes longer time to wait for the elevators. I guess it's norm for most of the high rise apartments in Manila. But pardon me, I live in EL Nido where elevator is near non existent. Haha!
The host explain everything and he is very helpful. The place is clean and relaxing.
Great room and a cordial host.
Jan 2022
Staff and owner are very health and safety conscious. Room was very well designed with a perfect balance of comfort and efficiency.
WiFi is unreliable (provider was Sky Broadband who is notoriously terrible) but that's not the host's fault.
Everything is excellent
Jun 2021
Restaurants, coffee shops, groceries are just downstairs. Walking distance to our appointment. The couple who owns are very nice and everybody in the bldg are nice. I would book this place whenever I come back here.
I love the place. The only thing that is missing for me.is the bidet in the c.r... and everything else is excellent.
I will book again
Nov 2021
quiet and close to the German embassy and a mall
I like how accomodating the landlord is. He is responsive. The place has almost everything we need. The place is clean and smells good.
PERFECT APARTMENT IN MAKATI
Jan 2023
Perfect apartment to explore Makati. The apartment was very clean with everything you may need. The view from the apartment is just beautiful. Comfortable bed, clean bathroom with hot water, aircon, TV with Netflix. The host was very helpful and always ready to assist us. Highly recommend it for short or longer stays.
My stay here is perfect. Its really near to my exam location. And very convenient. The owner of the unit is very hospitable and kind. Thank you sir....
Stay in the heart of Manila
Apr 2022
My host, Milan was great. The facilities and location of the condo are perfect. Close to literally everything you need.
It was very near to our destination. And all you need is within walking distance.
its ok and the host is excellent
i hope there is bidet in the toilet but overall i enjoyed my stay.
It's a place of relaxation. Just what we really needed during our stay. Easy access to supermarket and food hubs. Hospitable host. Definitely value for money.
Great attentive owner for whom nothing was too much trouble. Well done, a real pleasure to stay.
Nov 2022
I lovely and well provided unit directly overlooking the pools complex in this top class development.
The perfect place to stay!
Nov 2021
I like the location. It is accessible to a mall and to my testing place. It is a walking distance from Trident tower where I took my NCLEX exam. Thank you Mr. Fabjan. I am now a USRN. The place is quiet and is very clean. It is like home away from home. It is equipped with all the necessary things you'll need. I will highly recommend this place.
I consider this as my 2nd home. The owner was very thouulghtful of every small details amd was generous to let me use his parking amd even remindined me of not forgetting my ID frommnthe reception. Love the bed super comfy and cozy amd the place is very clean. The interior was really well thought of, everything is just perfect.
Wie viel kostet dieser apartment im Vergleich zu anderen in Makati?

Der Durchschnittspreis für eine Anmietung in Makati beträgt EUR 40 pro Nacht. Diese Miete liegt EUR 14 über dem Durchschnitt.
Ist das Parken in diesem apartment inbegriffen?

Ja, das Parken ist als Ausstattungsmerkmal bei Jazz Makati Luxury Apartment aufgeführt. Für weitere Informationen empfehlen wir Ihnen, sich mit dem Anbieter der Unterkunft in Verbindung zu setzen, um zu erfahren, wo Sie parken können.
Gibt es in diesem apartment einen Pool?

Ja, bei Jazz Makati Luxury Apartment steht ein Swimmingpool zur Verfügung. Genießen Sie das Wasser!
Ist Jazz Makati Luxury Apartment haustierfreundlich?

Leider ist dieser apartment nicht haustierfreundlich. Versuchen Sie erneut zu suchen und filtern Sie nach "Haustiere erlaubt"
Welche Ausstattungsmerkmale sind bei Jazz Makati Luxury Apartment verfügbar?

Wir haben 11 Ausstattungsmerkmale für diese Unterkunft gefunden. Dazu gehören pool, klimaanlage, küche/kochnische, internet/wlan und rauchen erlaubt.