An Oasis in Tagaytay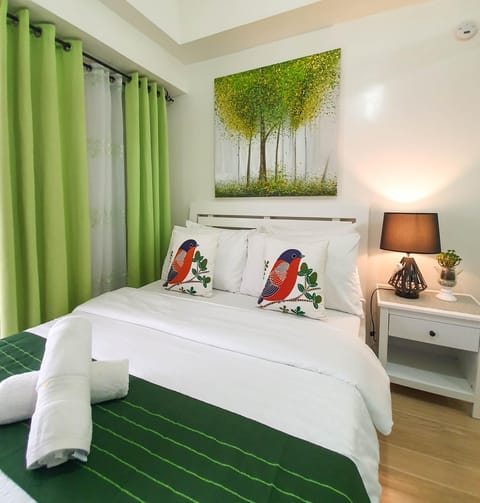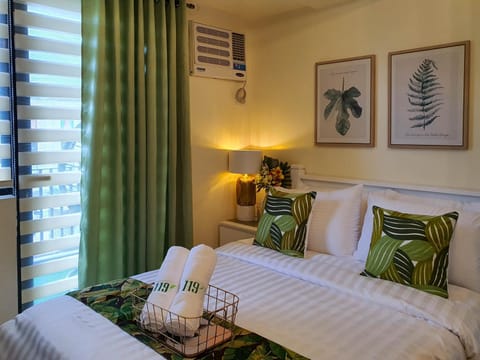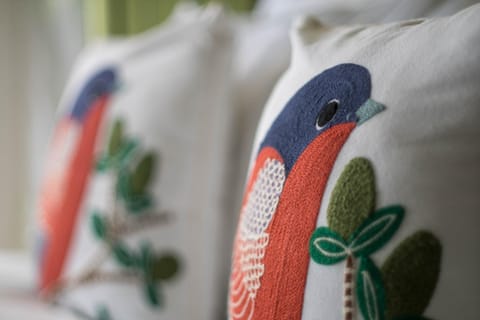 Apartment in Tagaytay
Pool
Klimaanlage
Küche/Kochnische
Über diesen apartment 
miete
Eingebettet in Tagaytay, dieses schön entire apartment für EUR 34 pro Nacht ist ein phantastisch Option für Ihr nächstes Pause. Das An Oasis in Tagaytay erwartet Sie mit einem Außenpool, einer Terrasse und kostenfreiem WLAN in Tagaytay, 4,5 km vom Picnic Grove und 8,3 km vom People's Park in the Sky entfernt. An der Unterkunft stehen Ihnen Privatparkplätze zur Verfügung.
Pool
Klimaanlage
Küche/Kochnische
Internet/WLAN
Parkplatz
Balkon/Terrasse
Fernseher
Rollstuhlgerecht
100 % verifizierte Bewertungen
4.7 / 5 (234 Bewertungen)
We super loved our stay!! Upon setting foot on the unit, it smelled sooooooo good, clean and relaxing. May complimentary biscuit and coffee sila. The unit has 2 TVs, both are smart TVs, one at the dining/living room area and 1 in the bedroom. The Wifi is 100% okay. I like that the toilet and bath are separate (maximized namin yung time magprepare gumala because of it). They have clean utensils and appliances. Libre na yung dishwashing soap and sponge. Sa Toilet area may complimentary na 1 roll ng tissue. Sa bath area may Shampoo and Shower gel na provided. Working heater!! Towels and Slippers are also provided. They also have hangers, mini iron stand, laptop table. Sadly walang blower pero okay lang. May free parking space na rin.
There's really nothing you wouldn't like, pero para may entry, maybe yung slightly mahinang water pressure sa sink sa toilet area. 😅
We stayed for two rooms for 2 days and 1 night and it was beyond greatness as the staff and the owner we're very helpful and accomodating. Place is so good and clean. I love the theme of the place and how complete what you need on a vacation. We will surely comback and stay at Oasis again.
We love the entirety of the unit. It's one of the cleanest units we've ever stayed at. The hosts were very accommodating and the theme of the room gives off a relaxing vibe. All amenities are working. Will consider staying here again someday.
Everything was awesome!
Jun 2021
We loved everything! The room was great! Everything was just perfect! Ms. Chu was really nice and very accommodating. We'll sure to visit again soon!
We like the room,very neat and clean. So worth it for it's price,we really enjoyed our stay.
My roommate lost his money, it's impossible that he lost it outside because he didn't have his wallet with him, it was just left in the room, so we think someone entered our room while we weren't there.
Amazing unit for destressing
Dec 2021
Unit is very tidy and organized. Almost everything you need is in already plus they have complimentary coffee, water and crackers. There are 2 TVs available for the bedroom and living room and separate comfort room and bathroom.
Probably cooking equipment but i think only because cooking viand isnt allowed. Rice cooker is avaiable though.
One of the best staycations 😍
Dec 2022
The unit was so nice , neat and cozy 🤗 .. Internet connection perfect 🥰.. super nag enjoy my Nieces tho' it was an overnight stay nakapag relax talaga kami and impt had a good sleep..Salamat din sa Host and Staff 🥰.. Happy Holidays! Thank you , we will definitely come back again 🤗
A place to cocoon in.
Mar 2023
The room was very cosy. Perfect place to get the jetlag out of me. I absolutley love the colours of the apartment, it gave me peace. Especially loved the welcome message.
This is not really a issue, but for me it was. I am European and 6 feet tall. The bathroom and comfor room wasn't designed for my size hahaha. But my Filipino companion had no issues with it ofcourse. I just bumped my knees sitting on the toilet.
We loved our stay
Sep 2021
The room was clean and cozy and smells good! The bed was so nice that I just wanna sleep all day.. plus there's a hairdryer! That's what really matters to me hahaha! I would book again soon! Thanks to the very kind owner and staff we loved our stay.
It was relaxing 😎
Jan 2023
The room is clean, orderly and all needed amenities were there with complimentary stuff too! Love it 😍
The place is as pretty and cozy as the photos. The owner and caretaker were really responsive and nice! Will still book again!
The main internet was not working and we're provided with another prepaid router that has been preloaded which we truly appreciated. It's just that even the prepaid router was unstable and the TV couldn't connect to the network coz of it.
The location was really good, closed to all the tourist spots. The room was clean.
Only one toilette paper in the restroom. I would add more.
Nice place, good location and good value. Will visit again.
Feb 2023
The location was good, and the condo neatly set up. The communication with the property's manager was friendly and they were very warm and welcoming.
The service of the receptionist is terrible. They wouldn't even let us put the bags there and guard them after checkout. That's the minimum they could do. Also, the bed was on the smaller side and the units are not very sound and smell proof. So if someone nearby is cooking you can smell it. The unit wasn't cleaned perfectly as there were hairs on one blanket. Not a big deal though.
Unforgettable accommodation
Jun 2019
- The location is located in a quiet and high safety residential area. The Rooftop deck at 23rd Floor brings the fabulous view around the city and also Talisay. - We were amazed by how sensibly the room was designed despite of its small size. TV is wifi connected and we can enjoy Spotify, Netflix, Youtube on the cozy lovely sofa. - The kitchen is fully prepared with all kitchen tools for guests who have a long vacation there. - The host was very polite and helpful with their information. I suggest to have some bike rental and surrounding map for guests to go around the city with ease.
- The room should have toothbrush in case guests forget theirs - I tried to contact the breakfast supplier but first, they said they will deliver within 15 minutes, then they replied something via text by Tagalog. This point should be improved
awesome stay will go back again
Jul 2022
The location is good. And the unit really feels like home. everything you need is there. the bed was comfortable, pillows were good too and even the blanket. They had attention to detail.
the shower drainage needs declogging
Great value for money
Feb 2019
The interior of the unit was relaxing. It's near a mall, fast food restaurants and it's easy to coordinate with the staff. Loved the free snacks and coffee!
The apartment was very clean and there was a personalised welcome sign with our name on it, along with bottled water, slippers and coffee packets. There were 2 TVs with Netflix access and the aircon was very strong.There was also a small balcony with outdoor seating. Check-in was fast and seamless and we were able to check in 1 hour earlied than the allocated time of 2pm. For our booking, we had free access to the swimming pool as well. Location-wise, it was within a 5-15min drive to Tagaytay attractions like People's Park in the Sky, restaurants with a view like Charito Bag of Beans and malls like Ayala Malls Serin. Overall, we enjoyed our stay at the apartment and we would definitely return.
It was a bit hard to find the parking lot although it was easy once we asked for directions at the next building - cleared directions could be provided. A hairdryer could be provided.
A great place to stay!
Feb 2023
Stayed for 1 week here! Everything was in order, clean and neat. So cozy, we will definitely come back! Thanks to Kuya Mark, he's kind and approachable.
I recommend Oasis🙂
Jul 2021
Staff are kind and approachable. Facilities are good. Room is wide, clean and comfortable. We enjoyed our stay. Thank you and we surely book in Oasis Again.
The window blinds are damaged
Wie viel kostet dieser apartment im Vergleich zu anderen in Tagaytay?

Der Durchschnittspreis für eine Anmietung in Tagaytay beträgt EUR 43 pro Nacht. Diese Miete ist EUR 9 günstiger als der Durchschnitt.
Ist das Parken in diesem apartment inbegriffen?

Ja, das Parken ist als Ausstattungsmerkmal bei An Oasis in Tagaytay aufgeführt. Für weitere Informationen empfehlen wir Ihnen, sich mit dem Anbieter der Unterkunft in Verbindung zu setzen, um zu erfahren, wo Sie parken können.
Gibt es in diesem apartment einen Pool?

Ja, bei An Oasis in Tagaytay steht ein Swimmingpool zur Verfügung. Genießen Sie das Wasser!
Ist An Oasis in Tagaytay haustierfreundlich?

Leider ist dieser apartment nicht haustierfreundlich. Versuchen Sie erneut zu suchen und filtern Sie nach "Haustiere erlaubt"
Welche Ausstattungsmerkmale sind bei An Oasis in Tagaytay verfügbar?

Wir haben 8 Ausstattungsmerkmale für diese Unterkunft gefunden. Dazu gehören pool, klimaanlage, küche/kochnische, internet/wlan und parkplatz.