Greenfield Nha Trang Apartments for rent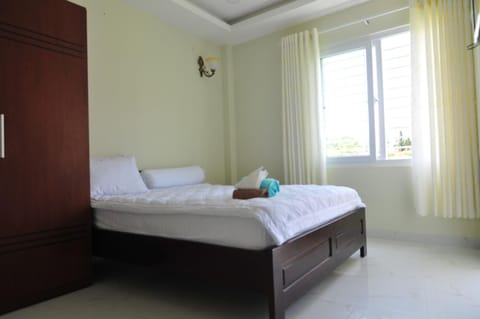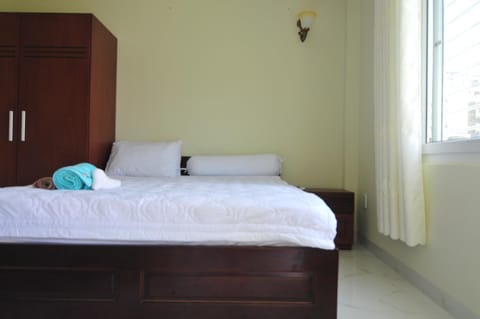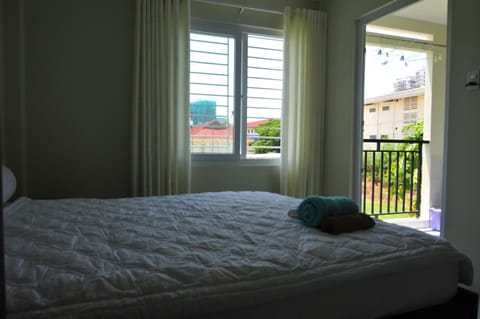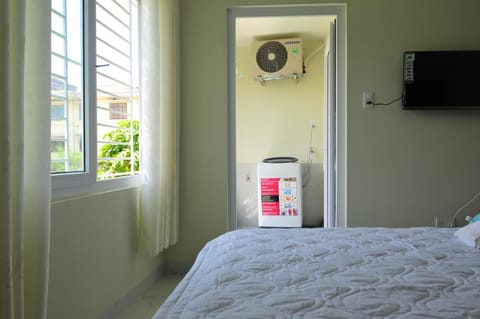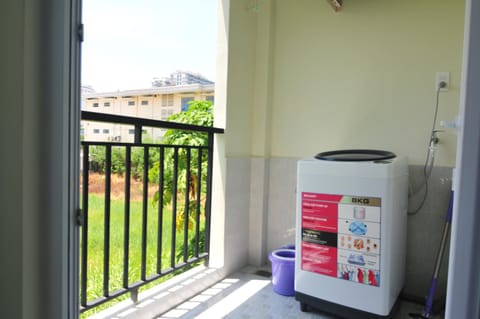 Apartment in Nha Trang
Pool
Klimaanlage
Haustiere erlaubt
Über diesen apartment 
miete
Eingebettet in Nha Trang, dieses charmant ganze wohnung für EUR 10 pro Nacht ist ein großartig Auswahl für Ihr nächstes Reise. Located in the city centre of Nha Trang, a 3-minute walk to the beach, Greenfield Nha Trang Apartments for rent offers accommodation in Nha Trang. Nha Trang Centre Shopping Mall is 400 metres from the property.
Pool
Klimaanlage
Haustiere erlaubt
Küche/Kochnische
Internet/WLAN
Rauchen erlaubt
Parkplatz
Waschmaschine
Balkon/Terrasse
Fernseher
Strand/Ufer
Garten
Familienfreundlich
100 % verifizierte Bewertungen
4.7 / 5

"Herausragend"

(162 Bewertungen)
Very comfortable and spacious apartment,well equiped kitchen with big fridge. Great location for airport bus and beach. Very friendly and helpul host. Overall we really enjoyed our stay.
The AC was always noisy, even when it was turned off, so we had to plug it off electricity each time. Cleanliness should be a bit better and there was also a lot of light at night from the hallway.
clean, quiet and comfy place
Dec 2022
very clean, lovely place, lovely host, quiet area, very comfy bed, central
kitchen appliances didn't work
Very comfortable, quiet, clean, and the hosts were lovely, warm, kind, and helpful people.
Jan 2021
The property was quiet and had a balcony overlooking a big playing field. If you leave the balcony door open you get a lovely cool breeze of fresh air. The bed was really comfy and the WiFi was great. It is close to the beach (about 7 minutes walk) and close to cafes, restaurants, and the fruit and vegetable market. It has cooking facilities in the apartment. Although there was no lift, the owners had a device that lifted your suitcase up to your floor level so you don't need to carry your suitcase up the stairs.
I can't think of anything i didn't like.
Great apartment in good location
Apr 2022
The owner was very welcoming and helpful. The apartment was a good size as solo traveller but good for couples too. Very useful to have washing machine on balcony to do laundry. Able to check in early at midday. Big fridge, microwave, kettle, rice cooker, electric stove available to use in kittchenette. Was nice and quiet. No lift and tight staircase but the owner has a winch to hoist up heavy luggage was impressed. Wifi worked well as did AC in bedroom but to loud for me for overnight. Fans are available in lounge and bedroom.
Early check out by 11am but didn't matter as I was leaving for airport by then but for others may prefer 12pm.
The owners were really nice. We arrived at 7am without almost sleep and they let us to stay in a sofa where we had a nap until the room was ready. We really appreciated that as we were exhausted.Thank you :)) the apartment was good and the location as well.
Great apartment with all you could need close to the beach
Sep 2022
The location was great. Close to the beach, markets and shopping malls. The free use of the washing machine was amazing (with powder provided) as well as the kitchen.
The bed was uncomfortable and the air con was set to a really low temp and couldn't seem to be changed.
The location is very good: it is right between 2 big shopping centres, 2 blocks from the sea, 1 km from a famous temple, surrounded by many good food outlets - it could not be more central. I booked a ground flat because I hate the idea of carrying my suitcase upstairs. When I arrived, the booked apartment was not available because previous tenants decided to stay longer. However, the hosts had a hoist so I did not have to carry my suitcase up and down. It was a pleasant surprise, it was a first time I saw such device n Vietnam. The building is quite new, well planned and well maintained.
Unfortunately, quite a few things went pear shaped. I arrived earlier than a check in time. I was not in a hurry to move in, I went to a shopping centre, but maybe owners were in a hurry to move my things in the room? They did not clean the place after the previous guests properly: for example, the guests cooked rice in a rice cooker - the rice cooker was left dirty, as well as some crockery and cutlery; I tried to use the microwave, but did not find an extention cord or a powerpoint near it, but when I opened the microwave I decided not to bother with it: it was dirty inside... Razor in the bathroom had leftovers of other people hair in it... etc. Bed linen had rusty stains... The list of unsatisfactory details may go on... Some things were out of the hosts' hands. For example, the football field in front of my window was mowed, and it was noisy for 2 days. A big concrete yard next door was cleaned (concrete was polished) and it was extremely noisy for 2 days. Where I live we don't have mosquitoes. I did not know that I should not open the doors and windows - I was covered with mosquito bites from head to toes... I was afraid that I won't be allowed in the bus without a medical certificate that I don't have Covid or some other infectious problem... Each of these problems is a tiny matter, but combined together, they spoiled my stay significantly. I am sure, concrete polishing or grass mowing don't happen often, I was just misfortunate.
The host received us early in the morning when we arrived. The apartment is comfy and with good spaces. Nice views on a football field on the other side. Close enough to the beach!
Friendly, Helpful, Kind.
Jan 2021
The host is very good. She is very kind and helpful. I went there early than check-in time, but she still gave me a room to rest until the room which I booked was available. After I checked out, she let me borrow her bathroom.
The couple were so amazing in accomodating me and welcoming me in their home. I arrived quite early in Nah Trang, and they even let me check-in early. The apartment is so cosy, super clean and comfortable, and it's only 10 min walk to the beach. I'll definitely stay there again when I'm next time in Nah Trang. Thank you Mrs Queen and to your wonderful husband for the warm welcoming and for the unique stay in your home.
Best accommodation in the price range.
Location Quiet Good wifi Fully equipped kitchen
Best place to stay in Nha Trang
Oct 2019
It was our second time in Greenfield apartments. We checked in very early in the morning for very cheap additional fee, and are very thankful for this opportunity. Highly recommend!
It's a nice, well-furnished and spacy apartment with a kitchen, a sofa and a washing machine. The ladies are very nice and helpful. It's right in the center, close to a lot of shops and restaurants.
A bit noisy in the early morning because of the kids training in the football field below. Bathroom could be improved a bit.
Fully furnished apartmant with kitchen, washing machine, balcony. the window faces to school football field. there is local cafe near with food for take out.
We stayed here two times and will definitely recommend
Oct 2019
Easy communication, There is a private parking for bikes, closed at night. For very cheap price you'll have everything for long stay, also it was very useful to have washing machine.
Because of mosquitoes, I recommend to book the apartment on ground floor, it is equipped with mosquito nets on windows. Apartment with Garden View is not.
Nice location to stay for travel Nha Trang. Will book the hotel again if I travel Nha Trang
Aug 2022
Convinience location/ the host is nice & kind/ near the beach/ central location/ food & drink options nearby
Can't really beat the price. For the low price, the studio is ok and have what you need. Not that best studio in the town, but for the low price, can't really complain.
Great place, especially for long stay. It will be my new base for Nha Trang trips.
Jun 2022
Calm side-street close to the city center (and the beach, in case you need one). Owner is wonderful, easy to communicate and helpful. Apartments for the price of the cheap hotel room. Breakfast and coffee available next door (breakfast from 6am, coffee from 7am).
Issues with hot water at morning (seems like so many people using it).
Wie viel kostet dieser apartment im Vergleich zu anderen in Nha Trang?

Der Durchschnittspreis für eine Anmietung in Nha Trang beträgt EUR 36 pro Nacht. Diese Miete ist EUR 26 günstiger als der Durchschnitt.
Ist das Parken in diesem apartment inbegriffen?

Ja, das Parken ist als Ausstattungsmerkmal bei Greenfield Nha Trang Apartments for rent aufgeführt. Für weitere Informationen empfehlen wir Ihnen, sich mit dem Anbieter der Unterkunft in Verbindung zu setzen, um zu erfahren, wo Sie parken können.
Gibt es in diesem apartment einen Pool?

Ja, bei Greenfield Nha Trang Apartments for rent steht ein Swimmingpool zur Verfügung. Genießen Sie das Wasser!
Ist Greenfield Nha Trang Apartments for rent haustierfreundlich?

Ja! Diese apartment ist haustierfreundlich. Für weitere Informationen empfehlen wir Ihnen, sich mit dem Buchungsanbieter in Verbindung zu setzen.
Welche Ausstattungsmerkmale sind bei Greenfield Nha Trang Apartments for rent verfügbar?

Wir haben 13 Ausstattungsmerkmale für diese Unterkunft gefunden. Dazu gehören pool, klimaanlage, haustiere erlaubt, küche/kochnische und internet/wlan.