STAY & GO Shinsaibashi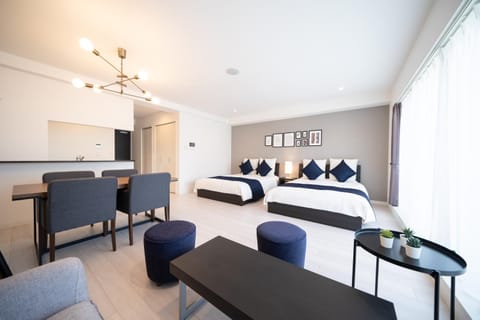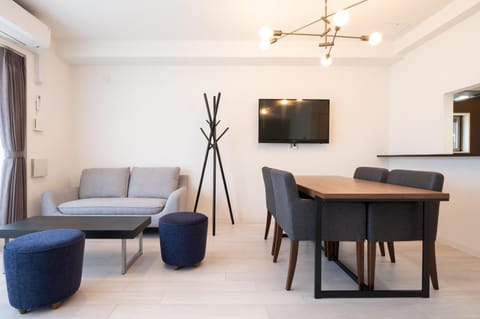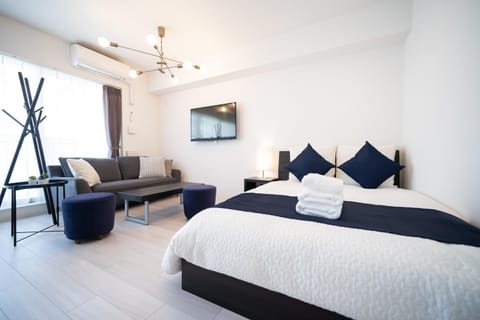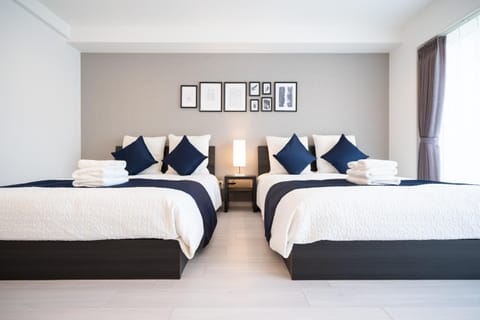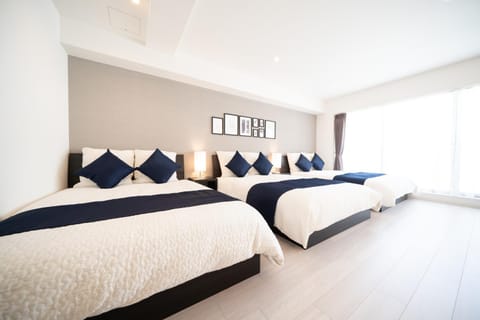 Apartment in Osaka
Klimaanlage
Küche/Kochnische
Internet/WLAN
Über diesen apartment 
miete
Gelegen in Osaka, dieses charmant entire apartment für EUR 48 pro Nacht ist ein phantastisch Auswahl für Ihr nächstes Urlaub. Das STAY & GO Shinsaibashi begrüßt Sie im Zentrum von Osaka, 500 m vom Namba-Schrein und 600 m von der Bühne Ku entfernt. Freuen Sie sich auf Unterkünfte mit kostenfreiem WLAN und einem Balkon.
Klimaanlage
Küche/Kochnische
Internet/WLAN
Waschmaschine
Balkon/Terrasse
Fernseher
100 % verifizierte Bewertungen
4.1 / 5 (559 Bewertungen)
nice space for family
Jan 2023
wide space , comfortable , good to provide vacuum and garbage bag
cleanliness. Sofa and chair look dirty from stains. check in time around 3 pm would be better
Nice apartment with complicated check-in
Jan 2023
Very nice and large apartment. Good location, walking distance to Dotonbori area.
Check-in was very complicated. Already had regrets not booking a hotel when receiving all the e-mails regarding the check-in procedure. There was a hotel with the same name in the same street and you can imagine we tried to check in at the wrong one.
Great location, comfortable accommodations, and very helpful staff!
Jul 2022
The staff were very helpful and responded to my questions almost immediately. The actual apartment was very clean and looked exactly like the pictures. It was nice that they provided toothbrushes, razors, and other toiletries. The air conditioning was perfect for the summer heat. The apartment was very comfortable and exactly what I was looking for. I would definitely stay here again if I am in Osaka.
There wasn't anything I didn't like.
the room is very clean and comfortable 😊👍
I love our stay here and would go back again
Mar 2023
The property is near the subway and shinsaibashi shopping street. Theres alot of restaurant nearby and convenience store. The room is very spacious and clean. Would stay here again for our next trip.
The only thing I didnt like about the property is the lock of garbage bag inside the room. But overall its okay if you know how. to manage your trash
Terrible - very disappointing - ruined our first day in Osaka
Dec 2022
The location was ok the room was large
I would never recommend your facility. False advertising on facility Terrible service Room not ready till 10.00pm Terrible communication Filthy couch could not use Booked and paid for 'city view' looked at a wall Worst we have stay in Japan I will be seeking a refund for false representation, poor to no service.
A bad start to an overall smooth and pleasant stay there.
Dec 2022
The location is the best part of the hotel. It is just 2 minutes of walk away from the main shopping strip and 5 minutes away from the train station. There are loads of restaurants nearby. The room is spacious and clean. The kitchen is handy. Overall it is a good hotel for family.
The hotel is staff-less. Our check-in process wasn't smooth. There are two STAY&GO outlets on the same street and only one has a big logo high up on the wall. We went to the wrong outlet and couldn't check in from the tablets at the counter. As there was no staff there and the hotel hotline was forever busy, we couldn't speak to anyone to get help. Luckily one of the guests staying at the outlets told us about the other outlet, but we didn't have the entry code to open the main gate. I eventually managed to speak to someone on the help line, but the man could barely speak any English. It was a painful conversation. In the end we managed to enter the building by tailgating some guests staying there. The whole check-in process took us one hour. It was a bad start to the stay, but thankfully the rest was good.
Good location and tidy room, but check-in time is unbelievable late and with stained sofa and dirty
Dec 2022
Check in time is 5pm, the sofa has stain and dirty, no mugs in the room and the frying pan is dirty
room was big and allowed higher occupancy
it was not as clean as expected. very dusty even the tables between the beds had a layer of dust on top
Comfortable walk to the busy streets, very clean room, spacious.
Jan 2023
We were lost at first because just about 20meters, there is a Stay and Go logo and we thought that was the back entrance and we waited there for half an hour just ti realize it was an office building.
Didn't send me the passcode for the main entrance at ground floor.
After I chk out . I already back to Thailand the hotel call booking.com to change me bed broken! It's broken before I come to stay there , I did not told the hotel when I'm chk in! It's not nice to doing that to me! Anything I ask my Japannise friends to go talk to the hotel.. after them don't change me for this! My first time in this hotel is not good experience!!
You should be able to manage space for your luggage. To be able to get in you must insert the key on the monitor outside and this was not mentioned in the checkin instructions.
Near to Shinsaibashi shopping strip.
Not much dryer to hang clothes. No scissors in kitchen. Old TV with no Netflix or smart functions.
location, spacious, layout of the room
wanted to extend the stay but they told us we have to pay cleaning fee again. didn't have enough hangers would be better if they had toaster. didn't like the toilet roll so we bought new one for ourselves.
To sum it up, our stay was perfect.
Dec 2022
it's very near to the shopping areas and stations.
I noticed our unit has no dining table, small one will do help.
value for money. i'd def book again.
Feb 2023
i like everything. for improvements: - pillows could have been bigger - bath towels would be better if bigger
Great room for a group and plenty of space and value for money. comfy beds and space to spread out. not too far from sta
Sep 2022
Good location, modern accommodation
Aug 2022
Good location, modern interior, beds are big and comfy.
Checking in felt like solving a mystery on an escape room. So, the process could've been better. Also, my friends and I had an allergic reaction to the air in the room. The aircon filter wasn't cleaned so it affected our breathing and it was really uncomfortable throughout our trip.
Brilliantly located, wonderfully efficient and comfortable home-away-from-home base to explore Osaka
Dec 2022
Fantastic location just a block and a half from Shinsaibashi Suji covered shopping street which itself runs parallel to the main Shinsaibashi shopping strip with easy access to Osaka metro stations. Apartment is quiet and spacious with two large beds, well equipped kitchen and laundry and a dining table (important for family life!). It's an amazing, economical and comfortable base for a small family to explore Osaka and come back to a comfortable home each day if you are reasonably self-sufficient in cooking and cleaning up after yourself. Despite some (in my opinion) minor issues (listed below in the hope they lead to improvement), I would stay here again in a heartbeat!
Zero human contact in check-in and throughout except when a grumpy person came to knock loudly on our door to tell us that check out time had passed (we were a few minutes late) Checking in is a bit of an IQ test. Check-in information didn't arrive by email; I later found out that it probably went into my spam email box at booking time and likely got auto-deleted because we booked quite early before the actual trip. Contacting property through booking.com did not get a prompt reply although we did get a reply between landing at Kansai and making our way to the apartment (about and hour plus). Eventually we got in via a code to the building front door and then personalised instructions (in English) on a tablet inside the lobby. Be well advised to submit check-in information via their online portal before you arrive. Using a fiddly tablet to enter multiple guest particulars could easily delay you by half an hour or more to get your keys. Wifi was completely non-functional. Although we could see the wifi SSID for adjacent apartments, the password for our apartment wifi did not work for them (which was good security). Eventually contacting the property yielded a fix which was to provide us with the password for the adjacent apartment wifi SSID (not so great security). Possibly because of the borrowed weaker signal, wifi speed was crawling. Again zero human contact way of operating meant that nobody came to fix the wifi throughout our 4-night stay. TV was only in Japanese. We tried to hook up our own media via our HDMI cable but the HDMI port is virtually inaccessible (although we could see it through a tiny gap under the TV) and the TV is pretty much bolted to the wall.
pleasant stay for family, easy access to go anywhere and find everything you need.
Jan 2023
complete facilities, good location
Wie viel kostet dieser apartment im Vergleich zu anderen in Osaka?

Der Durchschnittspreis für eine Anmietung in Osaka beträgt EUR 55 pro Nacht. Diese Miete ist EUR 7 günstiger als der Durchschnitt.
Ist das Parken in diesem apartment inbegriffen?

Das Parken ist nicht als verfügbares Ausstattungsmerkmal bei STAY & GO Shinsaibashi angegeben. Für weitere Informationen empfehlen wir Ihnen, sich mit dem Anbieter der Unterkunft in Verbindung zu setzen, um zu erfahren, wo Sie parken können.
Gibt es in diesem apartment einen Pool?

Wir haben keinen Pool gefunden, der als Ausstattungsmerkmal für diesen apartment aufgeführt ist. Es kann sich lohnen, noch einmal zu prüfen, ob ein Pool für Ihren Aufenthalt wichtig ist.
Ist STAY & GO Shinsaibashi haustierfreundlich?

Leider ist dieser apartment nicht haustierfreundlich. Versuchen Sie erneut zu suchen und filtern Sie nach "Haustiere erlaubt"
Welche Ausstattungsmerkmale sind bei STAY & GO Shinsaibashi verfügbar?

Wir haben 6 Ausstattungsmerkmale für diese Unterkunft gefunden. Dazu gehören klimaanlage, küche/kochnische, internet/wlan, waschmaschine und balkon/terrasse.