Holi Panorama Nha Trang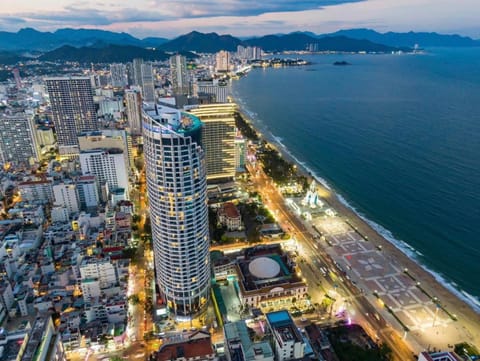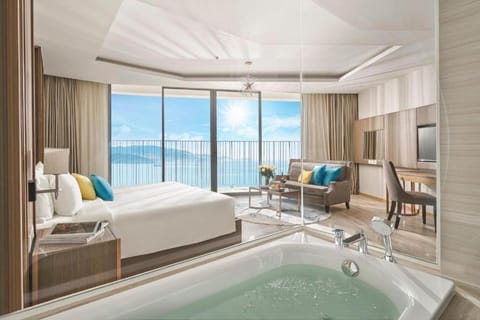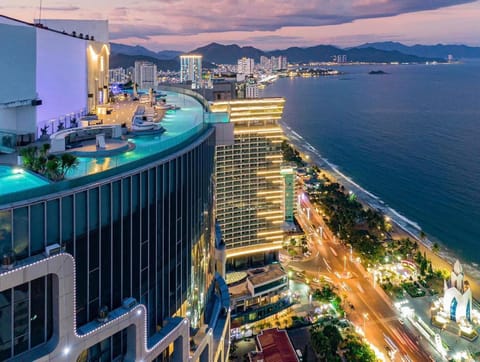 Apartment in Nha Trang
Pool
Klimaanlage
Küche/Kochnische
Über diesen apartment 
miete
Eingebettet in Nha Trang, dieses schön ganze wohnung für EUR 18 pro Nacht ist ein großartig Option für Ihr nächstes Reise. Das Holi Panorama Nha Trang in Nha Trang bietet Unterkünfte mit einer Terrasse oder einem Balkon, kostenfreiem WLAN und einem Flachbild-TV sowie einen Außenpool und ein Fitnesscenter.
Pool
Klimaanlage
Küche/Kochnische
Internet/WLAN
Parkplatz
Waschmaschine
Balkon/Terrasse
Whirlpool/Spa
Fernseher
Rollstuhlgerecht
Strand/Ufer
Fitnessraum/Fitnessstudio
Familienfreundlich
100 % verifizierte Bewertungen
4.2 / 5

"Ausgezeichnet"

(422 Bewertungen)
we are almost happy with our stay!
Aug 2022
we love our spacious room, gorgeous beach view, and fine furniture.
the studio doesn't provide enough power socket for three people.
We loved both of the pools - keep in mind that one of the 38th floor is extra paid. (120 k) The view from our room was astonishing. The room itself was tidy and spacious. The location was excellent, close to everything.
They didn't have Netflix, there was no way to install it either. You can clearly smell damp from the bathroom, even though it was properly cleaned. If you don't open the windows when you leave, the entire apartment will smell like it. There was a show in front of our windows for 2 days - the lights and loud music made it harder to sleep.
Great location, comfy rooms with stunning views and kind personell.
Nov 2022
We arrived 7 hours earlier than check in ( due to taking the night bus) and we were able to keep our luggage in the storage compartment and enjoy our day prior to check in. we were also allowed an earlier check in so we can rest after our night trip. the hotel were very good at communicating via Wattsapp. The gym was super with beautiful views. The coffee shop inthe lobby had free wifi and good coffee. House keeping was amazing when we were faced with a large cockroach in our room.
The pool on the top floor was not free for hotel guests which was not as advertised. The entire building belongs to more than one branch of hotel. We only had one door card for the two of us so could not come and go freely. The lifts were a nigthtmare to operate with so many floors and so many stops per floor. A cockroach somehow ended up on the 31st floor in our room.
hotel lobby was chaos, too many people and unorganised
Great view but not suitable for people who are looking for luxury accommodation.
Oct 2022
Lack of service and not very clean
Very good location Excellent beach view
Good utilities, helpful staff, confident location - elevators only downside
Jan 2023
Very clean, close to everything, wifi was consistent
The elevators took around 10 - 30 mins each way.
Clean room with good location. Highly recommended
Sep 2022
Very clean and comfort room. Fast check in and check out procedure. The host is very active and easy to reach thru whatsapp. Besides, the hotel in just in the center of city. Night market and beach are just within walking distance.
if you want a coastal beach view it's a great place to stay
Feb 2023
The view is amazing and the breakfast selection is extremely good. The bed was very comfortable . the English speaking check in lady does a great job in very challenging circumstances ie tired, non Vietnamese speaking, cranky tourists! great value for the view
the check in is a little chaotic but it eventually works. you definitely need to factor in time getting to and from your room to the lower floors, but if you weren't so high up you wouldn't have the amazing view. even though the room is comfortable there are a few thing's missing ie no tea towel for drying in the small kitchenette, no tv channels (only YouTube), we had to ask for the towels and soap to be left after the room was cleaned, there was only one roll of toilet paper (it's a long way down to the front desk to ask for more), no phone in the room and we didn't want to use suggested messaging services.
lovely little stay
Dec 2022
the room was great, nice & clean. great view of the city
well I can only say 1 thing bad about the room which we didn't know until it was to late that there was no towels in the room, so when we had a shower we couldn't dry are selfs which was the only problem
The room is nice an spacious with an amazing view! The bed was also really soft and the breakfast is very big and diverse. It is also right on the beach which has beach chairs so perfect location to relax.
The room had a bit of a bad smell but nothing that could not be fixed by opening the window for a bit.
The only good thing about this hotel is the cleanness and the location, but I expect much more for a hotel that pretends to be high standards...
Here are the things that i didn't like: There are 2 pools, and to access the rooftop pool, you need to pay an extra fee each time you access it.. I find it not acceptable as a guest to pay an extra fee!!! The swimming pool on the 3rd floor is closed at 6 pm ... the bar is none existent... when you access at the restaurant which is at the 6th floor there is a small corner of the room which make bar... The breakfast has only Asian dishes, almost nothing regarding continental breakfast... The hotel is management by different property which makes it confusing when you check in... That hotel has a big potential but again this is managed by local and this is a failure... For this price you can find better such as the regalia gold 200m from there that meet all the criteria..
The ocean view from the balcony was stunning!
So much to be improved
Feb 2022
The location was excellent, with lots of good eateries nearby. Guests entering the building were asked to sanitize their hands and had their body temperatures checked. The room had a nice city view.
The check-in was handled by Eastin Grand Hotel (which is in the same building)'s staff. This led to an overcharge drama that took a week to resolve. The elevators were super slow (even though there were eight or ten of them) and we needed our key cards to use them. We could only go to our floor using the key cards, so visiting friends staying on other floors was indeed a hassle. The room was infested with ants. The bathroom ceiling was moldy. There was no phone inside the room to call the front desk so we had to go all the way to the first floor whenever we needed something.
It was a great experience and I will definitely recommend to others.
Jul 2022
the location is downtown and near the beach, really convenient.
A little narrow space for a group of 4 people.
Will never book again or recommend.
Dec 2022
the location and roof top - which wasn't mentioned on booking.com
The staff were rude from the minute we arrived. we asked to check in early and were told by 1 member of staff that the hotel was full but a different story by another where if we paid 300,000 Dong we could get into the room early. The hallways and room smelt like cabbage. Their were ants in the room and the music coming from the testing of the New Year celebrations on the street below was insane. You felt like you were at a concert, I appreciate that this wouldn't be the case all year round but no one warned us that this would be the case. The room key stopped working and hardly any toilet roll. For a '5 star' resort it is poor and unacceptable. On booking.com you book the hotel with the pool shown in the pictures but actually the pool has no sun or sun loungers at any point throughout the day. The actual pool they make you pay to get entry and once you're there it's great but I think this should be made clear at booking. I've stayed in 3 star resorts with more accommodating staff & better facilities.
the facility is new and high quality. The whole building is magnificent with pretty view of the ocean
I booked a queen bed room but got a twin beds room instead
Not quite as the ad suggests
Jan 2023
The concierge was very helpful.
Unfortunately we feel this property was falsely advertised on booking.com. Before booking please be aware of the following, There is no refrigerator in the room - it is a wine cooler at can not refrigerate cold goods or medicine. The pool featured in the photo costs an additional $12 per person, per swim. This pool was closed our entire stay due to weather. We also had lots of confusion with the payment.
The swimming pool shown in the pics is closed, there is another pool but not same view
Oct 2022
the bed was very comfortable, the views from the bedroom were amazing
The swimming pool shown in the pictures is closed for refurbishment
Super valueable, i have known this hotel for a long time but really excited when put a step in this room. Even lowest budget till higher class room, it have the same thing to say: EXTRAORDINARY. Believe me, even 5-star hotel, you will find the best profit/price here
The cushion should be softer, a little bit hard
Will not be coming back
Feb 2023
Room was very nice and clean, excellent ocean views
The staff, extremely rude and not helpful, housekeeping throwing away things that were not rubbish and refusing to own up
Room was spacious and clean. Great location with lots of things around. We were on the 33rd floor so didn't notice the noise from the streets, or from next door rooms or the hallways.
Wie viel kostet dieser apartment im Vergleich zu anderen in Nha Trang?

Der Durchschnittspreis für eine Anmietung in Nha Trang beträgt EUR 36 pro Nacht. Diese Miete ist EUR 18 günstiger als der Durchschnitt.
Ist das Parken in diesem apartment inbegriffen?

Ja, das Parken ist als Ausstattungsmerkmal bei Holi Panorama Nha Trang aufgeführt. Für weitere Informationen empfehlen wir Ihnen, sich mit dem Anbieter der Unterkunft in Verbindung zu setzen, um zu erfahren, wo Sie parken können.
Gibt es in diesem apartment einen Pool?

Ja, bei Holi Panorama Nha Trang steht ein Swimmingpool zur Verfügung. Genießen Sie das Wasser!
Ist Holi Panorama Nha Trang haustierfreundlich?

Leider ist dieser apartment nicht haustierfreundlich. Versuchen Sie erneut zu suchen und filtern Sie nach "Haustiere erlaubt"
Welche Ausstattungsmerkmale sind bei Holi Panorama Nha Trang verfügbar?

Wir haben 13 Ausstattungsmerkmale für diese Unterkunft gefunden. Dazu gehören pool, klimaanlage, küche/kochnische, internet/wlan und parkplatz.