Ostay Shin-Osaka Hotel Apartment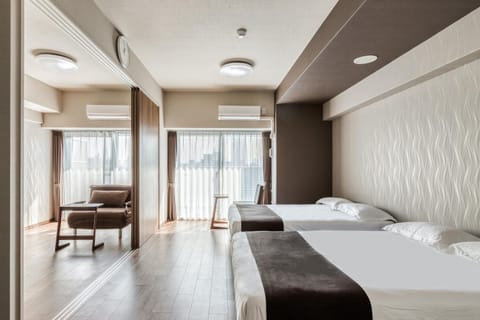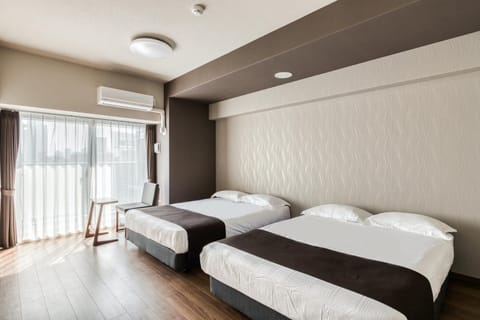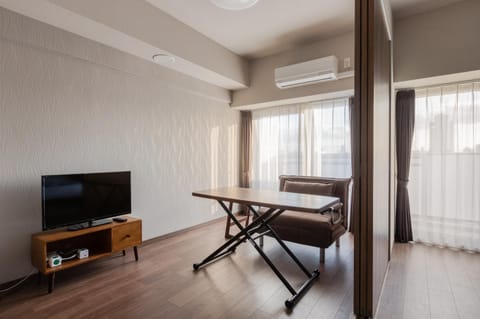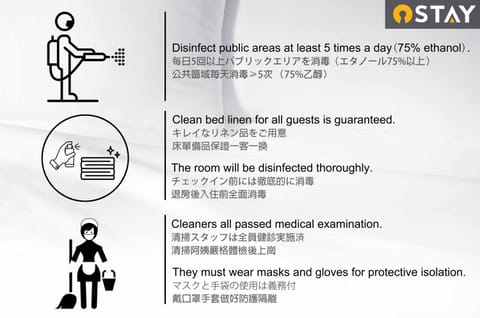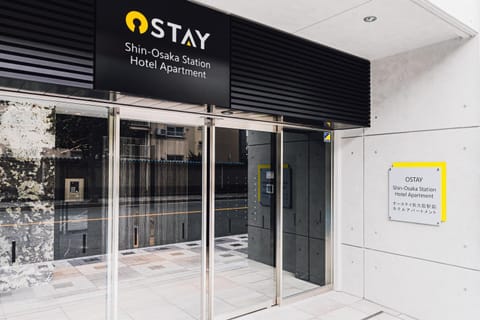 Apartment in Osaka
Klimaanlage
Küche/Kochnische
Internet/WLAN
Über diesen apartment 
miete
Eingebettet in Osaka, dieses attraktiv entire apartment für EUR 18 pro Nacht ist ein großartig Auswahl für Ihr nächstes Urlaub. Das Ostay Shin-Osaka Hotel Apartment liegt 100 m vom Yamaguchi Honcho Park in Osaka entfernt und bietet klimatisierte Unterkünfte mit kostenfreiem WLAN.
Klimaanlage
Küche/Kochnische
Internet/WLAN
Rauchen erlaubt
Waschmaschine
Balkon/Terrasse
Fernseher
Familienfreundlich
100 % verifizierte Bewertungen
4.3 / 5 (1'945 Bewertungen)
We highly recommend O-Stay Shin-Osaka for the stellar points above.
Jan 2023
We like the accessibility to the station and ease of self-checking in. Wonderful value for money, with ample living and resting space and you can even dry your laundry, which is rare for hotel establishments. We misplaced our phone and the management was so kind and went above and beyond to send it all the way from Osaka to Tokyo by speed post, so that we received it one day before our flight home. For that, we will always be forever grateful ❤️
Very close to station, working kitchen and all utilities. Spacious. Several convenience stores closeby
Sep 2022
We had special dietary needs and needed
Very clean, convenient location at an affordable price.
Jul 2022
very spacious, very clean, good location, great price
no staff at all, beds were a little stiff, the floorboards are slightly warped.
Very good apartment close to Shin Osaka.Highly recommended
Oct 2022
Very good facilities.Close to Shin Osaka
The occasional sound of aircraft flying low about to land
Very convenient location. Close to Shin-Osaka and Lawson and 7Eleven just a few minutes away. Apartment was very big for japanese standard. Washing machine is fantastic and the bathroom is fantastic with the Option to dry clothes in it.
very close to Shin-Osaka station easy self check-in clean WiFi worked well
Worth the value of money
Oct 2022
Very clean and has all necessary facilities in the apartment
The pillows were not comfortable
Overall property is very good and quite convenient to travel, very clean, really enjoyed my stay
Apr 2022
Though they said main door password and room key password are in email document unfortunately I did not see that in my email. Have to call and get password over phone call.
I didn't find rice cooker and knife to cut vegetables in room.
This place was perfect for a short travel trip. It's a 3-minute walk from shin-Osaka station. The apartment is comfortable, with all the utilities you will need for a couple of days of stay, has a washer and the beds are really comfortable. Nearby you have a Lawson if you need anything additional or want to grab something to eat late. The experience 10/10.
Good price with good location
Aug 2021
They don't have the annoying check in and check out stuff. Also, yiu can have your own laundry mechanic and bathroom. Really clean and comfortable
You have to throw your rubbish
Ostay Shin-Osaka Hotel Apartment Review
Nov 2022
The staff was accomodating to our requests and needs. They are very polite in addressing any concerns.
Pillows are too soft and only 1 pillow per person was provided. Floors seems to seems to be elevated and feels funny to the feet.
It makes me feel like home :)
Mar 2023
The service apartment locates in a tranquil environment. It takes around 5 min walk to the Shin-Osaka Station which is easy to take the Shinkansen to the other cities like Kyoto.
The location is a little bit far away from Shinsaibashisuji area. It talks around 25 min going there but the distance is still acceptable.
The room was clean and very comfortable for our family of four.
An excellent place to stay and feel at home in Osaka
Apr 2021
The room was clean and comfortable and had all the amenities necessary for a home away from home in Osaka. The kitchen was stocked with a pot, pan, knife, cutting board, ladle, spatula, and ample cutlery, plates, and cups. There was also a washing machine with detergent provided and a spacious bathroom with soap, shampoo, and towels provided. The fridge was clean and was big enough for all our groceries and also included a freezer. The stove was likewise clean and worked well to cook our meals. The bed was big and comfy and also clean. The toilet was clean and stocked with ample toilet paper and boxes of tissue paper were also provided. There was even a vacuum cleaner with which to tidy up. Checking in, even with the instructions provided, was a bit confusing at first since there was no front desk counter or in-person staff; it was entirely self-service and automated. However, once we figured it out, it was easy and we had no further issues after the initial confusion. With all the amenities and comforts, the room was very cheap: only about 3200 JPY per night (with a 3000 JPY cleaning fee as a minor drawback). It was a great value, everything considered. The owner was easy to contact and got back to us with answers to our questions in a timely manner. We very much enjoyed our stay here. It made the days we spent in Osaka even more enjoyable. We would happily stay here again.
The area around the hotel is rather dreary, and, though we had a window with a balcony, the view was obscured by another building directly behind the hotel building (though this did help to keep the room cool throughout the day). The hotel is conveniently located next to Shin-Osaka Station; however, aside from a couple pricey grocery stores in the station and a few convenience stores near the hotel, the closest supermarket is about a 15-minute walk away. But overall, these were only minor issues and did not detract from the overall experience.
A good family room option!
Jan 2023
The room is spacious even for five persons. Everything is clean, well maintained, looks exactly like the provided pictures . Location is very good and close to shin-osaka station. Dragging luggages from the hotel to the station was easy. Washing machine and drying feature in the bath is a life saver and the detergent is also provided!
In winter it is very dry a humidifier would be nice.
It is an "ok" accommodation provided self service is fine.
Nov 2022
There is a washing machine
There staffs can be reached by phone only.
A pleasant and enjoyable stay.
Nov 2022
The property was very close to the Shin Osaka station which made traveling to the train station very convenient. It also had a washer and toilet dryer which enabled us to wash our clothes. The management was very responsive to my messages and handled my queries very promptly.
I would have appreciated more hangers and more wardrobe shelving and table top space.
The location was very close to Shin Osaka station therefore it was close to several restaurants and supermarkets. The property is perfect for two people with a fully stocked kitchen, clean bathroom and washing/drying facilities. The bed and heating is also satisfactory. Value for money.
The location near to the JR station Shin-Osaka and Osaka Metro Line. The owner is very responsive, easy check in and complete room facilities such as washing machine, microwave, electric stove and refrigerator. The important thing also there are directions in English to operate everything in the room.
The location is perfect if you plan to travel to Kobe / Kyoto / Nara. The place is clean and equipped with necessary items. I like the drying function the best. This helps when we want to do some washing and the clothes dry fast.
NA. Maybe adding some clothes rack will be good. One more dustbin in the living room area.
I stay with my husband and two kids. The space is comfortable for us. We really enjoy staying here.
Apr 2021
The location is fabulous. Lots of convenience store and restaurants nearby. It also only a minute away from shin osaka station by walk.
I found that the frying pan couldn't work with the stove. I think the frying pan is way too big. So I use the pan for boiling and frying while cooking.
It's the best place for cost, location and comfort to enjoy everything about Osaka!!
Jul 2022
The location and the amenities are exactly what you need!
Wish they would not allow smoking in the rooms.
worth to stay here
Jan 2023
the facility, location, service
The apartment hotel was very spacious and clean. Bathroom and toilets were very clean as well. The microwave and fridge were a very nice addition as well. The hotel was very close to the station and a Lawson, with some neighboring restaurants which made it convenient. Getting in and out of the hotel was convenient too as we didn't need to worry about bringing a key or keycard.
I wish the pillows were a bit harder as it was too soft so it wasn't too comfortable. A bigger table with a few more chairs would have been nice as well.
The accommodation is safe. There are complete facilities. The room is clean and looks good as seen in the photos. The location of the accommodation is very comfortable. Since it's close to shin-Osaka station, it means you can find good restaurants to eat from morning till night. And there are many convenience stores open 24 hours a day.
I don't have any comments about this topic, cause the overall is good so much for us.
that they had a small kitchen with small freezer, laundry and the exaustor for heating, drying in the bath room.
A little bit more space would be better.
Spacious and great location for the Shin Osaka station.
Oct 2022
Such a large and spacious apartment! Right next to the station for easy access to the Shinkansen. Bathroom was lovely and great kitchenette as well.
Could give larger seating area.
Clean, Value, Convenience and Comfortable
May 2022
staff always sending emails. The accommodation is very good, clean, comfortable, near train station and restaurants. Value for room price. If anyone wants to stay in Osaka, I will recommend this place.
Room was super spacious and very clean. Great wifi, and nice place.
I think the check/ in check out times were a bit inconvinient/ inflexible. For travelers you can not always choose when you will arrive in a new place and it was a VERY late check in and very early check out with super high fee for every hour after.
keep the good work
Dec 2022
room temprature bathroom temprature
1. you should give at least 2 chair for sit when eating 2. please double check thegas supply, as we have experience gas malfunction in the first morning
Too small and crowded, not similar to the website picture
Right next to Shin-Osaka station. So it was very convenient for coming in and going out of Osaka by the Shinkansen. Having a washing machine in the apartment was great! It has a kitchenette.
Recieved the code with the steps in the mail, very easy and simple. It was really clean and match the foto's on the site. At first i was a bit sceptical, but turns out that this was not necessary.
Really spacious and clean. Very close to the train station and restaurants.
The bed was uncomfortable. Woke up with a sore back every morning. Other than that, it was a very nice place.
Really good location next to shin-Osaka station. We were surprised at how great the facilities were. Drying function on shower, electric burners, washing machine… it was a great place for a great cost!
We were a little surprised by the cleaning fee but that was on us for not checking closely.
Excellent stay in a large apartment
May 2022
Should have some extra pillows
nothing extraordinary. WON'T RECOMMEND TO FRIENDS.
Jan 2023
1. No USB pod at the bed side for smart phone charging. 2. Decor and ID were boring.
Wie viel kostet dieser apartment im Vergleich zu anderen in Osaka?

Der Durchschnittspreis für eine Anmietung in Osaka beträgt EUR 55 pro Nacht. Diese Miete ist EUR 37 günstiger als der Durchschnitt.
Ist das Parken in diesem apartment inbegriffen?

Das Parken ist nicht als verfügbares Ausstattungsmerkmal bei Ostay Shin-Osaka Hotel Apartment angegeben. Für weitere Informationen empfehlen wir Ihnen, sich mit dem Anbieter der Unterkunft in Verbindung zu setzen, um zu erfahren, wo Sie parken können.
Gibt es in diesem apartment einen Pool?

Wir haben keinen Pool gefunden, der als Ausstattungsmerkmal für diesen apartment aufgeführt ist. Es kann sich lohnen, noch einmal zu prüfen, ob ein Pool für Ihren Aufenthalt wichtig ist.
Ist Ostay Shin-Osaka Hotel Apartment haustierfreundlich?

Leider ist dieser apartment nicht haustierfreundlich. Versuchen Sie erneut zu suchen und filtern Sie nach "Haustiere erlaubt"
Welche Ausstattungsmerkmale sind bei Ostay Shin-Osaka Hotel Apartment verfügbar?

Wir haben 8 Ausstattungsmerkmale für diese Unterkunft gefunden. Dazu gehören klimaanlage, küche/kochnische, internet/wlan, rauchen erlaubt und waschmaschine.