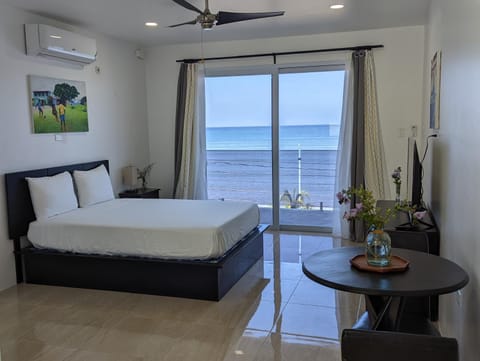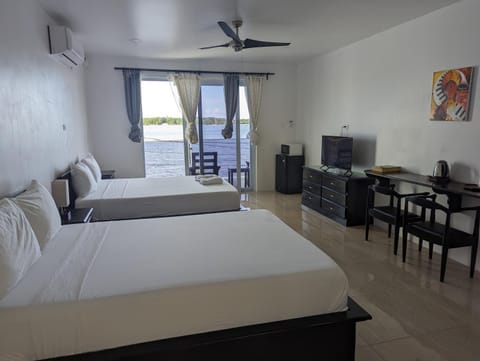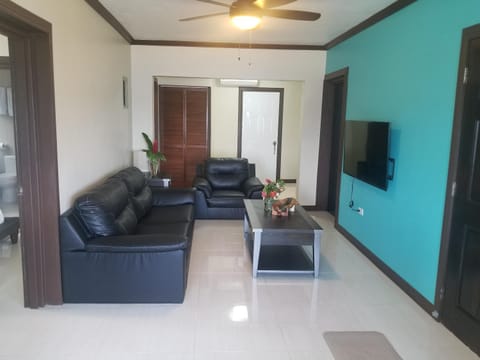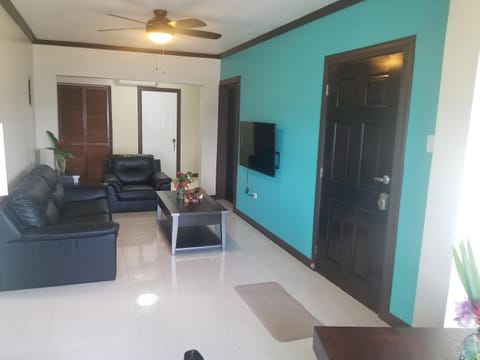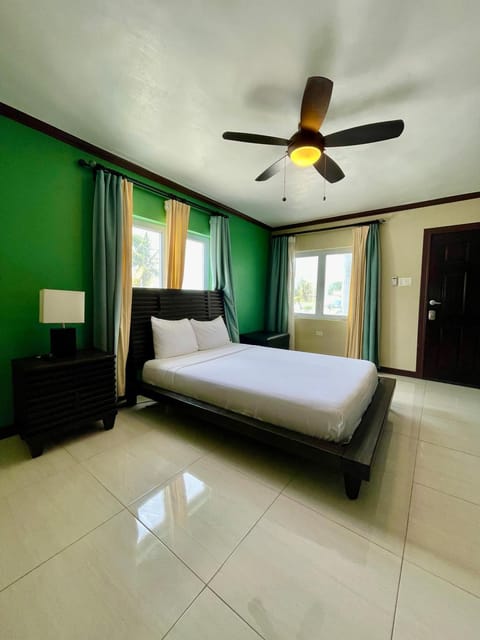 Ausgezeichnet
(115 Bewertungen)
Apartment in Port Antonio
---
Gründe für eine Buchung
Inklusive wesentlicher Ausstattung
Garten, Küche/Kochnische, Klimaanlage und mehr
Buchen Sie mit Vertrauen
Wir arbeiten mit den besten Reiseportalen zusammen, damit Sie die perfekte Urlaubsunterkunft zu einem attraktiven Preis erhalten.
---
Über diese apartment Unterkunft
Befindlich in Port Antonio, dieses attraktiv ganze wohnung für EUR 178 pro Nacht ist ein phantastisch Option für Ihr nächstes Reise. Das Inn The Town erwartet Sie mit Meerblick, kostenfreiem WLAN und kostenfreien Privatparkplätzen in Port Antonio, nur wenige Schritte vom Strand von Port Antonio entfernt.
Ausstattung
Klimaanlage
Küche/Kochnische
Internet/WLAN
Rauchen erlaubt
Parkplatz
Waschmaschine
Balkon/Terrasse
Fernseher
Strand/Ufer
Garten
Familienfreundlich
Ausgezeichnet
(115 Bewertungen)
Apartment in Port Antonio
---
Gründe für eine Buchung
Inklusive wesentlicher Ausstattung
Garten, Küche/Kochnische, Klimaanlage und mehr
Buchen Sie mit Vertrauen
Wir arbeiten mit den besten Reiseportalen zusammen, damit Sie die perfekte Urlaubsunterkunft zu einem attraktiven Preis erhalten.
---
Bewertungen
4.3 / 5

"Ausgezeichnet"

(115 Bewertungen)
100 % verifizierte Bewertungen
Cool Jamaican vibes
Aug 2023
The location on the sea front was perfect for morning walks as well as walking into town. Ease of check in, door code used for room entry was better than having a key. Staff were friendly and helpful at all times.
We'd stay here again!
Jul 2023
Location was perfect, space was great and very clean.
The mattresses were not that comfortable and towels a bit small.
It is conveniently located to visit all the beautiful sites in the area.
Jul 2023
Location to town excellent. View was great. Secure and safe. Clean spacious rooms. Staff lovely
Location Spacious Updated and modern
Was just a very nice place overall. Even wish I was the one who own that spot.
Jul 2023
Overall, I loved it and will always stay there when visiting Port Antonio. the Manager was awesome
May 2023
Loved the ocean view, the location, the modern room and facilities, the staff, the privacy on the deck plus the front plexiglass allowing you to see the view, the shower, the bathroom bowl-sink, the TV, the coffee, the gated security, the MANAGER who went out of his way to help me down the steps whenever I needed him.
The banister on the 22 steps up to the 2nd floor. There needs to have a railing on it for people with disabilities to have something to grab onto. The maid service was confusing; they seem to only come when u request them then u have to tell them what to do. My Junior Suite was just a large room with 2 beds. I expected a small apartment with a small kitchen. It needed to at least have a little table and chairs where you can sit and eat in ut. It had just a high counter and 2 low chairs. I never did figure out if the get the Live TV to work.
Amazing stay at Inn The Town!
May 2023
Property is in a great location and very close to Port Antonio's town centre. Building grounds are very clean and parking is available onsite through their secured electrical gates. Rooms are very cosy with all the amenities you could ask for! The sea view from the balcony was the 'cherry on top' for us as the views are truly breathtaking. Staff are very welcoming and friendly - thank you Nick (manager) for always checking in whenever we crossed paths. We felt so relaxed and safe here and we would definitely stay here again.
The location was brilliant, I like walking, so walking into the Town was frequent because it was very near for all what I needed. 👍
Nothing, it was all good.
good spacious rooms with sea view
the road between property and sea
7 night stay in Port Antonio
Mar 2023
Very hospitable staff, was greeted as soon as we arrived at the property. Room cleanliness lots of space everything worked. Ideal location quiet and peaceful once inside the property. We felt very safe and secure. Views of the sea opposite was great.
Only thing, is, we would have liked larger bath towels on our arrival. Perhaps I should have requested these.
the inn was clean near and looked like that the pictures
Mar 2023
it was clean and location was good
check in was not that easy
wonderful place, close to good food and downtown beach
Feb 2023
clean, very professional property manager and staff.
bedroom was Spot on !!!& the view superb
Great property in a great location in a not so great town.
Feb 2023
location. Sea view and close to town clean, comfortable. Nick was there to greet us and was friendly note, it's an apartment building not a hotel
the property was great & if you HAVE to go to Port Antonio this is the best place. BUT, just a suggestion. add coffee and creamer to the kettle & cups. Port Antonio itself was a BIG disappointment. No beaches or decent restaurants/bars.
Inn The Town is a perfect place to stay when you visit Port Antonio!
Jan 2023
I can be short... When you plan to visit Port Antonio for a few days, Inn The Town is THE perfect place to stay! The rooms are big and spotless clean, the location is perfect and the manager/owner, Nick, is one of a kind! I don't now his surname but I do know "hospitality" must be his middle name. :) He is so friendly and helpful that we felt at home from the moment we arrived. When you're travelling through Jamaica, Port Antonio is absolutly worth a visit. When you do so, take my advice: Stay at Inn The Town!
The towels could be a big bigger and the quality of the beds is just enough for a few nights but it doesn't outweigh all the positives of Inn The Town!
The room was clean beautiful ocean view. Staff was amazing and pleasant. Was a bit difficult to find through Google maps so called the hotel and the guy guided us there 😀.
Couldn't figure out how to adjust volume on the remote for the TV. Other than that it was great.
The staff was amazing and did everything to help us. They helped to get a transportation and a driver to take us around. They made us feel very well. The Hotel is close to Knutsford Express Station (max. 10 min drive) and like 20-2 30 min driving feom the most important sights.
The rooms are very humid, things don't really dry.
great view great location , excellent stay
Dec 2022
the staff was very warm ,friendly and informative.
that they don't do breakfast but we were escorted to a nice little breakfast spot near by. thanks guys!!!
Great service and location. Great room with all you need to have a nice staying
View was pretty great and it's close to town.
I'll definitely be staying here again , having a great apartment made our vacation one of the best
Nov 2022
clean , comfortable , great location ,excellent staff and beautiful views
Couldn't ask for a more central location! Very clean.
Would have loved: Hot water, a blanket, not having cleaners outside at 6am everyday, slightly less enthusiast hosts who seemed to be on you the moment you opened your door.
My stay was short but really comfy and sweet.
Aug 2022
How helpful the staff was.
The friendly and helpful staff they made sure our needs were meet.
I enjoyed my stay, good location
Aug 2022
Very clean and aesthetically pleasing with a view of the sea
not really a car park just a yard, and didn't change towels daily
This is the place for you!
Jul 2022
Everything. Convenient to town. CLEAN. comfy. great customer service. Safe. Oh and across the street from the ocean.
um...there isnt anything i did not like.
Häufig gestellte Fragen
Wie viel kostet dieser apartment im Vergleich zu anderen in Port Antonio?

Der Durchschnittspreis für eine Anmietung in Port Antonio beträgt EUR 113 pro Nacht. Diese Miete liegt EUR 65 über dem Durchschnitt.
Ist das Parken in diesem apartment inbegriffen?

Ja, das Parken ist als Ausstattungsmerkmal bei Inn The Town aufgeführt. Für weitere Informationen empfehlen wir Ihnen, sich mit dem Anbieter der Unterkunft in Verbindung zu setzen, um zu erfahren, wo Sie parken können.
Gibt es in diesem apartment einen Pool?

Wir haben keinen Pool gefunden, der als Ausstattungsmerkmal für diesen apartment aufgeführt ist. Es kann sich lohnen, noch einmal zu prüfen, ob ein Pool für Ihren Aufenthalt wichtig ist.
Ist Inn The Town haustierfreundlich?

Leider ist dieser apartment nicht haustierfreundlich. Versuchen Sie erneut zu suchen und filtern Sie nach "Haustiere erlaubt"
Welche Ausstattungsmerkmale sind bei Inn The Town verfügbar?

Wir haben 11 Ausstattungsmerkmale für diese Unterkunft gefunden. Dazu gehören klimaanlage, küche/kochnische, internet/wlan, rauchen erlaubt und parkplatz.