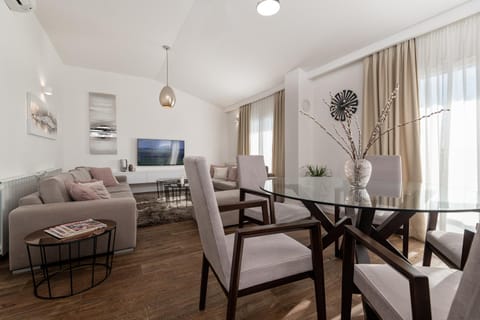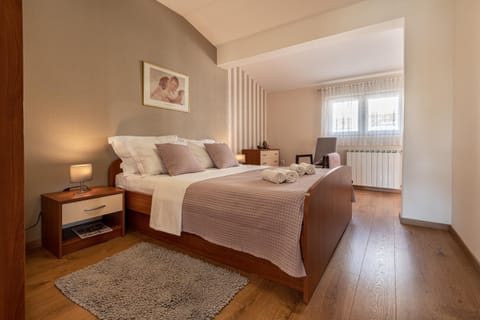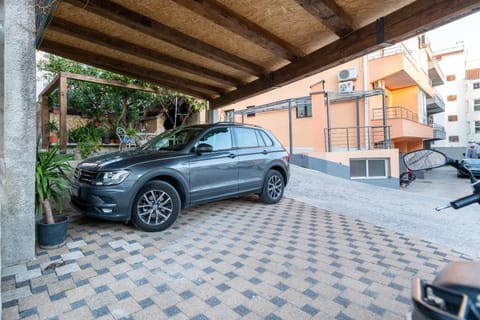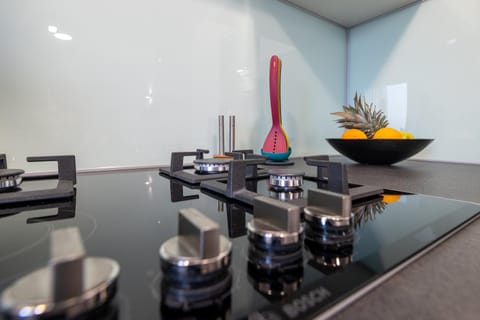 Über diese apartment Unterkunft
Eingebettet in Makarska, dieses attraktiv wohnung für EUR 80 pro Nacht ist ein großartig Option für Ihr nächstes Urlaub. Das Iva Apartment mit Gartenblick bietet Unterkünfte mit einer Terrasse und einer Kaffeemaschine, weniger als 1 km vom Deep Port Beach entfernt. Diese Unterkunft bietet Zugang zu einem Balkon, kostenfreie Privatparkplätze und kostenfreies WLAN.
Ausstattung
Pool
Klimaanlage
Haustiere erlaubt
Küche/Kochnische
Internet/WLAN
Rauchen erlaubt
Parkplatz
Waschmaschine
Balkon/Terrasse
Spülmaschine
Fernseher
Rollstuhlgerecht
Fitnessraum/Fitnessstudio
Garten
Bewertungen
5.0 / 5

"Herausragend"

(72 Bewertungen)
100 % verifizierte Bewertungen
Lovely relaxing stay
Sep 2023
Beautifully appointed apartment, owners very helpful. car parking. 10 to 15 min walk down to the harbour
Perfect, amazing days, very comfortable beautiful flat, nice hosts.
Jul 2023
Everything. It is so beautiful, comfortable and spacious, not to forget about the softness of the carpet😄 Amazing place, very well equipped, could be your home even. The host are just very nice, ee got welcome biscuits, chocolate, fruits, wine. So nice gesture. They were really helpful, smiley. The locaton is very good, it is just a 10 minute walk to get to the beach, and the center. Though the way back is a bit more massive walk going uphill. But still OK. I can only recommend them, I am also looking forward to going back😊
I recently had the pleasure of staying at this wonderful apartment, and I must say, it was an exceptional experience. From the moment I stepped inside, it felt like a true home away from home. First and foremost, the apartment itself is absolutely delightful. It is beautifully furnished, well-maintained, and equipped with all the necessary amenities one could ask for. Whether it was the fully stocked kitchen, cosy living area, or comfortable bedroom, every aspect of the apartment was thoughtfully designed to ensure a comfortable stay. The hospitality provided by the host deserves special mention. They were incredibly warm and welcoming, making sure we had everything I needed throughout my stay. Their attention to detail was commendable, as the apartment was spotlessly clean upon my arrival. It exceeded my expectations in terms of cleanliness and overall presentation. In summary, I wholeheartedly recommend this property to anyone seeking a fantastic place to stay. Thank you to the host for making our stay enjoyable.
Amazing apartment -, big, clean, freshly renovated, nicely decorated, we had our own parking space and it is located in walkable distance from the promenade and city old town! Hostess was very welcoming. The kitchen had cofee maker, toaster and is really well equipped. I wish we could stay there longer, really liked the apartment. I trully felt like at home, thank you 😊
stairs 😅 would be good to mention in the description, the apartment is on the last floor, many stairs and we left our luggage in the car because we did not want to carry to the top 🙈
- Beautifully decorated, spacious apartment - Cleanliness and silence - Great contact with the host - Easy to remember location and distance from the center - Lovely welcoming gifts ❤️
Highly recommended without any reservation!
May 2023
A very spacious, nicely decorated, clean and tidy apartment. The host is nice and friendly. Very comfortable like a HOME.
Apartment is spacious, very nice decorated. Spotless clean and very good equipt. Looks even better than on pictures. Host is very friendly. She left us vine, water, juice and home made snaps in fridge, and plate of fruits and a lot of sweets for the kids. We love the gesture. Definetly would like to come again.
Beautiful apartment and very well equipped, apartment is even nicer than the photos. Host was very accommodating.
Just worth knowing that the apartment is up the hill from the restaurants and shops in Makarska, wasn't a problem for us though.
Absolutely beautiful apartment with lovely hosts. Snacks were so generous as was the wine in the fridge! was sad to leave!
Great place. A helpful host.
Amazing Value Apartment in Makarska
Oct 2021
It was wonderfully renovated, clean and excellent value.
Nothing. It was perfect for the four of us
Everything was amazing! Super apartment!!!!
I had a week trip with my friends in Makarska. We choose Iva Apartment and we were really satisfied with it. The apartment is big, there is plenty of space to hang out. Everything is new and clean but somehow it does have a cozy feeling to it, so you don't feel like you are in a hotel room. The host (Marianna) is very nice, she is professional, but also kind and speaks good English. There are multiple balconies, a big kitchen with a big living room with air condition + 2 bathrooms and 2 bedrooms. Everything you need to have a good time while you are at home resting after a long day at the beach. The price/value ratio is also very good. Highly recommend it!
Not much, if I must have to say something here (it wasn't a big issue for us as we are young) the location is a little bit away from center, so you have to walk 10-20 minutes to get down to the Beach and Bars/restaurants, plus the same to get home (coming back you have to walk upward to the hill).
Very clean and spacious apartment. Host was very kind
The best place to stay
Aug 2021
Bathroom, livingroom, bedroom just everything.
Nothing, everything was just great
Neighbourhood looks rough but it was acctualy safe and quiet
The apartment was great, owner was so kind and helpfull
Simply the best place to stay in Makarska!
May 2021
We spent 6 incredible days in this beautiful apartment and enjoyed every minute there! The apartment is gorgeous and worth much more than we had to pay for it! I would rate it for 100 and not just for 10! It is huge (100m2), everything is brand new and designed with such a taste! There are 2 balconies and a terrace, a big bedroom with a very comfortable bed, additional smaller sleeping room and a huge leaving room with the kitchen, where you can find everything needed end even more!) The area is very quite, the apartment has a private parking and is located in a walking distance to the downtown and Makarska riviera. There is also a shopping center just few minutes from the house. Mariana is a simply amazing host! She put her whole heart in this apartment and we deeply appreciate her effort! She gave us a lot of sweets, a homemade vine & liquor and prepared a tiramisu for us!😍 We even got flowers as a gift when we where leaving!🌸 Thank you so much for making our vacation unforgettable! We will be definitely back and wish you all the best and only great guests!❤️❤️❤️❤️❤️❤️
A place where, for sure, we shall come again
Sep 2020
The apartment was more than I expected. It was very clean, furniture and all apliances in the kitchen seams to be new, the air - conditioning was very powerfull, on TV you can find hundreds of channels includig Netflix, beds are very confortable. The she- host was very friendly and helpful. In the apartment you can find very good and strong wi-fi signal.
The apartment is not far away from the city center but is situated on a hill (if you are not very young it is a litle tiring to walk back home). So, if you are not in a hurry or if you use your car, everything is ok.
Everything was Amazing! A very warm welcome from the owner, making sure even before our arrival that we made it to the location. Upon arrival we were very kindly greeted and showed around the house. The house was very clean and tidy! New appliances, everything worked, and was like we were living at home. The owner provided us delicious home wine and a bunch of basic necessities such as some fruits, coffee, sweets, and other food products. Made us feel very welcomes to be there. The location is also great with the town center around 15-20 minutes away by foot and a bunch of supermarkets around about 5-10 minutes walking distance. Overall very satisfied and highly recommend the stay at this Apartment!
very friendly owner with little surprise and welcome drinks at the arrival 👌🏻👍 the apartment is modern, very clean, with fully equiped kitchen and very comfortable. 5min walking to the shopping center, where you find everything you need for your stay, 15min walking to the beach.
Häufig gestellte Fragen
Wie viel kostet dieser apartment im Vergleich zu anderen in Makarska?

Der Durchschnittspreis für eine Anmietung in Makarska beträgt EUR 82 pro Nacht. Diese Miete ist EUR 2 günstiger als der Durchschnitt.
Ist das Parken in diesem apartment inbegriffen?

Ja, das Parken ist als Ausstattungsmerkmal bei Iva Apartment aufgeführt. Für weitere Informationen empfehlen wir Ihnen, sich mit dem Anbieter der Unterkunft in Verbindung zu setzen, um zu erfahren, wo Sie parken können.
Gibt es in diesem apartment einen Pool?

Ja, bei Iva Apartment steht ein Swimmingpool zur Verfügung. Genießen Sie das Wasser!
Ist Iva Apartment haustierfreundlich?

Ja! Diese apartment ist haustierfreundlich. Für weitere Informationen empfehlen wir Ihnen, sich mit dem Buchungsanbieter in Verbindung zu setzen.
Welche Ausstattungsmerkmale sind bei Iva Apartment verfügbar?

Wir haben 14 Ausstattungsmerkmale für diese Unterkunft gefunden. Dazu gehören pool, klimaanlage, haustiere erlaubt, küche/kochnische und internet/wlan.