Incredible Location! Heart of Old Port|Roomy Condo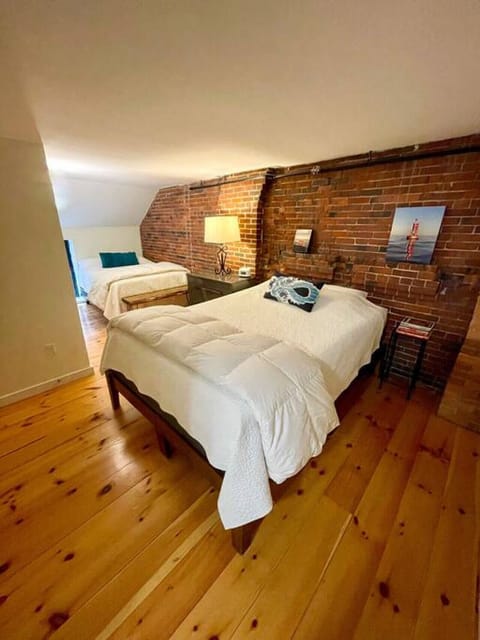 Über diese apartment Unterkunft
Eingebettet in South Portland, dieses attraktiv wohnung für EUR 977 pro Nacht ist ein phantastisch Option für Ihr nächstes Pause.
Dieses Apartment befindet sich in Portland und bietet dir vielfältige Möglichkeiten während deines Aufenthalts. Casco Bay und Fore Street Gallery sind nur wenige Gehminuten entfernt, also lass das Auto einfach an der Unterkunft stehen, die praktische Parkplätze auf dem Gelände bietet.
In diesem Feriendomizil erwarten dich 3 Schlafzimmer, 2 Badezimmer, Klimaanlage und ein Schreibtisch. Dank der Ausstattung mit WLAN-Internetzugang (kostenlos) und Fernseher ist für gute Unterhaltung gesorgt. Einer selbstgekochten Mahlzeit steht in der Küche nichts im Weg – sie bietet einen Ofen, eine Herdplatte und einen Kühlschrank sowie eine Kaffeemaschine, eine Mikrowelle und Kochgeschirr/Geschirr/Besteck. Und damit du nicht so viel Kleidung einpacken musst, stehen dir vor Ort außerdem eine Waschmaschine und ein Wäschetrockner zur Verfügung. Zu den weiteren Annehmlichkeiten vor Ort gehören Bettwäsche, ein Bügeleisen/Bügelbrett, Heizung und ein Schreibtischstuhl.
Ausstattung
Klimaanlage
Küche/Kochnische
Internet/WLAN
Parkplatz
Waschmaschine
Spülmaschine
Fernseher
Karte von South Portland, ME
Bewertungen
5.0 / 5

"Herausragend"

(19 Bewertungen)
1.0
Jun 2023
Do not believe the listing--the noise is unbearable: "…it's above a restaurant/bar and can be noisy in the evenings." After we booked the check-in information said, "As a reminder, the condo is located on the top floors of a brownstone above a restaurant/bar in the downtown area which is known for its nightlife and noise may carry in the evenings." Before we arrived they told us: "Also just a heads up when choosing sleeping arrangements, the main floor bedroom of apartment #2 is probably the most affected by the noise from downstairs until approx 12:30 am Friday and Saturday. The noise seems to be very minimal in apartment #3." These statements make it seem like the noise is minimal and really only one bedroom. Nothing could be further from our experience. We stayed in the upstairs back bedroom in apartment #3 because the manager made it seem like that would be the quietest. It wasn't. We could hear every word of every lyric and the saxophone until 2 AM. We absolutely could not sleep and could not open the windows to get cool air because it made the noise worse. We would hear the music from every room in both units—loudly. Ear plugs did nothing. You simply cannot sleep in these units when the bands are playing. These units are not "can be noisy or "noise may carry" or there is "minimal noise in apartment #3." Everyone in my family was impacted. Do not rent these units if you like to sleep. Go anywhere else in Portland.
5.0
May 2023
Great location, space was clean and ready for our stay. With the couple questions I had the owner of the property was quick to get back to me. Overall great place
5.0
Apr 2023
This property was perfect!! Very clean! Great location! Parked car and never had to use it! Walking distance to everything!
5.0
Apr 2023
We had a wonderful stay for a 40th birthday weekend in Portland. The apartment was great, location can't be beat. Dena was a pleasure to work with, we will gladly stay again.
5.0
Apr 2023
We had a great stay at this property. It had everything we needed and was a great location.
5.0
Mar 2023
We rented both spaces for a girls weekend/ bachelorette. We had 13 women and the apartments were perfect. Clean, beautifully maintained, and on the 3rd floor so we didnt feel we would bother anyone with noise from a large group. The location cannot be beat. We walked everywhere, day and night. We felt safe as there was a key/call pad to get in plus each door to the apartments had a code to get in. The host was responsive to any questions I had and lovely to communicate with. Hands down best place to stay in Portland to be close to everything and enjoy a beautiful space!
5.0
Dec 2022
Our family of seven adults enjoyed Christmas in this special property in the heart of the Old Port. We walked everywhere, and enjoyed most of our meals in the amazing restaurants all around us. Never had to use our cars which we alternated between street parking and nearby surface lots. The apartment was immaculate, as pictured in the photos. Dena was terrific in every way with communications. We would highly recommend! As mentioned in the listing and noted by other reviews, the nightlife on the 2nd floor is LOUD until about midnight or 1 pm. We stayed four nights and the club was closed two of the four nights. We had to check it out one night actually which was honestly kind of funny. As seven adults we shrugged it off with a laugh, but it would not be good for families with children who need to get to sleep early (probably). In any case, we all managed to fall asleep! Many thanks for a special Christmas in Portland!
5.0
Oct 2022
5.0
Oct 2022
We stayed at this property for 2 nights with friends over the long weekend in October and had a great time. This condo is in an ideal location to access everything in downtown Portland. The space itself was perfect for our small group (and could definitely accommodate a bigger group) - comfy beds, spacious bathrooms, and plenty of entertaining space. The extras were thoughtful - like snacks & water, coffee, and even ear plugs (the club downstairs was loud until about 1 am on the weekend night, but the owner was transparent about that in the listing). We would 100% stay here again if it was available! All communication with the owner was great!
5.0
Sep 2022
Listing was exactly as described. Dena was very communicative, property instructions were thorough, and they even passed on some local information.
5.0
Aug 2022
Great location in the Old Port! Accessible to everything. Clean and well maintained. Would stay again.
5.0
Aug 2022
We had a lovely stay, the apartment was cleaned and centrally located in the heart of Portland.
5.0
Jul 2022
In the heart of it all, fantastic location. Is a busy area in the late evening but there were many families staying in the condos around us and they didn't seem to mind it. This flat is beautiful and spacious and was perfect for our group of 8 (4 couples). Would definitely book agian. Cannot beat this location.
5.0
Jul 2022
Fantastic Stay
In the heart of it all, fantastic location. Is a busy area in the late evening but there were many families staying in the condos around us and they didn't seem to mind it. This flat is beautiful and spacious and was perfect for our group of 8 (4 couples). Would definitely book agian. Cannot beat this location.
5.0
Jul 2022
Fun weekend getaway
We enjoyed our time at this property- convenient location to Portland's fabulous restaurants and shops. As advertised, it was noisy at night as a trade off to location. Property manager was Uber responsive and helpful. Thank you!
5.0
Jun 2022
Perfect Portland Getaway
Perfect location, chic decor, spotless, comfortable beds, super responsive host, can't wait to return!
5.0
Jun 2022
Very cute apartment in a great location
This worked perfectly for our group. The location was fantastic, very close to everything downtown Portland has to offer. It did get loud, with the local nightlife so close but as long as you plan ahead it wasn't an issue. Would definitely return and recommend.
5.0
Jun 2022
Great place!
Super well located, very easy check-in and check-out process, and with hosts that gave me all the information necessary. Would recommend!
Häufig gestellte Fragen
Wie viel kostet dieser apartment im Vergleich zu anderen in South Portland?

Der Durchschnittspreis für eine Anmietung in South Portland beträgt EUR 213 pro Nacht. Diese Miete liegt EUR 764 über dem Durchschnitt.
Ist das Parken in diesem apartment inbegriffen?

Ja, das Parken ist als Ausstattungsmerkmal bei Incredible Location! Heart of Old Port|Roomy Condo aufgeführt. Für weitere Informationen empfehlen wir Ihnen, sich mit dem Anbieter der Unterkunft in Verbindung zu setzen, um zu erfahren, wo Sie parken können.
Gibt es in diesem apartment einen Pool?

Wir haben keinen Pool gefunden, der als Ausstattungsmerkmal für diesen apartment aufgeführt ist. Es kann sich lohnen, noch einmal zu prüfen, ob ein Pool für Ihren Aufenthalt wichtig ist.
Ist Incredible Location! Heart of Old Port|Roomy Condo haustierfreundlich?

Leider ist dieser apartment nicht haustierfreundlich. Versuchen Sie erneut zu suchen und filtern Sie nach "Haustiere erlaubt"
Welche Ausstattungsmerkmale sind bei Incredible Location! Heart of Old Port|Roomy Condo verfügbar?

Wir haben 7 Ausstattungsmerkmale für diese Unterkunft gefunden. Dazu gehören klimaanlage, küche/kochnische, internet/wlan, parkplatz und waschmaschine.