Centaurus Hotel Suites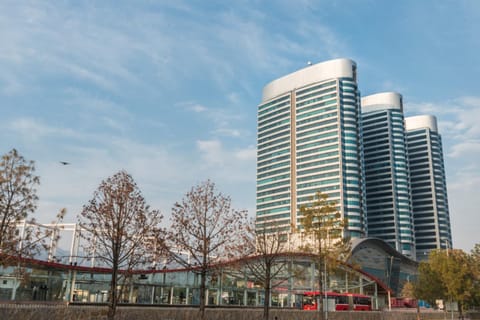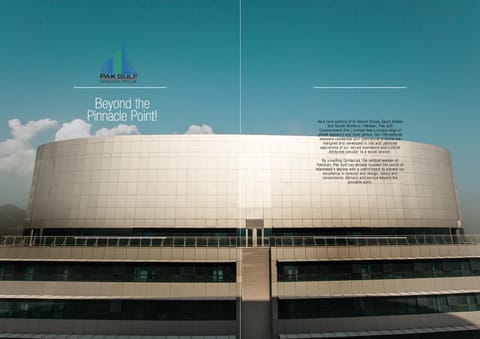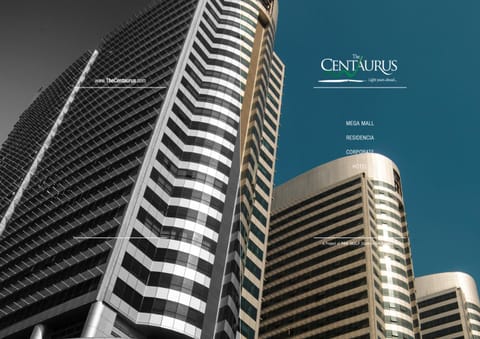 Apartment in Islamabad
Pool
Klimaanlage
Küche/Kochnische
Über diesen apartment 
miete
Gelegen in Islamabad, dieses charmant entire apartment für EUR 39 pro Nacht ist ein großartig Auswahl für Ihr nächstes Reise. Die Centaurus Hotel Suites in Islamabad bieten Stadtblick, ein Fitnesscenter, eine Gemeinschaftslounge und ein Restaurant. WLAN und die Privatparkplätze am Apartment nutzen Sie kostenfrei.
Pool
Klimaanlage
Küche/Kochnische
Internet/WLAN
Kamin
Rauchen erlaubt
Parkplatz
Waschmaschine
Whirlpool/Spa
Fernseher
Rollstuhlgerecht
Fitnessraum/Fitnessstudio
Familienfreundlich
100 % verifizierte Bewertungen
3.5 / 5 (919 Bewertungen)
Overall a decent spot to stay.
Aug 2022
Wonderful and welcoming staff. Specially the gentleman Mr Noor, was very cooperative and communicative.
I think the room needs upgrading. Curtain string to pull was not functional. Rooms were not as aesthetic like should be given the cost. Finally, checkin time needs to bw more efficient. took me 20 mins waiting.
Well asked for water thrice still no one provided me with. Poor customer services and there was no way to contact as there were no phone signals and wifi wasn't working either so customer services and facilities were bad!
Food was average so was customer services and facilities
View was great and i think value for money but still staff and reception was very rude
Reception and Staff were very rude and arrogant, not helpful at all
Excellent Experience all Things Rooms very Neet and Clean.Specially Miss Ayesha Nawaz(Duty Manager) and Miss Faryaal ve
Aug 2022
very safe secure and Clean all Apartments and total Area Really Enjoy
will surely be back and highly recommended
Sep 2022
very modern and convenient
Despite my comments, it was OK
Mar 2023
Very limited options in breakfast. Staff was also unwelcoming.
While booking is in advance. It took more than an hour to get access card. Room lamps were fused, hair dryer not working. If minor attention was given, it could have been much better.
Excellent staff and very helpful
Aug 2022
waste of money and trip
Mar 2023
tv and Internet not working, no hot water prize like 7 star hotel.
tv and Internet not working, no hot water prize like 7 star hotel.
Thoroughly professional, excellent cleanliness, total privacy with no nuisance.. Everything u need is within the mall... So yeah hit it.
This is a beautiful hotel! It's clean and has a lot of comfort items to make you feel at home. We're in town for a stressful event and coming back to this room was very peaceful. The best stay ever. The environment was pleasant and welcoming. Both check-in and check-out were professionally handled and easy. Mr. Nadir, Mr. Faisal, Miss Asma and Firyal thanks a lot.
Unprofessional stuff, cockroaches, great location and view
Sep 2021
This hotel is luxury with best view over Islamabad city. The hotel apartments are not clean and have cockroaches. The stuff are not so helpful either. Room services are really slow and they don't have lobby boys available. My room key was not working during all 3 days of my stay and we were at 15th floor. Otherwise the hotel apartments interior and view over city was great.
Stuff Cleanness Room services
The staff were super friendly and very accomodating. The location was fantastic right next to the Centaurus Mall which had all the shopping and leisure amenities one requires for short trip to Islamabad. The suite I stayed in was spacious, clean and very comfortable with good house keeping.
The staff were accommodating
Showers was cold, property was not clean. Receptionist was hard to get a hold off. Swimming my kids were not allowed to come with me. I checked out early it was that bad
The staff was really friendly. Mr. Zain, Asma and Abu Bakar were really helpful. The location was great.
The service, the staff especially Anil and Asma were really helpful and friendly. I really enjoyed my stay and looking forward to book this hotel and the same I was in 203 in Tower B again inshallah
Bringing water in the room took quite some time apart from this everything was good
The security of the place
The room was comfortable, and well-equipped.
The check-in experience was horrible. Check-in was supposed to be open at 2 pm, but I had to wait till around 4:30 to check-in, because rooms weren't available. Some other guests looking to check in faced the same problem. The worst part was that they got all of us to pay when e first got there, but then made us wait to let us in our rooms. Had they not taken the payment first, I would've left for another hotel.
The rooms were clean, very comfortable, and the staff was amazing. They went over and beyond to help make our stay enjoy
Nov 2022
The rooms were clean, very comfortable, and the staff was amazing. They went over and beyond to help make our stay enjoyable. I highly recommend this hotel
The Breakfast is very Bad and paratha was cold and hard and the tea was soo bad
Jul 2021
It was a pleasant experience, the reception staff was courteous. The location is ideal.
Feb 2023
There was a slight wait to get the keys but the staff was helpful
The bed sheets were dirty when we arrived, we requested to washroom supplies which were not provided. We also had to ask multiple times for a boiler kettle.
On our second stay, they compensated us with a bigger unit
Feb 2023
There is no connection between the three towers. We needed to walk outside to collect breakfast. The quality of the breakfast was fine.
No connection between towers. Our flight touched down early, but they did not allow us into our room, despite the room being vacant. Receptionist Abu-Bakr was cordial and cooperative, and resolved this for us, but the initial female receptionist was not helpful. The bathroom shower has hot water, but leaks water after 4 minutes.
The reception women irsa was amazing and so kind
The property was perfect clean and we felt very comfortable the host at the reception called ali was very welcoming and very helpful a genuine nice person
The property was perfect clean and we felt very comfortable the host at the reception called ali was very welcoming and very helpful a genuine nice person
Avoid! Bad value for money. There are much better options around Islamabad which give you a much better value for money.
Apr 2022
The staff is extremely unprofessional. Bathroom was leaking and there was an entire pool of water on the floor. The wifi did not connect and when I called them to complain, I was told that IT team is not available right now. The problem was eventually resolved after an hour of dialing various numbers. The apartment also had a strong and unpleasant smell. I had initially decided to stay for a few days there but decided to cut my stay short and checked out first thing in the morning.
The location is lucrative due to adjuscent to Centarus Mall. The reception staff Mr. Anil treated me with great respect and he was extremely cooperative. Guest relationship officer, Miss Umaiza, welcomed me well and was keen to make the stay comfortable. Last but not the least, at checkout, Miss Ayesya bid me farewell with smile and checkout could not have been easier than this.
Need to focus on cleanliness. The commode seat is very tightly place in the washroom of studio apartment.
The location is exceptional and the staff was very kind. guided us a lot. Mr. Anil was very helpful and responsive to our calls .
The property do not have professional service team and no regard to guests comfort.
Jan 2022
The location in the city was great..
Frequent drilling and hammering noises coming from adjacent property. The poor service desk and reception of Tower B. Frequent issues of non-heating, cleanliness, bathroom smell and missing hot water..
The hotel and amenities are exceptional
There were a few issues but Asma on reception was very helpful and resolved the matter quickly
the facilities were excellent
Difficult to commute between Tower A and B.
I really enjoyed my stay and looking forward to come again
Oct 2022
Staff was very helpful, Faryal she was very helpful and friendly. Also imtaiz and asma they were very friendly. I really enjoyed my stay and looking forward to come again, The host arsh at night shift helped me a lot and he was very friendly too. Much appreciated
Staff was very helpful and friendly especially Aneel Khalid Duty Manager, he accommodated very well. Highly Recommended
Staff was so cooperative. Giving this 10/10 just because of Nadir Ghori's hospitality
Mar 2023
Staff was so cooperative. Giving this 10/10 just because of Nadir Ghori's hospitality
relaxing, safe, friendly and amazing staff.
Dec 2022
spacious, clean, everything was in working order
bathtub was not in the best condition. temperature was not easy to adjust.
Check plumbing before moving in.
Jan 2022
Spacious apartments with microwave oven stove, washing machine, etc.
Bathroom tub ws leaking. Had to change apartment. next apartment had washbasin leaking which was fixed but half the evening gone dealing with plumbing issues
reception staff was very good and pleasant especially Asma
poor room furniture sanitary
never ever book this apartment
Jul 2022
they made me wait at the lobby more then 3 hours.. I just stud up.. and went to someothere hotel.. i was a regular customer.. but everytime they made me wait 1 hour.. but this time it was pathetic… please don't book this appartament.. staff is helpless and rude
Enjoyed my stay but was especially very happy with the staffs helpful and welcoming behaviour.
Aug 2022
The taste of the food can be made way better and also the interior designing of the suite.
The prices are too much and the room they gave was on 1st floor with absolute no view.
The guard's behavior on hotel apartment parking entrance
Wie viel kostet dieser apartment im Vergleich zu anderen in Islamabad?

Der Durchschnittspreis für eine Anmietung in Islamabad beträgt EUR 37 pro Nacht. Diese Miete liegt EUR 2 über dem Durchschnitt.
Ist das Parken in diesem apartment inbegriffen?

Ja, das Parken ist als Ausstattungsmerkmal bei Centaurus Hotel Suites aufgeführt. Für weitere Informationen empfehlen wir Ihnen, sich mit dem Anbieter der Unterkunft in Verbindung zu setzen, um zu erfahren, wo Sie parken können.
Gibt es in diesem apartment einen Pool?

Ja, bei Centaurus Hotel Suites steht ein Swimmingpool zur Verfügung. Genießen Sie das Wasser!
Ist Centaurus Hotel Suites haustierfreundlich?

Leider ist dieser apartment nicht haustierfreundlich. Versuchen Sie erneut zu suchen und filtern Sie nach "Haustiere erlaubt"
Welche Ausstattungsmerkmale sind bei Centaurus Hotel Suites verfügbar?

Wir haben 13 Ausstattungsmerkmale für diese Unterkunft gefunden. Dazu gehören pool, klimaanlage, küche/kochnische, internet/wlan und kamin.