Bachsbort - erfüllt Ihre Wünsche, Panoramasicht, Pool, Jacuzzi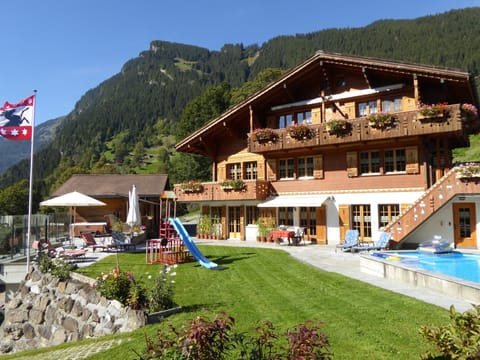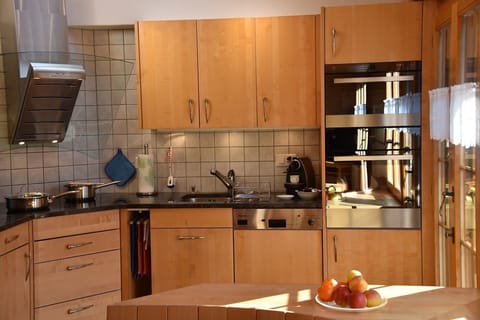 Herausragend
(4 Bewertungen)
Apartment in Grindelwald
14 Gäste · 5 Schlafzimmer · 2 Badezimmer
---
Gründe für eine Buchung
Gäste lieben es hier
Gäste bewerten diese Unterkunft mit der Bestnote
Inklusive wesentlicher Ausstattung
Garten, Pool, Haustiere erlaubt und mehr
---
Über diese apartment Unterkunft
Eingebettet in Grindelwald, dieses schön ganze wohnung für EUR 914 pro Nacht ist ein großartig Option für Ihr nächstes Reise. Bachsbort befindet sich an ruhiger, romantischer Lage. Geniessen Sie die Panoramasicht auf die berühmten Berge Eiger und Jungfrau und beobachten Sie mit dem Fernglas die Bergsteiger in der Eigernordwand.

Unser Wohnungspreis gilt für 6 Personen - bei Bedarf können wir aber maximal 14 Personen beherbergen. Es befinden sich jedoch nie 2 verschiedene Gästegruppen auf Bachsbort. Sie sind unsere einzigen Gäste. Alle Einrichtungen stehen Ihnen exklusiv zur Verfügung.
Wir wohnen im gleichen Haus und organisieren jede Art von Ausflügen mit oder ohne Begleitung:
- Alpbesuch mit Alpfrühstück, Käseherstellung, Besuch Käsespeicher.
- Abendessen in Berggaststätten.
- Wandertipps, geführte Wanderungen
- Ski- und Schlitteltage
- Erlebnistage im Wald, am oder auf dem See.
- Besuche in Ausstellungen, Museen, Schlössern.
- Spezielle, persönliche Anlässe nach Ihren Wünschen.
- Autofahrten in die nähere oder weitere Umgebung, Passfahrten.

Sie erhalten Beratungen zu Ausflügen sowie alle Tickets, Rundreisebillette oder Bergbahn-Pässe direkt auf Bachsbort.


Ausstattung
Pool
Haustiere erlaubt
Küche/Kochnische
Internet/WLAN
Kamin
Parkplatz
Waschmaschine
Balkon/Terrasse
Spülmaschine
Whirlpool/Spa
Fernseher
Garten
Familienfreundlich
Herausragend
(4 Bewertungen)
Apartment in Grindelwald
14 Gäste · 5 Schlafzimmer · 2 Badezimmer
---
Gründe für eine Buchung
Gäste lieben es hier
Gäste bewerten diese Unterkunft mit der Bestnote
Inklusive wesentlicher Ausstattung
Garten, Pool, Haustiere erlaubt und mehr
---
Bewertungen
5.0 / 5

"Herausragend"

(4 Bewertungen)
5.0
Sep 2016
Bachbort-almost paradice.
A breathtaking situation, with views across the valley to the Eiger. Excellent accommodation with every comfort you could need. Clean & comfortable, with a lovely pool and Jacuzzi. The hosts are on hand with local knowledge, excellent advice and suggestions, and are happy to help with anything. What a holiday!
5.0
Aug 2016
Beautiful, comfortable, family-friendly, modern
Our four days at Bachsbort was incredible! We traveled to Switzerland as a family of 9 that included grandparents, parents, young adults, and teenagers. Everyone loved Bachsbort. The older adults stayed in the lower level apartment while five adults stayed in the second floor apartment, with two teens in the top floor. The bedrooms were comfortable and clean, the bathrooms were spacious, and the kitchen with sitting area was a place for food and card games. Be aware that for anyone tall the door ways and the third floor ceiling are low. The balcony which wrapped around the second floor had amazing views of the gardens and the mountains. It was the place for coffee in the morning and a glass of wine in the nighttime. Christine and Christian are fantastic hosts. They were very friendly and welcoming. Christine made breakfast every morning using local ingredients from the dairy, butcher's shop, and bakery. Her fondue was fabulous and Christian was wonderful at bar-b-que in the outdoor garden. Their English is strong and Christine was super about looking up information and answering all of our questions. They are both very knowledgeable about the local region, spots to visit, tourist areas, with hiking suggestions. The boys loved the pool area while the adults enjoyed the lounging chairs – it was the best place to relax. Another world experience gazing up at the Alps sitting in the beautiful Bachsbort gardens. This was our first visit to Switzerland and we will return to Bachsbort!! -Elizabeth & Chris D with Ann, Allen B
5.0
Aug 2016
Beautiful apartment in a quiet location.
Our two week stay in Bachsbort was amazing. Breakfast on the balcony (including freshly baked bread by Christine) with spectacular views of The Eigger and the only sound that of a babbling stream at the end of the garden was like heaven on Earth! The stresses and strains of daily life at home and work simply melted away The apartment had all the comforts of home with one of the best equipped kitchens I have come across. Christine and Christian were fantastic hosts and nothing was too much trouble. Their knowledge of the local area helped us to best plan our days. The fondue we ate on Saturday evening in the garden terrace was easily the best we had tasted. We shall definitely return!
5.0
Aug 2016
Excellent Family Retreat (the best in Grindelwald)
Bachsbort was magical for our family of six. Our 7-night stay allowed our family to unwind in the second floor apartment. What made it special were the hosts, Christine & Christian Egger. Initially we were unsure about staying in the same property as our hosts (we usually prefer hotels or a condo). We were blown away by the fresh breakfasts (complete with local cheeses, fresh baked bread and yogurt from town dairy). We were also impressed with how Christine handled the request to do our laundry of 4 'adventurous' kids (btw, we still don't know how she made our clothes so soft - but we think she hung them outside and then fluffed them in the dryer before folding them to Swiss-German precision). The highlight of our stay was the detail that Christine took to organize an alpine dairy excursion. As a former travel guide - Christine is so talented. She personally guided us on a 5-hour tour that allowed our children to meet the cows, taste the cheese as it is coming out of the giant kettle and get to know the farmer & wife over breakfast in home part of the alpine dairy. The views from the dairy were spectacular! Each morning we would have coffee on the deck and stare in awe at the Grindelwald valley. Bachsbort is great because it is located just before you enter Grindelwald which provides the advantage of privacy but with the same views. Initially, we were intimidated by the road up into Bachsbort due to our 9 passenger rental van and fact that the road is barely considered one lane (all things being considered - it was a manual diesel and trying to feather a clutch in reverse on a 20% grade when you're forced to back up because the tractor you met head on has the right away). By the end of the week though - we were zipping up the paved goat trail like locals. As we look back on our stay in Switzerland - we honestly loved our time in Bachsbort more than the two nights each we stayed at the Park Hyatt in Zurich or the Switzeizerhoff in Lucerne (both are 5-star hotels) for the following reasons: 1. Christine and Christian are amazing hosts. They really made the difference with their local knowledge and outstanding hospitality. 2. The space of Bachsbort is great. The deck in the morning is jaw-dropping. One warning: if you're over 6'4" the door frames will leave a welt on your noggin (lots of ducking for tall guests). We are so grateful for our authentic Swiss experience provided by the Eggers at Bachsbort! - Kevin & Robin S.
Häufig gestellte Fragen
Wie viel kostet dieser apartment im Vergleich zu anderen in Grindelwald?

Der Durchschnittspreis für eine Anmietung in Grindelwald beträgt EUR 196 pro Nacht. Diese Miete liegt EUR 718 über dem Durchschnitt.
Ist das Parken in diesem apartment inbegriffen?

Ja, das Parken ist als Ausstattungsmerkmal bei Bachsbort - erfüllt Ihre Wünsche, Panoramasicht, Pool, Jacuzzi aufgeführt. Für weitere Informationen empfehlen wir Ihnen, sich mit dem Anbieter der Unterkunft in Verbindung zu setzen, um zu erfahren, wo Sie parken können.
Gibt es in diesem apartment einen Pool?

Ja, bei Bachsbort - erfüllt Ihre Wünsche, Panoramasicht, Pool, Jacuzzi steht ein Swimmingpool zur Verfügung. Genießen Sie das Wasser!
Ist Bachsbort - erfüllt Ihre Wünsche, Panoramasicht, Pool, Jacuzzi haustierfreundlich?

Ja! Diese apartment ist haustierfreundlich. Für weitere Informationen empfehlen wir Ihnen, sich mit dem Buchungsanbieter in Verbindung zu setzen.
Welche Ausstattungsmerkmale sind bei Bachsbort - erfüllt Ihre Wünsche, Panoramasicht, Pool, Jacuzzi verfügbar?

Wir haben 13 Ausstattungsmerkmale für diese Unterkunft gefunden. Dazu gehören pool, haustiere erlaubt, küche/kochnische, internet/wlan und kamin.