Expressionz Suites By iHost Global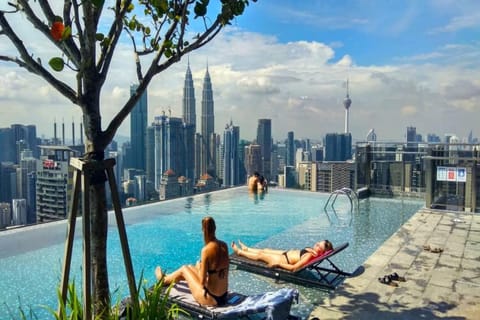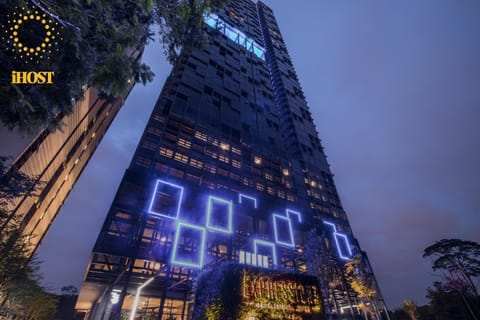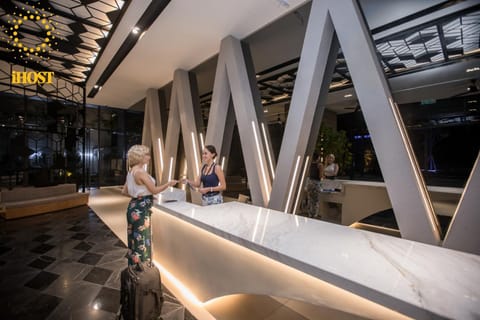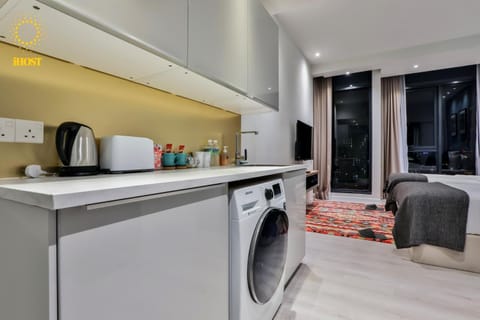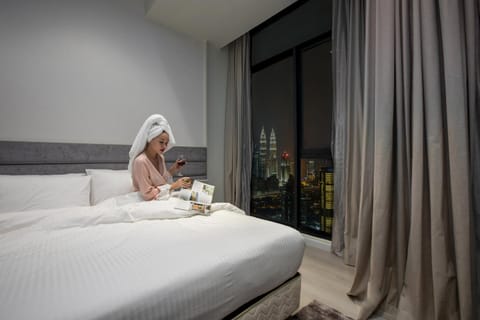 Apartment in Kuala Lumpur City
Pool
Klimaanlage
Küche/Kochnische
Über diesen apartment 
miete
Befindlich in Kuala Lumpur City, dieses schön entire apartment für EUR 23 pro Nacht ist ein großartig Auswahl für Ihr nächstes Reise. Located in Kuala Lumpur, 3 km from Petrosains, The Discovery Centre and 3 km from Petronas Twin Towers, Expressionz Suites By iHost Global provides accommodation with free WiFi, a garden with an outdoor swimming pool, city views, and access to a...
Pool
Klimaanlage
Küche/Kochnische
Internet/WLAN
Rauchen erlaubt
Parkplatz
Waschmaschine
Whirlpool/Spa
Fernseher
Rollstuhlgerecht
Fitnessraum/Fitnessstudio
Garten
Familienfreundlich
Karte von Kuala Lumpur 

City
100 % verifizierte Bewertungen
4.1 / 5 (3'043 Bewertungen)
Nice location, fine service, perfect pool. But very noisy thanks to shared units.
Jun 2022
We enjoyed the location and the free pool.
Our neighbours - and we had different ones every night. The walls are just too thin... And when you're in one unit (which we couldn't choose) with somebody else, you'll deffinitely hear everything from each others rooms.
beautiful room, comfortable stay.
Nov 2022
very spacious and beautiful room
the location is a bit further away from the center. it is a bit of a pity that you have to pay extra to access the rooftop pool and gym.
Overall, good value for money.
Jan 2023
Very nice hotel, great view to KLCC, clean and quiet. comfortable beds. we liked our stay a lot.
you need to buy a ticket to go to gym and rooftop pool
This suites is well facilitated but badly needed a restaurant. otherwise it's difficult to stay. about 1KM there are a Macdonald but we can't see any other restaurants over there. But it's really a good comfortable and valuable suite. hopefully we will get a Resturant soon.
it's very net & clean and highly secure suite.
this place is totally recommended. it is near with the town and I have such a pleasant stay bcs semua stafff baik sangat dekat sini. from receptionist and all the guards 🥰 already recommend this place to other friends and for sure will come again next time🥰❤️❤️❤️
This is my second time staying here. The place is very clean and the bed is very comfortable especially the pillow! It's also a very quiet environment with a good view which I love. Will definitely stay here again next time!
It would be perfect if they provide disposable slippers
nice view, bit far out
Jan 2023
I was there for 4 days and my room did not get cheaper once. No clean towels and I had to ask for toilet paper a couple of times. The staff were not that friendly and I did not feel welcomed. There was 1 nice guy at the desk in the mornings that was helpful.
For neftlix, cannot watch because the account is signed out
The view, I stay at block B, the view still ok, but I think Block A is better
The charges of infinity pool, check in time is late, and location is look near in map but actually is very far
It is good value of money. The view is really important. We satisfied with our place. If its not because of the smelly t
Nov 2021
The view is literally breathtaking
The toilet smell like someone peed and didn't wash properly
The view from the rooftop (you have to pay to enter)
the vibe of the hotel was good. the view from the sky lounge was amazing. easy to find parking. location of the hotel was decent.
Big room with a view
Feb 2023
The swimming pool is amazing the, room and the toilet are very big very big. They also had a nice view on the city
You have to pay for the swimming pool and gym, towels smelled weird and they didn't provide a hand towel until I asked for it...
KL was lovely 😊 staff were really helpful!
Jan 2023
the staff were nice, the location was okay but you do need to catch a taxi/grab to most spots unless you're happy to walk 30 minutes, the pool was a great veiw
the pool is an extra fee!! you must go down to reception and buy a day pass into the pool each time you want to use it, cost is 10ringit a use! our room was very dirty (cobwebs in the corners of rooms, hair left in shower, toothpaste stain on bedding (lucky we had a second bed available to sleep in)
The room felt modern and stylish.
The place is more like an apartment rental then a hotel. You can't relax at the roof top pool all day which is the whole reason we went to this place. As they have a booking system that you have to wait to be called at the cafe so you could be waiting from 1 to 4 hours to be called up only to use the pool area for 3 hours max per room and to make it worse they take a 100rm per guest as a deposit to use the pool along with your room key. If you dont return the pool key within 3 hours you lose your deposit. It's a joke and the ad should say the above before people make a booking. FALSE ADVERTISING! Another issue is the small uncomfortable bed, we are not tall people but our feet where hanging over the bed.
Channel Televisyen not working..the staff said housekeeping will attend immediately but nope. There is no shampoo, soap wash dishes, and iron water leaking.
Will recommend to others
Dec 2021
The rooftop pool was amazing.
false Advertising
Feb 2023
The property was good, although upon arrival the front desk staff tried to tell us that the pool was not included in the stay and additional 12RM person per day. EVEN THOUGH the photo on this add and booking clearly shows the 48th floor pool with the twin tower view. A total scam. no where in the booking does it say anything about extra charges or fees but clearly has the pool at the main photo. incredilbly brutal I would not stay or recommend anyone staying just due to the dishonesty. Bag storage is also not secure.
overall a great for staycation
Nov 2021
The place is very clean, safe and beautiful. The stuff is very friendly and the price is affordable.
The location is very hard to find food and even when order grab or foodpanda is very difficult to find
The picture show and the room we get totally different....kinda disappointed because too small for us.... please next time put the rite picture tq
The hotel was amazing , the staff were helpful
The transport system and there is no close by supermarket
The facilities on room it's good .
Hidden charger like parking and Infinity pool (top pool level 48) Pricey Parking I need pay RM20 per night no receipts total RM40 for 2 night.. im asking for parking receipt but no provided! Nonsense.. Top pool level 48 need pay rm10 per head only 1 hour.. i think this is private and totally limit.. others guest not pay can't swim but watching ur swim and stay on the chair... so annoyed.. limit on pool but not serounding.. better no one can access if not pay or swim that more comfortable.
Comfortable stay in the city
Oct 2022
The apartment is really modern and has what you need and the location is really nice with views over the city (unfortunately we didn't have the view towards KLCC, I guess you have to be lucky for that).
The sofa bed is too small for an adult, I would suggest to limit the number of people to max 3 adults. Even if you just want to go up to the rooftop with the pool without swimming, you have to pay the full rate. There should be an option to go up only to see the view. Not everyone has time for the pool.
The accommodation is really good and the bed is really soft!
The facilities. The saunas and jaccuzi is broken for already 1 year and no maintenance. Also we had to pay for the gym and top pool, allot of broken machines in the gym. So what do guest pay for? Its even to hard to change a battary from the clock in our room
Strategic location, minimalist and modern interior. Nice pool, spacious paid parking Helpfull staff
I can smell the smoke 1st open the door. Also found cigarete at outdoor glass window Found womens hair at pillow The deposit is higher than the studio's rate.luckily they refund once checked out
We could not stay the night due to cleanliness issues
Feb 2023
staff were very nice and accommodating
unfortunately there were stains on the bed
Spacious room with kitchen and nice bathroom. Nice view and rooftop pool! Staff very helpful.
The location is not easily accesible but only by taxi. No places to eat or have a coffee around. You can always have everything delivered. Also a mini market is available on spot. No chairs in the room.
During booking no clear statement mention about skypool/skygym to pay RM10/pax. if want Parking at suite need to
Sep 2022
skypool/skygym and the lift (very fast)
No direct way to go to Tower A to Tower B. From Tower A you need to get into lift to level 8 turn right to lift tower B
worth the money, but many to be improved
Apr 2022
Room wasn't that big but have all appliances that most traveler needed such as microwave over, small fridge, washing machine, hair dryer and some extra pillows. Have a small couch and table for dining or chill.
Poor services for check in -> there are two different host on the building lobby, few of them are not polite or not friendly when check in, paid customer feel treated as we stay for free. Car park -> you have to pay extra for the car park and they didn't tell you which lift to go to lobby and need to change lift to go to resident lift / floor Poor Maintenance of Resident Lift -> the lift doors was stucked when reach our floor, almost stucked in the lift. Air - Conditioner -> the AC is cold enough when operate on lowest temperature and highest fan speed, however there will be fan noise when you choose highest fan speed, need maintenance on AC.
Room was good and neat. Economically priced. Centrally located. Appreciate the behavior of staff.
No restaurant. Difficult to get food from out side. No in room facilities like tooth brush, shaving kit, shampoo etc.
Room clean and comfortable
TV channel is depend on internet connection
Take this hotel only for the view
Nov 2022
Really nice view and really nice pool, but even if your a guest at the hotel you need to pay to access the pool. Also, no drinks allowed at the pool.
Cold staff, cold hotel, and the location is not perfect if you want to walk to the city center.
They changed the wifi password and the door password but didn't write it in the card access door and I have to try the password like a fool until I contact the host. Luckily the host was very responsive but this is just stupid.
The room was ok even though it didn't look like the pictures on booking.com... The real problem was the service with was deplorable... The breakfast is really not good. Before coming, the hotel sent us an email saying that the infinity pool on level 48, the reason why anybody would choose this hotel, would be open. When we arrived, it happened that the pool was closed during our entire stay... So we decided to change hotel for our last night in Kuala Lumpur to be able to enjoy a pool.. Of course we would never have booked at Expressionz if we had been informed. The hotel lies to the guests so they don't cancel their booking because of the lack of swimming pool. So we had to cancel one there and pay another room somewhere else.
The parking. Need to climb until the highest level to get the car park and still need to pay RM20.00 per day.
Wie viel kostet dieser apartment im Vergleich zu anderen in Kuala Lumpur City?

Der Durchschnittspreis für eine Anmietung in Kuala Lumpur City beträgt EUR 37 pro Nacht. Diese Miete ist EUR 14 günstiger als der Durchschnitt.
Ist das Parken in diesem apartment inbegriffen?

Ja, das Parken ist als Ausstattungsmerkmal bei Expressionz Suites By iHost Global aufgeführt. Für weitere Informationen empfehlen wir Ihnen, sich mit dem Anbieter der Unterkunft in Verbindung zu setzen, um zu erfahren, wo Sie parken können.
Gibt es in diesem apartment einen Pool?

Ja, bei Expressionz Suites By iHost Global steht ein Swimmingpool zur Verfügung. Genießen Sie das Wasser!
Ist Expressionz Suites By iHost Global haustierfreundlich?

Leider ist dieser apartment nicht haustierfreundlich. Versuchen Sie erneut zu suchen und filtern Sie nach "Haustiere erlaubt"
Welche Ausstattungsmerkmale sind bei Expressionz Suites By iHost Global verfügbar?

Wir haben 13 Ausstattungsmerkmale für diese Unterkunft gefunden. Dazu gehören pool, klimaanlage, küche/kochnische, internet/wlan und rauchen erlaubt.