Holiday Inn New Delhi International Airport, an IHG Hotel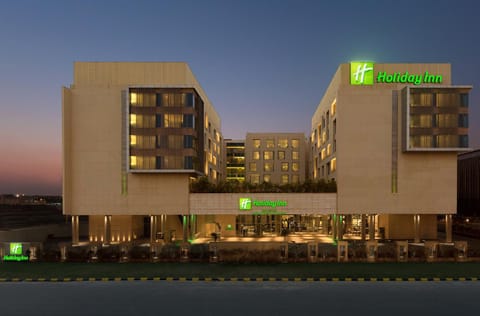 Hotel in New Delhi
Pool
Klimaanlage
Küche/Kochnische
Gelegen in New Delhi, dieses schön room in hotel für 30 € pro Nacht ist ein phantastisch Auswahl für Ihr nächstes Pause. Offering an outdoor swimming pool, a fitness centre and a spa and wellness centre, Holiday Inn New Delhi International Airport is located in New Delhi. Free WiFi access is available.
Pool
Klimaanlage
Küche/Kochnische
Internet/WLAN
Rauchen erlaubt
Parkplatz
Waschmaschine
Balkon/Terrasse
Whirlpool/Spa
Fernseher
Rollstuhlgerecht
Fitnessraum/Fitnessstudio
Familienfreundlich
100 % verifizierte Bewertungen
3.9 / 5 (5.301 Bewertungen)
worst hotel I've stayed at
wonderful stay!!!! we really enjoyed here.
What a location, what a view, what an amazing staff.... 100/100 will be less for this hotel!
We were given a free upgrade to a suite. :)
We were extremely satisfied with the resort and its beautiful surroundings. Everything exceeded our expectations. Anoushka did a commendable job during our stay. We would like to recommend her for special commendation. We took lots of photos & are sharing them with friends. We'll be singing your praises for a long time. Thanks!
outstanding modern airport hotel.
Dec 2022
we were at the end of a long trip and had travelled extensively during our time in India so this hotel seemed like heaven. it was swish, stylish, extremely comfortable and spotless! the bathroom was a delight, huge powerful shower with constant hot water. the bed was extremely comfortable, large room. staff were busy but helpful. location for us was fabulous, easy to get to from central Delhi and easy to get the terminal the following morning. the hotel was extremely quiet.
as anticipated for an airport hotel the drinks and food were expensive.
nice staff , very polite , nice service at all level . overall very good
Nov 2021
very nice location near airport, holidays inn always keep standard in quality .
God bless you all
Jun 2022
Very nice hotel Checking checkout very easily All staff very helpful God bless you all teams
gréât place to relax before or after a flight
Oct 2022
very good Italian restaurant . swimming pool great to relax before flying back to europe
AC was too cold . considering climate warming 25 degrés should be enough to feel well
Very good hotel near by the Airport and the facilities like food qualities and services are excellent
very good experience stayed there for 2 nd time
clean and everyone is so friendly
Very good airport hotel! We really liked their Italian restaurant :)
great place if you are near the airport
Feb 2022
very close to airport, clean, modern, comfortable, great staff
usually i used to stay in holiday inn, but this time the stay was not good the room was smelling like fresh paint but there are stains on wall.
Mindblowingg!!!!!
Oct 2021
This is the perfect hotel for a weekend getaway and at a perfect location. The staff goes beyond their way to make your expectations meet at the best specially the front office staff. Special shout-out to Mr. Somnath for everything kudos😊😊😊😊
they have very well maintained covid protocols and cleanliness was top notch. thank you.
the hotel executive in the concierge gave me a room stating it has a beautiful view. however to my surprise it didn't any of that sated I was given a construction site view which I was highly disappointed about. please look into this. don't give false information to guest.
They accommodated my early check in which was a great experience.
But the whole experience was ruined at the time of checkout when I requested them to get two water bottles left in my room. It took the hotel staff 30 mins to get two bottles. Hotel should really work on check out experience also as that also decides whether the guest will come back or not.
The stuff at the reception, room service breakfast service are very polite and helpful.
It takes a very long time to check in as their system hungs up frequently. Rooms and corridors have a srong odour (fungus + airfreshner). Room cards get demagnetized a few times a day even if they are kept in a separate pocket.
Stay during COVID
May 2021
The stay was worth the expenses. Staff hospitality was deferent and courteous . Cuisines served at the time of breakfast is inexplicable. Just loved it !! Overall a grt experience
The stay was good.
Oct 2022
The staff is helpful. The room is pretty comfortable. Spacious room. The cable has all good channels.
Cleanliness of the bathroom! There were literally pieces of hair lying around and some stuck to the tile and water faucet. The housekeeping cleaned it thoroughly later but it was still a bad trip since we were supposed to get a cleaned room at the first place. The sofa kept in the room isn't comfortable. We accidentally banged our arm really bad against the wooden panel that pops up as you sit over it. I was rather surprised that nobody took the safety into consideration.
Good rooms.Average every thing else!
Jul 2021
The room size and ambience is nice.The beds are comfortable!!
The room service including the front office phones keep on ringing at times.No body picks up the phone.The check- in time is excruciating ly long.....The food was just average.
the rooms and the food was really good
the room that i chose was for 3 occupent but it gets crowd
the restaurant, is nice, the buffet dinner was nice
nothinh that i can think off
The price what they were offering for stay everything is great
absolutely A PLEASANT HOTEL TO STAY IN
Aug 2022
the location , the hospitality and the service ,swimming pool, gym ,spa
it was a really pleasant experience
Oct 2021
the location is superb and staffs are very professional
Slightly expesnive
Jan 2023
The location and the connectivity to the metro station which is quite good. Metro station is at walking distance .
It's not worth for 5000rs per night for the room. The hotel and facilities are good but room is not much better , it can be said ok .
The Italian restaurant in the hotel was very good.
The House keeping was very nice .Thank you Soban.
The food , need to maintain the taste . Prices are so high but the taste is not up to mark .
The hotel staff was too slow in responding to requests of in room service pickup of luggage .. food was too costly ... not at all a pleasant experience
The hotel staff was too slow in responding to requests of in room service pickup of luggage .. food was too costly ... not at all a pleasant experience
The hotel staff is very cooperative, the food is good. The rooms are excellent. The showers can be more workable.
The showers in the washrooms should have better pressure.
Not very clean/ old and outdated
Dec 2021
The hotel is so outdated it's really poorly kept. It may be clean but doesn't appear so because every thing is so old and dingy. Staff is helpful.
Looked dirty and old! Needs to be updated! No attention to detail!
A pleasant short stay nearby airport!!!
Sep 2022
The hotel is most conveniently located inside Aerocity which is at stones throw from the IGI Terminal. The transfer was seamless both from & to airport. Car was super clean & AC was most effective amidst the hot & sultry Delhi weather. The chauffer who serviced us was really friendly & accommodative. The chauffer offered bottled of cold water to each guests in both the trips to & from airport. All the staffs at the hotel are efficient & friendly. The room is neat & clean, very well maintained. Room is really quite & privacy is well maintained. The quality of bed linens, pillow & sofa is very good & hygienic! Wi-Fi is reasonably fast & no buffering. Internet connection good for general browsing & surfing internet for regular sites. They are located almost at the entrance of Aerocity itself which makes it be reachable in a shortest time to & from airport. For a trip via IGI, a stay of a day or two, this hotel is good option owing to its overall good & professional services offered.
Both the check-in & checkout process is a bit tedious. We have checked in during the lunch hour which was too busy & had to wait for a while until we are attended at the counter. The process could have been swift to make is hassle free. For every guest we needed to fill in the same physical form by pen on paper which could have been easily avoided , specifically when the booking is done & confirmed online. The management should focus more on making it quick & smart to let the guests move on swiftly both in case of check-in & checkout. There are only limited choices for in-room dining. Most of the dishes which are on the printed menu or the online menu are not available. However, the quality of food is really super good except the fact that only the very few items to decide & order. Toilet & shower is super clean & well maintained as well.
thank you front desk
Oct 2021
Comfortable, convenient and clean
Mar 2020
The free shuttle service was so convenient arriving so late at night, breakfast is awesome, the buffet is full of choices, the staff is kind and efficient.
A great way to rest up before a long international flight.
Oct 2022
The food was great! Good variety, not just curry.
The alcohol seemed very expensive but I think this is the fault of the government not the hotel itself. Construction next to the hotel had us staring into a huge excavation. It felt precarious.
The food was excellent. I had the best Arrabiate after a long time.
Der Durchschnittspreis für eine Anmietung in New Delhi beträgt 36 € pro Nacht. Diese Miete ist 6 € günstiger als der Durchschnitt.
Ja, das Parken ist als Ausstattungsmerkmal bei Holiday Inn New Delhi International Airport, an IHG Hotel aufgeführt. Für weitere Informationen empfehlen wir Ihnen, sich mit dem Anbieter der Unterkunft in Verbindung zu setzen, um zu erfahren, wo Sie parken können.
Ja, bei Holiday Inn New Delhi International Airport, an IHG Hotel steht ein Swimmingpool zur Verfügung. Genießen Sie das Wasser!
Leider ist dieser hotel nicht haustierfreundlich. Versuchen Sie erneut zu suchen und filtern Sie nach "Haustiere erlaubt"
Wir haben 13 Ausstattungsmerkmale für diese Unterkunft gefunden. Dazu gehören pool, klimaanlage, küche/kochnische, internet/wlan und rauchen erlaubt.