Luxusapartment in tropischer Umgebung und nur wenige Schritte vom atemberaubenden Penca Beach entfernt.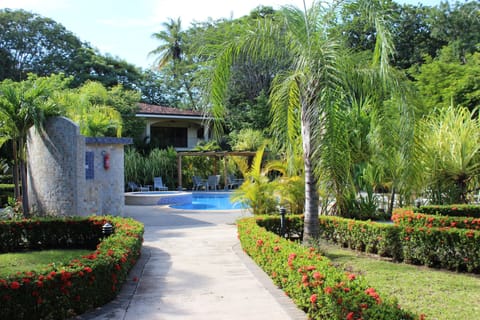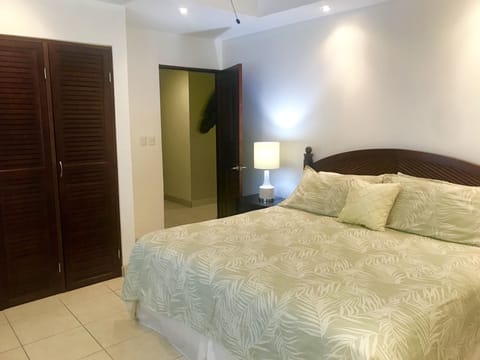 Apartment in Guanacaste Province
Haustiere erlaubt
Küche/Kochnische
Internet/WLAN
Über diesen apartment 
miete
Gelegen in Guanacaste Province, dieses attraktiv entire apartment für 178 € pro Nacht ist ein großartig Option für Ihr nächstes Reise. Der Reinigungsservice ist einmal pro Woche bei einer wöchentlichen Miete inbegriffen.
Nur wenige Schritte vom weißen Sandstrand von Penca Beach entfernt bietet diese wunderschön gestaltete Wohnung im neuen Erdgeschoss einen Rückzugsort in die natürliche Schönheit Costa Ricas mit dem Komfort und Luxus eines nordamerikanischen Resorts. Egal, ob Sie auf Ihrer privaten Gartenterrasse Affen und Papageien in den nahe gelegenen Wäldern lauschen oder die Entspannung genießen, den Pool und die gepflegten Gärten des Komplexes zu überblicken, Sie werden sich schnell in die Geräusche und Gerüche der Sehenswürdigkeiten Costa Ricas verlieben . Es gibt auch ein paar Grills für Sie.
Genießen Sie nach einem Tag am Strand oder am Pool den Flachbildfernseher oder kreieren Sie tropische Köstlichkeiten in der voll ausgestatteten europäischen Küche oder erholen Sie sich einfach in der tiefen Whirlpool-Badewanne oder Dusche in einer der beiden Monsterduschen mit Regenduschköpfen. Deckenventilatoren ergänzen den klimatisierten Komfort. Charmante Restaurants, Lebensmittelgeschäfte sind in unmittelbarer Nähe.
Erleben Sie die Schönheit Costa Ricas, die Herzlichkeit der Menschen und den Luxus der Casa del Sol. Pura Vida!


Sehenswürdigkeiten und Attraktionen: Entspannen Sie einfach auf dem schönen Grundstück der Casa del Sol in der Ruhe und Stille des nahe gelegenen costaricanischen Dorfes Potrero: Hier sind die Menschen freundlich und die Geschäfte und Dienstleistungen wie Internetcafés, Restaurants und Lebensmittelgeschäfte sind nur einen Katzensprung entfernt Kurzer Fußweg. Entdecken und genießen Sie den weißen Sandstrand von Penca.

Genießen Sie das Hochseefischen, Sonnenuntergangsfahrten, Strandspaziergänge und die Dienstleistungen von Banken, Restaurants, Apotheken und Einzelhandelsgeschäften im nahe gelegenen Flamingo.

Gehen Sie auf dem Robert Trent Jones Jr. Championship Course in Playa Conchal ein Stück weiter zum Weltklasse-Golf oder erkunden Sie die Abenteuer von Zip-Line-Tors, Schlammbädern und Dschungelwanderungen oder Wildwasser-Rafting.
Haustiere erlaubt
Küche/Kochnische
Internet/WLAN
Parkplatz
Waschmaschine
Familienfreundlich
Karte von Guanacaste 

Province
4.9 / 5

"Herausragend"

(12 Bewertungen)
5.0
Jun 2015
Costa Rican experience with the comforts of home!
Wow, what a spot! We left the crowds and the tourist trap of Tamarindo and arrived in the little village of Potrero. Near the church and the active community soccer field was our oasis for the next week of our stay in Costa Rica. This gated complex was staffed with friendly security who always had a wave and a smile during our comings and goings. The locals made us feel like we were truly welcomed in Costa Rica and we experienced first hand all the beauty we had heard about the people of this country. We strolled the deserted white sand beaches of Penca and Prietta (linked by a scenic pathway) enjoyed the pool, and watched the howler monkeys in the nearby tress. The condo itself offered all the conveniences of home with high speed wireless internet allowing all of us to keep in touch with social and business networks back home. The beds were comfy , kitchen fully stocked with everything we needed and the patio was a shady delight to have morning coffee or escape the afternoon sun. We loved this casual non tourist feeling location and quickly settled in, enjoying typical local restaurants the nearby gelato shop as well as many restaurants in the area that fulfilled everyone's food requirements. Thank you Daphne for all your amazing suggestions of what to do and see...we will definitely recommend this spot to our friends and hope to return again soon.
4.0
Dec 2018
Great Place to Stay
We were so comfortable in this condo. It is pleasantly decorated, tucked away in a corner that provided privacy. The master bed was extremely comfortable. Extra touches such as beach chairs and towels really were lovely.,Housekeeping was provided which was well scheduled. The owner went out of her way to answer questions, provide information and to be available by email when needed. We would definitely stay there again. The only issues were a few things that needed repair. We let the owner know and we are positive she will see to them right away. But nothing too important, a tv remote etc, and nothing that interfered with us loving our stay in the condo!!
5.0
Jul 2016
Great Property, clean well equipped fantastic place.
We spent four days at Potrero in this wonderful place. The condo is very well equipped and maintained. You have the beach less than a mile away and a nice swimming pool inside the property. Easy access and everything as stated in the listing. Fully recommended. We were a six person party ranging from 3 to 70 and everyone had a great time.
5.0
Mar 2020
Great place!
We only had one night here, as we were meeting a larger family group the next day. We really enjoyed the place, and found it very comfortable, quiet, and welcoming. It was close to the beach (a short walk), and we enjoyed the sunset views. Thanks much! Costa Rica is amazing.
4.0
Apr 2018
Beautiful condo
We loved our few days at this beautiful condo which is a short walk from one of the most beautiful beaches in Costa Rica. My only complaint was when you include the very high cleaning fee and the service fee the per day cost shot up to well over $200 per day. Something to keep in mind. Also VRBO was very slow, almost 2 weeks later, in returning our deposit and had to call them twice. Obviously not the owners fault, they were great and sent very helpful info ahead of time.
5.0
Apr 2022
Great pool and short walk from a great beach
We had a wonderful time here, the condo has good amenities and is in a wonderful location, close to mini supers and places to eat and a 4 minute walk to the best beach we visited this trip! Our kids wanted to see monkeys and were excited to see howlers multiple times. The condo is also very secure, although Costa Rica doesn't worry us much. Pura Vida!
5.0
Aug 2013
Wonderful Condo!
We had a wonderful time at this condo. From the moment we opened the front door, we were in awe. The place smelled so good and it was spotless. The color scheme was beautiful, as well as all the decorations throughout the place. It was very cozy and it felt a lot like home. The beds were so comfortable (even the sofabed) -the most comfortable beds we had during our stay in Costa Rica ;-D. The kitchen had everything we could possibly need. The swimming pool was a very popular place with our kids, and the jacuzzi in the pool was amazing. The location within walking distance of La Penca and local supermarkets and restaurants was so convenient. We felt safe at all times and enjoyed having the condo -and the beach!- pretty much to ourselves. We are already set on going back next summer. You'll be hearing from us next year! Thank you for your patience answering our never ending questions. Your condo was much more than what we were expecting. You have a very beautiful place. Take care and we'll contact you sometime next year.
5.0
Jul 2011
Wonderful family vacations
To enjoy vacations with children (15,11 and 2yrs) is really a big challenge, and this property is the perfect location to enjoy by all family members, the condo is set like our home, after visiting the beaches the kids enjoyed the pool and watching TV, including internet access. The hospitality from Daphne exceeded my expectations. The experience was great due to close distance of nice beaches like Playa Grande, Tamarindo, Playa Langosta and others. I enjoyed riding my Mountain Bike and relaxed later in the jacuzzi hearing the birds and monkeys during the sunset. The time there was wonderful. I recommend this property and if you love the outdoor sports, you can bring your Mountain Bike; or just practice hiking, swimming, kayaking (you can rent there).
5.0
Jan 2020
Great place
This is a wonderful place to stay. The condo is exactly how pictured and the pool area couldn't be better.
5.0
Feb 2018
Excellent place to stay. We stayed 2 weeks and enjoyed every minute of it.
The development is well managed, safe, clean, and only 300 meters from one of the best beaches in the area. The property is very peaceful and quiet. I highly recommend this property and would definitely stay again.
5.0
Mar 2020
The condo was perfect, clean and had everything we needed. I highly recommend this place
The area we stayed has many beautiful beaches to which we hopped around at. The people of Play Potrero are very friendly we felt very safe. I would definitely go again.
5.0
Dec 2018
Great stay
Location to the beach was excellent. The unit had everything we needed in it. We made good use of the pool. Loved the grounds around the complex. All in all had a wonderful time.
5.0
Mar 2019
Great place to stay
I would highly recommend staying here. The unit is great, pool is quiet and peaceful. Close to beaches, restaurants, groceries. Owners were very accommodating and easy to deal with.
5.0
Mar 2010
Costa Rican Oasis
I was searching for the perfect getaway and found it! Solitude, Beauty and the comforts of home all rolled into one! I found the condo to be tastefully decorated and the grounds meticulously cared for. We spent our days soaking up the beautiful sunshine by the pool and our evenings dining at one of the many quaint restaurants. One can't forget to mention the "Soda" and "Marcado" that are within walking distance. Costa Rican night life is second to none, making it easy to let loose! The sincere warmth displayed by the locals afford the opportunity to truly feel how life is in Central America. I would not hesitate to recommend this rental property to my friends and family. The owners are extremely accommodating and are very familiar with the surrounding areas. Every one of the activities suggested by them turned out to be amazing! They even set us up with our own tour guide. Thank you Fabian - you were terrific ;) Already planning our next trip. PURA VIDA
5.0
Dec 2010
Vacation of a Lifetime!
I stayed at this condo for 3 weeks with my husband in October 2010, after traveling around the country for 6 weeks, and this condo made our vacation! The location of the condo is excellent, close to restaurants and grocery stores. The condo property is beautifully landscaped, making it a perfect tropical oasis. Walking into the condo set all of our worries at ease - Daphne had the condo decorated to the 9's, decorated with modern, comfortable furniture and bedding, and wireless internet and TVs. The appliances are all beautiful and barely used, and the master bathroom - oh my goodness!! LUXURY! The pool is perfection, and Penca Beach, which is steps away, was our favorite beach on the Pacific Coast. Daphne was a pleasure to do business with - she is very knowledgeable and I highly recommend using not only her condos (I believe she has more than one in the area), but using her as a resource for your trip! She also is VERY respected with the locals, which also made for a very relaxing time in her condo. Thank you, Daphne...we will be back!
5.0
Mar 2017
Bright and beautiful- best accommodations in CR
I have traveled extensively in Central America and Casa del Sol was far and away the best place I have ever stayed. The condo was exceptional and exceeded expectations. It was sparkling clean with all the amenities you would need to cook for a family. A very home-y feel! The beds were exceptionally comfortable and the rooms had a bright and airy feel to them. The pool was a wonderful bonus for the children and adults- very well maintained as was the beautiful, tropical garden. Reynaldo- the friendly man at the security gate- learned all of our names and greeted us warmly whenever we passed through. Penca beach- just up the road- is a white sand paradise. We frequented "Pablo's"- a tiny restaurant right on Penca serving cappuccinos in the morning and sandwiches and beer all day long. For dinner we went to "Sol y Mar" a decently priced restaurant with delicious food. Daphne is a wonderfully attentive host who gave us many helpful suggestions for things to do and places to eat. She responded to all inquiries promptly and helped to make our vacation perfect.
5.0
Aug 2019
Heaven on Earth!
5.0
Jan 2011
Perfect vacation spot
A perfect spot for a family vacation away from it all. This house sits in a perfect little nook near town, beaches and all amenities. The compound has a beautiful and family friendly pool and garden landscape where small ones can roam safely and freely. The house is large, welcoming and provides all that one needs for their vacation. Redefines relaxation.
5.0
Feb 2022
Wonderful experience. Casa del Sol is a unique condo,clean, accessible, and friendly.
A great experience. Good amenities in condo. Many breaches and great eating places. Need a car to explore many beaches and shopping centers nearby.
Wie viel kostet dieser apartment im Vergleich zu anderen in Guanacaste Province?

Der Durchschnittspreis für eine Anmietung in Guanacaste Province beträgt 148 € pro Nacht. Diese Miete liegt 30 € über dem Durchschnitt.
Ist das Parken in diesem apartment inbegriffen?

Ja, das Parken ist als Ausstattungsmerkmal bei Luxusapartment in tropischer Umgebung und nur wenige Schritte vom atemberaubenden Penca Beach entfernt. aufgeführt. Für weitere Informationen empfehlen wir Ihnen, sich mit dem Anbieter der Unterkunft in Verbindung zu setzen, um zu erfahren, wo Sie parken können.
Gibt es in diesem apartment einen Pool?

Wir haben keinen Pool gefunden, der als Ausstattungsmerkmal für diesen apartment aufgeführt ist. Es kann sich lohnen, noch einmal zu prüfen, ob ein Pool für Ihren Aufenthalt wichtig ist.
Ist Luxusapartment in tropischer Umgebung und nur wenige Schritte vom atemberaubenden Penca Beach entfernt. haustierfreundlich?

Ja! Diese apartment ist haustierfreundlich. Für weitere Informationen empfehlen wir Ihnen, sich mit dem Buchungsanbieter in Verbindung zu setzen.
Welche Ausstattungsmerkmale sind bei Luxusapartment in tropischer Umgebung und nur wenige Schritte vom atemberaubenden Penca Beach entfernt. verfügbar?

Wir haben 6 Ausstattungsmerkmale für diese Unterkunft gefunden. Dazu gehören haustiere erlaubt, küche/kochnische, internet/wlan, parkplatz und waschmaschine.