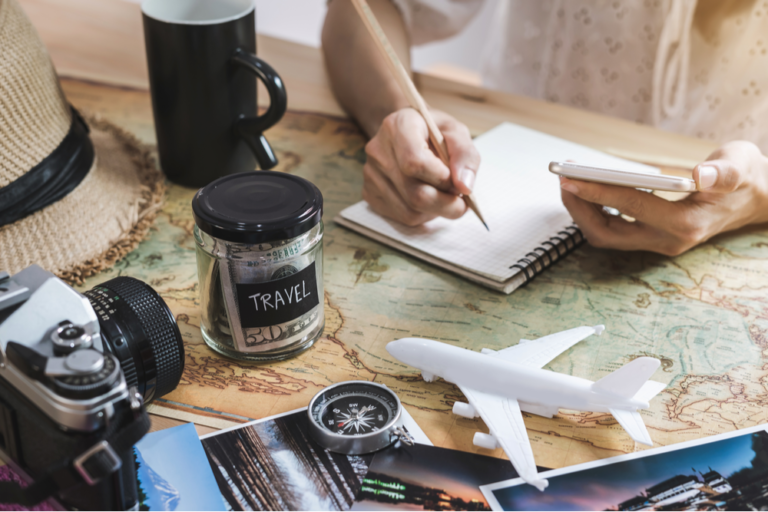 Are you ready to start planning your next vacation? If so, we can help you make your travel dreams a reality. Here, you'll find a comprehensive guide to saving a little extra cash while at home, cutting back on expenses while traveling, and getting the most out of your next trip. Let's get started.
How to Save Money for Your Next Trip
If you're looking for ways to save for flights, events, or vacation rentals, we're here to help. Below, we'll explain some effective ways to start building your vacation fund today.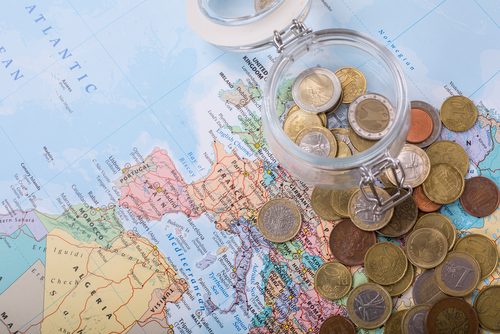 Cut Back on Expenses
Spending less when you're at home is one of the easiest ways to save money for a vacation. Here are 4 tips that can help cut back on everyday expenses so you can save up for future travel:
Cooking at home instead of dining out
Brewing your own cup of coffee instead of spending $3 to $5 at a cafe each morning
Analyzing your monthly subscriptions to see if any can be cancelled due to minimal use
Making sure you truly need something before you buy it
Try creating a fixed budget and commit to saving a specific amount of money each month. We surveyed 1,014 people and found that on average, respondents saved $1,582 in their travel fund. Most people were willing to give up dining out, food delivery services, spending on alcohol, and coffee to save for future travel. While cooking at home or making your own coffee might seem a little strange at first, your savings will add up quickly.
Earn Extra Income
If you're dedicated and want to fill up your vacation fund as quickly as possible, you might consider trying to earn a little money on the side. With remote work becoming more popular each year, you may be able to find a wealth of side gigs online. Other options could include potentially earning money by writing, video editing, or teaching English while you travel. Whether you want to find freelance projects, take on a few extra hours at your day job, or babysit for the neighbors, supplemental income will put you on the fast track to vacation.
Manage Your Debt
Even if you reduce expenses and earn extra income, constant debt payments may cut into your vacation fund. If you have credit card debt, try to pay down your balances to reduce your monthly interest expense. Instead of purchasing items on credit, try saving up and buying in cash. Once you get your debt under control, you'll be able to grow your vacation budget with peace of mind.
Commit to Saving
While you're growing your savings, you might be tempted to spend your vacation fund on a new pair of shoes, tickets to a concert, or a delicious meal at a high-end restaurant. When you feel the urge to spend, try to resist. By sticking to the plan and living within your means, you'll be getting yourself one step closer to that beach in Brazil, the vineyard in Italy, or Disneyland with the kids.
How to Travel on a Budget
Now that you've saved up the money for a big trip, it's time to find ways to travel within your budget. Some people prefer to take shorter, more luxurious vacations. Others want to visit new places for as long as possible and pinch pennies along the way. Here, we'll review several effective ways to travel without breaking the bank.
Find Cheaper Flights
One of the easiest ways to save money while traveling is to find the lowest airfare possible. Last-minute flights often cost significantly more than tickets bought in advance, especially if you're flying internationally.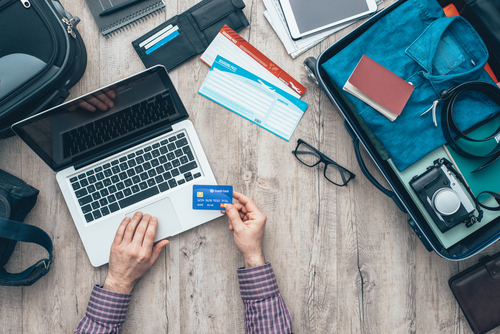 Here are some essential tips to help you find cheaper flights:
Choose the best days to fly. The cheapest days for domestic flights are usually Tuesday, Wednesday, and Saturday. For international flights, weekdays are typically less pricey than weekends. In many cases, the earliest and latest flights of the day are the least expensive. Many airline websites have simple interfaces that allow you to compare potential dates, enabling you to choose the cheapest flights.
Know when to book. According to the Airlines Reporting Corporation, travelers often find the best deals roughly seven weeks in advance. Some studies suggest buying tickets around noon PST on Tuesday, but your best bet is to check flights throughout the week – you never know when an airline will offer a new deal.
Show your loyalty. Signing up for an airline's frequent flyer program – or even a co-branded credit card – often carries substantial perks. You might get complimentary lounge access, free checked bags, and a host of other insider benefits. If you're traveling on a budget, you can have a complimentary feast in the airline's lounge before boarding the plane, saving you from having to pay high prices for airport food.
Embrace Ground Travel
While flying is sometimes necessary, ground transportation often provides a cost-effective and environmentally friendly alternative to taking a plane.
In regions like South America, short flights between countries might cost hundreds of dollars, while a bus usually costs a fraction of the price. Ground travel in the United States is much cheaper, too. An Amtrak train or Greyhound bus costs much less than a domestic flight. Plus, you'll be able to look outside and see the countryside.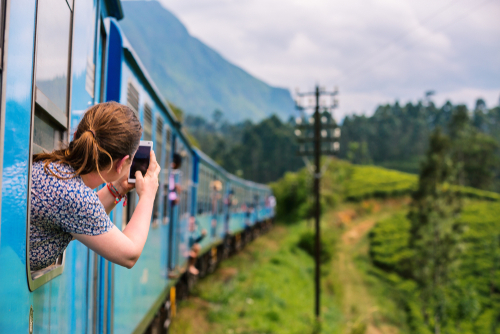 Ground transportation is especially effective when you only need to travel short distances. While you could take a flight from Los Angeles to Santa Barbara, taking the train will probably end up taking less time, after checking your bags, bustling through busy security lines, and waiting at your gate. Amtrak tickets from Los Angeles to Santa Barbara are as low as $20, and the journey only takes a couple of hours.
Taking a night train or night bus can also prevent travel days from wasting your precious vacation time. Unlike airplanes, many buses and trains have fully reclining seats where passengers can enjoy a good night's sleep and wake up in their new destination refreshed and ready to explore.
Do Laundry for Free
Especially if you're going to be traveling for more than a week, you'll need to do laundry on vacation. While paying the hotel $20 to wash your clothes is certainly an option, doing laundry on your own is a much more economical option.
When you pack your bags, include a couple of sink-friendly soap packets. Regardless of if you stay in a vacation rental or a hotel, you can wash your clothes in the sink and dry them on the shower rod. Just make sure to do your laundry early in your stay – you don't want to have to pack wet clothes into your suitcase because you didn't leave enough time for them to dry. In a pinch, you can also use a hairdryer to speed up the process.
If sink laundry isn't for you, you might consider choosing a vacation rental with a washer and dryer instead. Many houses and apartments come with amenities like washing machines that will make you feel like you're at home. Hosts will often leave instructions about how to use the washing machine, especially if you travel to a country that speaks a different language. Instead of hanging your wet underwear across the hotel room as unusual decorations, you can just use your vacation rental's dryer.
Cook Your Own Food
Many vacation rentals come with full kitchens. By taking advantage of the opportunity to cook for yourself, you can save a significant amount of money. Dining out is often expensive when traveling — especially if you're visiting restaurants for breakfast, lunch, and dinner.
While getting to know your destination's cuisine is an enjoyable part of traveling, cooking one or two meals in your house or apartment won't take away from the excitement of your trip. On the contrary, every meal at a restaurant will be just a little more special. Plus, you can avoid spending large amounts of money on room service and the hotel restaurant. You can get the same fruit and eggs as in the breakfast buffet without paying $15.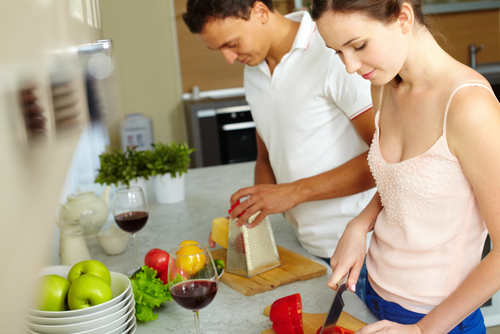 Book With Friends
Booking accommodations with friends and family can result in huge savings. Splitting a hotel room with your best friend cuts the cost in half, allowing you to stay for twice as long.
Booking a vacation rental often results in even more savings. By choosing a house, apartment, or cabin, you can find the perfect place to accommodate the number of people in your group. If you have eight people in your group, sharing one large house is frequently much less expensive than splitting four standard hotel rooms. Plus, you'll get more privacy, a more comfortable setting, and you can all be together under one roof.
Extra-large groups often enjoy the most savings. For example, you might be able to snag a nine-person beach house for just $159. Once you split the costs, each person pays less than $18 per night. For the most cost-effective accommodations with a big group, book a vacation rental.
Use Credit and Debit Cards Wisely
If you're not careful during your travels, you might rack up a mountain of ATM withdrawal expenses, foreign exchange charges, and all sorts of other fees you never knew existed. We all know the challenges of translating your dinner order into the local language, but converting your currency can be just as important.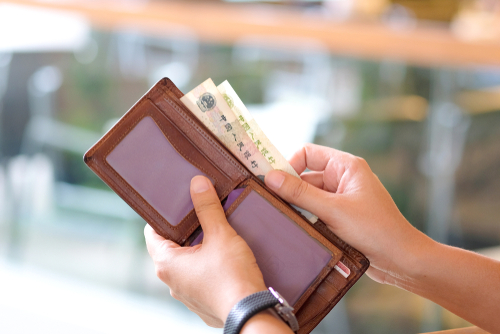 Travel Credit Cards
Before traveling, consider getting a travel rewards credit card. Many travel cards waive foreign transaction fees, so you can use your credit card abroad without worrying about accumulating unexpected costs.
Credit cards also usually offer introductory bonuses to customers who spend a certain amount of money within a limited time. For example, you might earn $500 if you spend $3,000 in three months. If you're planning a big vacation with friends, you might offer to pay for the whole trip and then have your friends pay you back. You may even be able to pay for your entire trip using the bonus!
Like airline cards, some travel credit cards come with free lounge access. Plus, you might get travel insurance, rental car assistance, and other perks.
Debit Cards Without ATM Fees
One strategy when traveling abroad is to exchange your money for local currency when you arrive at your destination. However, many travelers end up getting unfavorable exchange rates. Plus, you run the risk of someone stealing your giant pile of cash.
As a result, periodically withdrawing cash from local ATMs can be a smart alternative. However, many banks charge foreign ATM transaction fees, which can cost over $5 per withdrawal, on top of the ATM fee. If you have a card with a high foreign transaction fee, try to withdraw money only a few times per trip. Or, if you're traveling with friends, trade off withdrawing large amounts of money, so you can minimize the fees.
Another option is to choose a bank that doesn't charge foreign ATM fees. For example, Charles Schwab refunds all ATM fees, whether incurred in the United States or abroad.
Plan Your Next Trip With VacationRenter
If you're getting excited about your next adventure, we're right here with you. VacationRenter can help you find the perfect house, apartment, or lodge for your next trip. We create curated lists of destinations for whatever you desire — whether it is a town by a lake, a cozy ski town, or the best islands for a tropical getaway.
VacationRenter collects the best rentals from the most popular sites around the world. Using our easy-to-use search functions, you can find a rental that has everything you need. Whether you filter by pet-friendly rentals or places with a swimming pool, VacationRenter will filter through the sea of options to find what you need.
Try VacationRenter today to start taking advantage of the variety, flexibility, and comfort of vacation rentals across the globe.