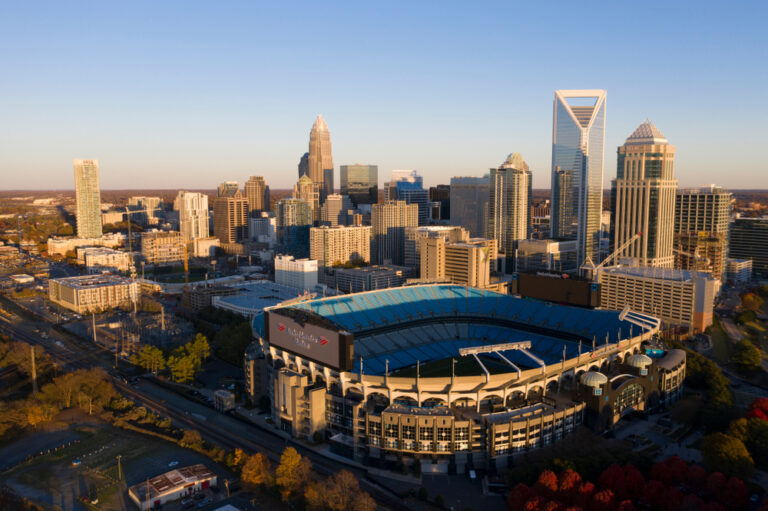 There's something many people don't know about Charlotte: it's the ultimate city for sports fans. No matter the sport there is sure to be something that will appeal to every kind and type of fan. The metro area is home to some of the top North Carolina sports attractions. Multiple arenas scattered throughout the city offer a chance to get to know Charlotte and get the fix of any sport that is to be desired. If you love baseball, football, basketball, and NASCAR, consider taking one of these day trips to check out the sports scene in Charlotte, North Carolina.
Spectrum Center
If you're an NBA fan, head to Spectrum Center to watch the Charlotte Hornets run the ball up and down the court. With parking close by as well as an assortment of restaurants, some of them being high-end make this arena perfect for an entire night out. Come early to grab a bite to eat before the game and if a drink afterward sounds like the plan, stay a little later and mingle amongst other fans.  The season typically runs from October to June. If you're lucky, you'll catch a glimpse of Hornets owner and basketball superstar, Michael Jordan, checking out his team.
Pro traveler tip: Be sure to stay up to date with all events on their website as to plan ahead to make the most of the time there. Also, it would be wise to get a layout of the arena before arriving to ensure there is no time lost wandering around looking for the correct section.
Bank of America Stadium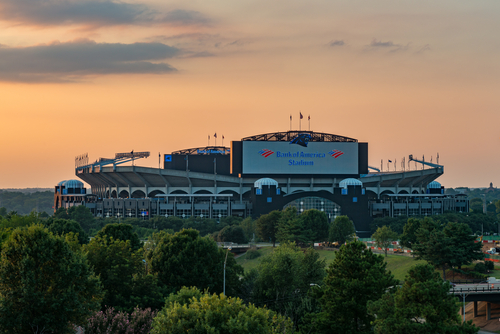 Every year, from August through December, the NFL's Carolina Panthers take to the field on Sundays at Bank of America Stadium. Be sure to take a trip out to this fantastic field to catch a glimpse of the spectacle that is the Carolina Panthers. Since the team made the Super Bowl in 2015, tickets are a little harder to come by, but if you can snag some, take a day (or evening) to do some tailgating and watch a game. During the week or the off-season, take a tour of the stadium and go behind the scenes. All of this combines to make for a fantastic stadium that will remain in memory for a lifetime.
Pro traveler tip: Football isn't the only type of event that takes place at this magnificent stadium. There is also a host of musical concerts that take place here, especially in the off-season. Check ahead to see if your vacation lines up with any of the many world-class acts that make their way through here.
Truist Field
The Charlotte area may not have a Major League Baseball team, but it does have the Charlotte Knights, a AAA minor league team for the Chicago White Sox. Although it may not be a major league game there is one thing that is for certain. These athletes are playing at a level where they want to be on a major league team. It is not uncommon to see many plays and moves that are rarely seen on the big screens nationwide due to the increased effort put out by its players. The stadium where the team plays, Truist Field, opened its doors in 2014, and it's often called one of the most beautiful spots in the city.  Be sure to check out an amazing spectacle here while on vacation in Charlotte.
Pro traveler tip: Truist Field is open 356 days a year and plays host to a multitude of different events both private and public. With seating arrangements available from 10 people up to 10,000 people there is sure to be an event here that suits the vacation.
Charlotte Motor Speedway
Get the thrill of a lifetime and feel the speed of absolutely astonishing machines that seemingly defy the laws of physics. Located in the Charlotte suburb of Concord, the Charlotte Motor Speedway hosts several major NASCAR events throughout the year. It also hosts drag racing and dirt racing events. With events happening weekly there is sure to be a race here that coincides with your vacation that will bring it to full throttle. Couple that with places to eat and things to do for the kids if they are coming along. It makes this raceway one to remember.
Pro traveler tip: Take the vacation and this particular visit to the next level and purchase a camping pass to truly get the full experience of the race that is going on. Mingle with other fans and feel the energy of the crowds in this truly immersive experience.
NASCAR Hall of Fame
Speaking of NASCAR, be sure to stop by the NASCAR Hall of Fame which is located Uptown in the Second Ward quadrant and considered to be one of Charlotte's top attractions. You'll see plenty of exhibits featuring real racing memorabilia and more. Bring the kids here for a family fun experience. Explore the history of NASCAR and see artifacts from some of its biggest racers. This museum will be sure to blow away even the slightest NASCAR fan with its expansive collections and histories kept inside.
Pro traveler tip: Tickets to the museum come in different combinations and packages. Depending on the type of visit that suits the vacation perfectly, pick and choose which option will be best with options including gift shop vouchers as well as onsite cafe gift cards.
Bojangles Coliseum
Charlotte even has its own minor league hockey team, the Charlotte Checkers. They play at Bojangles Coliseum, which the Charlotte Observer calls one of the most affordable sports venues in town. If the thrills and speed of Hockey while traveling on a budget seems like the perfect escape for the night be sure to head over and catch a glimpse of this fantastic stadium and a phenomenal team. With a host of other events that occur here as well whether it's hickey or a musical, it can all be caught at Bojangles Coliseum.
Pro traveler tip: Check their website ahead of the vacation to get a glimpse at the schedules planned that coincide. There may just be the perfect event taking place here that will make a vacation in Charlotte one to remember for a lifetime.
Sportsplex at Matthews
If it's soccer you want to see, head to the Sportsplex in the southern Charlotte suburb of Matthews. Catch a glimpse at these amazing athletes performing in the sport the world loves. Home to five fields, the facility hosts several amateur soccer games throughout the year, and it's the home of the United Soccer League's Charlotte Independence team. This enormous field also hosts many other sports including Rugby and Lacdorsse so if soccer isn't exactly fitting there will surely be another sporting event to make for an amazing time.
Pro traveler tip: Be sure to head over to the Sportsplex at Matthews during the weekend if possible. Every weekend this multi field complex hosts several tournaments from a wide array of different sports.
Davidson College
Davidson College is about 30 minutes north of Charlotte, and on any given day, there's sure to be a men's or women's collegiate game, match, or meet taking place. On top of the natural beauty that surrounds Davidson College making it a perfect place to get away for the day with the kids. The school has a popular basketball team, as well as football, tennis, golf, soccer, baseball, swimming, track and field, and more. Be sure to make a trip up to this college to see some of tomorrow's top players before they become household names.
Pro traveler tip: Although placed on an absolutely beautiful piece of land that begs to be explored. Davidson college is also centrally located near many restaurants so there will be no worries about finding food after the game.
American Legion Memorial Stadium
American Legion Memorial Stadium is one of the largest venues in the city, and it often hosts high school sporting events. It's also the home of the Charlotte Hounds, the city's professional lacrosse team. In 2017, the city voted to renovate the stadium with the hopes of one day attracting a professional soccer team to play here. Be sure to venture over here for hair splitting and an action-packed game of lacrosse that will leave you in amazement as you gander upon the athleticism of these top-notch players.
Pro traveler tip: Created and dedicated to the soldiers of World War I this stadium has been honoring America's heroes since 1934 and continues to do so. If history is an interest then be sure to check out this stadium.
Golf Clubs & Courses
If you're a golfer or you'd like to catch a major tournament, be sure to add one of the city's golf clubs to your list of things to do in Charlotte. Quail Hollow, The Golf Club at Ballantyne, and Rocky River Golf Club are just a few places you'll want to check out. These top-notch golf courses and clubs offer some very challenging yet relaxing rounds of golf. With clubhouses situated at each one for some quality time spent with the golfing partners.
Pro traveler tip: If golfing is a major interest be sure to check out all of the amazing golf courses that are around Charlotte. Each one has its own set of challenges and holes that make them all very unique making for a very fun time for any golfer.
Where to Stay in Charlotte
Uptown Charlotte is the place to be if being in the middle of the action is desired. Numerous bars and restaurants in the vicinity make for an easy time catching any game that didn't quite fit into the schedule of the vacation.
The Third Ward is where all the sports activities related to the NFL take place. With Bank of America Stadium shadowing over this cultural community, booking a vacation house near here will be a surefire way to catch the game of a lifetime without having to deal with too much traffic.
The Fourth Ward is where to be if quiet streets lined with trees coupled with many Victorian style house sounds like the perfect getaway. Book a vacation home here if getting a little shut-eye and peace and quiet after the excitement of the games sound like a perfect way to spend time in Charlotte.
Charlotte is for Sports Fans!
Get ready to enjoy some incredible sports opportunities when you book a stay in Charlotte! A culturally diverse city with more options and attractions than one can count. Charlotte is the place to be if sports-related excitement is what is being searched for. Pack the bags and grab the jersey that represents the home team and venture out to what many consider to be the greatest city in America when it comes to enjoying sports.