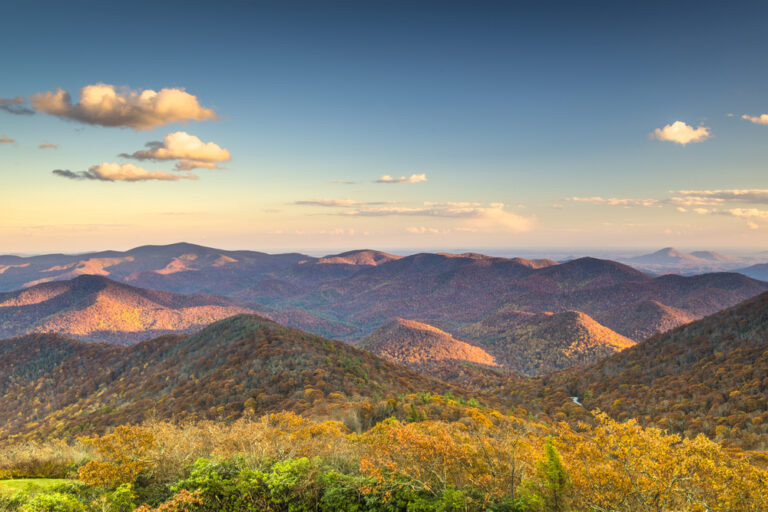 Nestled in the North Georgia Mountains, Blue Ridge, Georgia, is a small yet vibrant town where you can get lost in the great outdoors, soak up the mountain culture, go on an adventure or enjoy a relaxing time in a quiet cabin. In between, you can shop, dine on delicious Southern cuisine or take a train ride through the beautiful Chattahoochee National Forest. Not convinced? Well, here are just 10 reasons why Blue Ridge should top the list for your next mountain getaway.
Train Rides

The Blue Ridge Scenic Railway is one attraction you can't leave town without experiencing. It boards in an old depot and takes you on a four-hour trip you won't soon forget. Explore the mountains, spend a couple of hours shopping and dining in the charming city of McCaysville and return to Blue Ridge with a new appreciation for the local scenery.

Shopping

Speaking of shopping, whether you like antiques and vintage finds, handmade crafts from local artisans or interesting treasures from local boutiques, you'll find them all in Blue Ridge. Choose from several shops in the downtown area, along with more than 25 antique shops on the road between Blue Ridge and nearby McCaysville.

Dining

All of that shopping is sure to make you hungry, and luckily, there are plenty of options in Blue Ridge and the surrounding communities. Choose from steaks, seafood, sandwiches, Italian, Mexican, Polish and plenty of sweet treats when you dine in town. No matter your selection, enjoy it with a side of amazing Southern hospitality.

Hiking

Don't worry about all of those calories from dining, because there are plenty of hiking options in Blue Ridge to help you burn them off fast. Both the Appalachian Trail and the Benton MacKaye Trail run through Fannin County, and the 17-mile Aska Trails that run through Blue Ridge are great for all fitness levels.

Fishing

Blue Ridge and Fannin County are considered some of the best places to fish in the area. The city has also been named the best spot for trout fishing in the state of Georgia, thanks to the Toccoa River.

Lake Blue Ridge

Lake Blue Ridge sits on 3,300 acres, and it's also a popular spot for fishing and boating. During the summer, families fill the beaches that make up some of the 60 miles of shoreline, or you can find them splashing in the clear waters.

Wine Tastings & Breweries

For something more adult-oriented, try one of the area's wineries, vineyards or breweries. Many of them offering tastings throughout the week in gorgeous mountain settings.

The Orchards

Mercier Orchards has been a Blue Ridge tradition since the early 20th century, and it remains one of the town's top attractions, especially during apple season in the fall. Pick your own apples and other fruits throughout the year, dine in the restaurant, shop in the store or visit the winery.

Festivals & Events

No matter when you visit, you're likely to find a festival taking place in Blue Ridge. Some popular annual events include the spring Blue Ridge Mountains Wine & Jazz Festival, Fourth of July fireworks at Lake Blue Ridge, the Labor Day Barbecue and Hometown Christmas.

Seasonal Adventures

Every season is ideal for visiting Blue Ridge. During spring, the wildflowers are in bloom and the trout are biting. Summers are warm and ideal for water sports like tubing and kayaking. Winter may bring snow and holiday fun. Fall is Blue Ridge's peak season thanks to the changing colors of the leaves.
Ready to enjoy all the sights and sounds Blue Ridge has to offer? Book your stay on VacationRenter!