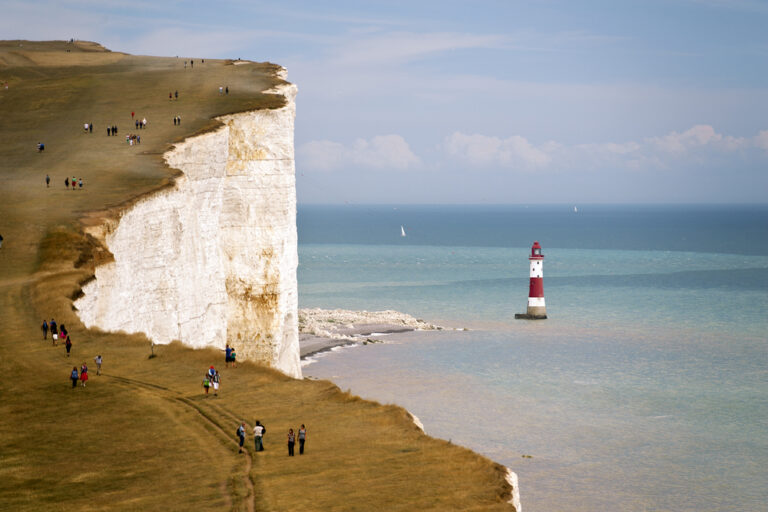 When you think of a relaxing "beach holiday," Britain may not be the first country that comes to mind. However, with its diverse coastline and an endless list of picturesque seaside towns, Britain deserves your attention. In fact, you might be surprised to learn about the number of captivating British beach destinations that are just waiting to be explored.
1. St. Ives, England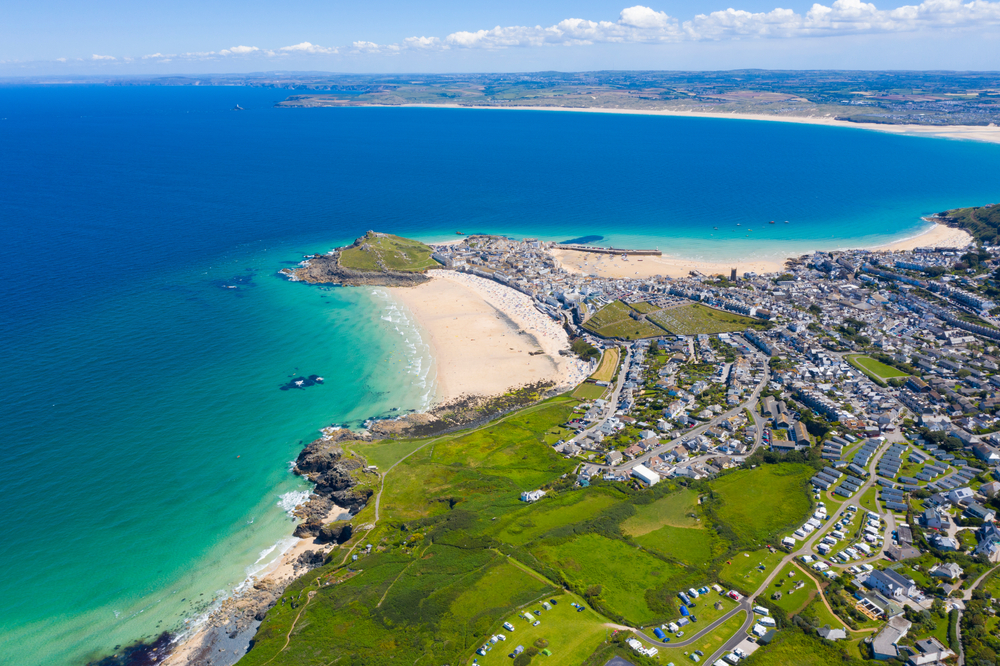 St. Ives is a popular destination within Cornwall that's been attracting visitors for over a century. Located on the westernmost tip of the county, visitors will find beautiful golden beaches and fields full of wildflowers. Tourists can explore the many museums around St. Ives and even tour the local harbor by boat to learn more about Cornwall's fishing and whaling history.
Fun Things to Do
For those who like to explore as they relax, the Tate St Ives art gallery and Barbara Hepworth Museum and Sculpture Garden are both located in the center of town. The latter is dedicated to showcasing the prolific works of British sculptor Barbara Hepworth from 1903 to 1975.
The large Porthmeor Beach is tucked away from the town center, so you'll find it's a great location to escape the hustle and bustle of St. Ives.
St. Ives is also famous for its gorgeous landscapes and views of the English Channel, so both are worth exploring.
Where to Stay in St. Ives
Central St. Ives, in the area surrounding Porthminster Beach, is the best location for visitors looking to explore the area's attractions. It ensures you're in close proximity to the city's shops, restaurants, and galleries.
2. Brighton, England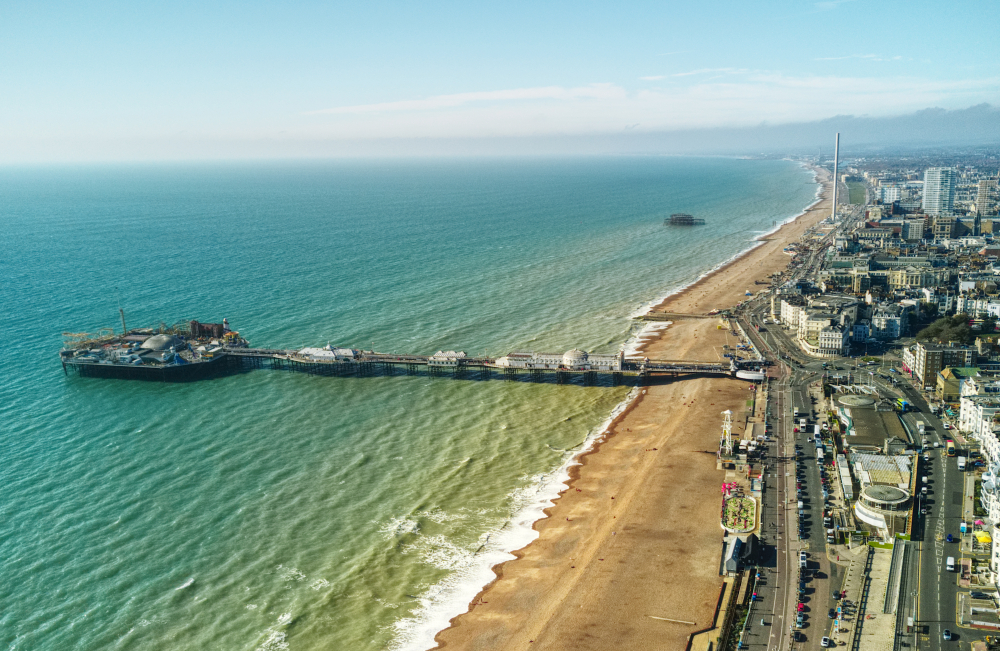 Brighton is known for its hip vibe and cutting-edge style that has made this seaside destination one of the most popular places to visit in the UK. Whether you're looking for a family beach getaway or a vibrant nightlife-friendly city, Brighton has it all.
Brighton is home to a famous pier that was built in 1866 and stretches over 1,722 feet into the English Channel. It miraculously survived the Brighton Blitz during World War II with little damage and is now home to a traditional amusement park, tearooms, and the Brighton Wheel. The stone-filled beach on the east side of the pier features colorful traditional British beach huts that can be rented out by local residents.
Fun Things to Do
For kids and fun-loving adults, the Upside Down House is a quirky new attraction not far from the pier. Featuring a house built entirely upside down, you can enjoy taking perspective-bending selfies onsite.
If you're a history lover, be sure to check out the Royal Pavillion & Garden — a stunning palace in the heart of Brighton that was once home to King George IV. Many of the rooms feature decorations and styles from the 18th century that have been restored to their former glory.
Where to Stay in Brighton
Lining the beach situated underneath the pier are a multitude of funky bars and nightclubs. Conveniently for visitors, hotels and vacation rentals also line the seafront, each offering panoramic views of the sea and easy access to the Brighton nightlife after dark. With the city center on your doorstep and the seafront and pier within walking distance, you can easily explore all that Brighton has to offer during your seaside getaway.
3. Margate, England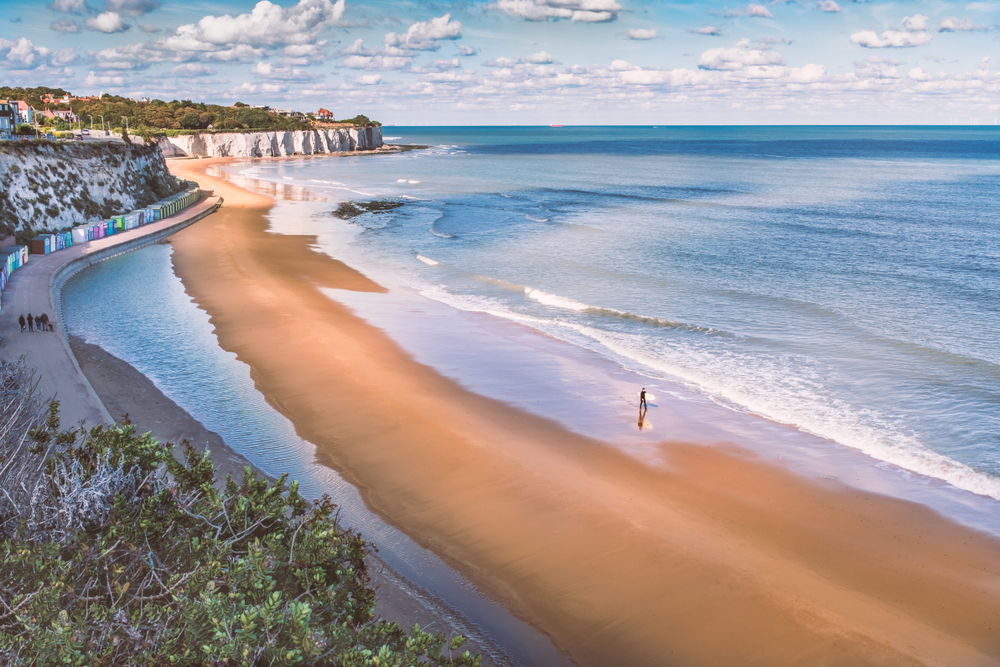 Margate is known as being one of the prettiest English coastal towns — in the past attracting notable guests like artist J.M.W. Turner and legendary novelist Charles Dickens. More recently, Margate has established itself as a popular hipster tourist destination where visitors can enjoy a British seaside kitsch vibe alongside trendy cafés, art galleries, and boutique shops.
Fun Things to Do
The thriving city center is the best location for visitors looking to explore Margate's many tourist attractions. Main Street is home to the Turner Contemporary Art Gallery, which displays ground-breaking modern works from many contemporary artists throughout the year.
Situated opposite the gallery is the beautiful Georgian architecture of Margate's Town Hall, so it's the perfect location for art lovers and history enthusiasts alike.
Where to Stay in Margate
There are plenty of beaches to enjoy here, with Dreamland Beach and Margate Main Sands being the most popular. Visit one — or both — beaches for a traditional British beach day with a vintage feel. Both seaside destinations are made up of perfect golden sands that are great for sunbathing, kite flying, and long walks. Dreamland beach is also home to the iconic Dreamland amusement park, where visitors can enjoy arcade games, go-karts, and traditional carousel rides. Roughly 10 minutes away is Stone Bay Beach, lined with white cliffs and incredible views.
4. Bournemouth, England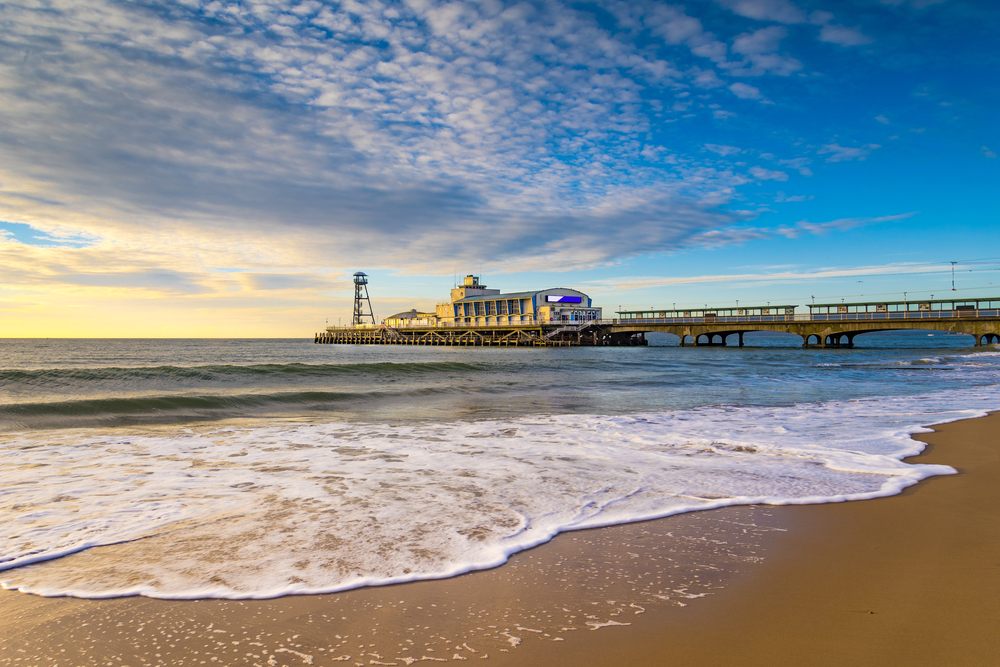 Known for its gorgeous beaches and great surfing, the city of Bournemouth has a large tourist population year-round, even calling itself the "California of the South Coast." With everything from sandy beaches and crashing waves to long promenades and lavish shopping centers, there's enough here to keep you busy during your getaway.
In addition to its great shopping and fabulous surfing conditions, Bournemouth is also home to a lively nightlife scene. For those looking for an after-beach drink, you can check out one of the city's many pubs, which often host live music and entertainment to keep you going well into the night.
Fun Things to Do
Head over to Boscombe Beach for your sun and sand fix during your getaway. This seven-mile stretch of sandy shore boasts Blue Flag status — an indication of their high environmental and quality standards — so bring your swimming gear and enjoy the clean waters.
If you're looking for a more secluded beach, hop on a short car ferry to Shell Bay, where you can discover a quieter stretch of the coastline.
Where to Stay in Bournemouth
For visitors who want to be optimally situated for both the beach and Bournemouth's nightlife scene, Boscombe Reef Hotel is your ideal location. Stay here to enjoy easy beach access and great entertainment during the evening.
5. Llandudno, Wales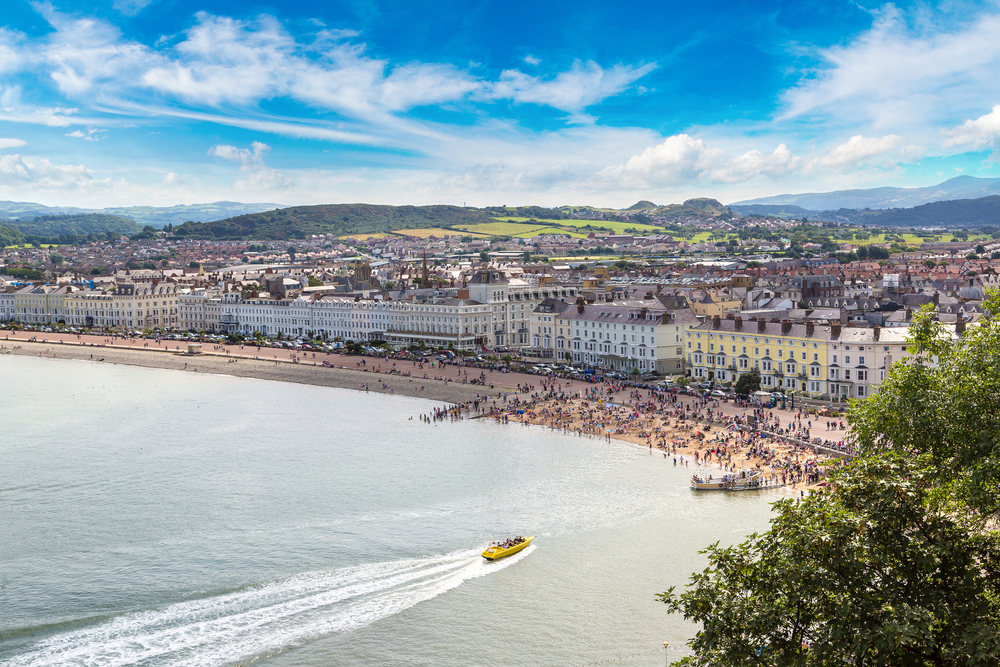 Known for its Victorian splendor, Llandudno (pronounced "lan-did-no") is a historic seaside town that has been attracting visitors for centuries. According to legend, Lewis Carrol was inspired to write Alice in Wonderland during a visit. The town sits on the most northern coastal stretch of Wales and is characterized by its Victorian architecture, including the iconic Grand Hotel that has stood overlooking the picturesque Great Orme since 1858. Many of Llandudno's other attractions also still retain their Victorian style, giving the town a unique, tranquil atmosphere that is hard to find in other places.
Located on the Conwy estuary in North Wales, Llandudno is situated between the Irish Sea and the Great Orme headland. You'll find over a mile of golden sands at Llandudno's North Shore Beach and there are also many bars, cafes, and restaurants nearby that are perfect for evening strolls. For a quieter beach experience, head to Llandudno's West Shore Beach, commonly known for its stunning sunsets and sandy shores.
Fun Things to Do
Nearby attractions include Great Orme, with many hiking trails to explore. It also features Britain's longest cable car as well as the historic Great Orme Tramway that ferries passengers to the peak.
Alternatively, visit Llandudno Pier, which has a number of traditional seaside amusements.
Visitors can also enjoy many watersports in the area, including scuba diving and kayaking.
Where to Stay in Llandudno
It's best to stay near Llandudno's North Shore Beach if you're looking to explore Llandudno's many attractions due to its excellent location close to the city's shops, restaurants, and museums.
6. Eastbourne, England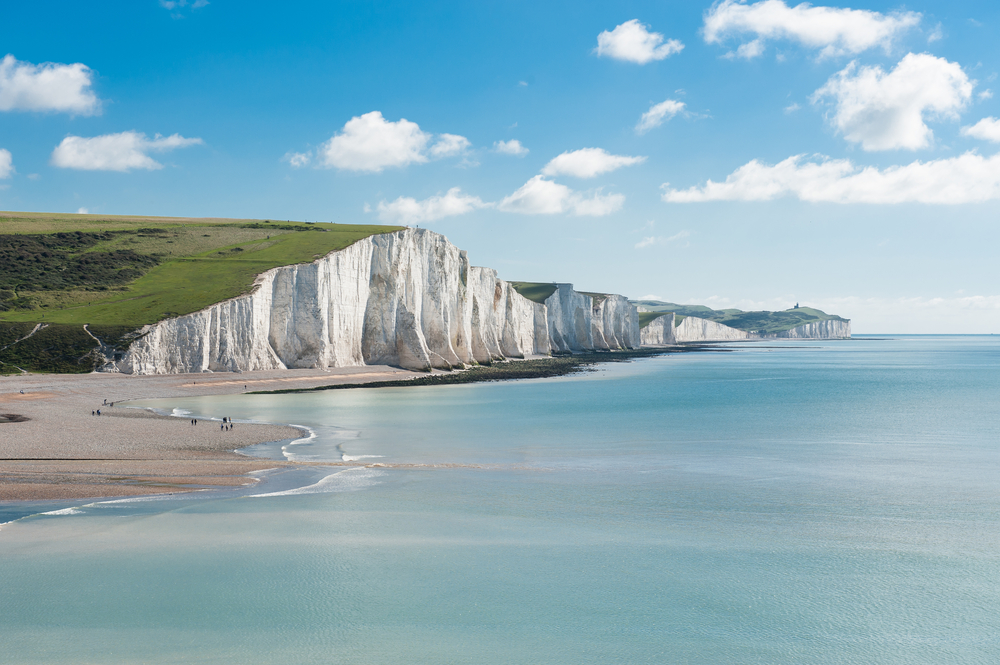 Eastbourne is a seaside resort on the South Coast of England. It's known as "the UK's sunniest place" thanks to its southern coastal location, which ensures mild, sunny winters and warmer, dry summers. One of the UK's most popular family seaside destinations, Eastbourne also features miles of unique rolling chalk cliffs. Located just outside of town less than 15 minutes away is Seven Sisters Park, providing you with breathtaking views of the cliffs, the sand, and the sea.
Military history enthusiasts will appreciate the Eastbourne Redoubt Fort, which dates back to the 1870s, and was used as a military defensive position for many years. Another one of Eastbourne's biggest attractions is Beachy Head — an iconic chalk-white cliff that attracts thousands of visitors each year. Visitors can take one of the cliffside walks and revel in some truly fantastic views of the south coast.
Fun Things to Do
If you're looking for beaches, Eastbourne has plenty to choose from. Within the town's borders are several shingle beaches including Holywell, Western Parade, and Sovereign Harbour Beach.
While they may not feature soft golden sands, Western Parade, in particular, is home to many marine-life-filled rock pools and plenty of opportunities for watersports.
Where to Stay in Eastbourne
The Eastbourne Pier area is Eastbourne's best location for visitors looking to explore the numerous local attractions. Here, you have easy access to the city center and the spectacular views of Beachy Head are just a short drive away.
7. Plymouth, England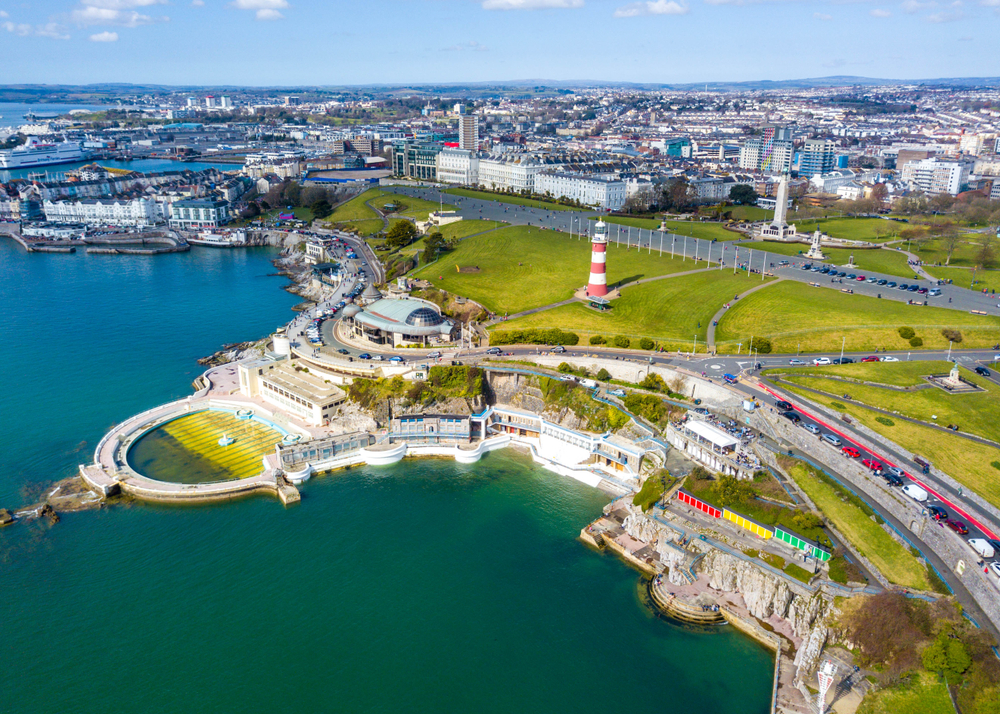 Plymouth, Britian's Ocean City, is located in the county of Devon and is one of England's oldest seaports. This city features some beautiful scenery, so be sure to bring your camera! Nearby Hoe Park has spectacular views of The Sound and features the iconic Smeaton's Tower lighthouse. This area is a large open space, perfect for enjoying a family picnic or a dip in the Tinside Lido.
There are many beautiful beaches and secluded bays right on Plymouth's doorstep providing a stunning backdrop for your seaside getaway. The radiant sands and inviting blue waters will provide the perfect environment for a relaxing day of sunbathing and swimming. Some of the most popular beaches nearby include Bovisand Beach and Wembury Beach.
Fun Things to Do
For the history lover, one of the most popular attractions in Plymouth is the Mayflower Steps. It's here that you'll find the very steps from which pilgrims stepped onto Plymouth Rock during their voyage to America in 1620.
Bovisand Beach is situated in a sheltered bay, surrounded by golden cliffs. When the tide is out, there is a large expanse of flat sand, perfect for sunbathing and strolling.
The pebble-strewn Wembury Beach is also popular for sunbathing and surfing, with good waves all year round.
Where to Stay in Plymouth
If you're looking for a location to stay, consider the Barbican area in Plymouth, located close to all of the city's attractions. The Barbican features quaint cobbled streets and beautifully restored buildings, offering a range of shops, bars and restaurants to enjoy.
8. Weymouth, England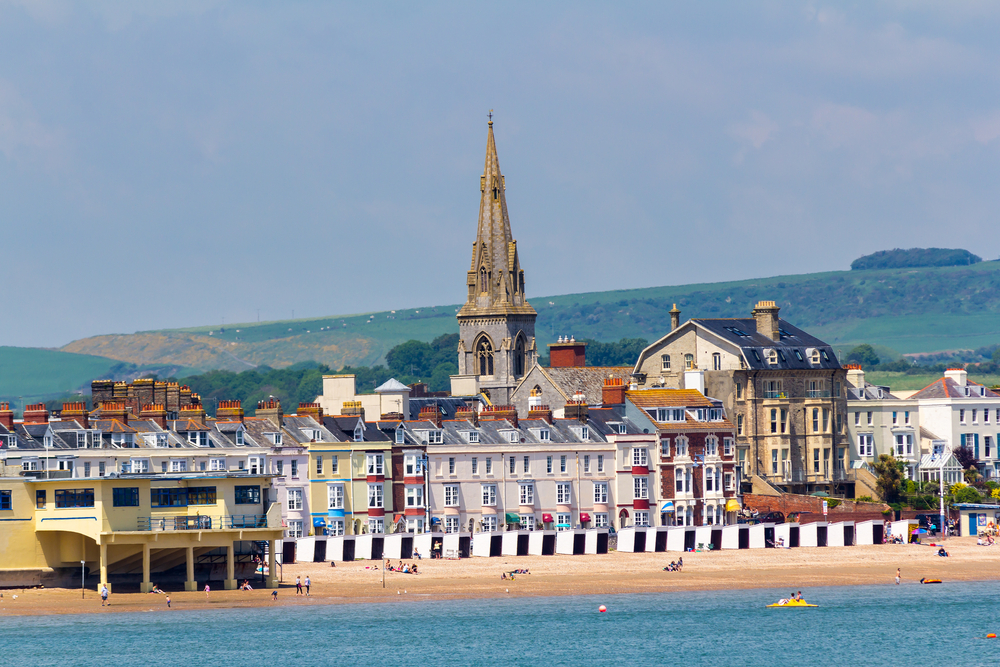 Weymouth is a seaside resort located on the south coast of England. As one of the UK's most popular destinations for families, Weymouth offers safe bathing waters and incredible stretches of sand along miles of coastline. The best beaches in Weymouth include the popular family spots of Weymouth Beach and Sandsfoot Beach. Weymouth Beach is overlooked by the Georgian architecture of the town's seafront buildings, making for some perfect photo opportunities. Sandsfoot Beach offers more secluded areas for sunbathing — something that's ideal for visitors looking to escape the crowds during their seaside getaway.
Fun Things to Do
One of the most popular attractions in Weymouth is Sandsfoot Castle, situated atop a nearby hill with spectacular views looking out over the town.
Other popular attractions in the area are Radipole Lake and the Jurassic Coast, both of which are perfect for a family outing to either go bird watching or hunt for fossils!
Weymouth also features a Sea Life Adventure Park, home to an impressive aquarium that will captivate visitors of all ages.
Where to Stay in Weymouth
Weymouth's downtown area is a great location for visitors, thanks to its choice of shops, independent cafes, and restaurants. You'll also find historic buildings including Weymouth Pier and the Tudor House Museum here, with Radipole Lake just around the corner as well.
9. Southport, England
Situated on the Northwest coast of England, Southport is a seaside resort that offers visitors its fair share of beautiful beaches in addition to vibrant shopping and dining. Unsurprisingly, the beach is one of Southport's most popular attractions. It's even earned itself a Blue Flag Award for its exceptional water quality. The town's pier stretches around a mile out to sea, so visitors can enjoy a nice stroll and watch the boats come in from the ocean.
Fun Things to Do
If you love nature, the Formby Red Squirrel Reserve is one of the only places left in the UK where you can see the elusive red squirrel in its natural habitat. Here you'll find footpaths through ancient woodland, beautiful meadows and heathland, which is an ideal way to spend a peaceful day outside.
Check out the Southport Pier, a traditional Victorian design that offers concession stands, a cafe, and an old penny arcade.
Held annually every summer, the Southport Airshow is one of the largest of its kind in Northwest Britain, featuring both historical and new aircraft that perform incredible feats over water and sand.
Where to Stay in Southport
Some of the best accommodations can be found in the center of Southport, where there's easy access to the town's nightlife within a five-minute walk from Southport Beach. If you're looking for a quieter beach getaway, consider staying closer to the suburb of Ainsdale. From here you can walk to the stunning Ainsdale Beach, which is known as a popular spot for kite enthusiasts. Special zones are designated for kiters, so it's a great place for beginners and veterans alike to enjoy this engrossing activity.
10. Pembrokeshire, Wales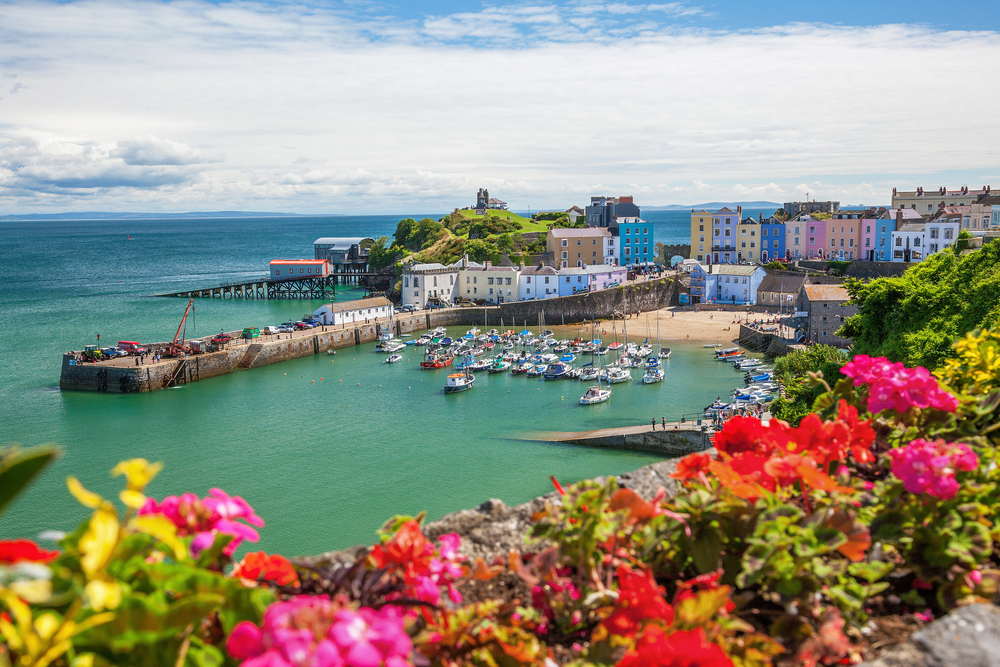 Tucked away in the southwest of Wales, the county of Pembrokeshire is brimming with rock pools and secret coves for visitors to explore in the summertime. The 186-mile coastline is also littered with Blue Flag beaches that make for unforgettable days out with family and friends on your UK seaside getaway.
Fun Things to Do
Barafundle Bay is one of the county's award-winning beaches, listed as one of the very best around the world. Just getting there is an enjoyable adventure in itself. You'll take an invigorating half-mile trek through the forest and over a lake to reach the treasured destination.
Head to Pembrokeshire Coast National Park and Tenby Castle Beach for seaside hiking trails and interesting beaches.
For a real-life version of Jurrasic Park, explore Tenby's Dinosaur Park that provides thrills for kids and adults alike!
Where to Stay in Pembrokeshire
The county of Pembrokeshire is home to Tenby, a dream town for tourists that can't get enough of the seaside. Surrounded on three sides by the sea, visitors are spoilt for choice when it comes to beach options. Between the main beaches — North Beach and South Beach — on opposite ends of the town as well as Harbour Beach and Castle Beach that are closer to the town center, there's more than enough sea and sand to explore in Tenby.
Beach Essentials: What to Pack
If you're headed to the beach, don't forget to pack your essentials. Below are a few items that'll ensure you're fully prepared to soak in the British sun on your getaway.
Sunscreen with an SPF of 30 or higher. Sunburn will put a dampener on your day, so be sure to protect yourself from the sun's harmful rays.
A wide-brimmed sun hat. Alongside sunscreen, it's one of the best ways to protect yourself from those pesky UV rays while keeping you cool.
Water and snacks. Just in case you need a quick refuel after a seaside stroll or a swim!
A separate beach bag or tote bag. This will come in handy for carrying all your beach essentials or wet clothes.
A lightweight poncho, changing towel, or multi-purpose robe. It'll make changing out of your swimming gear a whole lot easier.
Spare dry clothes. You'll be grateful for a spare change of clothes when your clothes become wet and sandy.
Swimwear. Be sure to pack something you're comfortable taking a dip in!
Plan Your UK Beach Holiday
It couldn't be any easier to book your beach holiday in the UK. On VacationRenter, you'll find all the best holiday rentals for your trip in one place. Whether you're looking for a luxury self-catering apartment or a quaint cottage, our extensive list of holiday accommodations has something for every budget and style.