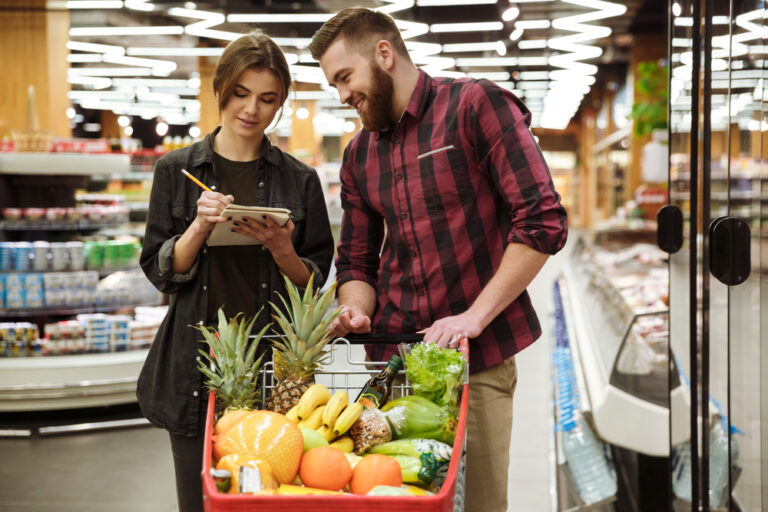 There's a lot to consider when it comes to travel costs. If you're planning a quick day trip, for instance, will you use your own transportation to get there or will you consider a car rental? If you're traveling far from home, what will your airfare cost? And if you are considering a longer trip, you'll definitely want to think about different lodging options. 
Short-term rentals can be excellent places to stay regardless of the length of your trip, offering many perks that other lodging options can't accommodate. Most short-term rentals also provide you with the convenience of a full or partial kitchen and cooking area, which is a great way to keep costs down if you're working with a tight travel budget.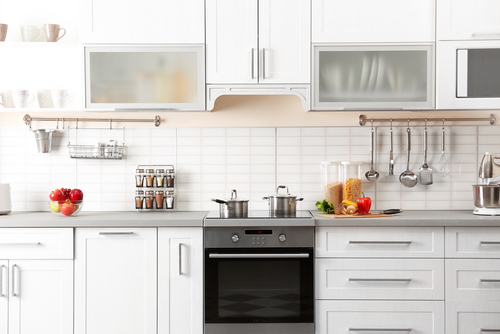 To make the most out of this perk, it's important to plan out the grocery essentials you might need during your stay. Doing this can help you stick to your set travel expenses, minimize food waste, and save time planning impromptu meals. Here are 10 travel tips designed to help you grocery shop when staying in a short-term rental.
1. Find Out What Kitchen Essentials Are Already Stocked
Many short-term rentals may already have some groceries and essentials stocked in the pantry. If the owner of the unit books short-term guests often, there's a chance they'll provide some food and drink items, such as coffee, sugar, oatmeal, or spices — particularly if you've booked their space for a long trip. 
To avoid purchasing items that are already stocked in your rental unit, double-check as to whether there is a disclaimer about what pantry items are free to use. You can also reach out to the owner to find out what essentials (if any) are provided and available for your use. You should also find out if there's an extra charge for using these items or if they are complimentary.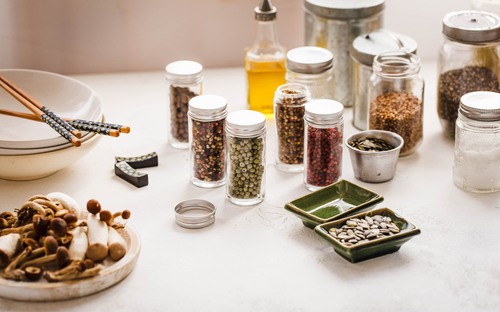 2. Plan Out Your Meals
If you're staying in the rental for a week or less, planning out your meals can be done fairly easily. While you don't have to create a detailed schedule of exactly where you'll be eating and when, you should compile a list of restaurants you want to try out, budget for those meal costs, and account for any days when you know you'll be away from your rental and won't be cooking. Then, you can plan out how many meals you may end up cooking in your rental. Doing this will give you a good idea of what meals are unaccounted for so you can stock up on items as needed.
If you're staying in a short-term rental for a few weeks, you'll need to get a little more strategic about your planning. If you're on a work trip, for example, decide if you plan to make lunch or grab takeout. Select the number of days you plan to eat out per week to give you a rough number of the meals you'll be making while at your rental.
If you're traveling with your family, friends, or colleagues, do this math across the number of people who will need to be fed each day so you can calculate how many meals you'll need to shop for.
3. Stock Up on Snacks
Even if you think you'll be eating most of your meals at restaurants, you might want to stock up on nonperishable snacks (such as nuts, chips, and crackers) and fresh produce (like bananas, apples, and grapes). Having easily accessible snacks that require little to no preparation can tide you over until a late-night dinner or even serve as a quick breakfast if you wake up late.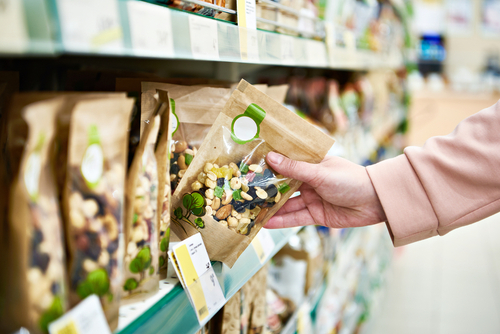 If you have kids traveling with you, this can mean the difference between a restful day and a full-blown hunger meltdown. Plus, if you end up having guests over at your rental, you won't have to worry about purchasing additional snacks or ordering takeout if anyone gets hungry.
4. Consider Your Lifestyle Habits
Your sleep schedule, eating habits, and lifestyle choices can impact when and how much you eat throughout the course of your day. If you plan on working out at your rental, you'll likely want to keep more snacks or protein bars on hand to sustain you before or after your workout sessions. 
If you tend to sleep in, buying breakfast foods might not make much sense if you're not awake to eat them. Likewise, if you plan on going out to brunch, you might not eat a full lunch at home but may want to have some fruit or quick snacks at the ready.
5. Buy Multifunctional Foods
You can reduce food waste and save money during your short-term trip by purchasing foods that can be repurposed in multiple ways. For instance, buying hamburger buns for one or two burgers might not make sense, but using bread as a hamburger roll and as a base for peanut butter and jelly or avocado toast might make more sense.
This tip can be applied to nearly every meal. For instance, rather than buying sour cream for one night of tacos, invest in greek yogurt that you can also eat as a snack or for breakfast. Get creative with the ways you can use food supplies so you don't have to worry about throwing anything out when you leave.
6. Shop Seasonally
Depending on where you're going, it can be helpful to research the fruits and vegetables currently in season to plan your meals around. If you're going somewhere tropical, for instance, you might want to stock up on in-season mangos or melons depending on the time of year you're visiting.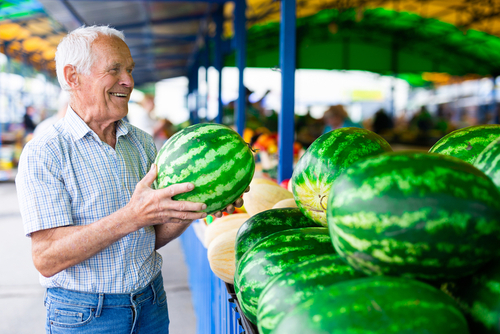 Squash and root vegetables might be in season if you're traveling in the winter, which can be used as side dishes or main courses. Do some research to figure out what's in season and see if it will fit your meal plan. You'll typically save money by shopping in season, as well.
7. Purchase Products in Smaller Sizes
You don't want to waste money buying items you won't fully use or can't take with you when you leave. Instead of buying a few different spices, look for single-use packets, like taco seasoning and BBQ rubs, that won't go to waste. Buying nut butter packets, miniature cereal boxes, or snack size items can also ensure you aren't throwing away large bags or jars of food when you leave.
8. Survey Your Cupboard Space
Not all short-term rentals have a full kitchen, spacious pantry, or a full-size refrigerator. Before planning out a grocery list, it's important to consider how much space you'll be working with so you don't overbuy and run out of room to store groceries. If you only have a miniature fridge, for example, it might make more sense to buy fruits that can sit out on counters and evaporated cow's milk or shelf-stable plant milk. If you plan on eating leftovers from takeout meals, be sure to leave enough available space in your fridge.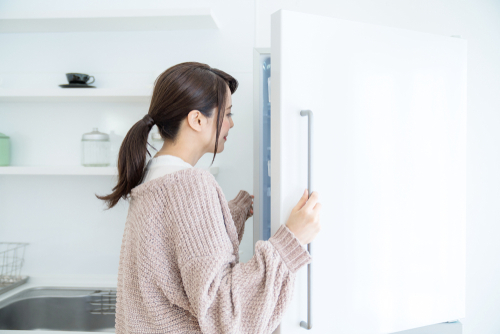 9. Prepare for Multiple Trips to the Store
Shopping once or twice every two weeks might work well in your normal life, but when traveling, this method might not make the most sense. While you can buy everything you think you'll need in one shot, you might end up overbuying. No matter how well-prepared you are, plans can change quickly; you might spend more nights out than originally anticipated.
Buying groceries for only the next few days can help you save money by only purchasing what you immediately need, so nothing goes bad if your plans go awry. This will also allow you time to use groceries up if you end up ordering takeout one too many times.
10. Write Out a Grocery List
When it comes to budgeting best practices for grocery shopping, it's important to write or type out a grocery list to guide you once you get to the market. Sure, you can feel free to indulge in one or two local foods you might not have known were available, but keeping a list with you will ensure you buy everything you need and don't splurge on extras that won't suit your meal schedule.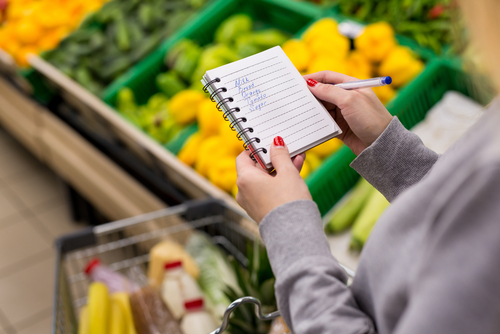 VacationRenter Is Here to Help With Your Travel Planning Needs
Grocery shopping for your short-term rental is important regardless of if you're traveling to a vacation destination, popular city, or little-known rural area. If you want to reduce food waste, save money, and stick to a loose plan, use these tips to make grocery shopping during your trip as easy as possible so you can concentrate on enjoying your time away from home.
You can also save money on your next trip by finding your rental through VacationRenter. Find a secluded cabin, tropical destination, or hidden gem in any area on your travel bucket list using our destination guides.