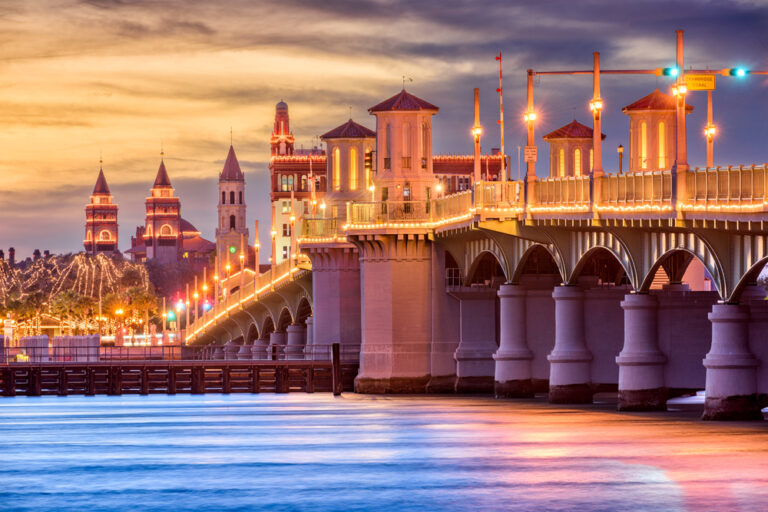 Perhaps the most romantic activity couples can do is to travel together. Whether you are planning for a honeymoon, looking to rekindle the romance, or simply want to make new memories with the one you love, here are 14 of the most romantic cities you can travel to this winter.
St. Augustine, Florida

If you're looking to get away during the holiday season, you can get into a festive mood in St. Augustine, Florida. Even in the winter, the weather stays mild, so you can explore the city with ease. Take a walk and explore the beautiful city when it lights up at night, or opt for a scenic boat ride.

North Lake Tahoe, California & Nevada

If you and your partner enjoy winter sports activities like skiing, snowboarding, or snowshoeing, head over to Lake Tahoe on the border of California and Nevada. Spend a morning on the slopes in South Lake Tahoe's Heavenly Ski Resort, then treat yourselves to a couple's spa day in one of South Lake's many spas.

Santorini, Greece

It's no secret that Greece is one of the top destinations for a romantic getaway. Couples that want to run away from the winter cold should head to Santorini and enjoy the coastal architecture. Be sure to visit Fira, a lovely town in Santorini.

Bergen, Norway

New couples naturally want to take photos together, and Bergen is the perfect backdrop with its stunning natural wonders and breathtaking landscape. Visit Bryggen, the UNESCO-protected area, and gaze at the old wooden houses that were built in the 1900s.

Tuscany, Italy

Anywhere in Italy is a perfect choice for a romantic getaway, but Tuscany is uniquely special. Enjoy the views of the rolling hills and get a taste of the locally produced wines. Couples should also try the thermal hot baths fed by natural springs.

Napa Valley, California

Napa Valley is loaded with plenty of date ideas. Check out one of Wine Country's 400 wineries! Plus, food lovers shouldn't miss the Oxbow Public Market. It's a perfect place for drinking coffee and people-watching after a day of wine touring.

Chicago, Illinois

Winters are chilly in Chicago, which gives you the perfect excuse to cuddle up and enjoy each other's company. Or, if you want to see the Windy City in the winter, you can choose from five different ice rinks to go on a skate date, then enjoy a date night in one of the city's delectable eateries.

Dubrovnik, Croatia

If you're on a mission to avoid the crowds on vacation, head to Dubrovnik in the later months of the year. November and December is a low season for tourists, so you can have the whole city to yourself. Take a cable car up Mount Srđ to see the city from up way top.

Newport, Rhode Island

Newport is a wonderful destination for a quiet East Coast getaway. Make sure to bring thick winter coats in the winter. Visit the Norman Bird Sanctuary for an exceptional bird-watching adventure, or visit a local brewery or winery.

St. Moritz, Switzerland

One of the most expensive vacations for couples — but also one of the best winter destinations — St. Moritz is the epitome of a high-end shopping escapade where you can shop for Gucci, Jimmy Choo, and Louis Vuitton. For something a little more low-key, go on a museum date at Segantini Museum.

Verona, Italy

The city of Verona was made popular by Romeo and Juliet, but it offers much more than that. Couples can watch concerts together at Arena di Verona after experiencing Italian fine dining at places like Ristorante Oseleta and Ristorante Il Desco known for its Michelin star dining experience.

Koh Tao, Thailand

While everyone else is chasing snow during the winter, we know that others prefer to escape the cold and head to warmer climate. Koh Thao offers sunny beaches and crystal-clear water for scuba diving. Thailand restaurants and accommodations are also reasonably priced, so you can feel like you're splurging on your vacation without feeling too guilty about it when you get home.

Tahiti, French Polynesia

Another place you can escape from the cold is Tahiti, a romantic getaway for couples that's not as expensive as Bora Bora or the Maldives. Visit the Fautaua Waterfall or get a tan while lounging around in one of Tahiti's white sand beaches.

Kauai, Hawaii

Hawaii is considered by many people to be one of the most romantic destinations in the United States. One breathtaking city in particular is Kauai. Hike to one of Kauai's 11 waterfalls, then top off a romantic getaway by taking a helicopter tour to see the beautiful island from above.