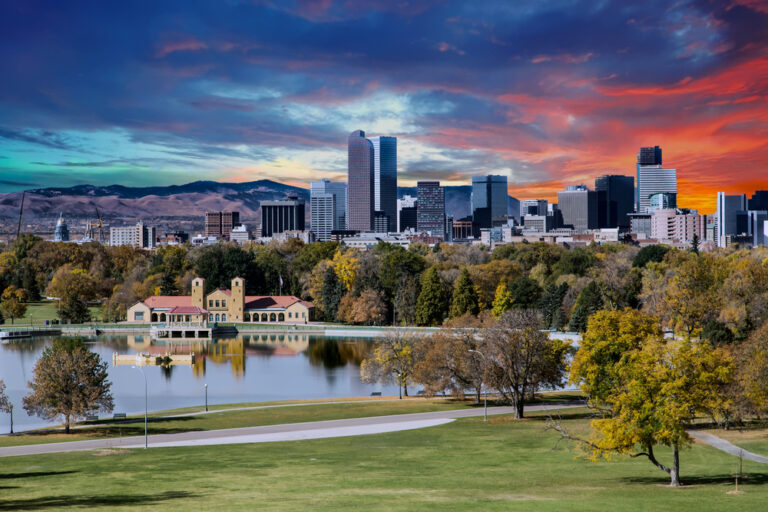 When it comes to activities and attractions, certain cities seem to be more family-friendly than others. Situated between Fort Collins and Colorado Springs, capital city Denver, Colorado, offers a variety of fun and interesting things to do. From parks and museums to aquariums and zoos, these exciting Denver attractions make the Mile High City a favorite travel destination for families, travelers, visitors, and locals.
Check out some of our favorite attractions, things to do & sightseeing in Denver, CO.
Museums
Denver Art Museum
This stunning Denver Art Museum houses an extensive collection, including classics like Van Gogh, Monet and Degas, and you can expand your knowledge as you wander through exhibits of Native American art, textile art and photography. 
The architecture alone of this magnificent building is worth a visit.
This affordable activity starts at $14 and features several free days out of the calendar year.
Denver Museum of Nature & Science
The Denver Museum of Nature & Science packs a wealth of scientific topics into a single building. Whether you're seeking knowledge of paleontology, zoology, astronomy, anthropology or geology, you're sure to learn something new. Come for the dinosaur bones and stay for the mummies.
This exciting educational establishment is open seven days a week and has a great membership program.
Buffalo Bill Museum & Grave
Celebrate the life of a wild west icon at the informative Buffalo Bill Museum & Grave. This site is also Buffalo Bill's burial place; it was his dying wish to be buried on this mountainside. Pack a picnic before you leave your vacation rental, as you'll find plenty of trails and picnic tables to occupy the rest of your time.
This historic museum is located just 30 minutes from center city Denver and is closed Mondays. The cost of admission is only $5, so this activity could serve as a great and affordable way to spend the day as a family.
Outdoors
With endless natural beauty, a bustling city, and endless historic sites, some may say that Denver has it all! 
Let's take a look at some of our favorite outdoor and natural locations in and near the Mile High City.
Red Rocks Amphitheater
Red Rocks Amphitheater is hands down one of the most exciting and beautiful amphitheaters in the country. 
This location hosts concerts, films, shows, and even yoga classes but it's also worth going just to see the magnificent space. This outdoor theater is carved right into a natural red rock formation. 
Catch world class musical artists in this central, one of a kind, Colorado music venue. If you don't want to continue social distancing, you can also enjoy hiking and mountain biking in the area.
Washington Park
Denver's Washington Park is the perfect place for families to picnic and enjoy the sunshine. Spanning 165 acres, the park features formal gardens, expansive green space and walking trails. 
Also within the park, Smith Lake makes a great option for kayaking or fishing, and plenty of dining opportunities are close by. Just east of the park, families can find restaurants, shops and galleries lining Old South Gaylord Street.
Mount Evans Science Byway
The Mount Evans Scenic Byway offers easy access to the majesty of the Rockies, so even if you're not an outdoorsy type, you still get ample photo opportunities. If you're lucky, you might even see some mountain goats.
Just 40 short minutes from Denver, catching an incredible view of nature this close to a major city is definitely a treat that this city has to offer.
Zoos, Aquariums, and Roadshows
This exciting city truly has it all. We went over great outdoor activities, inspiring museums, now let's check out some of the animal & marine life that is situated in Denver.
Denver Zoo
Along with polar bears, you can catch glimpses of hyenas, kangaroos, tigers, monkeys and rhinos at the Denver Zoo. A trip to the zoo is a great activity for all ages and is a wonderful way to spend a day outdoors. As the zoo is located in City Park, you can combine the two for lots of fun in the fresh air.
Downtown Aquarium
Almost all kids and kids-at-heart enjoy an aquarium. 
At Denver's Downtown Aquarium, families can see over 500 species of animals, from sharks and stingrays to live tigers. In addition to all the exciting exhibits, the aquarium offers a restaurant, lounge and gift shop.
National Western Stock Show and Rodeo
Want to get a modern taste of the Wild West spirit? 
Check out the National Western Stock Show and Rodeo, a ranching convention and rodeo that takes place every year over the course of two weeks in January. The Stock Show commences with a livestock-studded parade through downtown Denver, making it a sight to behold even if you don't happen to buy tickets to get inside the main event.
The fun starts now!
Denver offers a unique blend of urban excitement and outdoor fun for an enjoyable vacation destination for your family. Make some or all of these stops part of your travel itinerary, and you'll want to come back again and again.
Ready to enjoy all that Denver has to offer? Book your stay on VacationRenter!