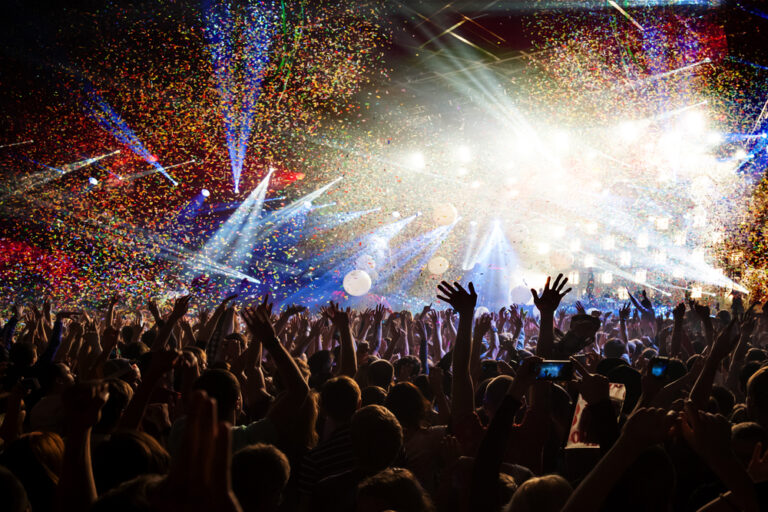 Traveling for tunes this year? Whether you're staying nearby or heading across the country, we've put together a 2019 Music Festival Travel Guide to help you get the most out of your trip. So extend your stay by a few days, soak up the music and explore all a city has to offer.
Here are the top 10 upcoming music festivals, ordered by date, with ideas for an extended itinerary:
New Orleans is known as the birthplace of jazz. For 50 years, the city has hosted JazzFest as a tribute and a showcase to the past and future of music. And it's hard to mention New Orleans without talking about the rounded, rich culture – its creole roots, the French Quarter, Bourbon Street, the Mississippi, and, of course, its unique landscape of food.
View this post on Instagram
When you leave the festival hungry, it's hard to beat a po' boy from Domilise's followed by a beignet from historic Café Du Monde. Afterwards, to soak up the night life, head over to the noisy and nocturnal Bourbon Street sprawling with activity, lit by neon lights and watched over by balconies full of festive onlookers.


During the day, you can explore other areas of the French Quarter like the open-airFrench Market that plays host to shopping, dining and tons of local culture like live music, specialty art and handmade crafts. Or take a Steamboat cruise down the Mississippi for daytime jazz, authentic creole food and a glimpse at what the heck Mark Twain experienced that inspired the setting of Huckleberry Finn. 'NOLA' has rich traditions and culture, so make sure you schedule a few extra days on either side of JazzFest to take it in.

America's playground has a nearly unlimited amount of entertainment options, including Electric Daisy Carnival (EDC) Vegas which hosts top names in the electronic dance music scene.
View this post on Instagram

While you're in town, you can structure your trip in tons of different ways. Vegas is known for its extravagant hotels and casinos, so if you want to test your luck, head to The Venetian or the Bellagio for two of the world's largest and most famous places to gamble. The Vegas skyline also hosts world-class shows like cirque du soleil with mind-bending gymnasts and artistically-built stages that play tribute to famous artists and bands like The Beatles and Michael Jackson.
View this post on Instagram

For traveling foodies, world-class restaurants find a home in Vegas like Lamaii and Manzo. Lamaii is located in Chinatown, where restaurant celebrity Bank Atcharawan blends together traditional Thai dishes with Thai street food to create wonderfully minimalistic plates that feature flowers and beautifully cut greens. Manzo can be found at the Park MGM and is led by Executive Chef Nicole Brisson, who has created a casual, rustic steakhouse like no other – one whose signature 40-ounce Ribeye is hung over flames for a slow 45 minutes. If you get sick of the dim-lit casinos, you can spend a day with dolphins at The Mirage or escape The Strip with a helicopter ride that gives you unparalleled views of the Vegas skyline and the Grand Canyon.

BottleRock began in 2013 with over 60 bands and 40 local wineries and this year finds its home at the Napa Valley Expo. The festival includes artists like Imagine Dragons, Logic, One Republic, and Sylvan Esso all followed by an impressive Indie Rock lineup worth travelling to see. BottleRock has become an annual staple for the Napa Valley area, attracting concert-goers and wine-lovers alike.
View this post on Instagram

While you might be heading here for the music, it'd be hard to imagine a trip to Napa without visiting a world-renown winery for a taste of famous vintage. Napa has over 400 wineries, each with a unique story and style, so it's worth a bit of research to find the perfect fit. And while the big names may draw crowds, you can experience a unique side of Napa with a visit to Frog's Leap Winery, started by John Williams – a former dairy farmer in New York – who fell in love with winemaking and opened his own winery in 1981. Known for making organic wine, it's located on a farm which offers a classic country setting hard to find outside of a Norman Rockwell painting. Or head over to O'Brien Estate, where you can see the full process of planting to bottling in one location.
View this post on Instagram

And while wine steals the headlines, Napa's food deserves a taste as well, with restaurants like La Toque, where Michelin-starred Chef Ken Frank serves up delicious seasonal dishes, and Lucy Restaurant & Bar, which offers ingredient-driven farm-, ocean- and field-to-fork cuisine. To experience the city, head to the Rail Arts District in downtown Napa for striking murals and unique artwork from around the world, or hop on a hot air balloon for an aerial view of the skyline and coastline.

View this post on Instagram

The Governors Ball Music Festival hosts some of music's hottest names over three days on Randall's Island Park – an island located between East Harlem, the South Bronx and Queens. In addition to its Event Lawn, this public park is home to a world class tennis center, a driving range, an IAAF-certified track and field facility called Icahn Stadiumand miles of waterfront bike and pedestrian pathways.
View this post on Instagram

If you get sick of the outdoors and hunger for the iconic NYC urban grind, you can take a bus or the subway back to the mainland to experience the surrounding neighborhoods. Explore Harlem with a bite from Sylvia's, a landmark that has served Southern comfort food since 1962, or a visit to the Studio Museum, which celebrates some of the world's most timeless art. Or head to the Bronx to hit historic Yankee Stadium and the Bronx Zoo, one of the largest zoos in America with over 4,000 animals across 265 acres of park lands. If you brought a book along, swing by Edgar Allen Poe's Cottage hideaway where he wrote haunting poems like Annabell Lee and The Bells. Then hop over to Queens, where you can explore the famous Queens Botanical Gardens and grab a bite at the one of the best brunch spots in New York like Queens Comfort, which serves up 11 different types of poached-eggs benedict, or The Sparrow Tavern, known for its locally-loved prosciutto-and-brie omelet.


Firefly Music Festival is returning for the eight time with huge acts like Panic! At the Disco, Post Malone, Kygo and Death Cab for Cutie in the Woodlands of Dover International Speedway, which has held at least two NASCAR races each year since it opened in 1969.

Chalk full of history, the city of Dover is home to museums and landmarks that caught fame during the Revolutionary War and years that followed. Head over to First State Heritage Park for a walking tour through the history of Dover or visit the Dover's Old State House, which served as Delaware's capitol during the United States' early years and home to a presidential portrait of George Washington towering over the Senate Chamber on the second floor. When you get hungry, head to Grey Fox Grille & Public House for a meal in a historic 1881 Victorian house or grab a fatty brisket sandwich at Abbot's Grill. If you're looking for something more modern, visit the Dover Air Force Base where you can find the Air Mobility Command Museum and go inside the Air Force Two that was used for Vice Presidents, First Ladies and top officials from 1975 – 2011. Or if you want to escape the festival for a while but stay in the great outdoors, head to Silver Lake Park with 182 acres of walking trails, playgrounds, picnic shelters and plenty of opportunities to feed the nearby ducks and geese.

Summerfest is built for the die-hards as one of the longest music festivals, hosting over 800 bands on 11 different stages over the course of 11 days. If you're staying for the duration, you'll have plenty of time to slip away and see the city affectionately known as the land of beer and cheese.
View this post on Instagram

For beer, 1840 Brewing Company is an urban farmhouse brewery offering barrel-aged brews that blend classic styles with modern flavors. For cheese, the Wisconsin Cheese Shop carries a comprehensive selection of award-winning Wisconsin and imported cheeses that pair well with…well, anything. And for beer, cheese and a full-fledged Milwaukee meal, Ale Asylum Riverhouseoffers its own line of craft ales you can partner with cheese-dripping burgers like the American Classic or the Bacon Bleu.


To walk off the carbs, head over to the Milwaukee Art Museum to see nearly 25,000 works of art in three different buildings built by three different legendary architects. Or you can head to the lakefront and hop on a boat tour to see the city from the surface of Lake Michigan. For a unique experience, check out the Harley-Davidson Museum, home to the iconic motorcycle brand that began in the city 115 years ago, or rent a bike and ride the Oak Leaf Trail which stretches over 125 miles and hugs the shoreline of Lake Michigan.

Lollapalooza started in 1991, created by Jane's Addiction lead singer Perry Farrell as a farewell tour for his band. It's been running ever since (with a couple of brief hiatuses) and has grown to be one of the nation's most well-known music festivals.
View this post on Instagram

Located in Grant Park, the festival is next door to attractions such as Millennium Park, which includes the historic Cloud Gate sculpture colloquially known as "the Bean," the elegant and photogenic Buckingham Fountain and the Art Institute of Chicago, which is consistently ranked as one of the top museums in the world – all worth adding to your itinerary when you're in town. If you want to wander a bit further, stroll across any portion of Chicago's 18-mile lakefront trail that ranges from Ardmore Street to 71st. Then head to Chicago's Little Italy and grab a famous Italian beef sandwich from Al's Beef for a taste of old-school Chicago. Or, if you're in the mood for deep dish, head to Pequod's in Lincoln Park for a slice of the best. To complete the trinity of Chicago food, you can sample a Chicago-style hot dog at a retro location like Superdawg, which has held on to most of what it had when it opened in 1948, or The Weiner's Circle, which offers one of Chicago's most foul-mouthed dining experiences.

Outside Lands takes place over three days and brings together world class music, art, food and wine in San Francisco's Golden Gate Park. The park itself contains over 1,000 acres of trails, windmills, the coastline of the Pacific and even its own herd of bison. You can experience it all on a Segway tour or by wandering off from the festival on one of its many trails. Stop by Beach Chalet Brewery and Restaurant for ocean views, house made beer and delicious American fare or hit Stow Lake Boathouse for a burger and a boat rental
View this post on Instagram

When the sun goes down, head to the adults-only, cocktail-friendly "After Dark" experience at the Exploratorium to experience over 650 exhibits in a different light. And when the sun comes back up, head to Buena Vista Caféknown as the first place in the U.S. to serve an Irish coffee.
View this post on Instagram

If you're extending your trip by a few days, you can round out an eclectic experience by seeing a few of the famed sights San Francisco is known for. Walk across the iconic Golden Gate Bridge to get a sense for how gigantic it actually is, then take the scenic ferry back. Or you can jump into a cable car and ride along the Powell/Hyde line for amazing Bay views. To get in as many tastes as you can in a small window, eat your way through the Ferry Building – an amazing piece of architecture housing fresh oysters, chocolate, cheese, cocktails and beers from some of the top names in San Francisco.

Austin City Limits takes places in the live music capital of the world, ranging across two weekends and eight stages. If you want to explore Austin, it's worth saving up the PTO and taking off the week in between to bookend your trip with the festival. Start by exploring Zilker Park, where the festival takes place and where some of the best kayaking, canoeing and paddle boarding can be found in Austin. Then head to Lady Bird Lake and rent whatever you like that floats, or grab a bike and ride the 10.1 mile trail that circles the Lake and serves as a gateway to downtown Austin.
View this post on Instagram

While you're in town, it's worth seeking out their world-famous barbeque. Franklin Barbeque is probably the most well-known for its smoky, juicy meats, but that means it also comes with a long line (known to be packed out the door as early as 6 a.m.). If you want to skip the wait, try La Barbeque's brisket and house-made chipotle sausage or LeRoy & Lewis' pork belly and honey mashed sweet potatoes. For a taste of the famous nightlife, wander down Dirty Sixth and stop by bars like Midnight Cowboy and Casino El Camino. In the morning, you can grab brunch at Holy Roller for a punk rock-inspired fare that'll pick you back up and get you ready for anything you have planned. And when the day winds down again, watch the sunset with bats from the South Congress Bridge or from Mount Bonnell for pictures you'll not only want to share, but ones you'll want to save.

View this post on Instagram

EDC Orlando spans three days at Tinker Stadium, a former-baseball-stadium-turned-event-venue named after Baseball Hall of Famer Joe Tinker, located in the West Lakes neighborhoods of Downtown Orlando. The festival this year hosts top names in electronic music like Alesso, Badklaat, and Bassnectar. And if you're heading to Orlando to catch EDC, it's worth adding a few days to explore the beaches, theme parks and vibrant city-life. No matter how old you are, Disney World can be a blast with its latest park attraction Star Wars: Galaxy Edge opening just months before the festival, in addition to timeless experiences like Disney's Animal Kingdom or Epcot. To round out the theme park circuit, you can visit SeaWorld Orlando, Universal Orlando (which includes The Wizarding World of Harry Potter) and LEGOLAND. Then head to International Drive (I-Drive) – a 14-mile stretch of road that includes escape rooms, Skeletons: Museum of Osteology which carries over 500 animal skeletons, Wonderworks full of educational entertainment and ICON Park where you can hop on the tallest observation wheel on the east coast to capture breathtaking photos of the iconic Orlando skyline. If you're interested in taking in some art, stop by the CityArts Factory in the downtown arts district, which houses four different galleries under one roof. For some history, head to the Orange County Regional History Center and Heritage Square Park which chronicles 12,000 years of Central Florida's rich heritage on four different floors. When you get hungry, head to one of Orlando's famous eateries like Prato, known for its authentic wood-fired pizza and rustic pasta, or Luma on Park, founded by one of Orlando's original great chefs, Brandon McGlamery, who helped create a culinary name for Orlando by bringing food from local farmers to life in unique and fascinating ways.

Your next music festival excursion is a great excuse for a full-fledged vacation. Wherever you decide to travel, make sure you do it right with an experience you won't forget. VacationRentercan help you book a stay and plan the best trip possible.