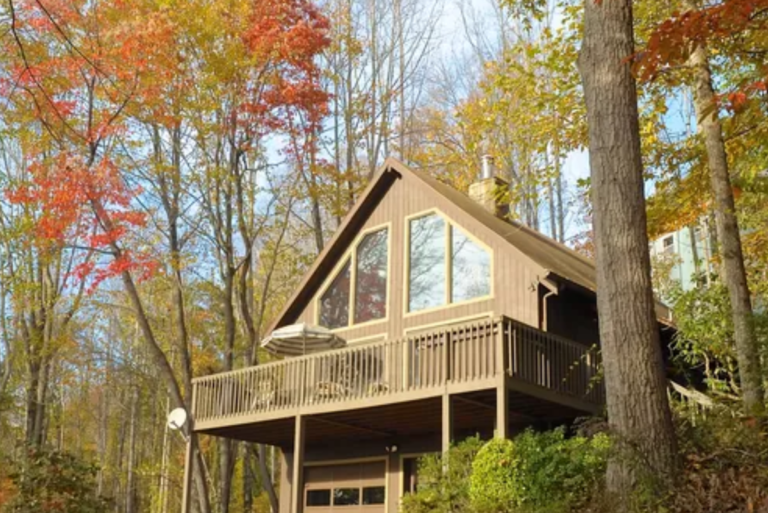 Asheville is a vibrant town found in North Carolina's Blue Ridge Mountains. The city packed with fantastic sights such as the Biltmore Estate, Pisgah National Forest, and the Basilica of Saint Lawrence — among other exciting places that will keep you busy, including breweries, museums, and outdoor activities galore. If you're heading to what's known as the Land of the Sky in the near future, consider these three vacation rentals to give you a proper Asheville welcome, close to the city's most popular attractions.
Step into this chic industrial loft conveniently located in the heart of downtown Asheville. Brick walls surround the space's interior, adding more flair to this artsy apartment.

This intimate space sleeps two people comfortably, inviting you into a quirky blue bedroom that makes you feel like you've checked into a trendy hotel.

Taking a closer look at the living area, you can enjoy breakfast from several places: the comfy corner nook, the kitchen countertop, or the living room coffee table!

If you're looking for close access to Bitlmore, this private cabin sleeps five guests and is within a five mile radius of the Biltmore Estate and Biltmore Village.

Each bedroom is pared with its own full bathroom and shower, ensuring maximum comfort for everyone. The master bedroom gives an ultimate cabin feel with wood interior and an a-frame overhead.

The living room opens up to the deck, with unrestricted views of Mt. Pigsah and Lake Julian. Amenities on the deck include patio seating and a hot tub.

Four miles away from Blue Ridge Parkway and two miles away from downtown Asheville, this cottage offers a family-friendly Asheville experience. There's plenty of secluded lawn space surrounding the home, so kids can run freely surrounded by North Carolina's nature.

The home's spacious living room is connected to the dining area, where lots of natural light shines through. There's plenty of room to cuddle up for a movie night, or to spread out and play some board games.

Two bedrooms and two bathrooms accommodate five people comfortably. Plus, the home provides its own washer and dryer.
Click here to find more affordable vacation rentals in Asheville, North Carolina!