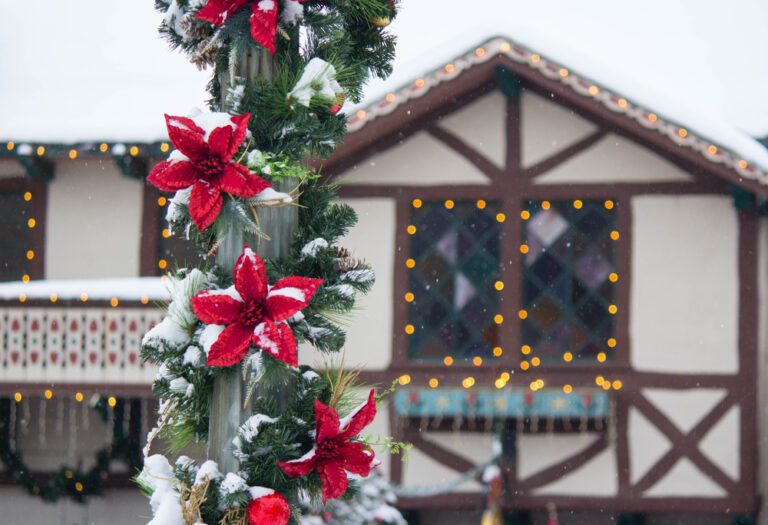 Looking to make the holiday season a bit more magical? Here are the top five U.S. cities full of bright lights, holiday joy and cheer to visit before the most wonderful time of the year.
Designated as one of the nine "Most Christmassy Towns in America" by TIME, this city of just over 5,000 people known for its German roots and Bavarian-style architecture is home to Bronner's CHRISTmas Wonderland, self-proclaimed as the world's largest Christmas store. Bronner's is the size of one and a half football fields, shines over 50,000 lights in its Christmas Lane all 365 days of the year, and offers over 50,000 different items you can peruse and gift wrap for friends and family.

Once you've done some shopping, stop by The Old Christmas Station Restaurant to eat your fill of festive holiday dishes and Christmas cookies, then explore their museum of antique tree ornaments. For a unique evening experience, hop on a horse-drawn carriage ride along snow-covered streets and wander through Michigan's Little Bavaria's outdoor European-style pop up holiday marketplace for one-of-a-kind trims and decorations handcrafted by local artisans. Near the holidays, the whole town of Frankenmuth radiates with twinkling lights and star streamers, making it an ideal location to find those sought-after holiday vibes.

Find a festive vacation rental in Frankenmuth this holiday season.

Asheville sits within western North Carolina's Blue Ridge Mountains, known for its historic architecture and a vibrant arts scene that comes alive for the holidays. For a nearly endless array of holiday activities, visit Biltmore Estate, a mansion built for George Washington Vanderbilt II between 1889 and 1895, known to be the largest privately owned house in the United States. While this destination inspires wonder and awe all year, you can find some hard-to-beat holiday vibes across the home and estate during its two-month November and December celebration, complete with 360 fresh wreaths, 1,000 live poinsettias, 7,500 feet of fresh evergreen garland, and more than 55 hand-decorated Christmas trees.

The holiday decor all centers around a 35-foot Fraser fir brought by Santa on a horse-drawn carriage and lifted into place in the grand Banquet Hall during the annual tree raising. To top it all off, you'll find musicians performing seasonal classics throughout the mansion's many different rooms to keep you entertained on your self-guided tour. Then, wander down to the property's Antler Hill Village and Winery where you can enjoy a free holiday wine tasting to warm you against the snowy cold.

For a festive holiday meal, explore one of the estate's many restaurants like Deerpark Restaurant, housed in a historic barn and known for its farm-to-table options, or Stable Café, known for its house-smoked meats and southern twists on seasonal classics. Asheville also offers holiday experiences like a ride on the Polar Express Train and an Aluminum Tree Museum where you can walk back in time to explore products of America's vintage tree fascination during the mid-20th century.

Get into the holiday spirit in a cozy Asheville vacation rental.

Known for its Spanish architecture and sandy beaches, St. Augustine is rumored to be the oldest city in the United States. During the holiday season, its brick-lined streets come to life for the Night of Lights celebration, which traces back to the Spanish tradition of a white candle in the window to signify the holiday season. Light-strung oaks and a massive, glowing holiday tree live as the centerpiece in the Plaza de la Constitución. Over three million lights then stretch out to illuminate all of St. Augustine's historic district, shining on old restaurants, museums, and shops.

If you follow the lights down to the water, you can find the annual Regatta of Lights celebration, which honors the rich maritime roots of St. Augustine. Sit by the bayside and watch in wonder as intricately built boats adorned with brilliant lighting displays float by and reflect off the water. These sea-faring vessels compete for awards like "Best Theme" and "Most Colorful" leading to intense competitors who've prepped year-around to shine the brightest.

Once you've taken in the lights, head to The Reef Restaurant for seasonal holiday cuisine on top of a year-long menu of seafood, steaks and elegant plates. Or head to Sangrias where you can find wine, tapas, and beverages to get you in the holiday mood like Reilly's Rojo Sangria, featuring cranberry and apple juice, Ruby Porto, apple slices, peach liquor, and cinnamon.

Settle into an affordable St. Augustine rental before exploring the bright holiday lights of the city.

Leavenworth is a gateway to winter festivities, tucked away in the Cascade Mountains of central Washington. This Bavarian-style village of just under 2,000 people is home to the Leavenworth Nutcracker Museum, which houses over 6,000 nutcrackers of different shapes and sizes. Explore the different styles of craftsmanship from around the world that have helped these holiday hallmarks last for hundreds of years, then head to The Gingerbread Factory to taste authentic Bavarian gingerbread cookies, houses, and cakes.

For holiday shopping, explore the Kris Kringle Christmas Store
which offers seasonal décor and creative gifts all year-round, or head down to the Bavarian-style Christkindlmarkt for authentic German fare, handmade arts and crafts, and holiday entertainment like their weekend Christmas Welcome Celebrations and Lantern Parades.

To light your evenings, Leavenworth hosts the Christmas Lighting Festival each year which includes over half a million Christmas lights in a dazzling display. Beginning the Friday after Thanksgiving, the Festival is made up of holiday ceremonies on Saturdays and Sundays, live music of the season from handbell choirs, visits with Santa Claus, and free tastings of wine and cider to warm your spirits. For a full-fledged meal, head to Andreas Keller Restaurant or Stein Leavenworth which both offer an array of German bites and brews.

Escape to Leavenworth this holiday season with VacationRenter.

It's hard to top the North Pole for holiday vibes, whether you're visiting in January, July, or December. This Alaskan city is known for its year-round Christmas decorations, which include candy-cane striped street lights and a giant 50-foot tall Santa statue. Travel down streets like Kris Kringle Drive and Mistletoe Land and stop by the Santa Claus House for one of the country's largest Christmas stores and the "official home" of Santa Claus himself, complete with walls covered in children's letters.

Before you leave, have Santa pen a letter to your friends and family back home, take a seat in his sleigh for festive photos, and get to know his reindeer team with a tour of Antler Academy. Nearby, you can head to the Chena Lake Recreation Area for seasonal ice fishing, cross country skiing, snowmobiling, skijoring, and dog mushing during the day. Nighttime, on the other hand, would be your best chance to try to catch a glimpse of the amazing Northern Lights. For unique cuisine and festive fare, try Pagoda Restaurant on North Santa Claus Lane or head to the Moose Creek Lodge to tap a glass with the locals.

Make your childhood dreams come true and visit the North Pole for the holidays!

To find holiday vibes this year, plan a vacation spot where you can experience something unique and unforgettable. Lights, decorations, music, and seasonal celebrations are a must – and if you visit Santa's House, bring some cookies and a glass of milk. Wherever you plan on going this holiday season, VacationRenter can help you find and book the perfect stay.