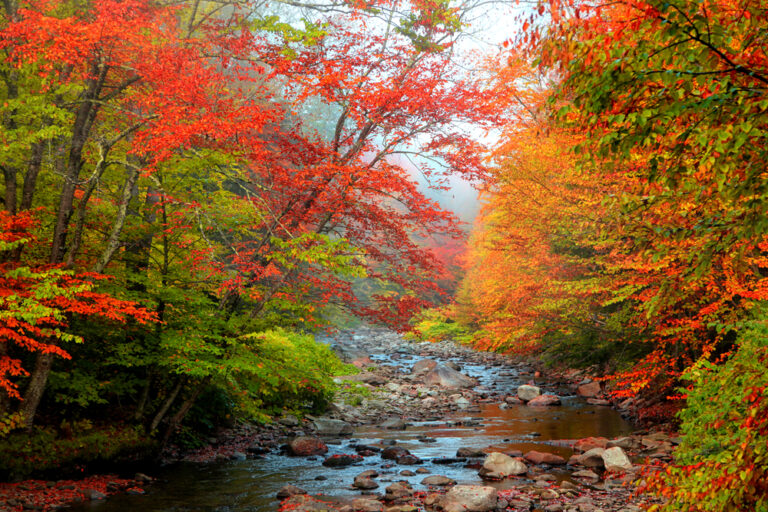 Fall is the season we fall in love with all over again, year after year. Our senses come alive in mid-September as we start to feel a fresh crispness in the morning air. The changing colors of the leaves — at first subtle, then fiery — make us stare in wonder, and the days evolve into longer nights, both enamoring and enveloping us.
While there are many corners of the country where you can be awestruck by autumn as you take in the glorious sights of the season, many of these places are swirling with as many people as — well, a pile of leaves. The good news is that there are some stunning locales that have the fall vistas you're looking for, minus the long line ups. The maybe not-so-good news? The color-infused pine, oak, aspen, and maple trees in these towns will leave you pining for more. 
5 Best Places for Fall Foliage in 2021
Which scenic sites are the best to see during sweater weather but live off the beaten path? In a nutshell, here are five towns where the turning of leaves will make your head turn. 
Great Barrington, Massachusetts 
If you want to feel like you're foraging through a fall paradise, Great Barrington sets the bar pretty high. The Berkshires County town — located within the valley of the Housatonic River — has more than 7,200 acres of state forest and hundreds of easily accessible trails only moments from the town's center. In fact,  Great Barrington was officially named an Appalachian Trail community in 2009.
Choose your own autumn adventure around October, as this is the peak month for sighting fall foliage in the Berkshires. The season typically begins late September and Berkshire County is at its most color-coded during mid October. 
Top of mind should be the top of Mount Greylock where the October foliage colors are magnificent. The summit is 3,491 feet and gives glorious views of the Green Mountains of Vermont and the Taconic Range.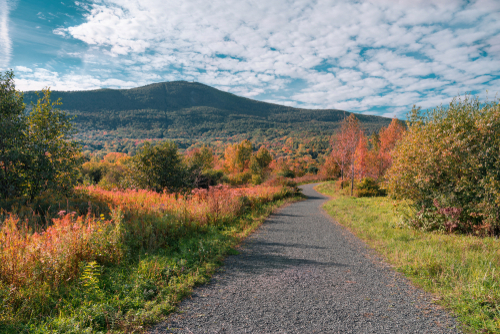 Escape to Great Barrington this fall season with VacationRenter.
Woodstock, Vermont
Nicknamed "America's Prettiest Town," Woodstock has that old-fashioned charm of the New England countryside. The village is home to many local artists, craftsmen, and farmers who make up the heart of Woodstock. A wonderful collection of country stores, boutiques, bookstores, and art galleries line the village stroll, enticing visitors to wander its fetching streets. As far as nature is considered, the town is home to the Ottauquechee River, Quechee Gorge, and the Marsh-Billings-Rockefeller National Park.
With all the outdoor wonders this quaint little town has to offer, it's only natural that Woodstock also happens to be a wonderland of fall foliage. The vibrant vistas of Woodstock village are on full display in mid to late October, giving the town an extra dose of beauty this time of year. Enjoy a pumpkin spice latte as you take a walk on the new river walk that begins right inside the village. Marsh-Billings-Rockefeller National Park and Sugarbush Maple & Cheese Farm are ideal spots for walking and wandering through these enchanted forests.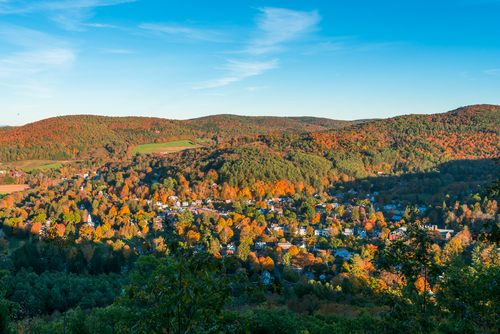 If getting lost in magical fall settings is at the top of your list, head on up to the top of Mount Tom via a moderate 4.2 mile round-trip loop passing rolling hillsides. The view will not disappoint but coming back down to earth just might. 
Find your perfect fall getaway in Woodstock!
Taos, New Mexico
Taos is a town in northern New Mexico's high desert, surrounded by the Sangre de Cristo Mountains. This little village actually boasts one of the most photographed churches — St. Francisco de Asis — set upon a most majestic landscape enveloped by the Rocky Mountains and the Rio Grande Gorge.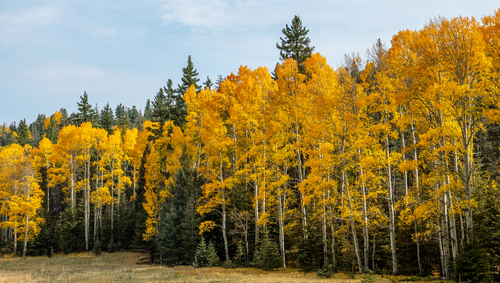 It's no wonder that Taos is seen as one the most beautiful sights in all of New Mexico during the fall. The town's already-beautiful landscape becomes even more bright and dazzling as the leaves change colors. The fresh, clean mountain air becomes ever more crisp and the smells of the crackling leaves only serve to further enhance the essence. 
In higher elevations, fall colors typically begin mid to late September, and peak viewing varies from early to mid October. Lower elevations usually peak in mid to late October but can continue into early November.
If you're headed to Taos for an autumn adventure, we highly recommend taking the high road — literally. The High Road, about two and a half hours from Santa Fe, goes through remote mountain villages where  autumn air swirls with windswept leaves. Be even more enchanted by taking The Enchanted Circle Scenic Byway, where you can explore a lucious, leave-filled loop through mountains, valleys, and national forest whose fall vistas will leave you breathless. 
Ready for an autumn adventure in Taos? We've got you covered.
Crested Butte, Colorado
Carouse the town of Crested Butte, where the village settles itself right in the midst of the Rocky Mountains. The West Elk Loop Scenic and Historic Byway has wilderness areas like Kebler Pass — known for its range of colorful aspen trees in the fall. Shops and restaurants in wooden buildings line downtown's Elk Avenue.
Colorado locals take their fall leaf peeping pretty seriously. While fall foliage is on full display around mid September, there are lots of nuances that determine when and how quickly the aspen leaves will change. Travel experts say that it also depends on the specific valley and elevation. One thing that we're sure about is that you need to bring your camera! Be prepared to fall all over Gunnison Valley, which happens to be a spectacular sight this season.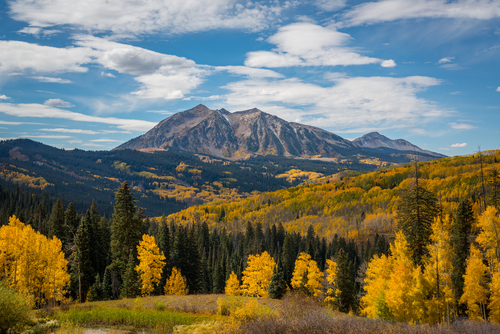 Enjoy the beauty of Crested Butte from the comfort of a cozy Colorado cabin.
Sonoma, California
Sonoma is a northern California city that's charted as winemaking territory in the Sonoma Valley. Hand in hand with the wine are a myriad of art galleries in this historic city. 19th century adobe buildings include the Mission San Francisco Solano and the Mexican Barracks. The square in the center of the city hosts a seasonal farmer's market.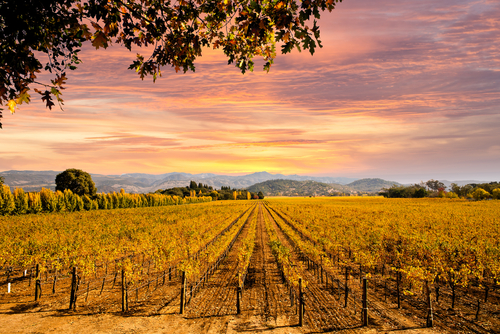 Speaking of seasonal, Sonoma has so much to offer in the way of fall foliage: autumn colors decorate the city from early September all the way through late November, so there's plenty of time to take in the plethora of paint-like leaf strokes while you enjoy some wine. The vineyard foliage goes from green to gold to red, and their hues mingle with the various shades of vino created in the valley. Russian sage, plumbago, and other indigenous plants also come to a crescendo of color as the autumn lingers on, making for some exquisite eye candy. Imagine sauntering along a sunny mountain sipping nature's nectar as you take in the surrounding Mother Nature all around.
Treat yourself to some much needed R&R in Sonoma using VacationRenter!