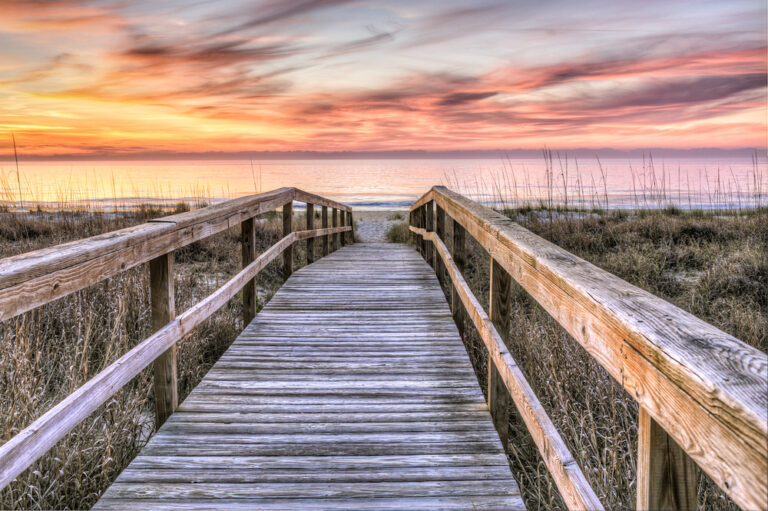 Sandwiched between Carolina Beach and Fort Fisher is the tiny seaside town of Kure Beach, North Carolina. The three areas together make up Pleasure Island. Kure Beach has been a favorite vacation spot of many for decades. It's quiet and calm, with enough attractions in its own right, but also close enough to a big city. Below, we've chosen five must-see events and attractions you should be sure to check out when you visit Kure Beach.
Kure Beach Fishing Pier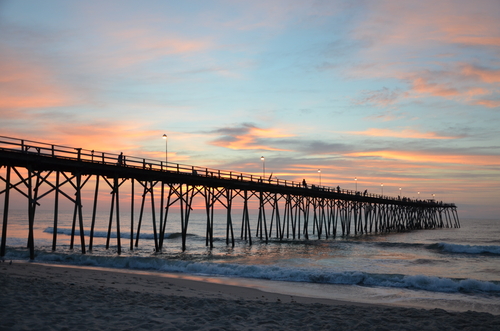 Constructed in 1923, the Kure Beach Fishing Pier is the oldest of its kind along the Atlantic Coast. It's a must-see attraction for anyone visiting Pleasure Island. It stretches 712 feet out from the beach, giving visitors miles of unobstructed view of the coast. You don't need a fishing license to throw a line over the edge and catch fish, but there is a nominal fee for each pole you bring. Admission is free for people who just want to walk and feel the fresh, ocean air on their skin. It's a great place to soak up the sun, enjoy an ice cream cone, and look out onto the water.
If you are interested in doing a bit of fishing, make sure you check here in advance for a brief on what's being caught. In addition, you'll get the current weather reports for the area.
Pro fishing tip: Be sure to use the right bait. Shrimp, squid, and sardines seem to do the best work. In addition, find a shop that sells live bait as this is the best option.
Fort Fisher/Southport Ferry
Drive down to the very southern tip of the island to catch the Fort Fisher Ferry. It's a drive-on ferry, so you can take your car with you out on the water. Pedestrians and cyclists are also welcome to ride. The ferry starts at the mouth of the Cape Fear River and heads two miles down the coast to dock at the town of Southport on the other end.
It's a 45-minute ride during which you can exit your vehicle and walk up to the observation deck for a more comfortable seat and a better view. Spend the afternoon in Southport before heading back to Kure Beach.
Pro traveler tip: Be aware of departure times and know that reservations are not taken. Be early to ensure you board when you need to.
North Carolina Aquarium at Fort Fisher
Just south of Kure Beach is the North Carolina Aquarium at Fort Fisher. It holds hundreds of species of marine life and offers dozens of exhibits about wildlife, aquatic environment, and coastal weather.
The aquarium is also home to a rescued bald eagle and an albino alligator named Luna. Touch tanks let kids feel stingrays and sharks and see the underbellies of horseshoe crabs. There are various shows throughout the day, including feedings of different animals and talks with underwater divers.
Pro traveler tip: Check out the free daily programs here to see if there is something planned for your trip. These are kid-focused events and are loved by all who attend.
Learn About History at Fort Fisher Historic Site
Fort Fisher Historic Site was a crucial battlefield during the Civil War. Once the fort fell, the Confederate army's supply chain was broken and the war wouldn't last much longer. Walk through the same trenches as the Confederates. See a small portion of the original fence, still intact to this day. Enjoy guided tours and hear about the events that led up to the fort's demise. You can even participate in drills with wooden rifles, simulating events in the trenches. In addition, the site now hosts serval events throughout the year. Get a full list here. You're also free to walk the quarter-mile trail around the entire fort if you'd prefer to investigate on your own.
Pleasure Island Seafood, Blues, and Jazz Festival
For more than two decades, Pleasure Island has hosted some of the best food, drinks and music at this two-day festival. The Pleasure Island Seafood, Blues and Jazz Festival has four stages for music, and dozens of booths for seafood, drinks, and crafts.
Face painting, educational exhibits, and inflatables in the Kidz Zone make it a family-friendly event that keeps the kids entertained for hours. The festival takes place at the Fort Fisher Military Recreation Area in Kure Beach and is one of the biggest happenings on the island.
Cape Fear Kite Festival
Every November, the skies of the Fort Fisher State Recreation Area are filled with kites of all types for the Cape Fear Kite Festival. The huge kites take the shape of sea creatures, animals, divers, and more.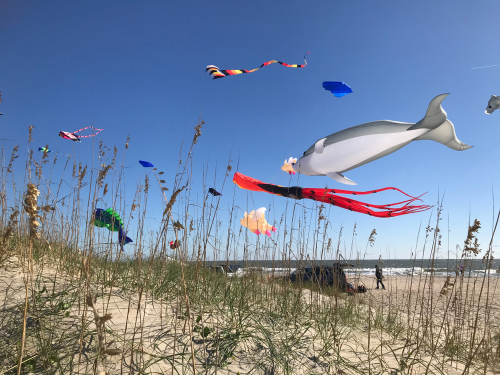 Layout a blanket and watch the beautiful kites dance in the clouds. It's a great way to close out the season and enjoy a quiet time in Kure Beach.
Kurt Beach Awaits!
If you still need some help planning your trip, be sure to check out this complete guide to getting the most out of your Kure Beach getaway. A ton of new experiences and amazing natural beauty are in store for you at this incredible beachside town. Excited to take in all that Kure Beach has to offer? Book your stay with VacationRenter today!