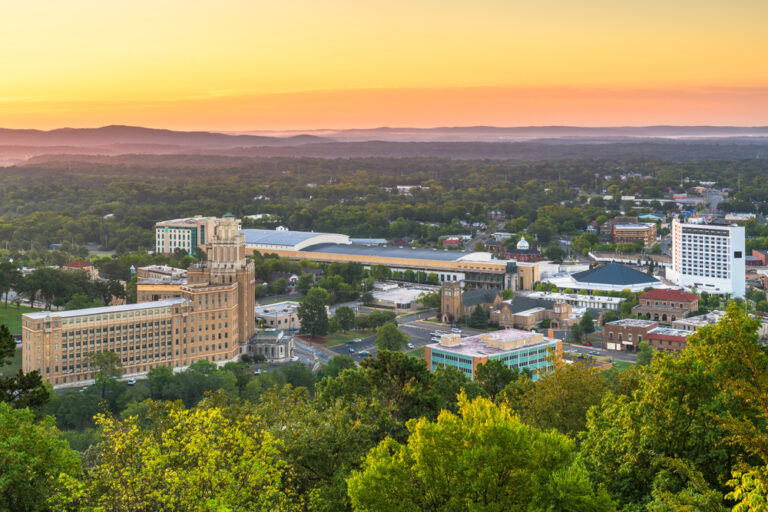 From mountain bike trails, thermal springs, and other outdoor activities in the area — there are so many things to do in Hot Springs, Arkansas, that you definitely need to make a list of the attractions you don't want to miss before you head for your Arkansas vacation. Take a look at these six fun and family-friendly things you must do on your Hot Springs, Arkansas vacation.
Mid-America Science Museum
The Mid-America Science Museum covers 65,000 square feet and offers a glimpse of the mysteries of life, matter, and energy. Perfect for families with children and teens, the museum offers hands-on adventures, including the outdoor Skywalk with a giant treehouse and a bridge through the misty fog. Hiking trails are designed to entertain with scavenger hunts, and the museum has two large theaters for science shows.
Magic Springs Water and Theme Park
Filled with rides and water activities, the Magic Springs Water and Theme Park is a family favorite in the Hot Springs area. Tons of water slides, a surfing simulator and a body and tube slide tower provide an entire weekend of fun during the summer season. Hot Springs vacation rentals are found in the area with cabins and cottages among the top picks. Celebrate the hot weather during your Arkansas vacation with a water-filled day at Magic Springs Water and Theme Park.
Garvan Woodland Gardens
Botanical gardens with 210 acres of beautiful flowering plants and trees make a whole day of adventure at Garvan Woodland Gardens. View over 100 types of azaleas with flowers in lots of brilliant colors, and wander over the beautiful bridges of the Asian gardens. Trickling waterfalls and a wildflower outlook provide plenty of space for unique events like weddings and family reunions. Located near Hot Springs cabin rentals, Garvan Woodland Gardens is a perfect place for a day away from the city.
Bite of Hot Springs Walking Tour
Take a bite of Mexican food, taste some Italian favorites and sample a platter of German delights on the Bite of Hot Springs Walking Tour. Lots of chefs and restaurant owners open their doors to guests who enjoy great wine and delicious food while they wander the downtown areas. Walking tours of the local restaurants are located near many of the Hot Springs vacation rentals, which makes it easy to get started.
Hot Springs National Park
Providing therapeutic bathing areas in the United States since the 1700s, Hot Springs National Park still operates traditional thermal water bathing experiences along with modern amenities. The park has bubbling pools of water reaching 140 degrees Fahrenheit and paved walking areas wide enough to push a stroller. Families with children enjoy the visitor's center that shares the history of the park along with an explanation of the therapies offered there.
Hot Springs Haunted Tours
Although the haunted tours are filled with gangsters and ghosts of weary travelers, visitors to Hot Springs enjoy these exciting adventures. Each guided tour provides a walking tour that meanders through the downtown streets beginning at 8 p.m. on Central Avenue. The Hot Springs haunted tours are an excellent end to an evening of walking tours of the local restaurants.
Do these activities sound like fun for the whole family? Plan your visit to Hot Springs, Arkansas with VacationRenter today!