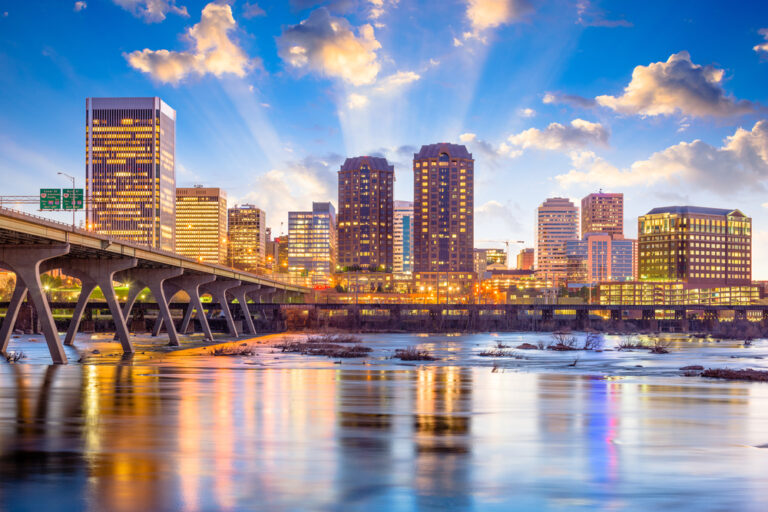 Richmond is the capital of Virginia and one of the nation's oldest major cities. Richmond is an ideal city for family vacations. Historic destinations in Richmond preserve both American Revolution and Civil War sites. Outdoor adventures are numerous as Richmond lies on the James River near the Blue Ridge Mountains range of the Appalachian Mountains. 
Things to do in Richmond include visiting St. John's Church, Richmond Metro Zoo, Virginia Museum of Fine Arts, Virginia State Capitol, Edgar Allan Poe Museum, and many other attractions. Continue reading below to take a deeper dive into our top picks for family fun in this historic and charming city.
Riverfront Canal Cruises
Cruise along Richmond's historic Canal Walk with Riverfront Canal Cruises. You'll enjoy a 40-minute narrated tour of the James River and Kanawha Canal, which both have rich histories. Construction on the canal began in Richmond in the 1780s after George Washington lobbied the General Assembly for the new transportation system.
After your boat ride, take a stroll along the Canal Walk. The nicely landscaped Richmond Canal Walk features bronze medallions that mark historic locations as well as educational exhibits. If you and the kids need a breather along the way, stop in for a coffee and a small bite to eat at Ironclad Coffee Roasters. For something with a bit more bohemian feel, try Urban Hang Suite Social Café. 
Children's Museum of Richmond
The Children's Museum of Richmond should be on the list if you have kids. There are many interactive exhibits at the museum. Kids can send boats soaring down the water slide or pull scarves through tubes. Make sure you get a photo with the kids riding the carousel. Our favorite seat on the ride is the rooster! We'd also suggest taking the kids through the Little Farm exhibit where they'll learn about managing stress and maximizing love.
Delicious creations can be had at the museum's restaurant, and the Dig Pit hides treasures underneath the sand. The museum, open seven days a week is located next door to the Science Museum of Virginia.
White House of the Confederacy
The White House of the Confederacy is located in Court End, a Richmond neighborhood known for Federal-style mansions. Built in 1818, the historic house was the main executive residence of the president of the Confederate States of America, Jefferson Davis. The site does offer tours but suggests that you purchase tickets in advance to secure your spots. Space is limited and tends to fill up quickly as a result.
The home and attached museum provide an excellent repository of Confederate memorabilia. Along with the museums at Appomattox Court House and the Tredegar Iron Works plant, the White House of the Confederacy and museum buildings make up the American Civil War Museum.
Science Museum of Virginia
Built in 1919, the Science Museum of Virginia is set in the former home of the Broad Street Station. The museum features hundreds of hands-on experiences. The BayScapes Garden, the Pollinator Garden, and the May Morton Parsons Earth-Moon sculpture are part of the Step Outside exhibit. The museum is also home to The Forge, an interactive creation laboratory that allows you and the family to explore the world of science, technology, engineering, and math. Work on a STEM-based project with the whole family and watch your kids create what they're learning about!
The Dome features Giant Screen Movies, Planetarium Shows, and Cosmic Expeditions on a digital dome theater.
Lewis Ginter Botanical Garden
Lewis Ginter Botanical Garden showcases themed gardens like the Cochrane Rose Garden, Asian Valley, and Cherry Tree Walk, as well as a conservatory. The garden is laid out across 50 acres and features a domed conservatory unique to this part of the country.
The Children's Garden is a great place for hands-on fun. Garden-inspired culinary creations are featured at the Garden Cafe and the Robins Tea House.
Kings Dominion
You'll find roller coasters, thrill rides, family rides, and kids' rides at Kings Dominion. Kids love Planet Snoopy, with its rides, activities, and live entertainment. Soak City Waterpark is a 20-acre water park that offers extreme water slides, two wave pools and an interactive splash pad for children.
You'll find world-class live entertainment at the show venues, along with the Peanuts Gang at the Peanuts Playhouse in Planet Snoopy. Upcoming special events at the park include KingsFest and JoyFest.
Maymont
Maymont comprises Maymont Mansion, formal gardens, an arboretum, a carriage collection, a nature center, native wildlife exhibits, and a Children's Farm. The Romanesque-style mansion, completed in 1893, is an unusually complete example of a Gilded Age estate.
Today, the 100-acre Victorian estate remains as it was before the owner's passing in 1925. Maymont is home to hundreds of animals, including bald eagles, black bears, and river otters. Golf cart tours, carriage rides, and animal encounters are offered.
Where to Stay
Richmond is a gorgeous city with a ton of fun neighborhoods for families to consider. If you're looking for something a little more suburban for your vacation home, there are plenty of options outside the city. Hanover is a great option for families looking for a little more peace and quiet. Henrico gives you quick access to the city, but keeps the volume turned down. If staying close to all the attractions we touched on above is important, stay right in the city itself. Below, we'll take a deeper dive into some of the great neighborhoods Richmond has to offer families that are visiting.  
Arts District
Looking for tons of fun murals and sidewalk views for you and the kids to explore? Look no further than the Arts District. Family-friendly block parties happen every month and are put on by the local galleries. Take a walk around this vibrant neighborhood. Enjoy some amazing restaurants. You might even be able to see some live music. Find a lovely Tudor-style home in this area. You can also find great deals on condos if you're a smaller family.
Favorite family spots: Grab your morning brew at Saison Market. You'll love the burger they serve up at lunch, and the kids will too! Salt & Forge gives you elevated Americana fare in a family.friendly environment. They offer breakfast, lunch, and dinner and will become a staple for your trip if you choose your vacation rental in Jackson Ward.
Jackson Ward
Beautiful and charming, Jackson Ward was once called the Black Wall Street of America. Culture and history pack the streets in this iconic area. Find a lovely Colonial-style home for you and the family. You'll find a long-winded list of family restaurants in this area. Take a walk and explore all the museums including the Black History Museum and Cultural Center of Virginia. 
Favorite family spots: Get the family over to Lift Coffee Shop & Cafe for a memorable breakfast. The coffee is sensational and there are smoothies and other handcrafted beverages for the no-coffee kids. Mama J's Kitchen is the place to be for a family lunch or dinner. The kids will love the ribs and chicken tenders.
Shockoe
Classic, colonial, and quaint can sum up Shockoe pretty quickly. You have probably seen images of its famous cobblestone streets. Adventurous eaters rejoice as you'll encounter no shortage of great family spots to chow down here. Explore the Richmond Slave Trail and learn more about the slave trade in the US. You'll also find a ton of shopping opportunities in this area. The streets are lined with fun boutiques and trendy shops for you to discover.
Favorite family spots: Enjoy a Spinach & Feta Croissant with a tasty latte at Whisk. The kids will love the Cranberry Orange Croissant. Celebrating a birthday during your trip? Whisk bakes incredible cakes for the occasion. And discover one of the best kept secrets of Richmond, Millie's Diner. Breakfast and lunch are best enjoyed at this iconic spot.
Richmond is the Spot!
Whether you and the family are searching for some R&R, a fun few days exploring museums and learning about history, or something in between, Richmond is a great option for a fund vacation. Ready to start planning your family getaway today? Visit VacationRenter to start planning your perfect trip!