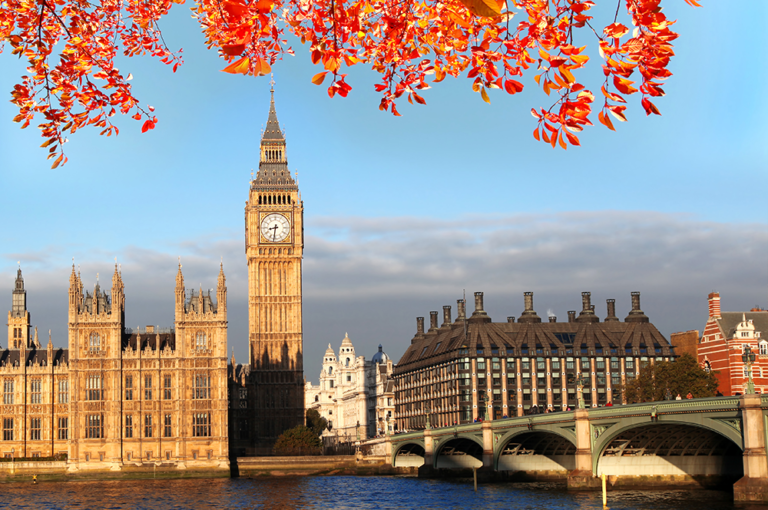 The United Kingdom is littered with beautiful destinations to visit during the fall. The dark and moody evening skies, hazy midday sun, and autumnal scenes of leaves changing colors can only add to what will be an unforgettable experience. If you're keen on a UK city break during this laid-back time of year, you won't be short of options!
We've put together a useful guide highlighting seven of the most enticing cities the UK has to offer visitors in the fall.
1. Cardiff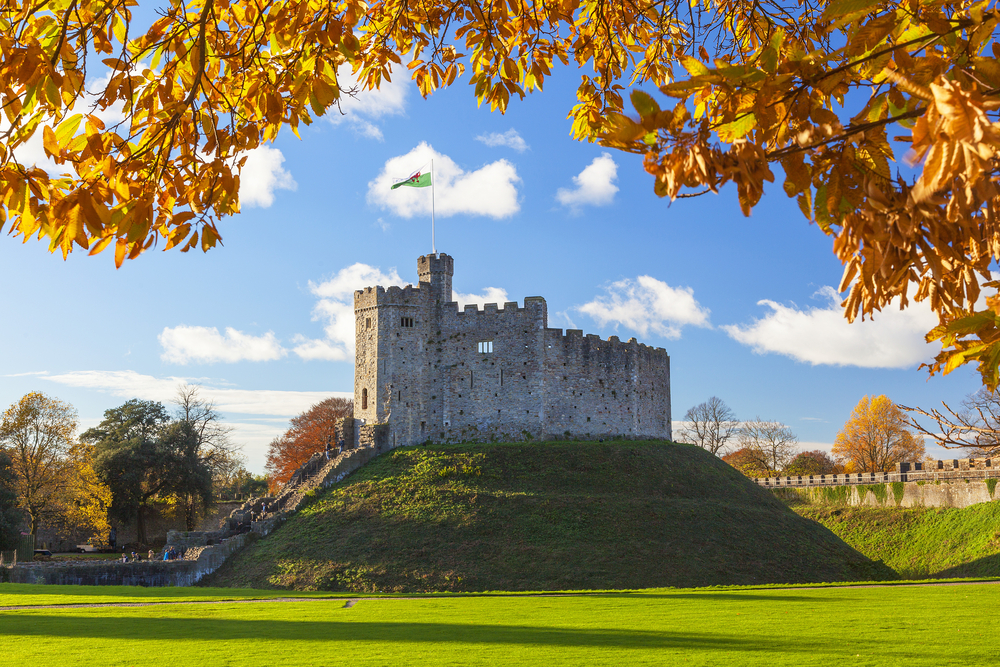 Cardiff is the capital city of Wales. The area has a long and rich history, with early settlements dating back to around 6,000 B.C. This is reflected in the city's stunning architecture and impressive cultural offerings. If you're a nature lover, nearby Margam Country Park is a must. This beautiful historic site is filled with lush foliage, rolling hills, and roaming herds of wild deer. You can explore a castle, discover orangeries with hundreds of citrus trees, or visit Go Ape's treetop adventure that's sure to excite adults and children alike.
If you're accustomed to celebrating Halloween, you'll feel right at home in Cardiff. Head to the local Picking Patch to find the best pumpkin for a Jack-o-Lantern! There are also numerous arts and crafts activities, in addition to enticing eateries and drink venues. Indulge in some craft beer at the Tiny Rebel Bar or the Brew Monster Bar. More of a coffee drinker? No problem. A stop at Uncommon Ground — a specialist coffee house — will be worth your while.
2. Belfast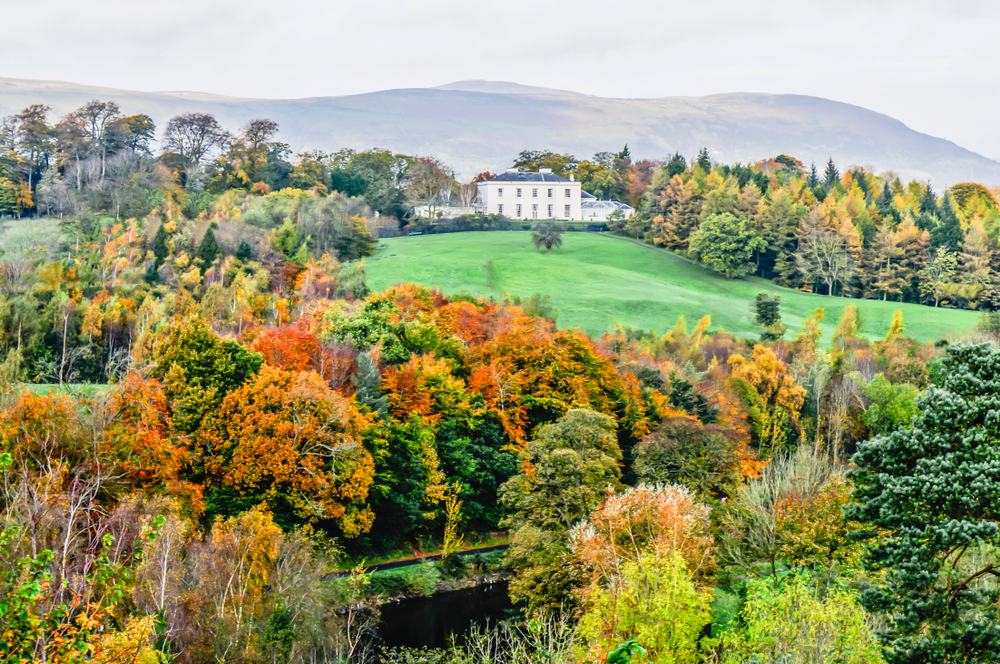 The area of Belfast was first settled around 5,000 years ago during the Bronze Age. Today, it is the largest city in Northern Ireland, as well as the region's capital. The dramatic Northern Irish countryside and exciting Belfast nightlife make this an excellent choice for a fall getaway. In autumn, the city plays host to the Belfast International Arts Festival — an engaging event encompassing cinema, animation, theatre, dance, visual arts, music, and talks. You'll be sure to find something for the whole family to enjoy there.
For the foodies amongst us, the nearby Taste Ards and North Down Autumn Food Festival offers a wide range of culinary events. This includes food and drink markets, foodie experiences, and cooking workshops. You'll also find a wide selection of events and venues providing untold amounts of fun. For more of a cultural experience, the Black Box is a popular local performance space, which regularly puts on poetry readings, concerts, cabaret, theatre, comedy, and even circus shows!
You'll find plenty of other entertainment options throughout Belfast, including nightclubs and bars to explore. Limelight regularly puts on big-name rock and indie acts, while Thompsons Garage — a legendary local nightclub — is the place to be for electronic music fans.
3. Edinburgh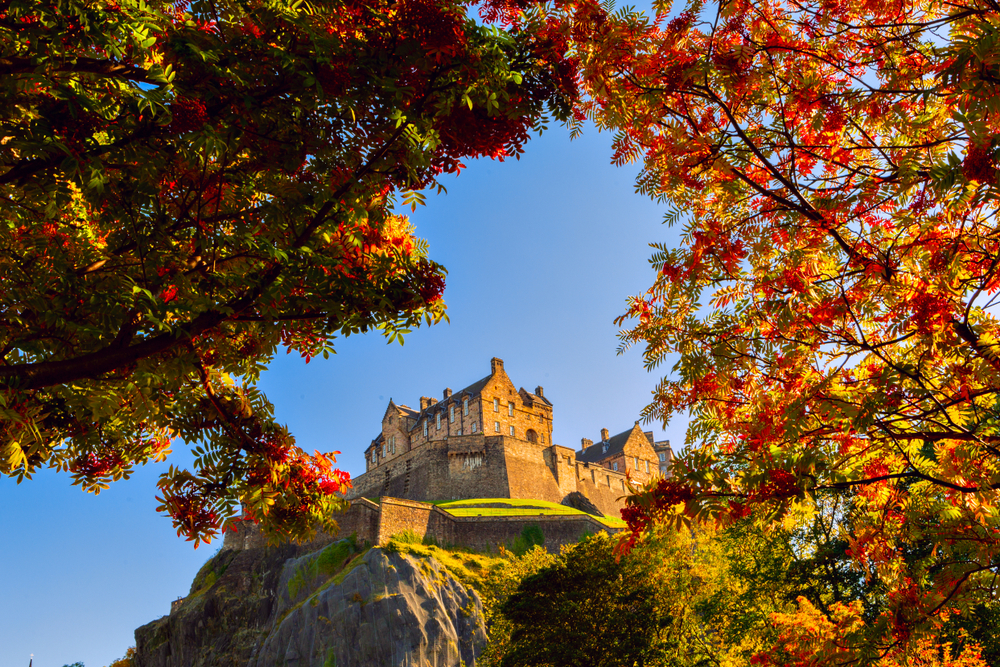 Scotland's capital city, Edinburgh, is a scenic destination with so much to offer. Featuring grand architecture and leafy parks scattered throughout the city, Edinburgh makes for a truly memorable autumn vacation. While Edinburgh's most famous festival — the Edinburgh Festival Fringe — occurs in August, there are still other enticing options that draw people from far and wide during the fall season. One such event is the creative Scottish International Storytelling Festival, featuring performances throughout the city. This includes creative workshops, talks, arts and crafts events, concerts, and outdoor activities.
From October 21st to November 14th, the 17th-century mansion known as Hopetoun House puts on a magical display throughout its nearby forest: the Wondrous Woods. These are illuminated by a striking light display, granting a mystical experience for visitors who walk through the winding paths. Edinburgh is also a paradise for foodies, particularly during the fall. There are numerous farmers' markets offering delicious seasonal autumn produce. Pay a visit to Edinburgh Farmers' Market or Stockbridge Market to buy some of this tasty locally sourced food. Of particular relevance, though, is the Castle Street Autumn Market. This event offers an abundance of artisanal autumnal food and drink, as well as a range of arts and crafts.
4. Glasgow
Scotland's most populous city, Glasgow, is a bustling and vibrant destination. A lively nightlife and rich cultural scene make it an ideal choice for a fall getaway before temperatures take a deep dive. There are several popular Halloween events to enjoy during your fall trip to Glasgow. The Spooktacular Halloween Fairground is one that the whole family will appreciate. This entertaining spectacle has multiple thrilling rides — including a rollercoaster — smaller rides for little children, and a festival wheel that offers stunning views of the city. If you prefer an adults-only event, the Rum Festival Glasgow at the Briggait is on the cards. You can sample a wide range of rums from around the world while enjoying live music, food, and dancing.
The Oran Mor playhouse is holding its A Play, A Pie, and A Pint run of events, where you can catch some groundbreaking theatre, accompanied by delicious refreshments. Elsewhere, the family-friendly Save Our City show in Glasgow invites attendees to become investigative journalists to save the fictional town of "Glasglopolis" from environmental harm. This immersive event is part show, part role play, and part illuminated journey around Glasgow's botanical gardens.
5. London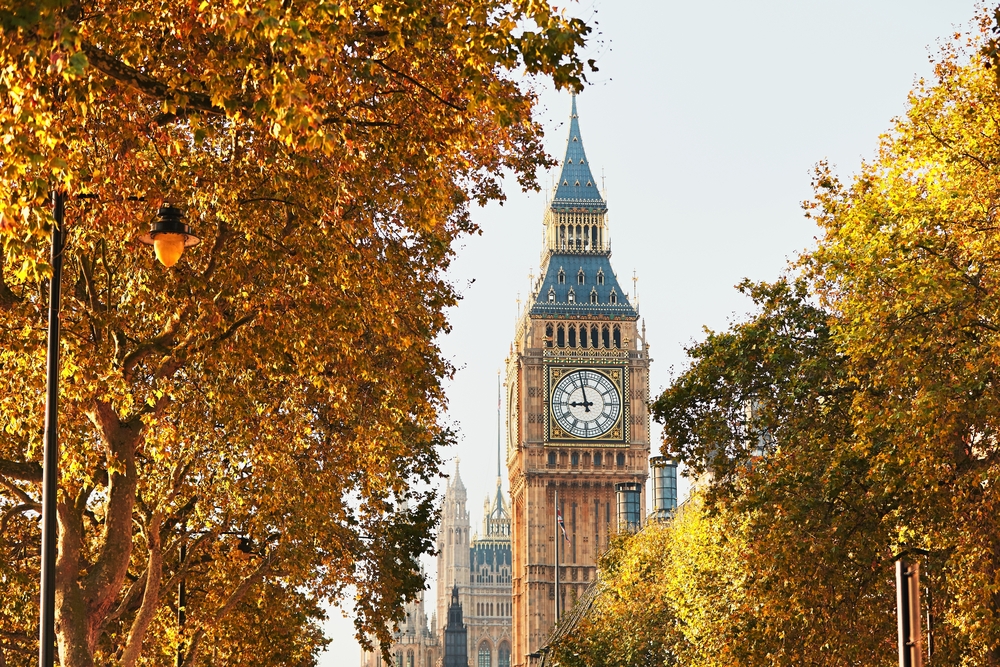 London is the capital of England and the largest city in the UK. This vast metropolis offers an unrivaled range of events, bars, and restaurants in addition to a whole host of other attractions. A fall holiday here is guaranteed to be a memorable one. The prestigious London Restaurant Festival, offering a chance to sample some truly delicious food, is held throughout October. This celebration of culinary excellence includes over 40 experiences, restaurant-hopping tours, tastings, and cooking masterclasses.
Throughout October, numerous events are held throughout the city to celebrate Black History Month. This includes lectures and talks by historical experts, plays, shows, guided tours of the city, and visual arts. If you're a cinephile, you'll be sure to find something of interest at the BFI London Film Festival in October. For around two weeks, a number of cinemas on the South Bank and in the West End hold screenings, talks, interviews, and even world premieres. During the fall, the world-famous Frieze art fairs are also held in London's popular Regent's Park — which is technically two events rolled into one. Frieze London displays contemporary art, while Frieze Masters showcases historical art. In addition to enjoying the incredible collection of artworks, you also get the opportunity to attend talks from renowned artists.
6. Manchester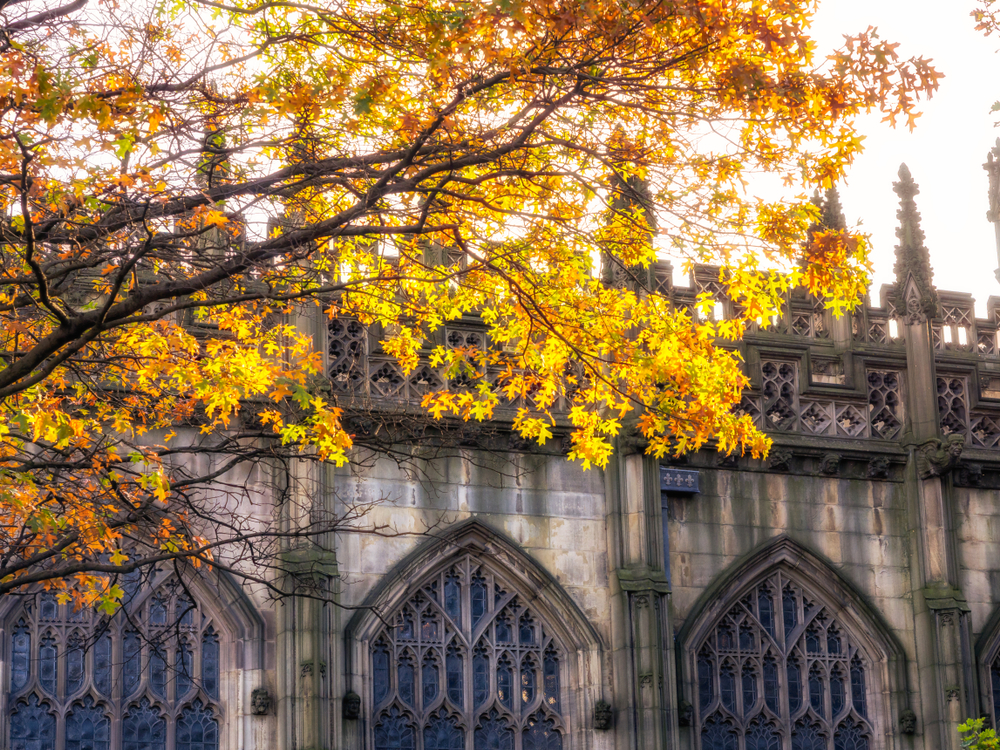 Manchester is England's second-largest built-up urban area and has a history stretching back almost two thousand years. The large population and rich tradition have resulted in a city with a vibrant cultural scene and much to do. Visit Manchester's Reggae Brunch to experience an event unlike anything you've ever seen before! This celebration of Caribbean culture gives you the chance to eat, dance, and drink like you're in Jamaica. With terrific reggae soundtracks and lots of rum to sample, this is the perfect way to inject a little tropical fun into your UK fall getaway.
Manchester Oktoberfest is another opportunity to have a memorable time this fall. Held on First Street in the center of the city, the event has a big beer tent, where you can also enjoy live musical acts. There is even a special Sunday Lunch, when children are allowed into the beer tent with their parents so that the whole family can enjoy some Bavarian cuisine.
Thrill-seekers and horror fans will simply love Into the Wild Fright Night. This 18+ only affair takes place in a woodland where you will be led to a campfire. There, you will be regaled with terrifying stories while roasting marshmallows on an open fire. At some point during your experience, you may encounter real-life zombies that will chase you for your flesh!
7. Liverpool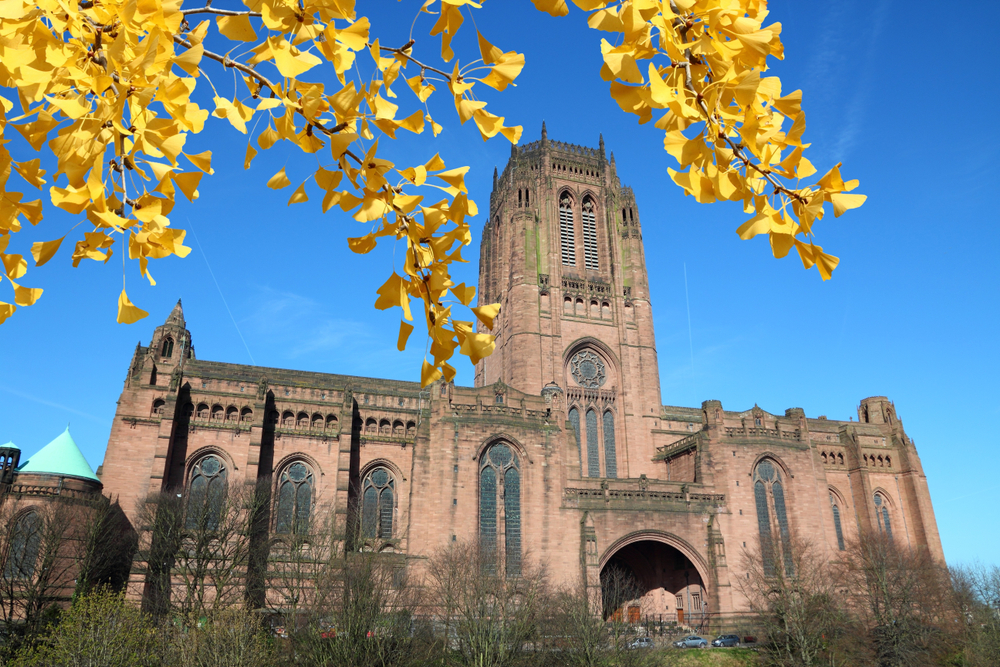 Liverpool is an English cultural powerhouse. Famously the home of the Beatles, Liverpool has also produced many other world-famous musicians. In fact, a total of 56 No. 1 singles have been released by musicians from Liverpool — more than any other city in the world! You can soak in some of this amazing culture by paying a visit to one of Liverpool's many museums and art galleries. The Liverpool Beatles Museum shouldn't be missed by fans of the Fab Four, as it provides unmatched insight into the careers of this legendary band.
If you're an art lover, you'll simply adore a trip to the iconic Walker Art Gallery, where you'll find a breathtaking range of paintings and sculptures. During the fall, there are a number of exciting Liverpudlian cultural events to attend. From October 17th to 27th, the Liverpool Irish Festival celebrates Ireland's contributions to the city's heritage and identity. This includes music, art, and theatre among many other kinds of events. On October 3rd, 10th, 17th, and 24th you can also attend Twilight Thursdays at Liverpool Cathedral. These tours offer an unparalleled 360-degree view of the beautiful city from atop the building's tower.
Liverpool is also a great city to enjoy Halloween. For a spooky experience, the Shiverpool Historic Ghost Walks will not disappoint. There are also some excellent spots to pick your own pumpkins, including the Pumpkin Patch in Hightown and the Church View Farm in Lydiate.
Get Ready to Fall for the UK's Impeccable Charm
The crisper air, the changing scenery, and the seasonal bites — there's just something about autumn that makes you want to get out of the house and explore! Take your fall getaway to the UK to new heights by booking a rental with VacationRenter. Our search engine filters parse through thousands of rentals to find your dream accommodations.