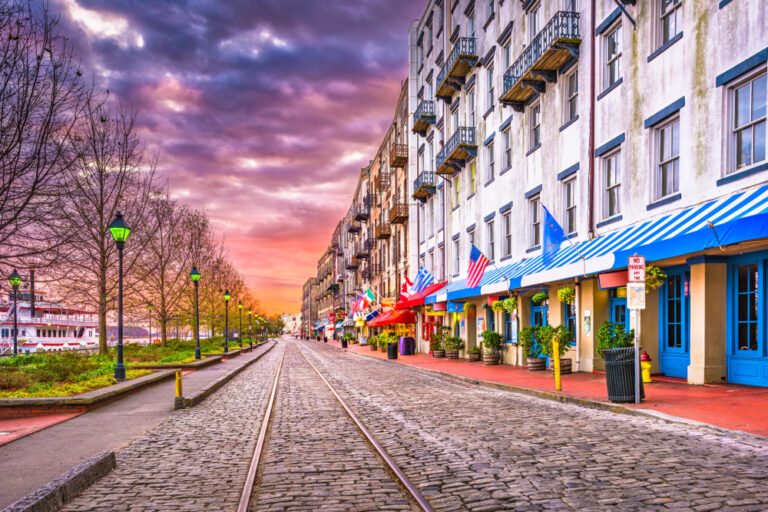 When it comes to vacations in Savannah, Georgia, families seeking a fun holiday should look no further. With plenty of things for everyone from kid-friendly activities as well as historic sites and cool museum exhibits, even your grandparents entertained! Make plans now so when summer rolls around again next year you're ready for family fun.

Savannah is a city that is of course known for romance, but should not be missed when it comes to picking a destination for the family to visit. The riverside walkway offers unparalleled views of the Georgia coast as well as an opportunity for some shopping in one of their many boutiques or cafes on Jones Street where you can enjoy delicious Southern food among other charming establishments!
Continue reading to be sure to include these exciting sites when planning your next trip. Don't miss out on all that this amazing city has to offer.
Savannah Children's Museum
When it comes to kid-friendly things to do in Savannah, Georgia, the Children's Museum usually tops many families' lists. Located outdoors in Downtown Savannah's Tricentennial Park, the museum features over a dozen interactive exhibits that are not only fun but are educational, too. The Savannah Children's Museum is a great place to spend the day, with interactive exhibits and activities for kids of all ages. 
Once the old Central of Georgia Railway Carpentry Shop in downtown Savannah was converted into a children's museum, the repurposed space now ensures that kids can enjoy an adventurous experience outside with their families. The site boasts twelve exhibits with games and activities. 
A couple of kid-favorites are the exploration mazes for those who are looking forward to adventure and discovery; reading nooks where families can enjoy time together while children read books about animals, and possibly even learn how they're endangered; sensory gardens which provide inspiration through color mixing combinations; along with many other options for enjoyment as a family. Be sure to check out the calendar for additional help planning your trip.
Pro Traveler Tip: The cost of admission is only $8 for anyone 18 months or older. This is a popular attraction to even the locals, so try to reserve your tickets online to avoid long lines.

Take a Dolphin Tour

If you and the kids long for some coastal fun out on the water, try booking a dolphin tour. You'll go out on a boat with an experienced guide and float around on the Atlantic Ocean, looking for dolphins and other cool marine life. You may also pass some of Savannah and Tybee Island's famed historic sites and lighthouses.
After spending time with the dolphins, be sure to take the kids to the Tybee Island Lighthouse, which was first lit in 1732! In addition to being America's oldest surviving lighthouse with all original buildings still standing on site today (including its First Order Fresnel Lens), visitors will find themselves surrounded by some truly breathtaking scenery, particularly at sunset where vibrant colors and natural beauty unite.

Pro Traveler Tip: While the dolphin tour is incredible during the day, we suggest you book a sunset dolphin tour. The colors are amazing and the kids will love the added adventure of being on the water at dusk.
Oatland Island Wildlife Center
The animal lovers in your family will definitely want to take a trip to Oatland Island Wildlife Center. Take the center's trails on a self-guided tour through the beautiful low country. Along the way, you'll spot cougars, bobcats, deer, foxes, wolves, turtles, and other creatures native to the area. There's even an area where you can pet animals at the Georgia Farm.
The wildlife center is also the host of many family-focused events. Be sure to look into Family Fest. Bring food to enjoy while listening to live music from local bands that are playing. Family Fest also features some delicious food trucks waiting all ready just in case you forget to pack lunch or would like another appetizer before dinner begins. 
Georgia State Railroad Museum
If any of your family members are into trains, take a trip to the Georgia State Railroad Museum. Also located at Tricentennial Park, you can explore old rail cars, learn about railroad history and take a ride on a historic locomotive.
Located at the Central of Georgia (C of G) Railroad, this facility has been a hub for all things train-related since it opened in 1855. The State of Georgia chartered them back when they were just building tracks and canals to what we know today as "The Depot." It was also here that steam locomotive maintenance & repairs took place 
Pro Traveler Trip: Both the Children's Museum and the Railroad Museum are located in Tricentennial Park. Choosing to lodge nearby may be a good idea to eliminate drive time and crabby little ones.
Forsyth Park

If you want to take a few hours to relax while the kids burn some energy, head to Forsyth Park. The beautiful 30-acre park has playgrounds, grassy lawns, basketball courts, a café and other spots where you can kick back and enjoy the beautiful Savannah weather.
Forsyth Park is also a place where you can enjoy the city's most anticipated events throughout the year, the Sidewalk Arts Festival (April) and the Savannah Jazz festival in September. For other exciting happenings around town hosted by this beautiful park go check out the Events Calendar.
University of Georgia Marine Education Center and Aquarium

The University of Georgia Marine Education Center and Aquarium sits on Skidaway Island, and while it's small, it's a great place to learn about the state's marine animals. Check out both saltwater and freshwater exhibits, and explore the beautiful marshes and Skidaway River that surround the facility to see what kind of wildlife you can spot on your own.
Tybee Island

Last but not least, no trip to Savannah is complete without a ride out to Tybee Island. Known as "Savannah's Beach," Tybee Island is a small island beach town that's just a quick drive from Savannah. Spend a day splashing in the surf, building castles on the white sandy beaches and eating fresh seafood at the restaurants scattered around the island.
This beautiful enclave is a haven for those who want to experience the joys of nature. This small 3-mile island is home to some incredible bike trails as well as amazing beaches. If interested in some outdoor time with the family, check out this list of great trails on the island.
Pro Traveler Tip: The Tybee Island Lighthouse is incredible and a must-see for you and your family. As an added bonus, children 5 and under enter for free.
All Aboard To Savannah
Savannah is a great place for families to visit. It has so many fun things to do that you'll never be bored, and it's easy to find something that your whole family will enjoy! From the many family-friendly museums to Tybee Island and its marvels, there're tons of options for everyone. If you're ready to set out on an adventure this summer, book your stay with VacationRenter today!