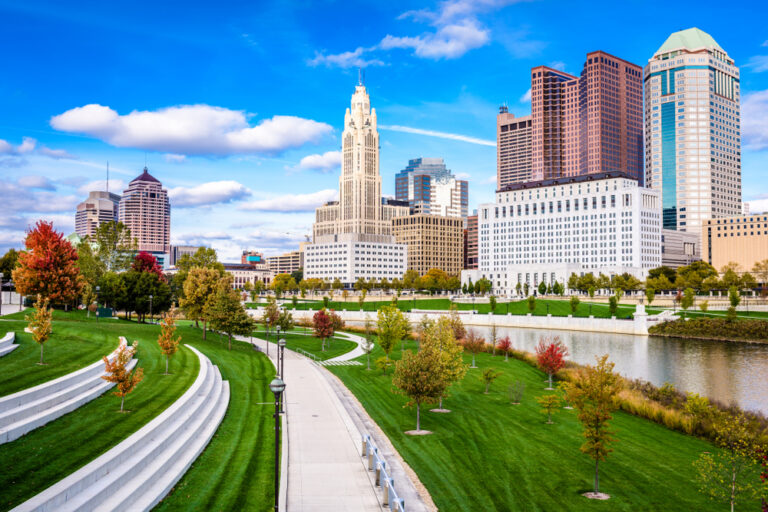 There are many places to visit in Columbus, Ohio, that make it easy to get back to nature. If you're in the area and are looking for a way to get some fresh air while enjoying the scenic beauty of Ohio's capital city, you're in luck. These lush green spots and outdoor attractions make for the ideal way to spend a sunny afternoon.
Columbus city parks offer a wide variety of recreational opportunities for residents and visitors alike. From playgrounds and hiking trails to sports fields and nature preserves, the city's green spaces provide something for everyone.
Columbus Zoo and Aquarium
Columbus Zoo and Aquarium lies along the O'Shaughnessy Reservoir of the Scioto River. You can see a variety of marine life and other animals in their natural habitats here. Other sections of the zoo include Congo Expedition, Asia Quest, Heart of Africa, North America and Australia exhibits. If you'd like an exhilarating midday break, swing by Jungle Jack's Landing which features family rides and attractions including Animal Encounters Village and Stingray Bay. World renowned zookeeper Jack Hanna also offers educational programs for zoo visitors several times each year.
Drive time from downtown: 25 Minutes
Park hours: Sunday – Thursday 9am – 9pm, Friday and Saturday 9am – 10pm
Park of Roses
Columbus Park of Roses, with a main feature of more than 12,000 roses, is located within Whetstone Park. The park also showcases perennial and herb gardens, and displays beds of annual plantings. It's easy to enjoy this 13-acre park with its wide, paved paths and numerous teak benches. The Heritage Rose Garden is in full bloom in late May, and the Formal Rose Garden usually reaches peak bloom in mid-June. Check out the Backyard Garden, designed with low maintenance varieties of bulbs, perennials, and shrubs to inspire visitors with ideas to create their own home garden displays.
Drive time from downtown: 10 Minutes
Park hours: 7am – 11pm Daily
The Topiary Park
The Topiary Park lives in the Discovery district of Columbus, and has offered visitors a place to enjoy beautiful scenery since the early 1800s. While colloquially named Topiary Park, officially it is still known as Deaf School Park, named after the school for the deaf that once adjoined the estate. The park is the only one of its kind in the world, as it is  an interpretation of a famous painting of a landscape. The painting depicted by the topiaries is George Seurat's "A Sunday Afternoon on the Island of La Grande Jatte."
The park's landscaped designs include eight boats, 54 human figures, three dogs, a monkey and a cat. The topiaries are made of yew shrubs, the tallest one standing at over 12 feet.
Drive time from downtown: 10 Minutes
Park hours: 7am – 11pm Daily
The Scioto Mile
The Scioto Mile, located on the riverfront in the heart of downtown Columbus, boasts more than 175 acres of parkland. It offers a great landscape to relax on while enjoying great views of the Columbus skyline.
You can paddle along The Mile viewing geese and other wildlife, or splash through the 15,000-square-foot interactive fountain. Visit the Cultural Art Center to view the exhibits or try a variety of classes or workshops. Bicentennial Park is a lovely place to relax and enjoy the afternoon, and makes a great location for a picnic. The park also offers wonderful greenway trails for biking or a nice walk. The promenade is also a popular spot that features a stone colonnade with gardens, park benches, and game tables.
Drive time from downtown: 5 Minutes
Park hours: 7am – 11pm Daily
Alum Creek Greenway Trail
Alum Creek Greenway Trail is a bike path and hiking area that stretches along the scenic river corridor. The 25-mile paved trail runs from Westerville through Columbus to Groveport. The trail links many of Columbus' parks, including Nelson Park, Wolfe Park, Academy Park, and Madison Mills Park.
It's easy to reach adjoining neighborhoods where there are a variety of dining and retail options available. There are many beautiful bridges, in a range of architectural styles, along the trail. There is a double-arch bridge stretching over the creek as you enter Strawberry Farms Park.
Drive time from downtown: 5 – 30 Minutes
Park hours: Open 24 hours
Blendon Woods Metro Park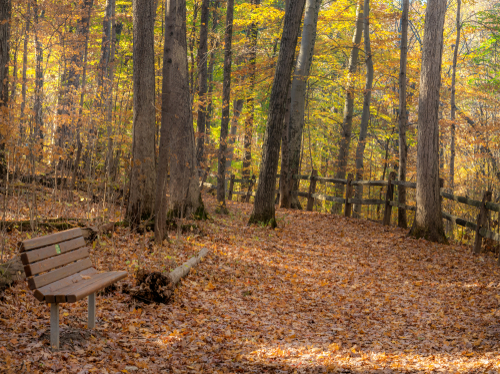 Blendon Woods Metro Park is a 653-acre park with beech-maple and oak-hickory forests that surround open fields. Stream-cut ravines with exposed ripple rock sandstone are focal points of the park. The Walden Waterfowl Refuge which surrounds Thoreau Lake is a sanctuary for wildlife and many species of birds. Two elevated observation shelters with spotting scopes make it easy to view waterfowl swimming on the lake. This park offers an 18 hole challenging disc golf course, as well as an ice skating rink in the winter. The park is open year-round to visitors.
Drive time from downtown: 15 Minutes
Park hours: 6:30am to 10pm Daily
Franklin Park and Botanical Garden
Franklin Park Conservatory and Botanical Gardens show off special exhibitions, exotic plant collections and Dale Chihuly artwork. The park's conservatory was originally built in 1895, and shows off over 400 species of plants coming from a variety of climates across the world. It's John F. Wolfe Palm House is a grand Victorian-style glass greenhouse that contains a tropical garden including palm trees and a venetian style fountain. An architectural light installation by internationally renowned light artist James Turrell illuminates John F. Wolfe Palm House.
Drive time from downtown: 5 
Park hours: 10 am – 4 pm, 5 pm – 9 pm Daily
Plan Your Trip to This Incredibly Lush City
There are so many things to do in a city as exciting as Columbus, OH. The thing that makes this destination different from the other cities you might consider visiting, is the endless selection of green spaces it has to enjoy.
If you are ready for a vacation that offers a wide variety of outdoor gardens and landscapes, this is definitely the city for you. We hope this list of beautiful parks in Columbus inspires your next trip to this vibrant city.