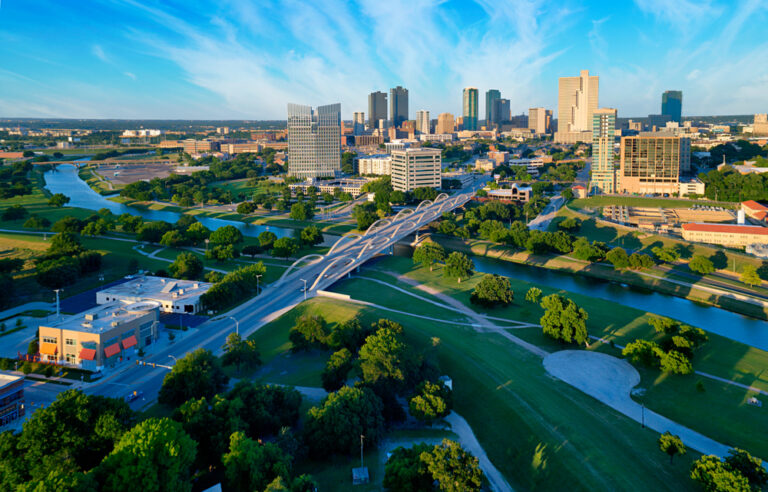 Outdoor activities, ranging from swimming to hang gliding, are part of the fun when visiting the Dallas-Fort Worth area in Texas. Attractions in the area are numerous. Things to do in Fort Worth include visiting the Fort Worth Museum of Science and History, Van Zandt Cottage, Fort Worth Zoo, Fort Worth Nature Center & Refuge, and Amon Carter Museum of American Art. Looking for more options in this cute little city? Check out this guide to some other fun things to do in Fort Worth.
Traveling with kids? Hop over to Dallas and try out some of the things to do on this list. Below, we'll dig into some of the other great things to do that Fort Worth has to offer. 
National Cowgirl Museum and Hall of Fame
Places to visit in Fort Worth include the National Cowgirl Museum and Hall of Fame, dedicated to honoring extraordinary women of the American West. The museum, situated in the heart of Fort Worth's Cultural District, comprises interactive exhibit galleries, a research library, and two theaters. Honorees include Patsy Cline, Georgia O'Keeffe, rancher Fern Sawyer, and athlete Jan Youren. The museum is within walking distance to other museums in the Cultural District.
Pro traveler tip: The Cultural District has a parking shortage, but at this museum, your parking fee is waived with the price of admission! 
Modern Art Museum of Fort Worth
The Modern Art Museum of Fort Worth, also found in Fort Worth's Cultural District, displays post-World War II art in all media. The museum's collection includes videos and photographs, paintings, prints, and sculptures. All major, international movements are represented, including minimalism and abstract expressionism. The Modern offers special tours and programs, daily docent-led tours, and discounted admission days.
Pro traveler tip: Aside from the incredible visual art, this museum has an amazing restaurant, Café Modern. You'll be blown away by the food, drinks, and service. Start with some Chorizo and Medjool Dates. The Chicken Pillard is our go-to for a light, tasty lunch. Check the hours here as they are a little wonky with the meals they offer. 
Fort Worth Botanic Garden
Established in 1934, Fort Worth Botanic Garden is the oldest botanic garden in Texas. The attraction features more than 20 specialty gardens that contain over 2,500 species of exotic and native plants.
The Japanese Garden is a traditional stroll garden with paths that go around ponds and through landscapes. The romantic Rose Garden contains a sandstone structure that comprises the Shelter House, Rose Ramp, and Lower Rose Garden. Each garden is unique, peaceful, and colorful.
Pro traveler tip: The Fort Worth Botanic Garden is the host of a ton of wonderful events. Before you travel, be sure to check out the events calendar to get a full listing of everything that will be going on while you're there.
Fort Worth Water Gardens
The Fort Worth Water Gardens is situated adjacent to the Fort Worth Convention Center. The park features three pools of water: the aerating, the quiet, and the active pool. You are welcome to meander through this urban plaza as water flows over massive concrete architecture.

Alternatively, you can relax under trees that border the pyramid-type construction, where you can enjoy the plants that fill the park grounds. This architectural and engineering marvel can be enjoyed year-round.
Pro traveler tip: This is located in Sundance Square. Think about finding a rental in this area if you're looking for lovely urban scenery. Below, we'll go into more detail about where to stay for your trip.
SeaQuest Fort Worth

SeaQuest Fort Worth is an aquarium found at Ridgmar Mall, an enclosed shopping mall that contains name-brand stores and boutiques. Exhibits and activities take you on a journey through deserts, rain forests, and the depths of the seas.
Get up close and personal with residents of the aquarium when you take selfies with the snakes, feed the toucans, and much more. Private Sleep With The Sharks encounters for families and adults are lots of nocturnal fun. Most of the animal encounters are reasonably priced. We'd suggest that you check out Honey the Kinkajou. 
Pro traveler tip: If you're interested in checking out one or a couple of the animal encounters offered at SeaQuest, be sure to secure your tickets in advance. These activities tend to book up in advance.
Fort Worth Stockyards

Fort Worth Stockyards provides a glimpse of the American West. The true history of Texas's livestock industry comes to life, from the original brick walkways to the wooden corrals. You can watch the twice-daily cattle drives and view the Fort Worth Herd steers before and after each cattle drive. Texas cowhands are available for photo ops and questions. Every detail of cattle drives, from saddles to hats, is historically accurate.
Pro traveler tip: Be sure to head to the National Cowgirl Museum and Hall of Fame first. Once there, you'll get a voucher for the Fort Worth Stockyards, complements of the museum. 
Kimbell Art Museum
Kimbell Art Museum, regarded as one of the outstanding architectural achievements of the modern era, is located in Fort Worth's Cultural District. While the permanent collection comprises fewer than 350 works of art, these works represent a high level of artistic achievement. Masterpieces by Monet, Picasso, and Bellini are a few of the paintings that are found in the museum. Collections include Ancient American, Asian and African.
Pro traveler tip: The museum offers a ton of free lectures that are open to the public. We'd suggest that you take a look at the calendar before you head out on your trip. 
Where to Stay
For a beautiful turn of the century home, look to Meadowbrook. It's a big neighborhood, but no matter where you choose you'll be surrounded by beautiful woods and rolling hills. If you enjoy golfing, this is a great area for your trip. Find a luxurious bungalow home in Rivercrest. Choose a gorgeous condo in Sundance Square where you'll find restaurants, bars, coffee shops, and nightlife. Looking for a spot close to all the museums? Find an apartment or condo in the Cultural District. Six Points is a specific area within the Cultural District. You'll find lovely homes in this neighborhood.
Plan Your Getaway!
If you're looking for a big city vibe in a smaller location, Fort Worth is the place for you. Combine cultural experiences with gorgeous Texan views. Ready to start planning your trip to Fort Worth today? Get over to VacationRenter and let them help you find the perfect rental for your getaway!