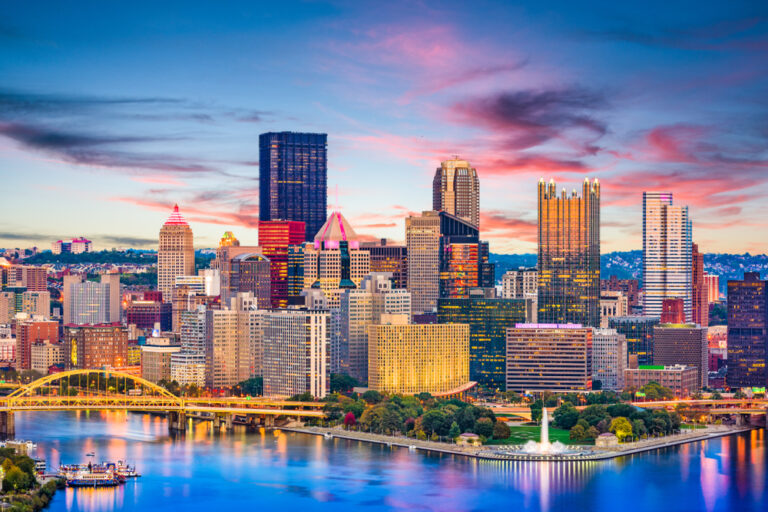 Pittsburgh, PA may not be famous for romance, but the City of Bridges, nicknamed such for the 446 bridges in town, is actually a great place for a lover's trek. The city's Strip District, once an industrial neighborhood, is now filled with converted warehouses which have been turned into boutique shops and hip restaurants. 
Pittsburgh's Cultural District makes for another popular destination. The district features a cluster of theaters, art galleries, and landmarks in Downtown Pittsburgh. The city is filled with unique sites that make great places to go for a romantic weekend. Our list is designed to help plan perfect romantic Pittsburgh getaways for all you love birds out there.
Gateway Clipper Fleet Cruises
The Gateway Clipper Fleet riverboats cruise the three rivers of Pittsburgh — the Monongahela, Allegheny, and Ohio. There are a variety of themed cruises offered, including dining, wine-tasting, sightseeing, and moonlight dance. The picturesque city skyline makes a stunning backdrop for the cruises. The Valentine's Day Dinner cruise with Captain's Buffet, is one of our favorites to attend. It makes for a memorable holiday for you and your sweetie. Any one of these river cruises is a perfect addition to your weekend getaway itinerary.
Carnegie Museums of Pittsburgh
There are a variety of Carnegie Museums of Pittsburgh that you can visit on your trip. The Carnegie Museum of Natural History hosts over 230 impressive dinosaur fossils. The Hillman Hall of Minerals and Gems exhibit hosts thousands of incredible stones, and makes for a great romantic afternoon. 
The Andy Warhol Museum is also a must-see when visiting Pittsburgh. They have over 4000 of Warhol's works on display, in a variety of mediums, such as  paintings, drawings, prints, sculptures, and photographs.
Carnegie Science Center is the most visited museum in Pittsburgh, and for good reason! It is home to the newly constructed Buhl Planetarium, which offers the latest in digital projection technology. For all you train enthusiasts out there, check out the Miniature Railroad & Village, a diorama of western Pennsylvania during the late 19th and early 20th centuries.
The Frick Art and Historical Center
When viewing the exhibits at The Frick Art and Historical Center, you can see what life was like during the Gilded Age. The cluster of museums and historical buildings is located around the Frick family's 19th-century home known as Clayton. You can take a self guided tour of the mansion, gardens and greenhouse. 
Get a view of some incredible antique vehicles at the Frick Car and Carriage Museum. This collection exhibits a variety of cars dating as far back as 1881, and up through the 1940's. You will get a solid picture of how automobiles progressed in those early years.
National Aviary
The National Aviary is the largest aviary in the United States and the only one given honorary "National" status by the U.S. Congress. You can see over 150 different bird species from around the world. There are more than 500 individual birds who call the aviary home. Being one of the largest aviaries in the country, they have some of the rarest birds in the world, including species you can see almost anywhere else, like the Andean Condor, which is critically endangered in the wild. 
They have a wonderful selection of exhibit areas. Condor Court is our personal favorite, where you can learn all about the aviary's work to save the Andean Condors. These massive birds have a wingspan of over 10 ft making them one of the largest raptors in the world.
Pittsburgh Winery
Pittsburgh Winery is found in the cellar of an old bank building in the Strip District. The winery offers wines made locally, with grapes grown in California, and sonically aged in the cellar music venue. You can relax among the barrels of aging wine in a Cali style tasting room or the romantic cellar setting. Winemakers provide an up-close-and-personal experience.
Our personal favorite is their Petit Verdot. Historically a grape that was used to blend with Cabernet Sauvignon to add depth, they like to let this grape shine all on its own. After your tasting we recommend purchasing one of these bottles to take home.
Phipps Conservatory and Botanical Gardens
Phipps Conservatory and Botanical Gardens, opened in 1893, is entered on the National Register of Historic Places. Henry Phipps designed and purchased the estate as a gift to the city of Pittsburgh as a thank you for his success in the steel industry. The gardens, set in Schenley Park, showcase a 14-room glasshouse as well as 23 distinct gardens. In addition to plant collections, the gardens present historical art and glass art installations. 
If you need something to munch on after strolling through the gardens, Café Phipps offers a variety of delectable dishes. Food & Wine named them as one of the best museum restaurants in the US.
Point State Park
Point State Park is found in Downtown Pittsburgh at the confluence of the city's three rivers. This puts the park at the point of Pittsburgh's "Golden Triangle." The park preserves the historical heritage of the area during the mid-eighteenth century French and Indian War. You're sure to see monuments, plaques and markers as you walk through the historic venue.
You can explore the park's 36 acres from dawn until dusk daily. Make sure to stop in at the Fort Pitt Museum, located within the park, to learn about western Pennsylvania's pivotal role in the French and Indian War and the American Revolution. The museum is open 10am to 5pm every day.
Heinz Hall
Heinz Hall, a performing arts center and concert hall, is the cornerstone of Pittsburgh's Cultural District. Originally built in 1927 as a movie theater, it now hosts all sorts of concerts and cultural events. The hall is home to the Pittsburgh Symphony Orchestra.
The Garden Plaza, opened in 1982, is a tree-lined courtyard with a waterfall right outside Heinz Hall. The seasonal Garden Cafe offers quality food and refreshment to event goers right outside in the plaza. Visitors can also eat at the indoor Mozart Room and Regency Room, which is a fine dining experience that perfectly complements such an exquisite event space.
Where to Stay
If you need a little help choosing an area to stay in, we've outlined some great options below. There are many great rental options in each of these areas as well!
Downtown
If you're looking to be close to all the action, downtown is the place for you. Maybe you're seeing a concert or sporting event at the PPG Paints Arena and you don't want a late night commute. If that's the case, we really like the Omni William Penn Hotel, it's close to everything, and quite a classy experience.
Cultural District
Another great and central area to stay in is the Cultural District. It hosts a plethora of theater and art galleries, as well as some very fine restaurants. The Renaissance Pittsburgh Hotel is our choice in this area. It is just steps away from the Allegheny Riverfront Park, and has incredible views of the river from many of its rooms.
Strip District
Just a little further from the center of downtown, the Strip District still has plenty of amenities nearby, and is a bit less expensive to find great accommodations. The TRYP by Wyndham Pittsburgh is a boutique hotel that has a lot to offer. Their bar with an incredible outdoor patio that overlooks the river is a great place to relax and refresh yourself before going out on the town. Their rooms are chic and modern, at a very affordable rate.
Start Planning Your Getaway to the City of Bridges
Certainly, our list of Pittsburgh romantic getaway ideas has started to get you excited! This city has such an incredible culture and vibrancy that makes the perfect setting for your romantic weekend. No matter what type of activity feels romantic to you and your lover, Pittsburgh has you covered. So come, catch a view of the river while scrolling across a bridge. Your perfect romantic Pittsburgh getaway awaits!