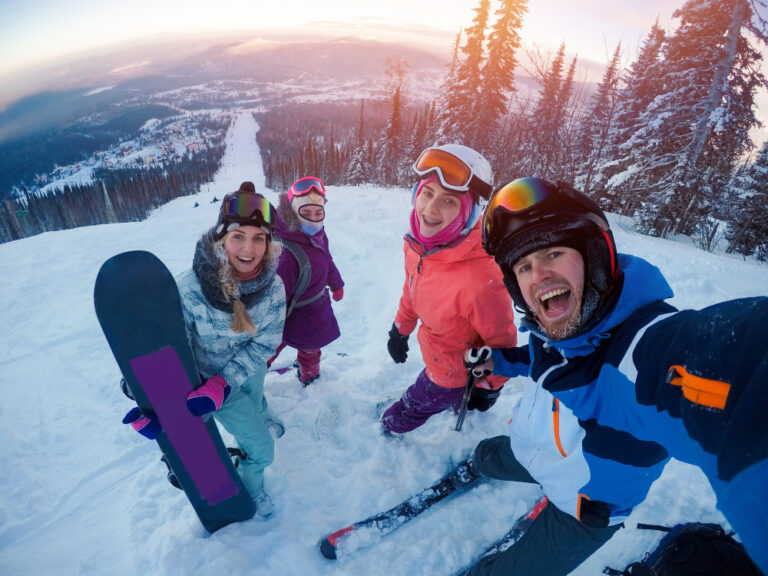 As you begin your journey into the world of snow-sliding sports, it's easy to get overwhelmed and even intimidated by the number of things that you need to consider. Fundamentally, you need to decide whether you will pursue skiing or snowboarding, but you also need to select a destination, figure out what to pack, and find a place to stay.
Luckily, we're here to help! Our first-timer's guide is designed with you in mind and packed with insider tips to make you feel like a pro before you ever even touch the snow. Starting with the basics, we'll run through everything that you need to know as you plan and prepare for your first ski or snowboarding trip. 
If you're new to snow-sliding sports, you won't want to miss what we have to say in our ultimate beginner's guide below!
Skiing vs. Snowboarding: What's the Difference?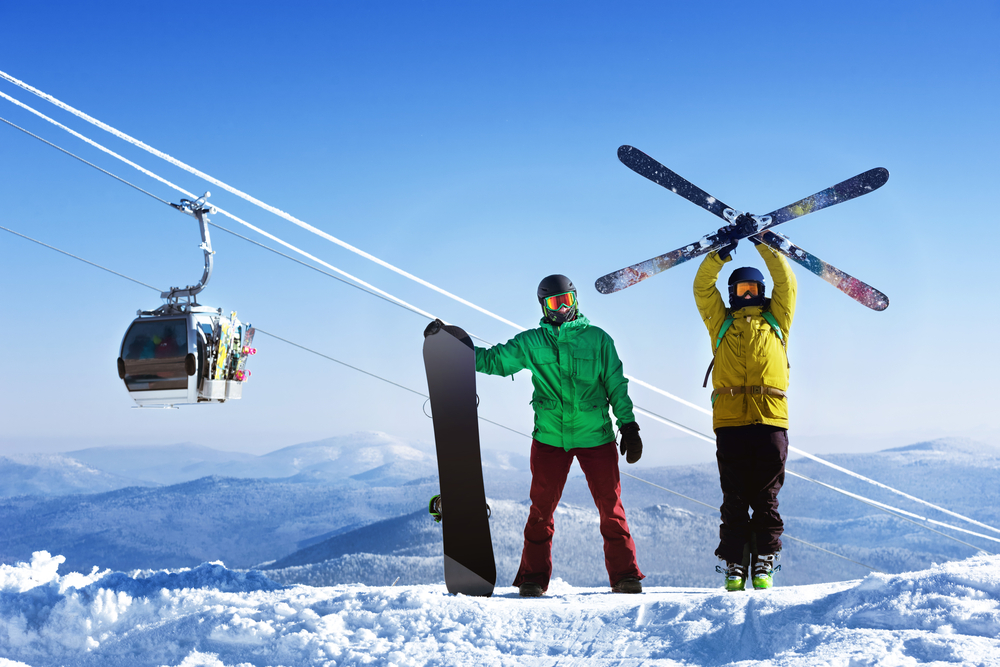 The most common question people ask when deciding between skiing and snowboarding is: which one is easier to learn? Ultimately, the answer to that question depends on your individual circumstances. If you really think about it, odds are good that you'll feel more drawn to one or the other. Or perhaps, you have related past experience in a similar activity, which increases your comfortability on skis or a snowboard.
Generally speaking, skiing is easier to learn, but harder to master whereas snowboarding is harder to learn, but easier to master. However, if you're familiar with in-line skates, ice skating, or water skiing, then you can expect some of those skills to translate to a baseline proficiency in snow skiing. And the same holds true for skateboarding, wakeboarding, and surfing — they are all experiences that are helpful when learning how to snowboard. 
That said, there are some fundamental differences that are unique to snow-sliding sports, so you can expect to feel a certain level of uncomfortability. For example, when you're surfing, you steer with your front foot while keeping your weight on your back foot, which is the exact opposite of snowboarding. While there are other differences, the most important thing is to maintain a beginner's mindset as you progress through your learning, as overconfidence can lead to serious injury.
The Importance of a Lesson
If it's your first time, we highly recommend booking ski or snowboard lessons for a few reasons. An instructor will teach you the basics and help you build good habits on the slopes, while providing real-time feedback to help you improve more quickly. That means you'll find your flow and reach a rhythm sooner rather than later, and that's when the real fun begins. When you can concentrate less on the mechanics of what you're doing and more on the feeling that it provides, you begin to relax and realize a deeper sense of satisfaction.
Picking a Mountain Destination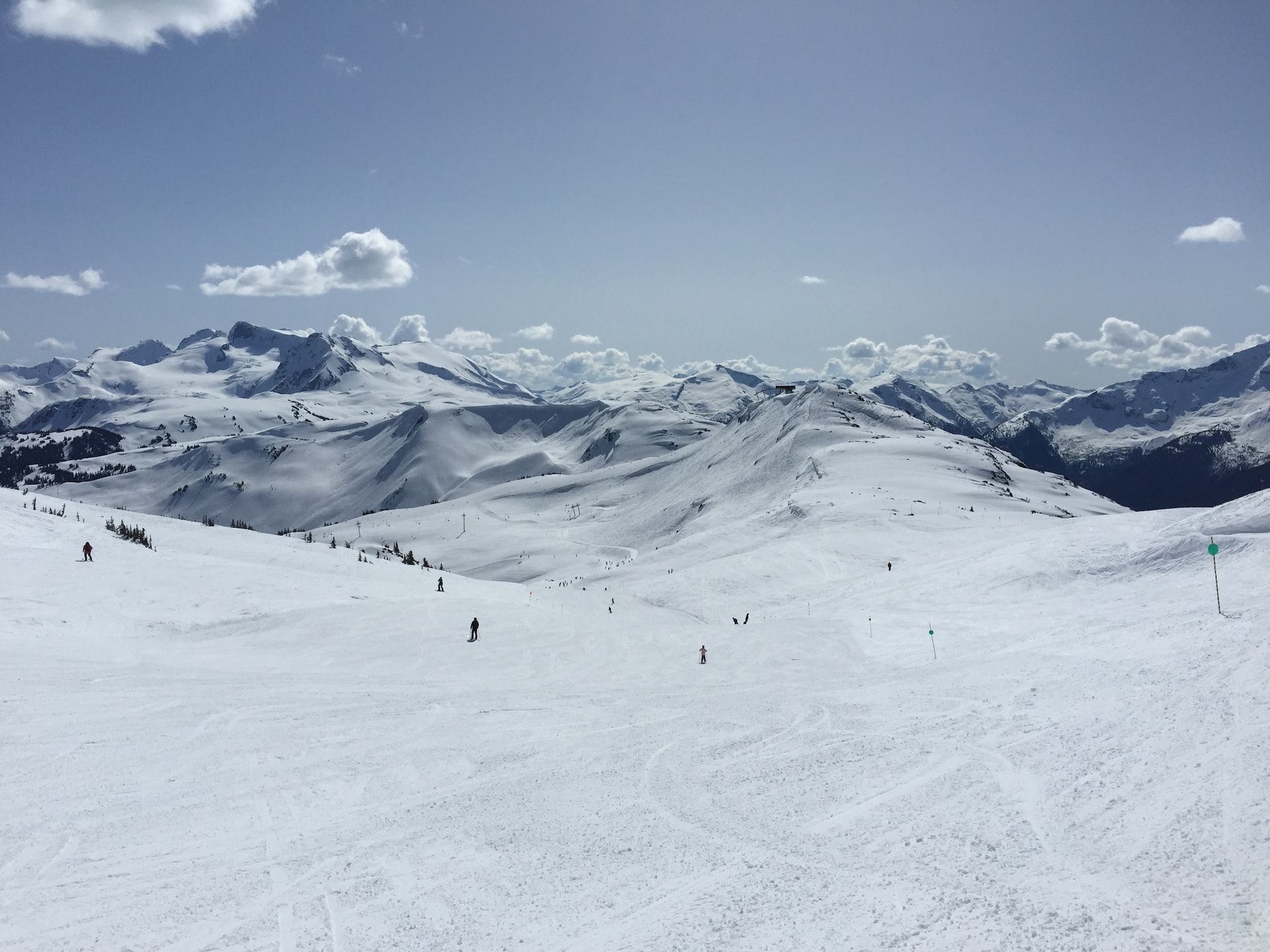 When it comes to ski resort selection, our suggestion is to look at some of the more affordable options as it will help you to save money across the board, from lift tickets and ski lessons to vacation rentals and groceries. The key is to find a location that offers the right amenities to suit your needs while staying under budget. For inspiration, check out our list of affordable and non-boujie ski destinations in the U.S.
As you weigh your options, consider the types of terrain that different resorts offer. Some ski areas have strictly steep and deep, expert-only (black diamond) runs while others mostly consist of easy (green circle) to moderate (blue square) slopes. The larger resorts — while typically more pricey — often have an array of terrain to choose from, which gives you the option to change difficulty throughout your ski day or vacation.
In addition to the trail rankings mentioned above, you may encounter trail signs for double or triple black diamond runs, or small, medium, and large terrain parks. While these are universal rankings that you will see at resorts across the United States, it's important to note that there is no standard enforced, so each ski area will have slightly different scales that they use to classify their ski runs. It means that an easy slope at one resort can be equivalent to a moderate slope at another.
As a first-timer, we highly recommend avoiding anything above a moderate or blue square slope until you have a solid level of confidence in your snow-sliding skills. Keep in mind that not all moderate runs are created equal — snow conditions are constantly changing throughout the day and over the course of the winter season, so it's wise to ski conservatively and within your abilities at all times.
5 Destinations With Incredible Powder
Perhaps you're a bit of a powder hound who's confident in their abilities and constantly in search of the secret stash. If so, you're in luck because we've rounded up our top five ski destinations with world-class power around the world. Keep reading to learn more about these incredible resorts, and start planning your winter vacation today!
1. Telluride, Colorado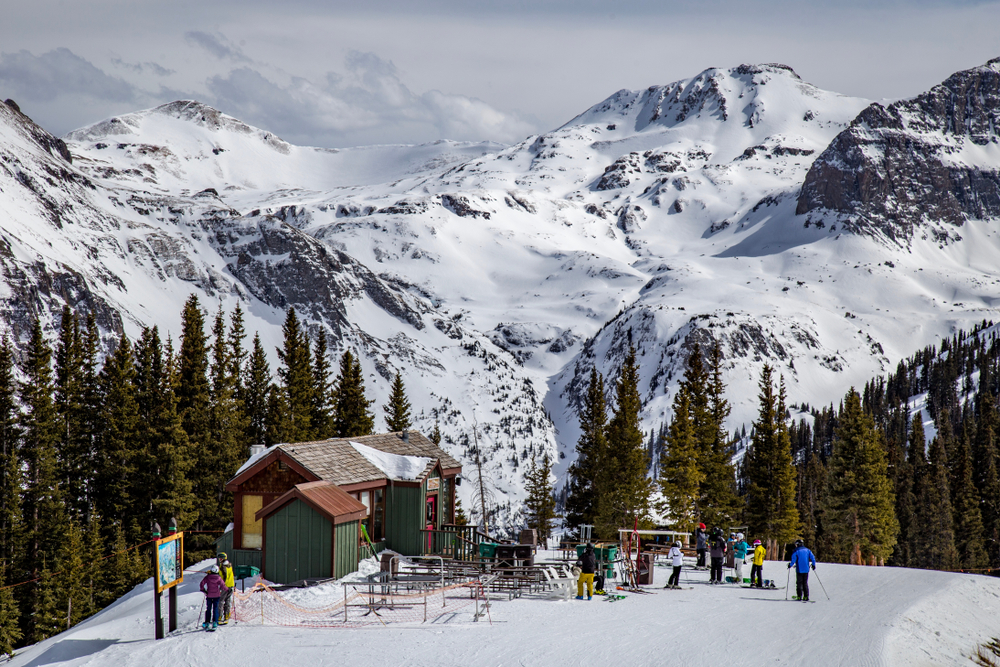 Telluride is located in the southern portion of the Rocky Mountains and offers unparalleled skiing and snowboarding. It's a picturesque mountain town with a historic yet thriving main street lined with shops, restaurants, and bars to keep you entertained well after the lifts close. And regardless of when you visit, you'll be sure to find plenty of things to do, as the town's event calendar is packed all winter long.
2. Jackson Hole, Wyoming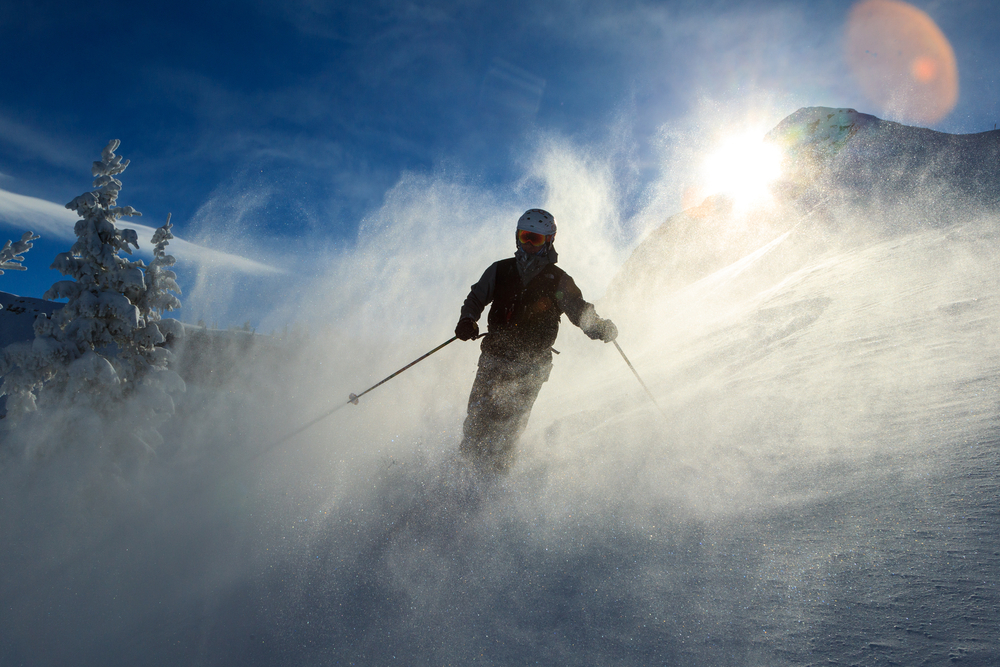 Moving north along the great Rocky Mountain Range, we arrive at our next destination: Jackson Hole, Wyoming. The resort consists of mostly extreme or black diamond ski slopes with a handful of moderate or blue circle trails toward the bottom of the mountain, so we strongly suggest that you have a good level of comfortability on your skis or snowboard before you head to the Northern Rockies. That said, Jackson is a quintessential western town, complete with a town square, so you definitely want to put it on the list.
3. Zermatt, Switzerland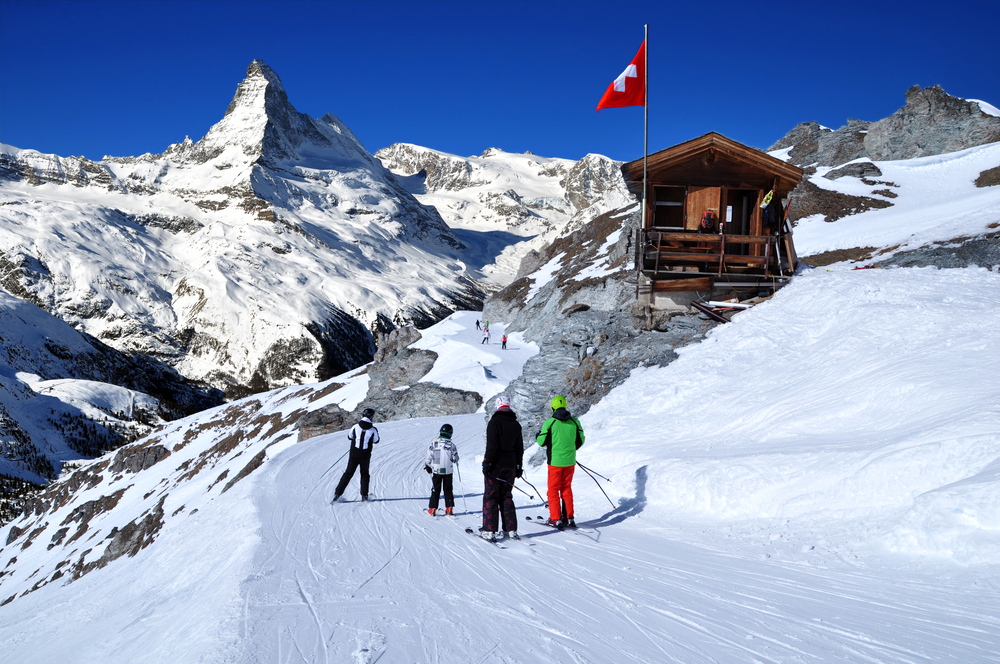 Next on our list of ski destinations with incredible powder is Zermatt, Switzerland. This mecca for outdoor enthusiasts is well-known for the iconic peak that towers over town, the Matterhorn. Zermatt is an idyllic location to soak-in all that European ski culture has to offer, from the thrilling high-alpine skiing to the traditional après-ski scene. As a bucket list destination for many skiers and snowboarders, you're sure to have a once-in-a-lifetime winter vacation in the Swiss Alps!
4. Niseko, Japan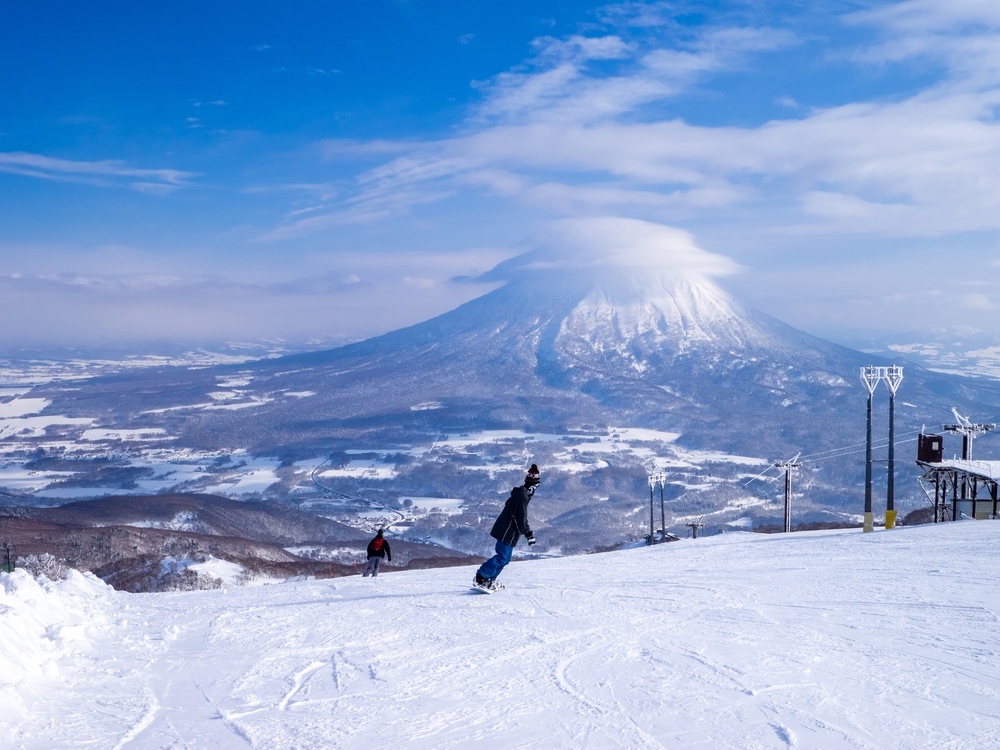 On the northern island of the Japanese archipelago of Hokkaido lies a legendary ski destination: Niseko, Japan. The unique combination of maritime snow conditions and a northerly latitude result in a dream-like snowpack which is literally bottomless, but still light and fluffy. It rarely stops snowing throughout the heart of winter so be prepared for overcast conditions, but later in the season, around March, the faucet turns off and snowfall is rare. You'll be happy to know that most of the terrain in Niseko is moderate, but you definitely want to be prepared to ski in deep powder.
5. Portillo, Chile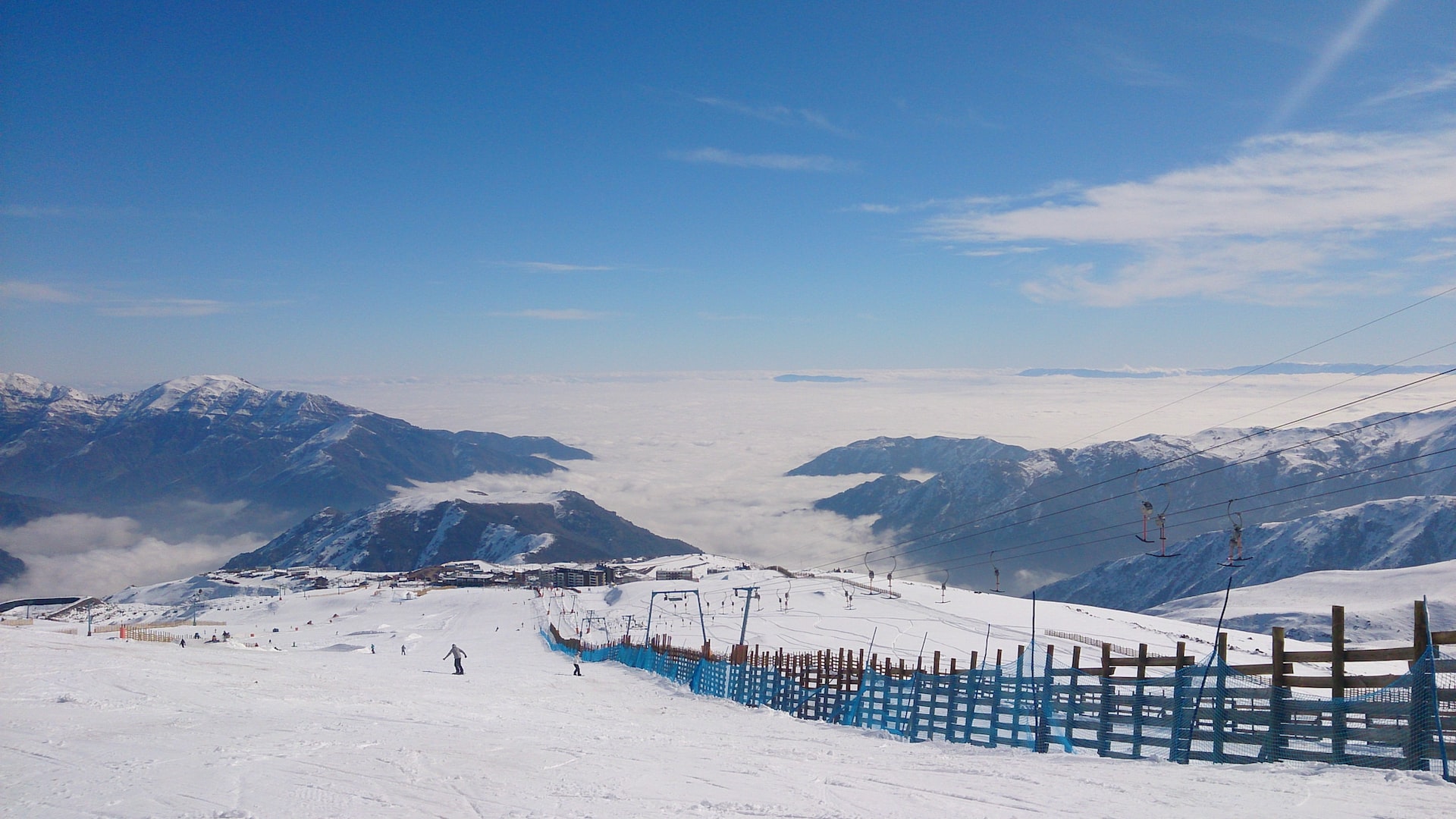 Last, but definitely not least, we come to Portillo, Chile. This resort destination located in the southern hemisphere gives you the ability to take a ski vacation all year-round. Nestled in the heart of the Chilean Andes, you're guaranteed to have an unforgettable snow-sliding experience with the unique culture and hospitality of Chile. The resort boasts a variety of terrain ranging from easy to expert and beyond, and with short lift lines, you won't waste a minute of your winter vacation! 
Packing For Your First Ski or Snowboard Trip
If you've been in cold weather before, you know that proper clothing is key. When you're spending the entire day in the cold with windy or snowy conditions while you perform an athletic act, what you wear makes all the difference. It's important to plan for extreme changes in body temperature by dressing in layers, and managing your heat to minimize perspiration, keeping you comfortable and warm.
The details will depend on your chosen ski destination, but there are some essentials that every snow-sliding enthusiast needs before they set foot on snow. Take a look at our list to be sure your have each one of the top 10 clothing necessities below:
Thermals for base layers.

Puffy, insulated jacket as a mid-layer.

Thick, waterproof coat designed for skiing or snowboarding.

Waterproof pants designed for skiing or snowboarding. (It's important to note that t

here is a difference between the style and functionality of ski and snowboard pants. Snowboard pants often have a zipper located on the inside of the ankle which is problematic for skiers, while pants for skiiers may not fit properly over a snowboard boot.)

Goggles made for skiing or snowboarding.

Snow helmet.

Gator or face mask.

Waterproof gloves with removable liners.

Insulated socks (and be sure to pack multiple pairs).

Well-fitting ski or snowboard boots.
First Time Skiing Tips
There are a lot of things to think about as you begin your journey into the sport of skiing, and it's important to consider all of the information shared previously, but try not to overthink it. Skiing is supposed to be fun and it helps to remind yourself of that fact throughout your day, but we also have a few tips and tricks to ease the process.
Visualize yourself out on the slopes, dressed in your ski outfit from head to toe — including boots, skis, and poles — and use it as a mental checklist for packing. Be prepared for temperature changes and don't forget to pack your lift ticket!

Mentally prepare yourself for the process of learning something new and embrace a growth mindset, realizing it might not be easy, but it's worth it.

As you ski, remember to keep an athletic, yet relaxed stance. The goal is to move fluidly down the mountain while letting your skis do most of the work.
First Time Snowboarding Tips
As a beginner in the sport of snowboarding, you're likely to have a lot of questions. Similar to skiing, you need to make sure you do your research to select the right resort destination and acquire the proper clothing, but there are a few key differences between the beginner experiences in each sport. Read through the following tips to be sure you're truly ready to start learning how to snowboard.
Snowboarding for the first time can be challenging. Be prepared to take a spill, both mentally and physically. There's a high probability that you'll land on your backside as you're starting out, so it helps to have some padding to soften the blow. Remember to roll with the punches!

Waterproof pants are extremely important, as you'll be spending a lot of time on your butt whether you fall or not. Some resorts have benches, but you'll often have to sit on the snow to get in and out of your bindings.

Stay loose as you snowboard and remember to enjoy the ride. Imagine the mountain is your wave and work with your board to surf down the snow.
After Your First Day on the Mountain
It's always nice to come home to a cozy vacation rental to stretch and enjoy hot chocolate, or a warm beverage of your choice. Having a hot tub in your cabin is an added bonus! You'd be surprised how relaxing it is to take a dip in the hot tub after a full day out in the snow.
As you plan your first ski or snowboard trip, use VacationRenter to find your home in the mountains. Our platform even has a "ski in / ski out" and "hot tub / spa" filter so you can find exactly what you need for the perfect winter getaway.