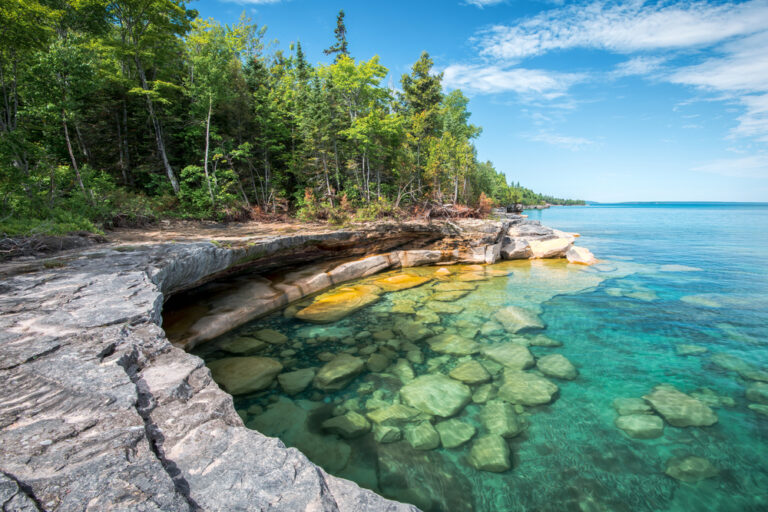 Michigan has more freshwater coastline than any other continental state. It borders four of the Great Lakes — Lake Michigan, Lake Superior, Lake Huron, and Lake Eerie — and is complemented by hundreds of inland lakes, beaches, and cute little towns.
Visitors from around the world come to enjoy the state's natural bounty of freshwater, with an abundance of vacation rentals and cottages, in addition to a variety of midwest beach towns, state parks, and popular lakeside attractions. Whether you want to hang out at the beach, play watersports, go fishing, boating, biking, or take a road trip, you can enjoy the lakes of Michigan year-round.
This guide dips a toe into some of the things you can do in the Great Lake State.
Best Things to Do at Lake Erie Beaches
Lake Erie is the shallowest and warmest of the Great Lakes, known for its commercial and sport fishing — especially for yellow perch and walleye. Sandy beaches, hiking trails, lagoon and shore fishing, birdwatching, and historical sites are among the things enjoyed here.
Lake Erie also connects many large U.S. metropolitan areas, including Detroit, Cleveland, Toledo, and Buffalo. It has many major shipping ports and offers connections to Lake St. Clair and the Canadian side.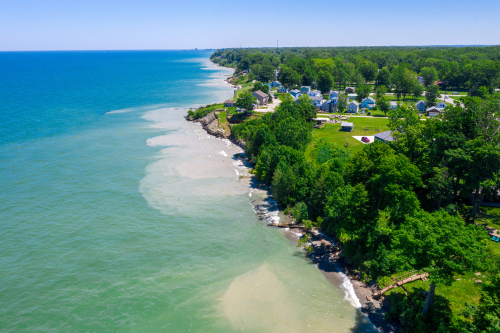 Best Lake Erie Beaches in Michigan
Sterling State Park (the only state park on Lake Erie) provides one mile of beachfront for sunning, swimming, and boat launches. Its 1,300 acres also offer opportunities for shore and lagoon fishing, camping, hiking, and more. Only a few miles away is the beach in Luna Pier, which has a boardwalk and lighthouse.
While not technically on Lake Erie, Belle Isle Park is only a five-minute drive from downtown Detroit and has a half-mile-long beach and water slide beside the Detroit River, connecting Lake St. Clair and Lake Erie. Belle Isle was designated as a Michigan State Park in early 2014 and has an aquarium, conservatory, maritime museum, athletic fields, tennis courts, and more.
Towns and Cities on Lake Erie
Monroe is an old manufacturing and port city found on the western shore of Lake Erie. The quiet city offers various vacation rentals, water recreation activities, and historical attractions, such as the residence of General George A. Custer. It was also the site of one of the largest battles of the War of 1812. Every August, it attracts about 40,000 music lovers with the River Raisin Jazz Festival.
About 10 miles south of Monroe is Luna Pier, with a long crescent-shaped pier that gives great views over Lake Erie. A marina, restaurants, and beach are among the attractions in the city.
Lake Erie Attractions
The 1,607-acre Lake Erie Metropark in Brownstown Township near Gibraltar offers three miles of shoreline, plenty of wildlife and wildfowl in meadows, marshes, and lagoons, a child's play area, an 18-hole public golf course, and a museum and nature center. People also come for Hawkfest — the annual fall hawk migration.
Just south of Metropark is the 4,000-acred Pointe Mouillee State Game Area, one of the world's largest freshwater marsh restoration projects. Since 1947, it has hosted its annual Waterfowl Festival in the fall, making its shorebird viewing one of the oldest events of its kind in Michigan.
During the War of 1812, the Great Lakes saw a lot of battle action. One of the most important of these conflicts was designated as the River Raisin National Battlefield Park. Of the approximately 1,000 Americans who fought in it, only 33 escaped death or capture. "Remember the Raisin" became a war cry rallying support to the U.S. cause.
Things to Do at Lake Michigan
As the only Great Lake contained entirely in the United States, Lake Michigan does its state proud and might be its main draw for tourist and resident fun. About 12 million people live along the shores of Lake Michigan, and its major port cities include Chicago, Milwaukee, Green Bay, and Gary.
There are dozens of beaches, winery tours, urban adventures in nearby Detroit, hidden waterfalls, and meandering coastal trails — the list of places to visit and things to do is almost endless. The clear waters of Lake Michigan can also be seen in different shades of blue.
Lake Michigan Beaches
Lake Michigan offers dozens of beaches, some of them known among the world's best. Among the sandy attractions are the giant sand dunes found in locales like Sleeping Bear Dunes National Lakeshore — with its dunes tower 450 feet above the lake — and the shores of the Manitou Islands.
Michigan offers many miles of public beaches, ranging from quiet ones surrounded by beautiful nature to busier ones with many activities. You can enjoy soft-sand beaches in places like St. Joseph's Silver Beach and Ludington State Park.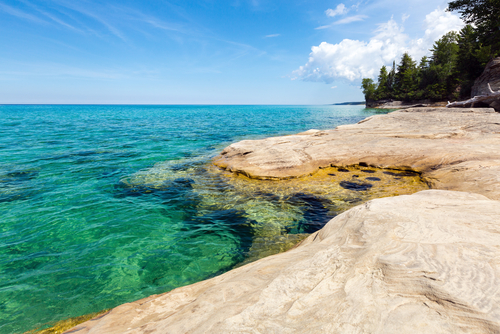 Towns and Cities on Lake Michigan
There are many beach towns and cities dotted around Lake Michigan, including:
Lake Michigan Attractions
As noted, Lake Michigan has a lot to offer, ranging from sailing and swimming to small-town cultural festivals and wine tours. You can also take a long hike to the Sleeping Bear Dunes and enjoy the hills of sand that look as if they belong to another planet.
Other activities consist of a three- or four-day voyage on the 110-foot Keweenaw Star out of Charlevoix — seeing lighthouses, freighters, and natural scenery. If you like to fish, Lake Michigan is a great place to drop a line, with salmon weighing 15 to 25 pounds. Or you can play golf at a world-class course with stunning views over the lake. You can also travel down the Tunnel of Trees, a canopied section of Michigan Highway 119 that runs from Harbor Springs to Cross Village, offering lake views in breaks in the foliage. The drive is especially spectacular when fall colors turn!
Things to Do at Lake Superior
Lake Superior comes with a lot of impressive statistics. At 32,000 square miles, it's the largest freshwater lake in the world by surface area. It contains half the water of the Great Lakes, which in turn contains 20% of the world's freshwater. At its deepest point, it would completely submerge the Empire State Building.
Besides that, it is a great lake to visit for its superior attractions. You can admire the view from towering white limestone cliffs or take a circle tour with 1,300 miles of continuous scenery and attractions. Fishing, hunting, and hiking are all spectacular activity options.
Lake Superior Beaches
Fine sand beaches, black sand beaches, or pebble beaches — you have many choices at this northern Great Lake. The deep lake tends to be chilly, so quick dips are recommended. Twelvemile Beach in the Pictured Rocks National Lakeshore offers a huge, white sand beach nestled between the spectacular cliffs of the 73,000-acre federal park.
Taking the remote Chapel Rock and Beach Trail in the upper peninsula, you'll go through three miles of sandstone gorges to arrive at the picturesque Chapel Falls, the secluded Lake Superior Beach, and Chapel Rock, a sandstone pinnacle topped by a single fir tree.
Marquette County in the upper peninsula offers a few pebble beaches. These include Black Rocks Beach, nestled between two cliffs, and Pebble Beach, where golden sand changes to smooth pebbles where the beach meets the water.
Towns and Cities on Lake Superior
Not only is Marquette the largest city in the upper peninsula, but it is also a key port. It is the gateway to outdoor activities and attractions, including multi-tier waterfalls, biking, hiking, kayaking, paddling, and fishing for species that include:
Chinook salmon
Coho salmon
Lake trout
Whitefish
Steelhead
Splake
Copper Harbor is a beautiful village on the northernmost shore of Lake Superior, which boasts hiking, biking, kayaking, bird-watching, and beaches.
Home of the Porcupine Mountains, Ontonagon County includes the communities of Ontonagon, Silver City, and White Pine. You can kayak or canoe on Lake Superior, tour lighthouses, fish for trout or salmon, and hike miles of nature trails. The mountains on the lake's shores boast the largest territory of old-growth hardwood woodlands west of the Adirondacks, filled with black bears, river otters, moose, deer, and other wildlife.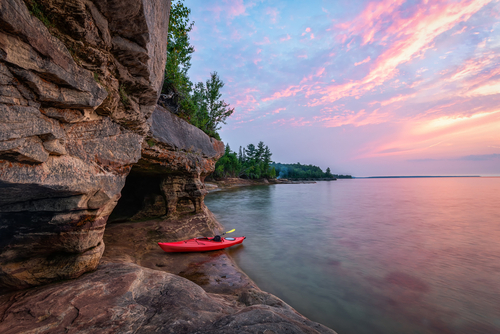 Lake Superior Attractions
Around Munising, you'll find the Pictured Rocks and limestone cliffs lining nearly 40 miles of the national lakeshore. The name comes from the colorful swooshes and whorls painted on the rocks by mineral-laden water. Waterfalls, sandy beaches, and lighthouses are all close at hand. The Log Slide Overlook is a 300-foot-high sand dune that provides stunning views over the Grand Sable Banks and Dunes.
Between Lake Superior and Lake Michigan, in the middle of Palm Book State Park, you'll find Kitch-iti-kipi (the "Big Spring") — the state's largest spring — 200 feet across and 40 feet deep. The royal blue water continually refreshed by underwater fissures is amazingly clear, so you can see fish and ancient felled trees far below the surface.
As a huge lake with wild storms, Lake Superior has had its share of maritime tragedies, including the SS Edmund Fitzgerald's sinking. Learn more about them at the Great Lakes Shipwreck Museum in Paradise. At the shipwreck museum, you can see the original ship bell of the Edmund Fitzgerald, as well as Whitefish Point Light Tower. This light tower is the oldest operating lighthouse on Lake Superior, which has been standing guard for more than 150 years.
Things to Do at Lake Huron
The beautiful waters of Lake Huron provide an irresistible siren song to visitors, with great beaches, historic sites, campgrounds, vacation rentals, watersports, lakeside parks, and much more. Lake Huron is the second-largest Great Lake, with a surface area of 23,000 square miles.
The Lake Huron shoreline of the lower peninsula is known as the "Sunrise Side" because of the spectacular sunrises that visitors can admire over the water. The clear waters of Lake Huron invite fishing, canoeing, and other forms of boating and recreation. However, boating in calm weather is advised since storms over the lake have sunk more than 1,000 ships over the years, many of which can be viewed while snorkeling, scuba diving, or taking a boat tour.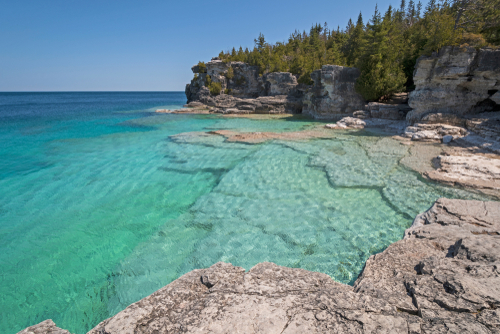 Lake Huron Beaches
Soft sands, sweeping water views, and activities for restless families are among the reasons to visit Lake Huron beaches. Oscoda Beach Park, located only two blocks from downtown Oscoda, offers several hundred feet of white-sugar sand, playground equipment, a boardwalk, a bandshell, bathhouses, and picnic tables. Nearby Greenbush and Harrisville also have some of the cleanest sandy beaches in the area.
In the beach town of Caseville, you'll find a large beach and county park with a lot of chances to go boating and fishing. Lakeport State Park is also a family-friendly destination that offers sugar-sand beaches, only an hour's drive from metro Detroit and a short walk to the quaint village of Lexington. Hiking, biking, a Maltese castle, and views of one of the most picturesque harbors on the lake are some of the attractions here.
Towns and Cities on Lake Huron
Cheboygan is located where the Cheboygan River and Lake Huron meet. In warmer weather, visitors can go hiking, fishing, kayaking, and dine out at one of the many restaurant patios. They can also explore the Inland Waterway, a 40-mile-long water trail that joins seven state parks, 20 nature preserves, three rivers, three lakes, and many charming towns.
Found at the border of U.S. and Canada, at Michigan's Thumb, Port Huron offers historical attractions, such as the railway tunnel linking Port Huron and Sarnia, built in the 19th century, and the Thomas Edison Depot Museum.
Bay City straddles the Saginaw River, close to where it flows into Lake Huron. Bay City State Park has more than 2,000 acres of wetland woods and marshlands, sandy beaches, and great bird-watching opportunities. People can also tour a destroyer from the Vietnam era, the USS Edson, at the Saginaw Valley Naval Ship Museum.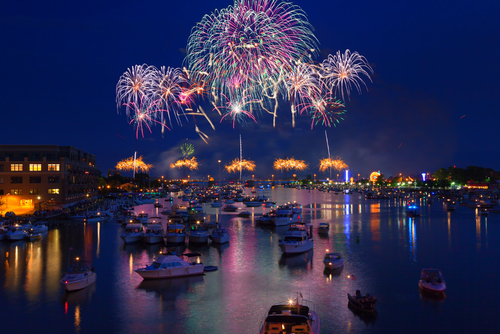 Lake Huron Attractions
Located where the waters of Lake Huron and Lake Michigan meet, Mackinac Island is an automobile-free destination that remains a big tourist draw, with its pastel-colored Victorians, beaches, good dining, and shopping. Visitors can also enjoy hiking and biking trails, horse-drawn carriages, a lilac festival, a golf course, and much more.
Mackinac Island is connected by ferry to Mackinaw City. It also has an old British fort, Colonial Michilimackinac.
Michigan boasts more lighthouses than any other state, and many are found along Lake Huron's shores, including:
40 Mile Point (Rogers City)
Old Presque Isle and New Presque Isle
Tawas Point
Pointe aux Barques (Port Hope)
Fort Gratiot (Port Huron)
Lake Huron also features many shipwrecks that can be seen through crystal clear waters while snorkeling, scuba diving, or joining a charter boat tour from Alpena in Thunder Bay — home to about 200 sunken boats.
You can also rent a kayak or paddleboard to make the seven-mile round trip to see one of the state's unique attractions, Turnip Rock, hailed as "one of Michigan's greatest natural wonders."
Amazing Inland Michigan Lakes
Michigan not only has four Great Lakes, but it also has an abundance of great inland lakes. The state has more than 11,000 of these inland lakes, providing opportunities for ice fishing in winter, and boating, swimming, fishing, and much more in warmer weather. Some of the best inland bodies of water to visit include:
Torch Lake
Famous for its tropical blue waters, Torch Lake is a very popular boating destination where young people like to socialize during the summer. Apparently, you can even get a pizza delivery by boat. A two-mile sandbar at its south end makes Torch Lake great for swimming.
Through the Chain of Lakes water trail system, you can also travel by boat to lakes that include Elk, Skegamog, Intermediate, and Bellaire.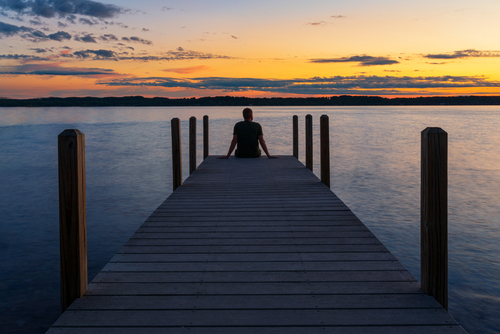 Higgins Lake
A few minutes north of Houghton Lake, Higgins Lake in Lyon Township offers a more serene experience than its large neighbor. The clear, deep lake in Roscommon is just a few minutes' drive from Houghton Lake. Visitors can relax at the beach in South Higgins Lake State Park, with a swimming area that stretches half a mile.
Fishing and boating are also popular activities here, as are wildlife viewing and taking in sunsets.
Houghton Lake
Houghton is Michigan's largest inland lake, covering 22,000 acres. This big, shallow lake in the center of the state is known for great fishing and motorized watersports. Hunting, golfing, and driving all-terrain vehicles are also on the menu.
Houghton Lake also has a weekend jamboree for ATV enthusiasts, a Fireman's Memorial Festival, winding trail walks, and a 450-seat log cabin theater originally opened in 1941. Parents can take their kids to an amusement park, water slide, and other child-friendly attractions.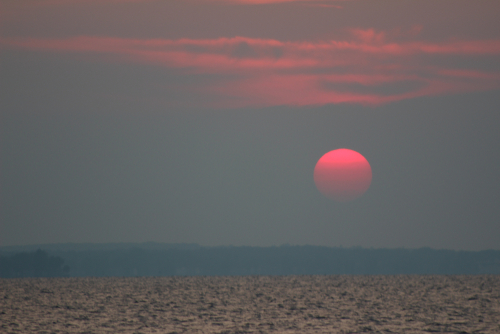 Lake Cadillac
The Cadillac Area Business Bureau boasts that the lake features "over 400 acres of prime fish-holding weed cover making it an ideal lake fishing destination." By pier fishing, shore/wade angling on almost 1.5 miles of shoreline, or fishing on a boat, visitors can hope to catch walleye, perch, bluegill, panfish, bass, and northern pike.
Families might want to spend time swimming and sunning at Kenwood Park and Beach, with a bathhouse, a lakeside pavilion, and pavilions in a heritage park across the street. The Cadillac area also includes several hiking and biking trails and historical attractions.
Walloon Lake
One of the northernmost inland lakes, Walloon — in Melrose Township — also boasts clear, blue waters enjoyed by Ernest Hemingway. It's no surprise that there is good fishing to be had here, as well as golfing, boating, and watersports.
The small, seasonal Village of Walloon Lake has a number of artists and craftspeople selling their wares and a dining spot that overlooks the lake.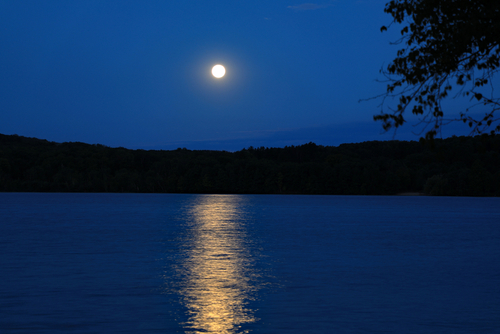 Discover the Perfect Michigan Vacation Rental
If you want to explore the lakes of Michigan, VacationRenter is the best place to start looking for vacation rentals. Our platform brings together rental options from the leading travel sites and only shows the best results for you. Having personalized results means you can spend less time searching and more time enjoying your Michigan lake getaway!