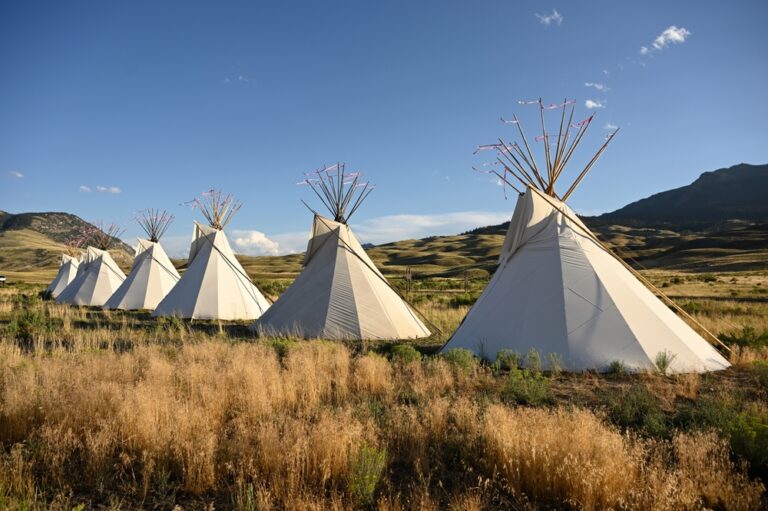 Nestled within Idaho and Wyoming, Yellowstone National Park is the world's first national park. It also has more geysers than any other place on Earth, with the most famous one being Old Faithful, erupting on average about 17 times a day. Yellowstone is world-renowned for its bison herds and is home to other wildlife such as bears, moose, wolves, otters, badgers, and elk, just to name a few.
In addition to all of its breathtaking scenery like the Yellowstone River and corresponding waterfalls, there are many outdoor activities to partake in. Keep in mind when planning that many people consider September and October to be the best months to visit. Since school is in session, you'll be able to enjoy smaller crowds and milder weather.
It might sound hyperbolic, but it's true: Yellowstone can provide some of the best glamping experiences of your life.
Under Canvas Yellowstone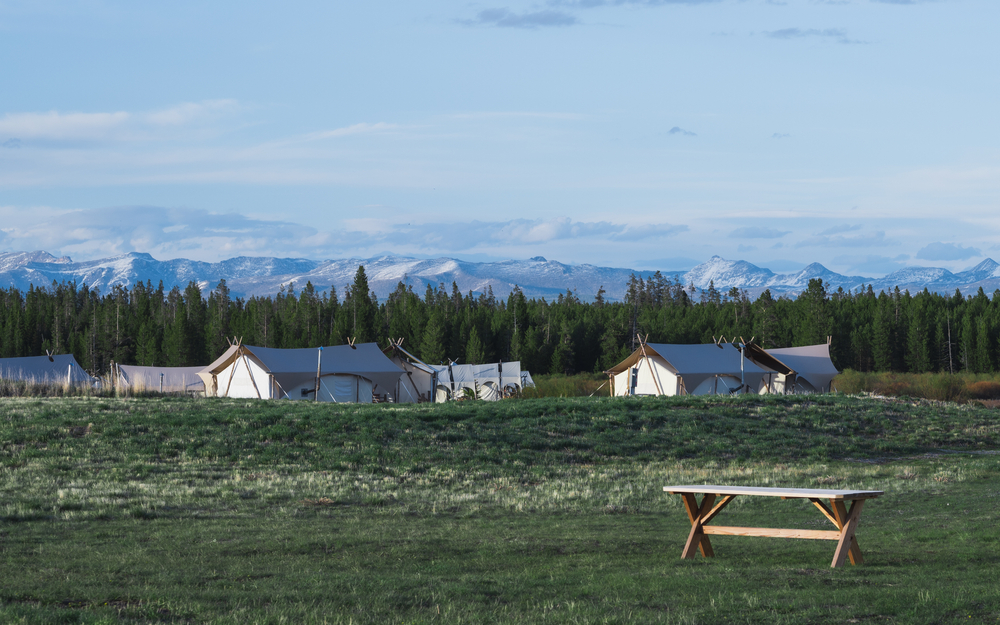 Under Canvas Yellowstone is located near Yellowstone National Park — only 10 minutes from the West Entrance — and leads you right to Montana's diverse wildlife, unique hydrothermal and geological wonders, and endless outdoor activities. This safari-inspired glamping destination allows you to truly explore the wonders of America's oldest national park.
Amenities
A firepit and s'mores
On-site dining options
USB battery packs
Organic bath products
A guest experience coordinator and complimentary camp activities
There is also daily housekeeping, so you can truly focus on enjoying your getaway and making lasting memories with your loved ones.
Whether you plan on bringing the entire family or want something more intimate for just two people, Under Canvas Yellowstone has glamping tents to fit your needs. The Madison River Suite can fit up to seven people, while the Stargazer sleeps up to two, ensuring the best camping experience for everybody. And your furry family member doesn't have to stay at home because they're pet-friendly!
Eycat Lodging Company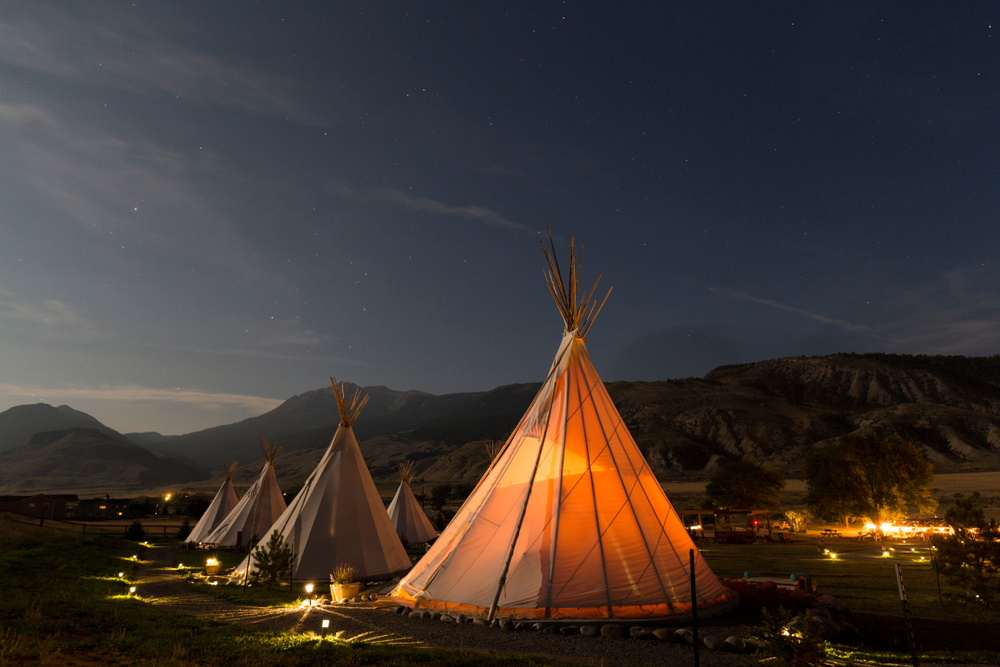 Standing for "East Yellowstone Cabins and Tipis," Eycat Lodging Company is approximately 11 miles west of Cody, Wyoming, roughly 37 miles east of the Eastgate entrance of Yellowstone National Park, 40 miles south of Beartooth Pass, and half a mile from Buffalo Bill State Park. This glamping destination has a lot to offer, and due to its close proximity to so many wonders of the west, it's your hub for day trips into Yellowstone National Park, Big Horn Range, the Grand Tetons, Beartooth Range, and so much more.
You'll be able to connect with nature and explore the outdoors without having to sacrifice the comforts of home.
Amenities
On-site guest laundry
Complimentary Wi-Fi
Campfire pit
Half a basketball court
Frisbee golf and horseshoe pits
Free massage chairs
His-and-her bathhouses with shower bays and toilets
Although Eycat Lodging Company is not pet-friendly for guests, there are numerous on-site animals like llamas, goats, and chickens.
Buffalo Valley Ranch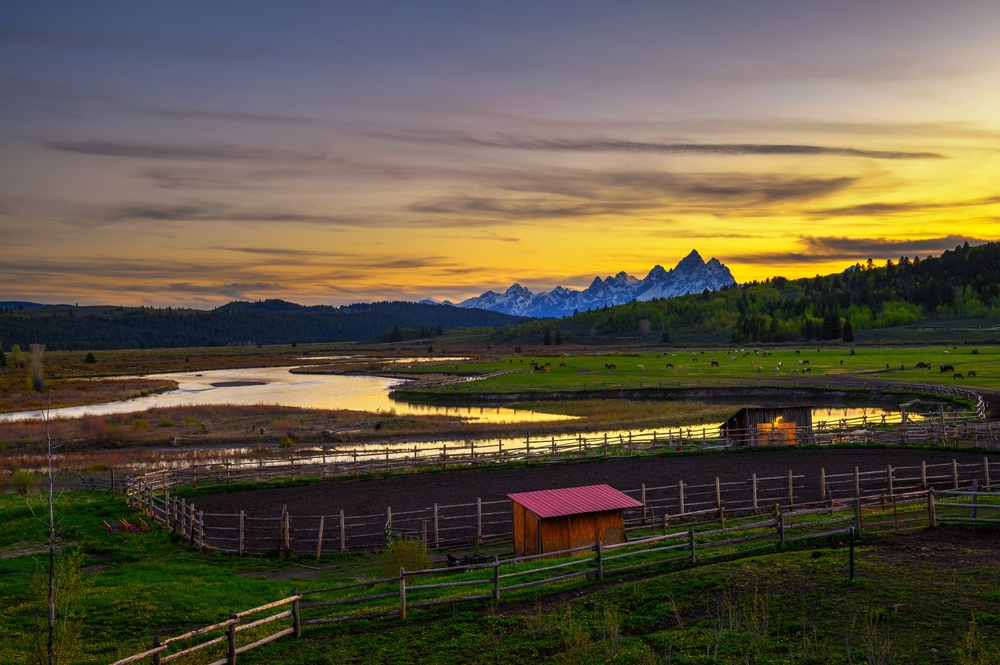 With outdoor activities like horseback riding, guided fly-fishing, scenic float trips, and trail rides, this is the perfect glamping spot for adventurous glampers. Buffalo Valley Ranch is located in Moran and is only a 23-mile drive from Jackson Hole Airport.
Once you're there, you'll be a mere 13-minute drive from Oxbow Bend, a 14-minute drive from Cunningham Cabin, and a 22-minute drive from Grand View Point for a spectacular view of Grand Teton National Park. Be sure to check out Bronze Boot Bar, which is over 100 years old and has hosted famous celebrities and presidents.
Amenities
Pet-friendly
Complimentary Wi-Fi
Some activities you can enjoy in the area include guided white water rafting tours, private wildlife tours, and kayaking and canoe trips.
Yellowstone Adventure Base Camp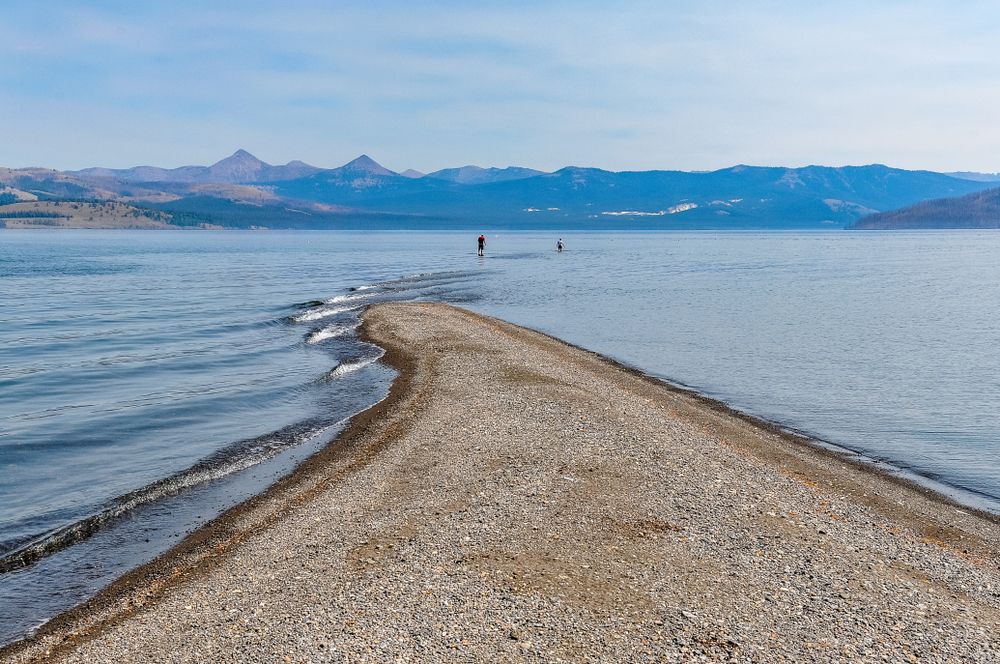 Yellowstone Adventure Base Camp is located in the heart of Yellowstone National Park, giving you an amazing home base near the West Thumb of Yellowstone Lake. If you're looking to spend your days exploring the beauty that Yellowstone offers while having a cozy place to come back to at night, this is the place for you!
Landmarks such as Old Faithful, the Continental Divide, and Mount Sheridan are all located just down the road from this bunkhouse travel trailer. Bring your family and friends, it offers space for up to eight guests with a queen bed, two double beds, a convertible dining area, and a removable ottoman for added space.
Amenities
Pet-friendly
32″ HDTV
Full L-shaped kitchen
Residential-sized walk-in shower
Exterior awning with LED lights and speakers
Once your booking request is received, the managers will coordinate with you for a full-service delivery of the trailer to your preferred location. Keep in mind that this trailer requires a minimum 30-foot RV site, but thankfully there are a lot to choose from scattered all over the park.
Plan Your Next Yellowstone Glamping Vacation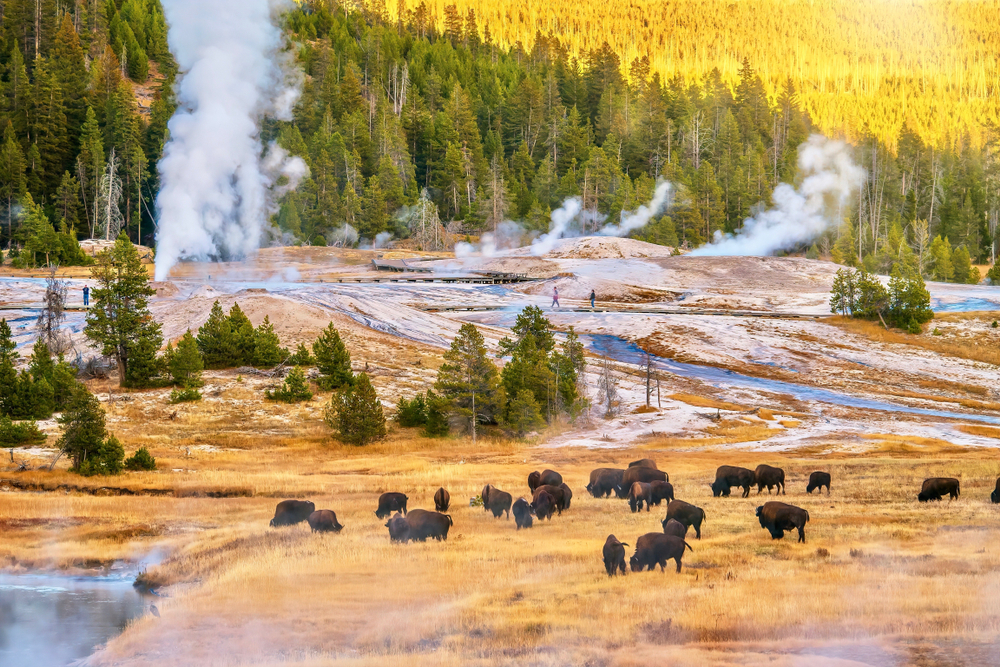 There are a lot of amazing options to choose from when booking your getaway to Yellowstone National Park. With the stunning scenery, wildlife, mountain views, hot springs, and a multitude of activities at your fingertips, Yellowstone is a great spot if you're looking for an unforgettable glamping experience.