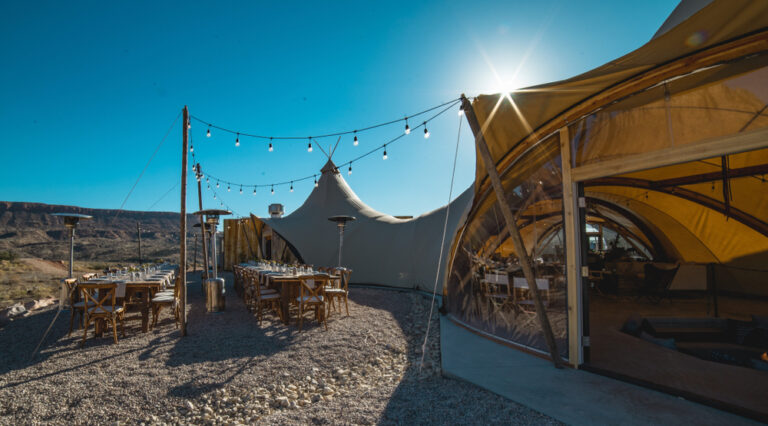 As the first national park created in the state of Utah, Zion National Park is brimming with alluring sights to explore. There is a 5,000-foot elevation change from the highest to the lowest points within the park. Because of the diverse landscape, you can find plateaus, canyons full of red rock, and sandstone cliffs. The Virgin River runs through the park and you can find streams, tributaries, and waterfalls that run off of it. All of this natural beauty provides life for over thousands of species of plants and all manner of wildlife.
The ideal glamping experience here may look different for everyone. Your perfect vacation may include amenities like spa services and air conditioning, or it may require kid-friendly activities. Whether you're looking for a canvas-tent experience or prefer a yurt, Zion has it all. Below are some of the top glamping destinations in the area.
Under Canvas Zion
Under Canvas Zion provides a glamping experience at a site located about 20 miles outside of Zion National Park. The safari-style tents sit on 196 acres of land in the desert town of Virgin. The glamping resort offers several styles of canvas tents, including the Suite, Stargazer, and Deluxe. Each tent has a private bathroom with a hot shower, stocked with organic products. The king bed is made up of soft linens.
Under Canvas Zion also offers dining from a seasonal and locally-sourced menu. Fire pits with s'mores are available for guests. Lastly, they offer a variety of complimentary activities, including music, yoga, and kids' activities.
Mt. Carmel Junction
Traveling to Mt. Carmel Junction will bring you to the crossroads of two of the most scenic routes in Utah: Scenic Byway 9 and Scenic Byway 89. The town is considered to be at the center of Utah's national parks, with several parks only a short drive away. In addition to the parks, you can find five slot canyons or schedule a jeep tour for you and your family.
Springdale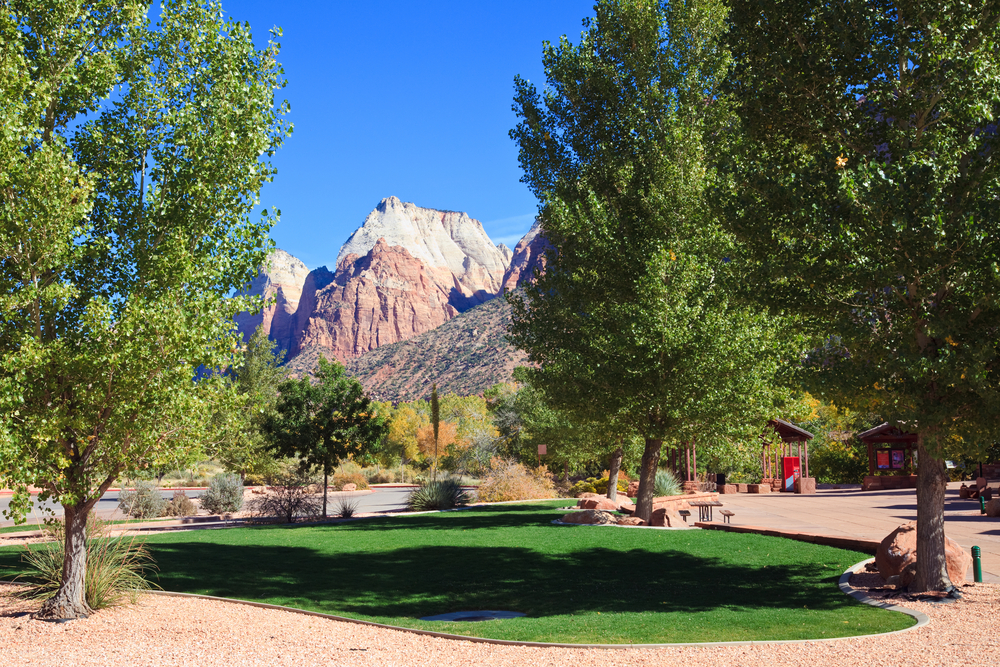 Known as the base camp of Zion National Park, Springdale can be found on the southern board of the park. The small town offers more than lodging, restaurants, and shopping. They also have aerial tours, hiking, mountain biking, and horseback riding. You can spend your day tubing on the Virgin River or exploring the local galleries before attending a performance at the outdoor amphitheater. If you're interested in something a little spooky, Grafton is a popular ghost town located just outside Springdale.
Glamping Options
Before heading to Zion, look for a place to stay that offers everything you could want out of a vacation. There are several glamping options to choose from, such as mountain views, canvas tents, and free Wi-Fi at Zion View Camping or a playground for the kids and an outdoor barbeque at Zion Glamping Adventures. Check available rentals in and around Springdale today.
Virgin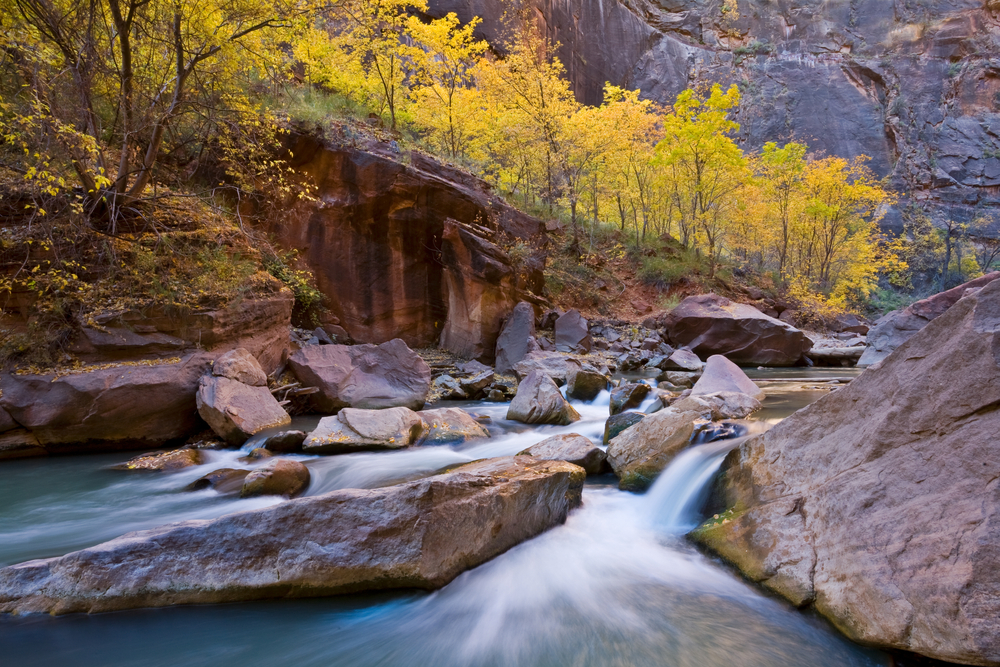 Virgin Town is located about 14 miles west of Zion off State Route 9, sitting along the Virgin River. If you visit Virgin Town, you're relatively close to more than just Zion. It's also near Snow Canyon State Park, Red Cliffs Desert Reserve, and the Park Slot Canyons.
Glamping Options
Maybe your perfect Virgin vacation involves a tiny home, hot tub, or hammocks to gaze at the night sky. Glamping at Zion Wildflower includes free Wi-Fi, a sun terrace, and free on-site parking. Or you may prefer to check out the tiny homes at Zions Tiny Oasis, which also offers free Wi-Fi and hot tub access.
La Verkin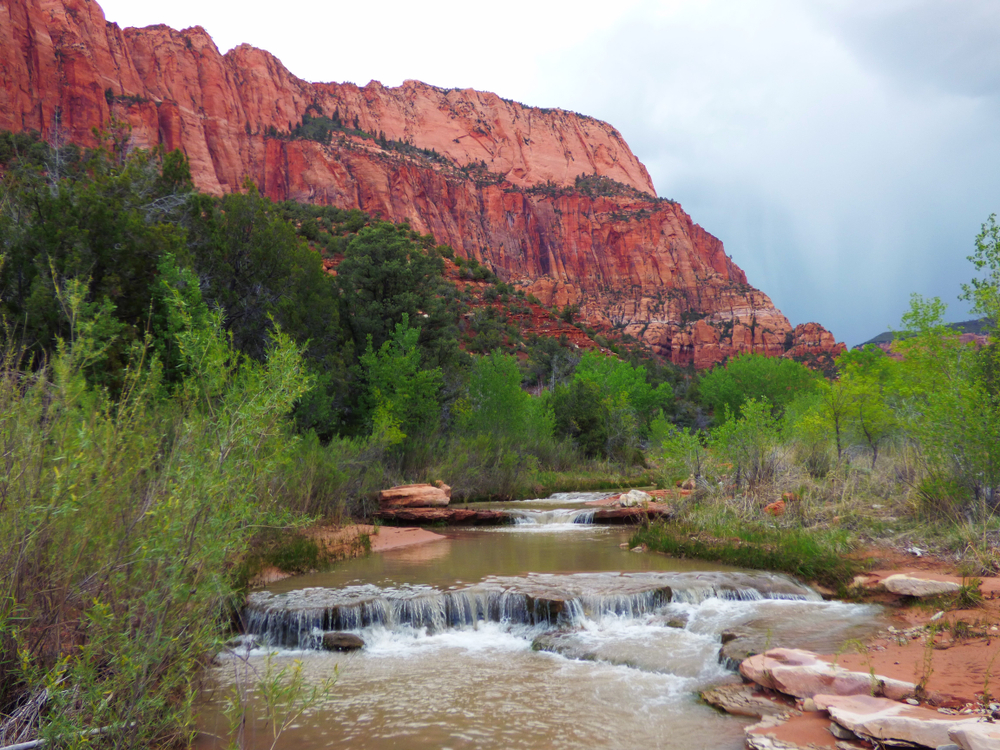 La Verkin sits on the north bank of the Virgin River. It's surrounded by Zion National Park, Bryce Canyon National Park, and Grand Canyon National Park. The La Verkin Pah Tempe Hot Mineral Springs is also located close by. If you stay in La Verkin, it's only a short drive to all kinds of different experiences, including museums, theaters, and even the Dinosaur Discovery Site at Johnson Farm. You don't have to travel far, though, to enjoy all the hiking and mountain biking the area offers.
Glamping Options
Ready to book the perfect vacation rental with a swimming pool or a campsite with a shower house for your La Verkin adventure? If you want a lightweight camper to glamp in, check out Glamping 101, which can be set up and ready to go anywhere you want in La Verkin. The Memory Maker is another RV you can rent that is pet-friendly.
Washington
Washington City was formed by a group led by Bringham Young to grow cotton in southern Utah, called the Cotton Mission. Today, Washington City is a thriving town that makes up part of the St. George area. The city has a lot of history and — as you might expect — a lot of historic sites you can visit, including Warm Springs, the Cotton Mill, the Granary, and the Old School and Museum. If you're looking to enjoy nature while there, you can visit the hiking and biking trails and the beautiful city parks.
Glamping Options
VacationRenter has the perfect spot for you to stay during your Washington City vacation. You can find the perfect place to glamp with an RV rental or bring your vacation indoors with a villa or bed-and-breakfast rentals.
New Harmony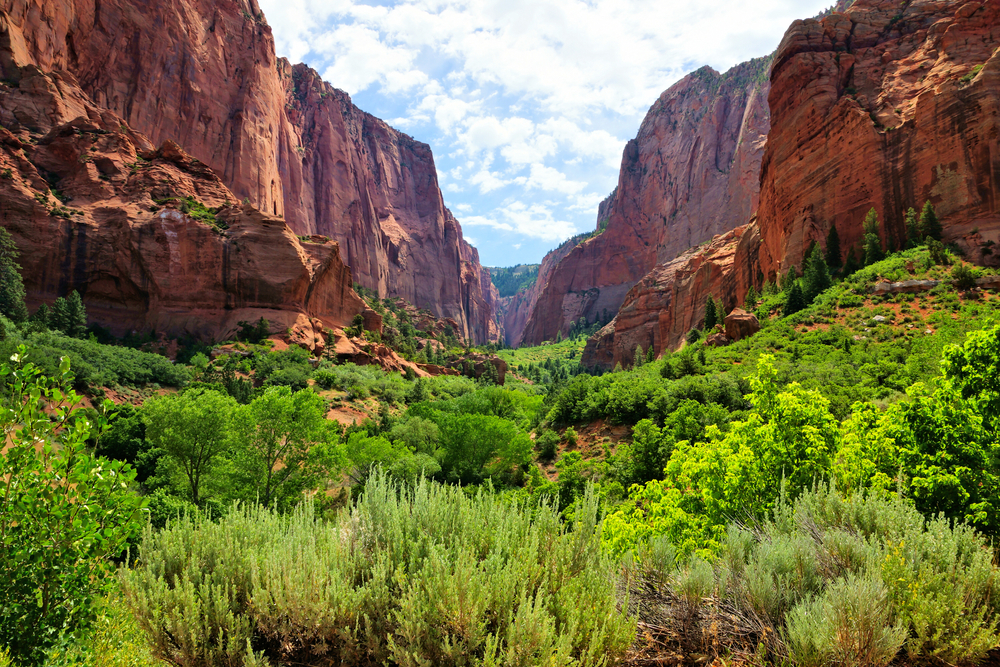 New Harmony is surrounded by the Pine Valley Mountain, Bumblebee Range, and Kolob Canyon. With only 200 residents, you can find a lot of wildlife nearby. The town also has two parks: Town Park is fenced in and features a playground, horseshoes, and picnic tables. Alternatively, Comanche Nature Park is located on 40 acres with a lot of hiking trails.
If you're looking for a peaceful and serene location with all the best nature has to offer, New Harmony might be the place for you.
Plan Your Next Zion Adventure
Zion National Park is a wonderful glamping destination for so many reasons: diverse landscapes, wildlife, and activities that range from hiking and rock climbing to picnicking and shopping. It's no wonder that Zion has made it onto the bucket lists of so many people. Start planning your escape today!