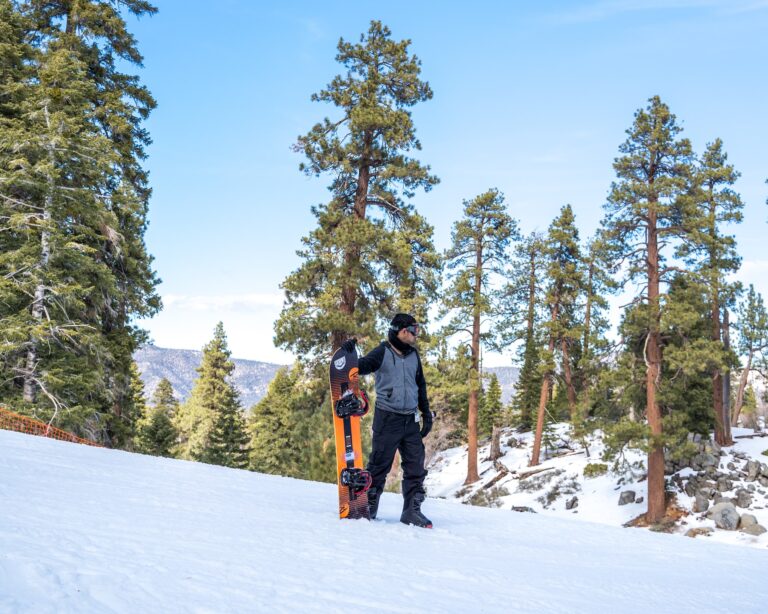 Big Bear, California, is a four-season destination renowned for its amazing natural beauty and rich history. Originally a hub for gold mining, Big Bear Lake played a role in California's gold rush from 1860 through the early 20th century. Although Big Bear's first hotel opened in 1888, it didn't become a popular vacation destination until the 1920s, when skiing and tobogganing were introduced as winter activities.
Today, Big Bear winter activities remain a huge draw to the area. In fact, many folks claim that Big Bear Mountain Resort has Southern California's best skiing. From skiing and snowboarding to zip-lining and bald eagle watching, Big Bear, located roughly two hours away from Los Angeles, offers a variety of things to do, see, and experience — making it one of the premier winter vacation destinations in the United States.
Best Snow Activities in Big Bear
Winter is one of Big Bear's two peak seasons. It gets plenty of glorious sunshine, and the temperatures typically range from the mid-20s at night to the mid-40s during the day. While skiing and snowboarding is far and away the biggest draw, many people head to this mountain town for its array of winter-related recreation. Read on for some of the favorites that bring people back year after year.
Sledding and Tubing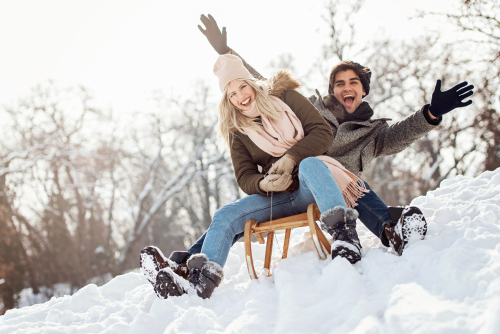 Not a skier or snowboarder? No problem! If shredding the slopes isn't your thing, or you're looking for an activity to help you mix things up, consider snow tubing at Big Bear Snow Play or taking a ride on the Alpine Slide at Magic Mountain. Ride the magic carpet up, and then laugh your way down for family fun that's sure to put a fine point on your trip.
Bald Eagle Watching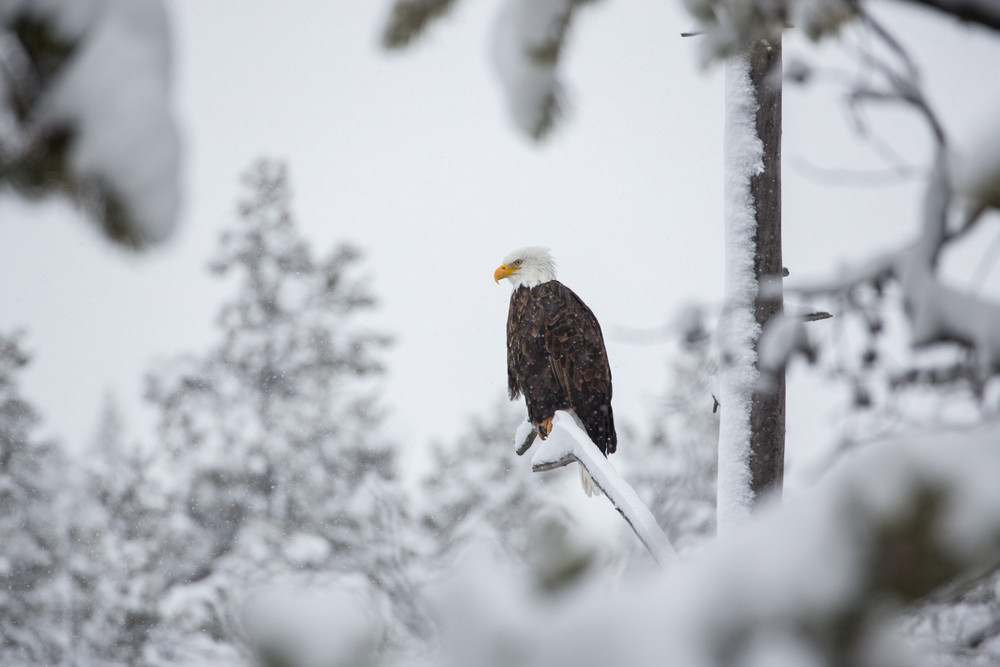 For those new to the magic of Big Bear vacations, the number of bald eagles flying overhead can be surprising. Winter is actually a great time to see these majestic birds and learn more about them. Visit the rescued bald eagles at Big Bear Alpine Zoo, or join a guided eagle walk that's run by volunteers who record the winter bald eagle count at Big Bear Lake. It's tough to beat the thrill of watching an eagle swoop down to snag a fish from the lake while you're trudging through the snow.
Zip Lining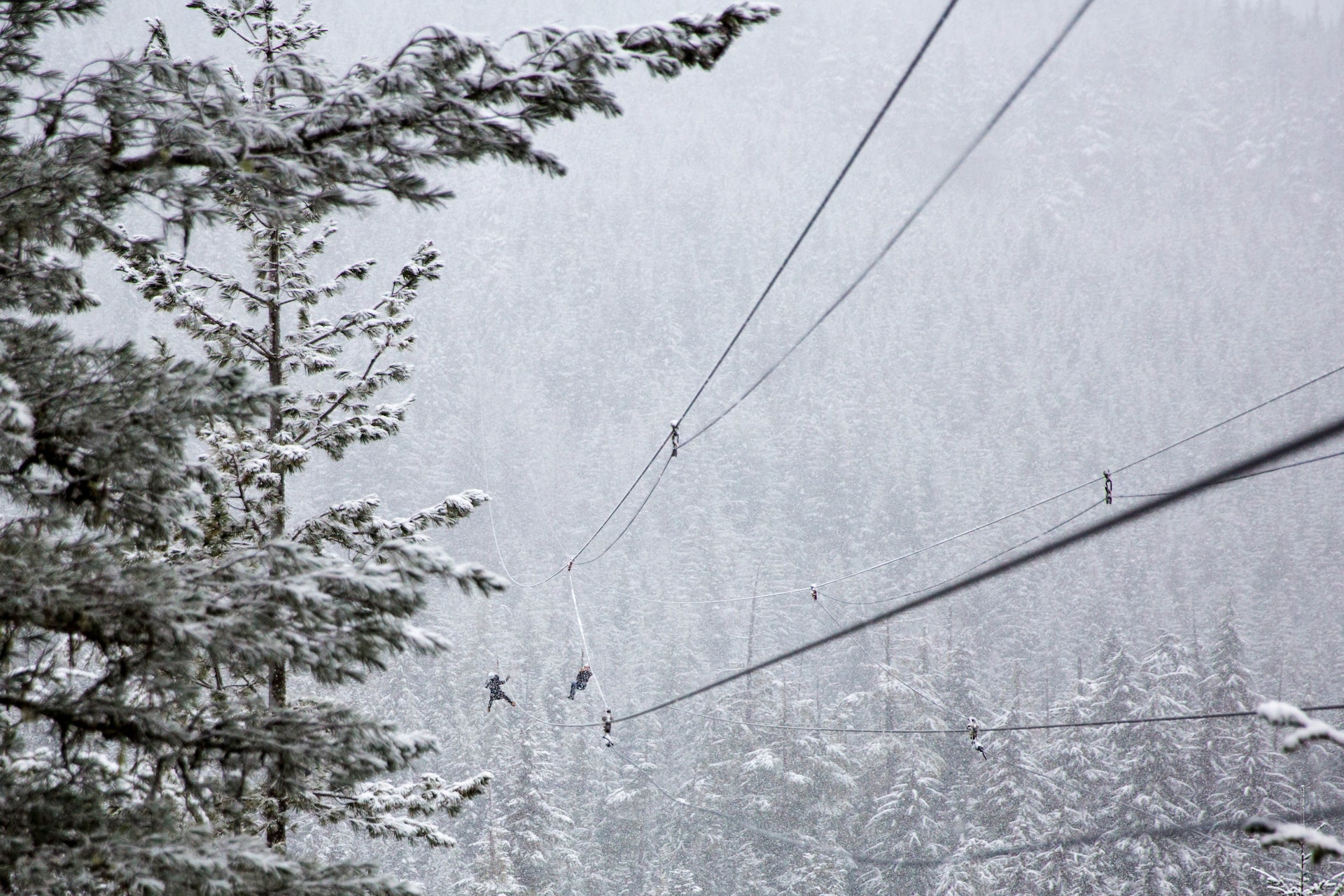 Some people get a rush from flying down the mountain on their boards or skis. Others prefer flying over the treetops at warp speeds. Take your winter vacation over the top with a zip-line ride high above the snow with a three-hour experience from one of the local companies. After you clip into your harness, you can fly through nine different courses, each ranging in length from 120 feet to 860 feet. Zoom over serene, snowy scenery and an awe-inspiring suspension bridge for a jolt of adrenaline and views of Big Bear that you just can't get anywhere else.
Skiing & Snowboarding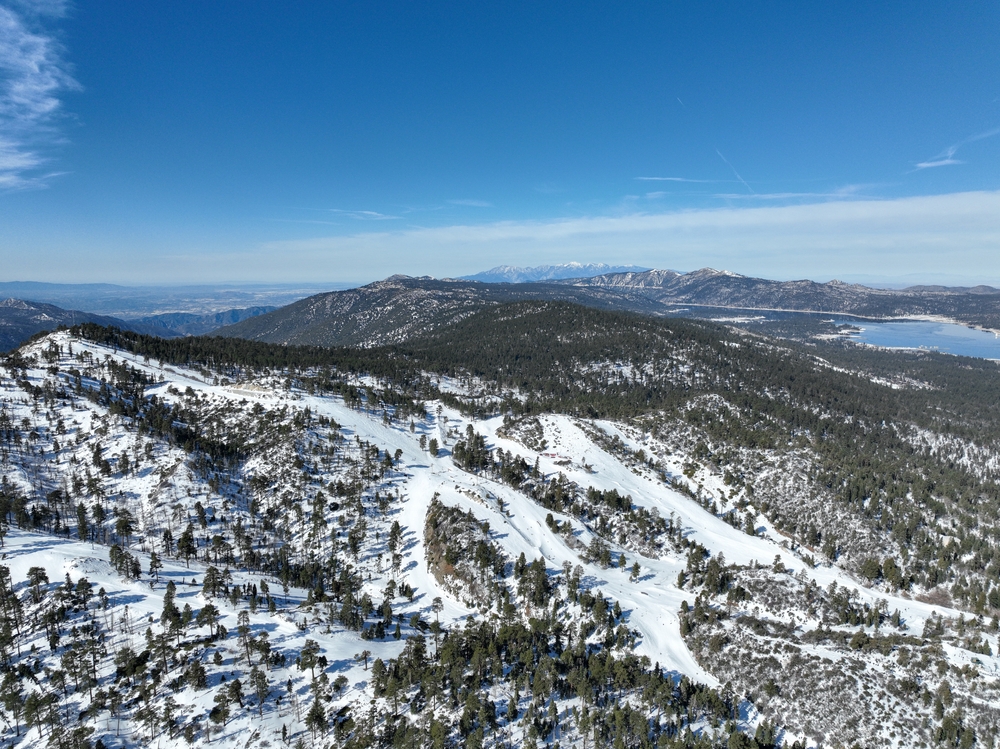 Snow Summit and Bear Mountain are two of the premier ski mountains in Southern California. Combined, these ski resorts offer over 400 acres, 26 lifts, and 55 runs, so there's no shortage of terrain to explore. Big Bear also gets around 120 inches of snow every year, making it an ideal playground for skiers and snowboarders.
If you love to shred, you might want to purchase a lift ticket and head to Bear Mountain, where you can do everything from learning the basics to honing your expert skills. Bear Mountain attracts plenty of skiers too, with its big mountain terrain, challenging mogul runs, and a number of terrain parks. If you're looking for more of a traditional, casual mountain experience, Snow Summit might be your new favorite, with its quiet trails, easy bumps, and jumps sprinkled throughout.
Snowshoeing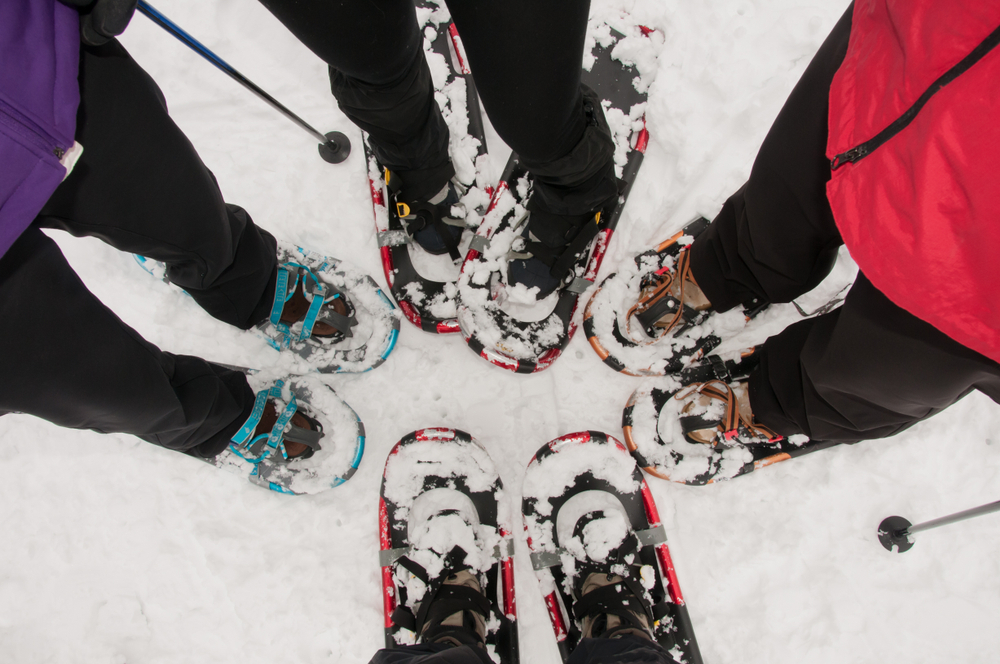 Is there anything more peaceful than being in the middle of the woods with freshly fallen snow and the people you love close by? If that sounds like your idea of a good time, snowshoeing in Big Bear might be the activity for you. Snowshoeing offers the ideal opportunity to explore Big Bear's backwoods and its tranquil, untouched beauty while gliding through the snow.
Enjoy the Zen-like environment while watching for wildlife, tracking animal prints, and getting your blood pumping in the great outdoors. Most people rave about snowshoeing in Big Bear. It's a fun, stimulating, soothing, and effective way to get a little exercise into your schedule without feeling like you're working out.
Big Bear Winter Travel Tips
Any traveler to this breathtaking valley and alpine lake should expect to have a wonderous trip. However, the overwhelming amount of things to do might have a first-time traveler reeling. Don't fret, because we've compiled some tips to maximize your fun here. Whether it's your first visit or you're a diehard of Big Bear snow activities, keep reading for some tips to enjoy everything this place offers.
Where to Warm Up Around Big Bear Lake
Your Big Bear family vacation rental isn't the only place to get out of the cold. You can warm up with the exotic dishes at Himalayan Restaurant, which specializes in dishes like palak aloo, redolent with garlic, ginger, and spices. Or, you can hit one of Big Bear's beloved après-ski spots like Le Dolce Vita Tasting Room or one of Big Bear's amazing restaurants like the pet-friendly Evergreen Restaurant or Captain's Anchorage, which specializes in steak and seafood. If you're feeling in the mood for a drink, check out Big Bear Lake Brewing Company, where you can get a good taste of the area's craft beer.
Winter Lodging Options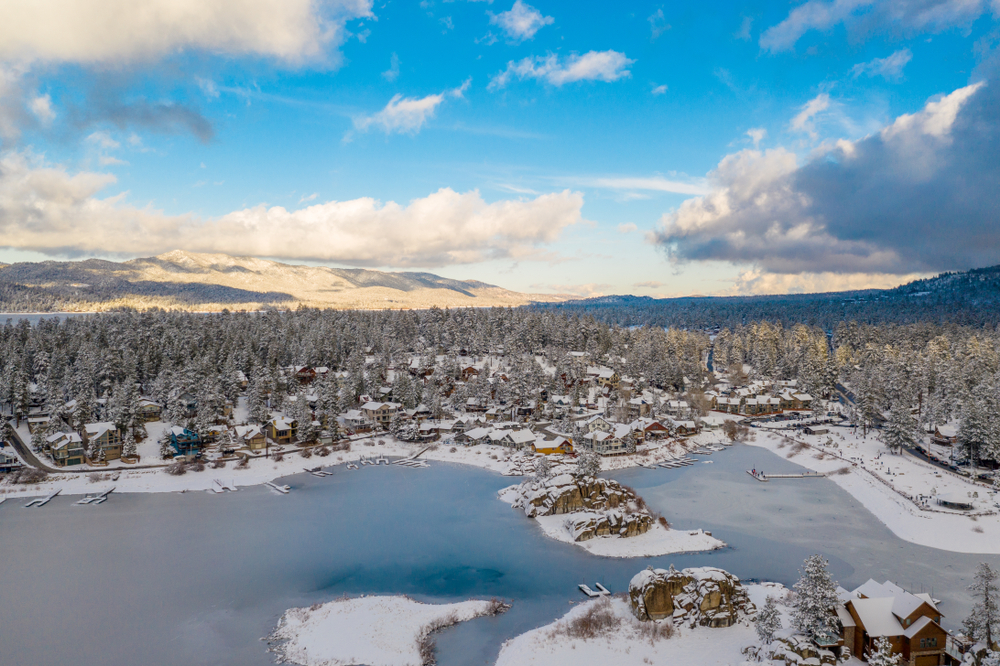 From cozy, family-friendly vacation rentals to ski-in, ski-out accommodations, you have many different lodging options to pick from, making it easier to find the one that's right for you. Choose from charming cabins and lodges, ranch-style accommodations, cozy rooms at hotels, or private vacation rentals suited for small groups and large families. It's also easy to find weekend or weeklong rentals that house bigger groups of people.
What Type of Big Bear Rental Should You Book?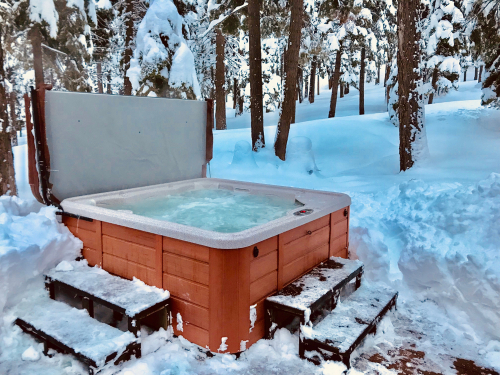 A vacation rental with a hot tub of course! Not only does a hot tub feel like a luxury add-on, but it can also provide relaxation after a day on the slopes. Big Bear vacations are usually filled with physical activity. An on-site hot tub at a rental home creates a balance of high activity with rest and relaxation.
Soaks can soothe any muscle aches or pains from minor tumbles taken on a tough run and get everyone primed for another day of skiing. This amenity also gives kids something to look forward to, while providing groups of grown-up friends with a fun hang-out spot at the rental cabin.
Staying Cozy Outdoors
Bring the outdoors indoors with the ability to enjoy the night sky in comfort, even on the coldest of winter nights. Stargazing is a notable activity in Big Bear, with the elevation and lack of city-adjacent light pollution providing a much clearer view of the sky than what you can probably get at home. It's such a prime location for astronomy that the New Jersey Institute of Technology even operates a solar observatory with a massive telescope off of Big Bear Lake.
If you take our advice and book a rental with a hot tub, there's no need to bundle up the kids or cut an outdoor stargazing session short due to cold weather. You can sink into the tub and gaze up at the stars with binoculars or your naked eyes and see the Milky Way, shooting stars, and a gorgeous view of the moon.
Book Your Big Bear Winter Getaway
With its abundance of winter activities and close proximity to Los Angeles, Big Bear is a winter lover's dream come true. Find out for yourself why people keep returning to this magical place every winter.