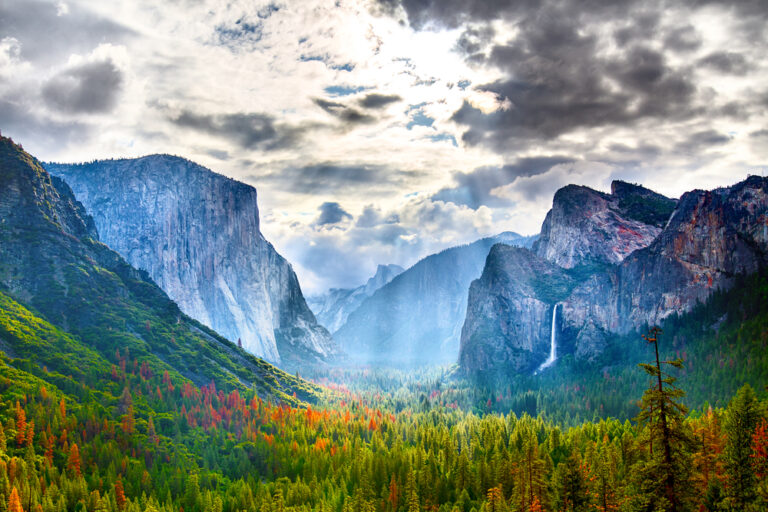 Let's start by saying this, Yosemite is one of the most magical places in the United States, if not the entire planet. The central California National Park has been protected by the U.S. federal government since 1864. Since then, the world-famous site is home to endless beautiful waterfalls, giant sequoia trees, and a network of valleys and meadows. Hundreds of thousands of visitors head to this natural wonderland during all seasons of the year for chance to experience the epic nature preserve which spans more than 1,200 square miles. Yosemite creates a connection with man and nature in a way that is hard to describe.
With many ways to experience this natural destination, we decided to put together this article that focus on cabin rentals in Yosemite. VacationRenter, being a California based company, has written several guides about this epic national park. Whether you are looking to visit for the day for an outdoors adventure, spending the weekend camping, or looking for luxurious accommodations, we are here to help you prep for what could be your new favorite place on earth.
It's the ultimate spot for camping enthusiasts who want a chance to immerse themselves in the midst of a natural treasure. If you're still not sure about spending time in this area, here are several reasons to persuade you to give Yosemite Valley a chance
This Isn't a Typical Camping Trip

Yosemite cabin rentals in the park are not your average camping accommodations. These cabins range from cozy yurts to giant luxury homes perched between sections of the woods. Whether you're working with a small budget or going all-out, you can expect to be comfortable during your stay with such a wide array of options. Those renting cabins can expect typical vacation rental amenities, including small kitchens, beddings, and towels. Having a kitchen to utilize during your stay is a huge perk as you can cook at home, pack lunches for daily adventures, and provide a more homey cabin feel. Cabin rentals in Yosemite are plentiful and you should have no problem finding the perfect one.
Pack up your car, head to a grocery store to load up on yummy food and drinks, and head over to your home for the next couple days. You now live in Yosemite Valley!
Get Ready to See Some Wildlife

Yosemite National Park is home to more than 400 wild animal species, including some particularly cute ones. Hike along one of more than fifty trails where you just might end up seeing bobcats, mule deer, coyotes, bighorn sheep and American black bears. While they may be cute, be sure to always practice caution, they are still wild after all. Because this natural setting is protected, pets are not allowed on any hikes and trails in order to avoid disturbing the wildlife in their natural habitat. Make sure to check the policy of your Yosemite cabin rental and double check if pets are welcome during your stay.
Never Seen the Stars So Bright

Out in the wilderness surrounding Yosemite cabin rentals in the park, there's very little light pollution to spoil your view of the stars. See the Milky Way in ways you've never seen it before – bright and big enough to make your heart skip a beat. If you're into astronomy or looking for night activity, try a guided star tour. Those who opt for camping in Yosemite have the option of sleeping under the stars compared to those renting cabins. If you are renting a cabin in Yosemite, make sure to head outside after the sun goes down for a few minutes each night. Don't waste the opportunity to see this magical place light up at night!
Things to Do
There are really endless things to do here. With no shortage of hikes and trails, an outdoorsy visitor will be in paradise. But hiking and being outside are not the only exciting activities! Whether you are an artist, birdwatcher, wildlife enthusiast, or just looking to relax, then luck has come your way! Check out some of our favorite things to do in Yosemite.
Unleash Your Inner Artist

The plethora of waterfalls, forested spaces, desert trails and animal life inspires the artist in many people. Join a guided art group to learn more about the craft to get in touch with your inner artist during your special trip. Yosemite organizes art classes for kids and adults. Try painting, drawing, and crafting up a piece of art that will allow you to remember your magical trip.
Try Outdoor Sports
Visiting in the summer? Set up a rafting trip down the Merced River. Prefer to rent a cabin during the winter months? The Yosemite Ski & Snowboard Area might be right up your alley. Come here for downhill or cross-country skiing, snowboarding or tubing. Mountain biking and jogging in paradise may be your fancy. Yosemite has all of the outdoorsy types of sports one can dream of.
Go Hiking
Some of the best hiking is in Yosemite Valley. The park has trails that fit all interests and intensity levels. Whether you are looking for a casual stroll, or seeking an all out journey that goes through mountain peaks and involves climbing, Yosemite has you covered. After a great day of hiking, you'll be happy to head back to your Yosemite cabin rental for a nice hot meal and a great night's sleep.
Beginner Hike
Vernal Falls is the tallest waterfall in Yosemite National Park. It drops for 317 feet (97 m) down to the Merced River below, covering some 26 acres of rock face. A popular trail meanders behind Vernal Falls, through ancient sequoias and past interesting outcrops of metamorphic stone. Trailhead: The hike starts at Happy Isles in Yosemite Valley. This is a level stroll on a paved trail, suitable for most visitors including seniors, children, and families with young children.
Distance: 1.5 miles (2.4 km)
Elevation gain: 100 ft (30 m)
Intermediate Hikes
A strenuous hike from May Lake to Mount Hoffman, climbing Yosemite's highest mountain in the process. The trail is a steady climb but provides stunning views along the way of Tenaya Canyon and Half Dome. Trailhead: Tioga Road at May Lake Parking Area
Distance: 9 miles (14 km) roundtrip
Elevation gain: 2200 ft (670 m)
Advanced Hikes
The route to the top of Half Dome consists of two challenging trails—the Mist Trail and the John Muir Trail. Both are strenuous, steep, and involve rock steps. The Mist Trail is now paved most of the way to the sub dome where you find cables for climbing up granite slabs before you reach the summit. The hike to Half Dome requires at least an overnight stay in the wilderness since it is a 16-mile (26 km) round-trip journey. Trailhead: The hike starts at Happy Isles in Yosemite Valley, or you can start from the north trailhead near Camp 4 in Tuolumne Meadows approximately 90 miles (145 km) east of Yosemite Valley.
Distance: 16 miles (26 km) round-trip
Elevation gain: 4,800 ft (1,600 m).
Yosemite Is Calling
However you decide to spend your time at Yosemite National Park, there's a nice, soft bed and fully stocked kitchen waiting for you. Ready to enjoy the incredible sights of Yosemite? Book your stay on VacationRenter!