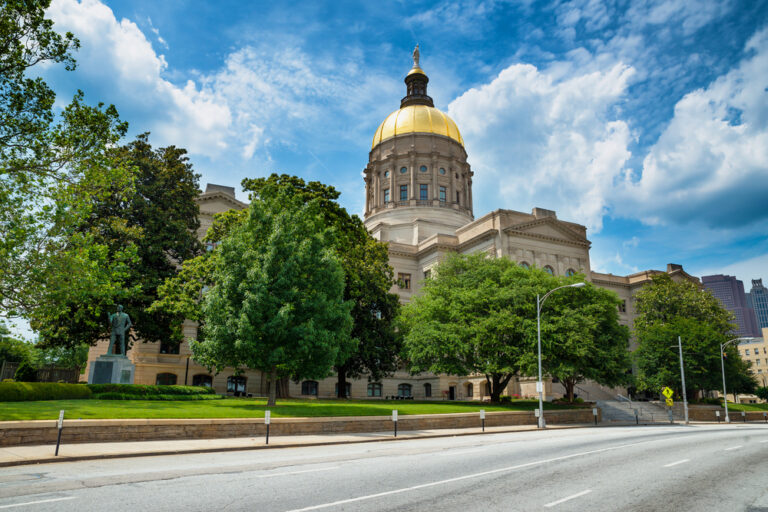 From the days of the Native Americans to the Civil Rights era, Atlanta, has a rich history that residents and tourists alike celebrate each day. Museums, historic sites, and other Atlanta attractions tell the story of the years leading up to the present, and they often attract visitors from around the world. Georgia's rich history is packed into many establishments that will let you gain perspective of the many events that have happened locally to this area.
There are many places to visit in Atlanta. Booking a trip to the ATL will be fun no matter what your interests are, but if you are a history buff like we are, you are going to the right place. While you plan your trip, take time to explore some of these 10 historical sites in Atlanta that are both educational and entertaining.
Where to Stay
Atlanta is a pretty big place. The information that follows should help you find the perfect area while still saving money. There are three major areas or districts that people typically visit while in Atlanta. Those areas are downtown, midtown, and Buckhead.
Buckhead is the wealthiest district in Atlanta and is located north of downtown and midtown. It offers mostly upscale hotels that cater to a more affluent clientele.
Midtown is directly north of downtown and is characterized by its bustling nightlife and the urban scene.
Downtown, on the other hand, is quieter and more laid back with plenty of historic sites, antique stores, and restaurants.
The ideal way to find the best place to stay while visiting historic Atlanta is to pick out the historical sites you are most interested in visiting and taking into consideration where they are located. Then, choose a neighborhood that is central to your favorites.
Atlanta History Center

Start at the Atlanta History Center, which dates back to 1926 and sits on 33 acres of historic land in the city's Buckhead district. Some of its features include the Atlanta History Museum, the Swan House, the Smith Family Farm, the Centennial Olympic Games Museum, a tea room and gardens and trails.
Grab your tickets online, which start at $23.41 for adults along with discounts for Seniors, Kids, and Students. Explore the 30+ acres of gardens, houses, and exhibits and once you work up an appetite, stop by one of the few diverse food and beverage offerings to replenish some energy!  Brash Coffee Roasters is one of our favorites! The food establishment is located inside the Museum and is open Monday–Friday 7am–4pm, with weekend hours of 8am–4pm.
Fernbank Museum of Natural History
Learn about Georgia's natural history at the Fernbank Museum of Natural History, which sits on 75 acres and features both indoor and outdoor exhibits. This kid-friendly museum has everything from dinosaurs to Native American artifacts. Be sure to see a movie at the IMAX theater before you leave. Check out Fernbank After Dark for a night time adventure! The park features many events through out the year ranging exciting different themes, make sure to review the calendar while planning your trip.
Fox Theatre

Considered one of Atlanta's top attractions by many publications, the Fox Theatre is a majestic venue that hosts Broadway musicals, concerts and other shows throughout the year. Take in a show, or tour the theater to get a glimpse of its stunning Arabian decor and ornate architecture. If you are visiting during the New Year and love exhilarating live rock and roll music, try finding a ticket to see Widespread Panic at the Fox Theatre! The band is hosted for annual New Years residency and is known as one of the best rock and roll concerts available!
Jimmy Carter Presidential Library and Museum
Get a glimpse of American history through the eyes of one of Georgia's most famous residents: former President Jimmy Carter. The Jimmy Carter Presidential Library and Museum are home to Carter's Nobel Prize, a replica of his Oval Office and thousands of other items from his presidency. Similar to the other museums we have mentioned, this historical establishment also hosts many events throughout the year.
Chick-fil-A College Football Hall of Fame
College football is king in the South, and you can learn all about its history at the Chick-fil-A College Football Hall of Fame. Bring the kids along to take part in interactive football-themed exhibits. If football is your thing, this sports museum is not to be missed. Try kicking a field goal or running practice routes on the Indoor Playing Field, or roaming around the Game Time Gallery, or checking out the Game Day Theater for an interactive perspective of the 4 K media used in College Football. For a list of nearby attractions like the Georgia Aquarium, Center for Human and Civil Rights, click here.
Martin Luther King, Jr. National Historic Site
At one of Atlanta's top tourist destinations, you can learn all about Dr. King and the Civil Rights era by visiting the Martin Luther King, Jr. National Historic Site. See his birth home, visit the International World Peace Rose Garden, check out the King Center and explore Ebenezer Baptist Church where King preached. Learning about the life and legacy of Dr. King will serve as an inspiring afternoon. Located at 450 Auburn Avenue, NE in the 30312 area code, visitors can enjoy free entry 7 days a week. Keep in mind that this historical site is closed on most national holidays.
Margaret Mitchell House

We know we mention the Atlanta History Center but we figured that we had to pay tribute to the Margaret Mitchell House. Located in Midtown and operated by the Atlanta History Center, you can explore the world where famed author Margaret Mitchell wrote her beloved novel "Gone with the Wind." It's also home to exhibits relating to the book and movie. This is one of the many exciting historic locations that the Atlanta History Center operates and is definitely not to be missed.
Stone Mountain Park

Stone Mountain Park is located just outside of Atlanta, but it's one of the area's top attractions and features plenty of Civil War-era history. There are also numerous fun and seasonal attractions to check out, including the nightly laser show. Grab an aerial view by trying the Summit SkyRide or if golfing is one your hobbies, give one of the 18 hole courses a try.
Delta Flight Museum

Delta Airlines is headquartered in Atlanta, and the company has turned its original 1940s-era hangars into a flight museum. View hundreds of items, including old plans, related to Delta's history. General admission tickets are available online and cost $15 for adults and only $10 for children, making this location an affordable outing.
Interested in trying out what it's like to be a real life pilot? The Boeing 737-200 full motion flight simulator is available to the public and is used for real life pilot training! If you are fascinated by aviation, this place is for you.
Historic Oakland Cemetery

Before you leave town, take a stroll through historic Oakland Cemetery in Downtown Atlanta. Famous Atlanta residents, like Margaret Mitchell and Bobby Jones, are buried here among the old oak trees and magnolias. Enjoy the cemetery's beautiful architecture and unparalleled views of the Atlanta skyline.
After roaming around these beautiful burial grounds, grab a bite at Mezcalito's Cocina & Tequila Bar for some delicious and authentic Mexican food. Enjoy classic tacos, enchiladas, tortas, and more at this epic (and massive) establishment.
Atlanta's History is Pretty Cool
As you can see, there are plenty of historical sites to take in during your trip to Atlanta. Whether live music at the Fox theater or catching up on the latest aviation trends are your thing, there are many offerings in The ATL. Book your vacation rental or hotel today and get planning!