Traveling with family is an excellent way to bond, find time to relax, and enjoy each other's company — not to mention, it gives you a chance to snap photos so you can fill your albums with incredible memories.
However, for many people, keeping an eye on the budget is an important part of planning these types of trips. Fortunately, there are a number of family-friendly trips that will allow you to save money without neglecting the fun.
Key Points
Find great vacation ideas that are fun for the whole family
Uncover tips and ideas to help you budget for family vacations
See how you can plan a family-friendly, affordable vacation everyone will love
This article will explore some vacation ideas to help you plan an unforgettable family vacation without going too hard on the wallet. Here are some ideas for the best family vacations.
9 Cheap Family Vacation Ideas
Everyone's idea of a vacation tends to differ. Some people find spending time at the beach — where they can spend their days dozing off and listening to the waves — is the ideal way to relax. Others appreciate the hustle of cities like New York and Orlando, or the activity-packed days that come with hiking trails and exploring national parks.
Regardless of your idea of a good time, there are strategies you can use to save money without compromising on the fun that comes with a family getaway. With kid-friendly vacation ideas across the USA, you can be confident you'll find a trip that works for you and your family. Here are nine ideas to get you started.
Visit a National or State Park
National parks offer incredible places to visit across the country. With over 60 national parks in the U.S. and at least one in nearly every state, millions of people are well within driving distance of a breathtaking outdoor adventure. To keep yourself on a really strict budget, you can easily take a day trip, pack a lunch, and have an incredible adventure without breaking the bank.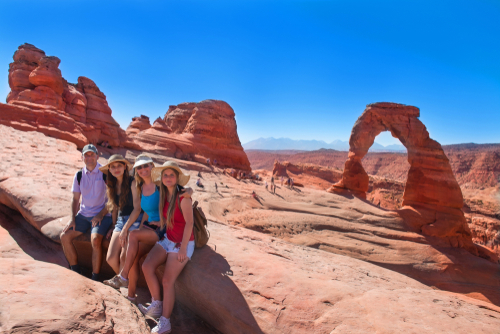 Even if you want to turn it into an overnight trip, visiting a national park can come at a budget-friendly cost. If you're feeling really adventurous, you can even camp in the national park itself! With minimal fees to enter the parks — some parks have free-entrance days, while others are free all the time — you'll have days of activity and excitement ahead of you, leaving you only having to think about the price of your accommodations.
Various parks stretch across all corners of the country. Consider planning a trip to:
Yellowstone National Park, spanning across Wyoming, Montana, and Idaho to see hot springs and geysers, including Old Faithful
Acadia National Park in Maine
Shenandoah National Park in Virginia
Rocky Mountain National Park in Colorado
Grand Canyon National Park in Arizona
You can also visit the various national monuments run by the National Park Foundation, such as the Aztec Ruins National Monument.
Find a Place With Lots of Free Outdoor Activities
There are plenty of locations across the country that offer outdoor activities. Swimming at beaches, rivers, and lakes can often be done at a minimal cost, especially when you venture to public access beaches or lakes, such as Myrtle Beach in South Carolina. This is also the perfect time to be a little daring with water sports, like water skiing and windsurfing, which is sure to keep the whole family busy.
Other water-based outdoor activities at your vacation spot might include snorkeling or rafting, which is sure to inject some fun into your trip without breaking the bank. But don't worry — there are plenty of drier outdoor activities for family members who may not enjoy getting wet, like hiking, biking, or horseback riding.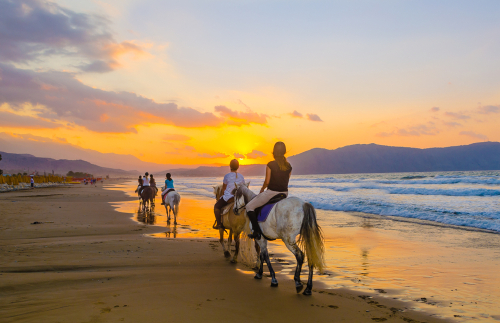 If your family is more interested in a more urban environment, a city like Washington, D.C. can fit perfectly. With monuments to explore, numerous free museums within the Smithsonian Institution, and plenty to see without having to pay any admission fees, the country's capital can work well for those who want an affordable city experience.
Other outdoor or free activities might include:
Visiting the Great Lakes
Seeing Niagara Falls
Hiking along the Appalachian Trail
Stay a Bit Closer to Home
Some great family vacation destinations might not be as well-publicized as the Caribbean, but they still offer plenty to do. For example, instead of flying to Mexico or Hawaii for a gorgeous beach getaway, consider staying in an oceanfront vacation rental in Texas, North Carolina, or South Carolina. These seaside states can offer a great experience at a lower cost than other destinations.
Consider a Road Trip
A road trip can be an excellent way to see a variety of places that the United States has to offer. By taking your car and hitting the road, you can explore local parks, monuments, historical sites, and points of interest without having to pay for flights.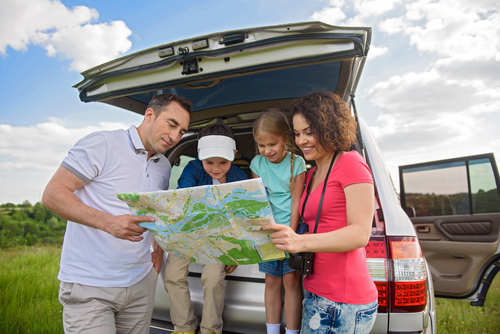 You'll also have the flexibility of finding affordable places to stay along the way. For example:
If you want to explore a few destinations in the Dakotas, you can take the Badlands Loop State Scenic Byway, see some history — including Custer State Park — and experience some incredible scenes along the way.
In the eastern part of the country, you can take the Blue Ridge Parkway from Shenandoah National Park to Great Smoky Mountains National Park. Beautiful scenes and fun stops like Luray Caverns will dot your journey.
Consider the Pacific Coast Highway along the California coast, from San Francisco to San Diego. Easily access a variety of cities for day excursions, see the Golden Gate Bridge, and hike through magnificent redwood forests.
As you tour these major sites, you can also break up the trip with some fun, affordable activities, such as mini-golf.
Visit Popular Areas During the Offseason
If you and your family have your hearts set on visiting popular vacation destinations, you can also save some money by visiting in the offseason. For example, East Coast beach towns might be more popular in the summer months, but venturing there after Labor Day and until late September might make it easier to find deals on accommodations and activities. You'll still get to walk the beautiful beachfront and relax while experiencing the local culture, but without the hefty price tag.
Similarly, if you really want to hit the Florida coastline for a beach vacation, consider going in the heat of the summer. It's not as popular since it can get really hot out, but if you spend your time in the water, you may find that you and your family enjoy your time just the same.
Look for Bundle Packages at Amusement Parks
For families who love visiting amusement parks such as Disney World or Disneyland, you can tap into your favorite activities without paying full price for every member of your family. Instead, take the time to research package deals, bundles, and discounts available at the different parks throughout the year. You might find discounts based on the time of year that you visit, buying tickets online ahead of the trip, or during sales that a park might have.
Similarly, if you want to take your trip during the heat of summer, you can use a similar strategy to help you find great prices on water park tickets. Enjoying giant water slides that let you splash into swimming pools, tackling wave pools, tubing over a lazy river, and otherwise leaving a fun-filled day soaking wet will surely create lasting memories for your family.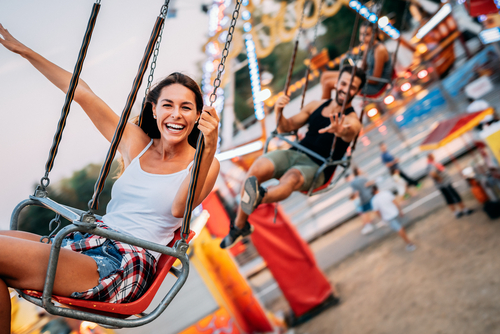 Consider Traveling With Another Family
If another family has similar ideas about traveling as your family does, traveling with them could be an excellent way to save money on your upcoming trip. For example, splitting the cost of a slightly larger rental house with another family can quickly lower the total amount you pay for your accommodations. You might even be able to get discounts on other parts of your trip — such as a tour guide or admission tickets — if you have a big group. If you take a road trip together, you can split the cost of gas or the cost of an RV, lowering the total amount that comes out of your pocket.
Traveling with other people can become a tricky proposition without open communication, however. Make sure you both have the same ideas regarding the budget for the trip and how you'll split the costs that arise throughout the journey.
Plan Your Trip Early
Planning your trip early can also help your family save money in a variety of ways. When you have an idea about a trip you want to take, this gives you greater opportunities to look for discounts and deals. You can watch price fluctuations and seize opportunities as they arise. Sometimes, you might be able to find specials for people who book far in advance, as most tourist destinations and accommodations want to make sure they maximize their sales for the upcoming travel season. Consider these steps:
Speak with your family and determine the type of trip you want to take. Interested in hiking, biking, and exploring? Prefer to do amusement parks or theme parks? Want to go to the beach? Make your decision about where to go.
Choose the time of year you want to go, but be flexible about your exact dates. You'll find it easier to get deals if you're willing to adjust by a day or two in either direction.
Set up price alerts for your location and what you want to do there and watch price fluctuations.
Search for deals and discounts in the area.
Research how quickly places to stay in your desired location fill up so that you know when to book your accommodations.
When you see a good deal, snatch it up.
Get ready for your trip, and take plenty of pictures!
Consider Staying at a Vacation Rental
One of the biggest expenses people encounter when trying to plan an exciting, family-friendly trip is the price of their accommodations. Paying for accommodations for an entire week — with enough space for everyone in your family — can be a challenge. Not only does it quickly get pricey, but parents trying to tiptoe around sleeping children and siblings kicking each other in the bed can quickly test anyone's patience.
Consider renting a home or condo during your stay. Staying at a vacation rental is often an affordable alternative to other sleeping arrangements. It also comes with a number of benefits, including:
You won't have to eat out for every meal. With a kitchen available, you can have cold milk and cereal available for an easy breakfast or sandwiches for lunch.
If you have pets, you might even be able to bring them with you on your family vacation. Why leave the pup at home when he can explore the backyard of your vacation rental?
You have more room to spread out. The chance for family members to maintain their typical schedules can help everyone feel more relaxed, which will help everyone feel rested and save everyone's sanity.
Find a Family-Friendly Rental Through VacationRenter
The right vacation can provide you and your family with incredible memories. Spending your days together in a relaxed atmosphere can help everyone feel closer and allow you to have an unforgettable time. The best part is that this type of trip doesn't have to break your budget.
Instead of spending more than you can afford on a vacation, plan a budget-friendly trip that everyone will love. With the proper planning, your family can uncover some incredible experiences in every corner of America.
As you look for accommodations, remember the cost-saving potential and comfort that comes with a vacation rental. Let VacationRenter help you find the perfect place to stay for your upcoming trip and see the value of uncovering your home away from home.
Mentioned In This Article