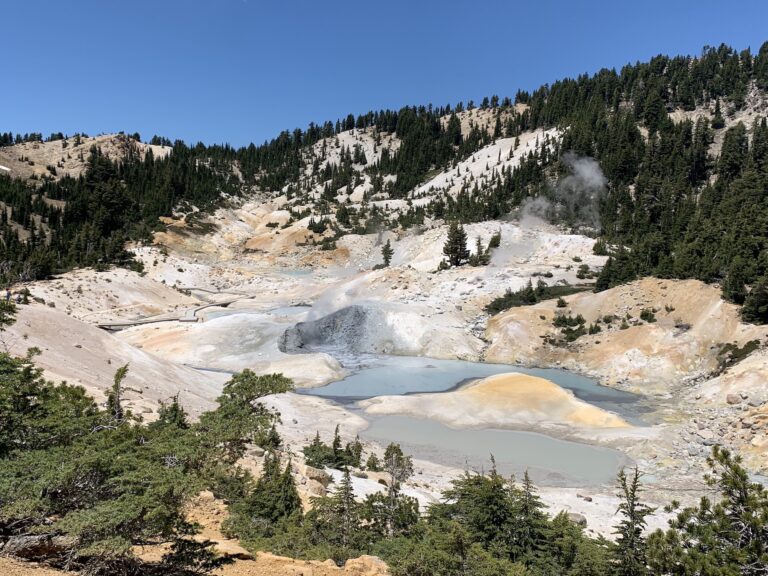 As RV trips rise up in the rankings as one of the best forms of travel in 2020, it goes without saying that we had to take a road trip this summer to experience it for ourselves. This summer, we sent some of the VacationRenter team members on their first RV adventure — from our home base in San Francisco to Lassen Volcanic National Park — with the help of our trusted RV partner, Outdoorsy!
The beauty of RV travel is that you get to choose your own adventure, with the convenience of having your lodging accommodations easily accessible every step of the way. Pit stops become a thing of the past with a bathroom on board; there's more than enough legroom for everyone; you don't need to play Tetris with your belongings in the backseat; and time spent in traffic seems to fly by for passengers while playing cards around the dining table — strapped to seat belts, of course.
If you're interested in a long-haul excursion to explore the beauty of California, you might want to add Lassen to your national park itinerary. Pro tip: be sure to purchase a National Park Annual Pass for a year's worth of unlimited access to national parks all over the country for only $80. Standard entrance fees normally cost $35 per visit.
Read on to join us on our first RV experience.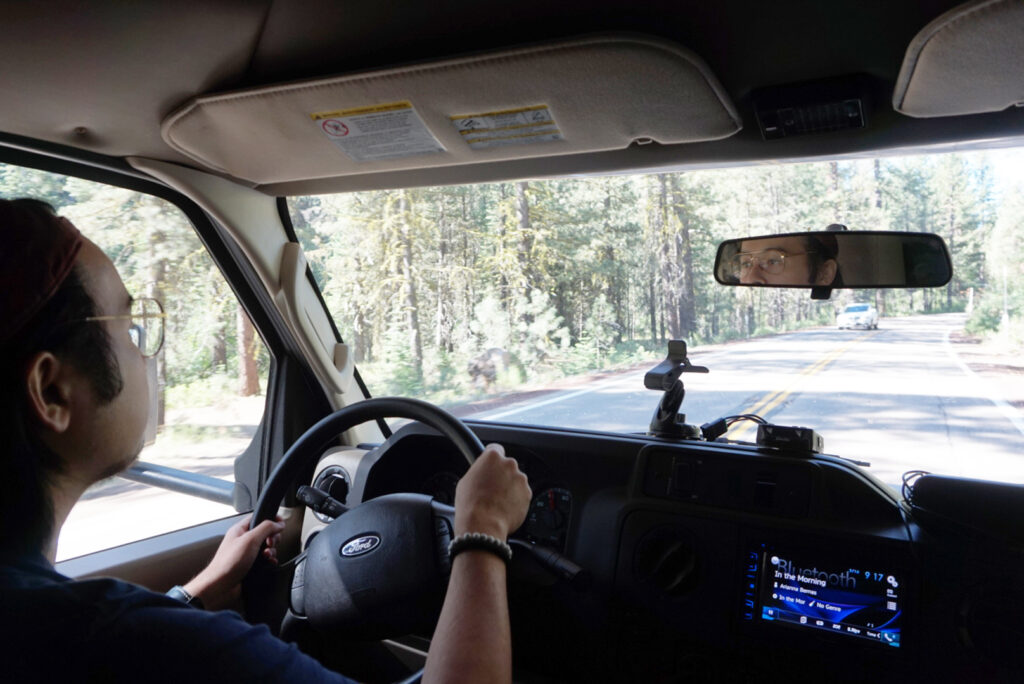 Day 1: Butte Lake Campground
On the first day, we reserved a campsite in Butte Lake. Upon arrival, it was a breath of fresh air to skip pitching tents and setting up camp. We cooked a delicious meal in our fully functioning kitchen and toasted to the convenience of the #vanlife.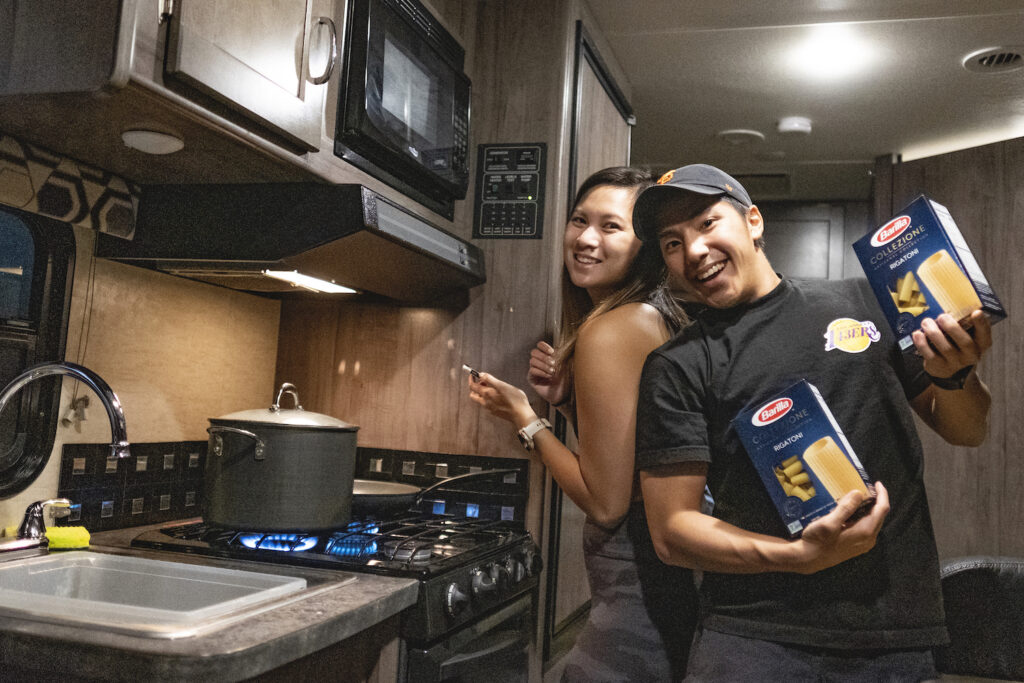 In this area, you have the ability to explore a couple of unique sites. Your first option is to hike the Cinder Cone Nature Trail, which requires no additional driving, as the trailhead lies just a minute walk away from the Butte Lake Campground. Cinder Cone is one of four volcanoes within the park, known to have last erupted in the 1650s.
This challenging four-mile loop leads you to a lookout area of the Painted Dunes, a marvelous stretch of multicolored rolling hills. Its various vibrant shades are a result of oxidized volcanic ash from centuries ago.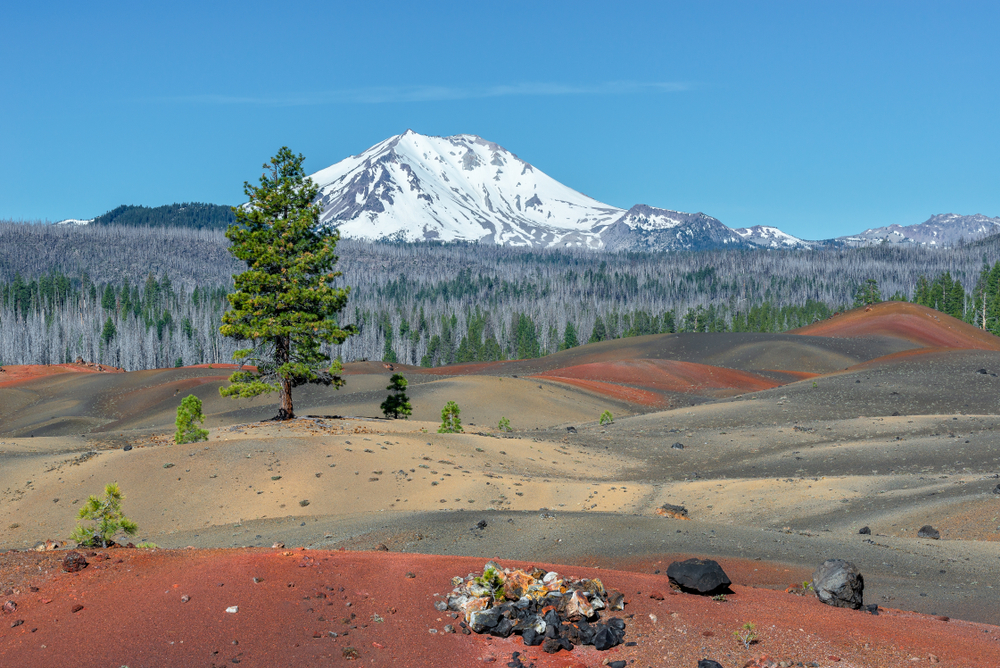 The second option requires an hour drive north, but less than a 15-minute walk to the breathtaking sight of Burney Falls. Although this isn't quite in Lassen Volcanic National Park anymore, it's definitely worth mentioning because it requires much less physical effort than the Cinder Cone hike, with a spectacular reward.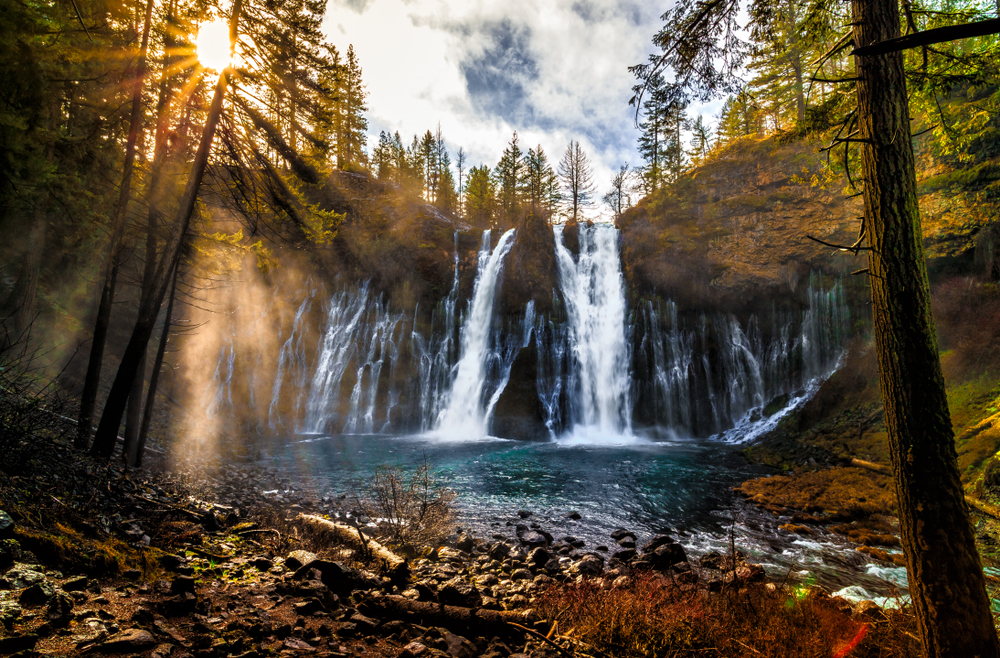 Day 2: Manzanita Lake Campground
Luck was on our side in more ways than one during this trip. We were visiting the park during the 4th of July weekend, and for the last couple of months prior to our departure, the most sought after hike within the park — Bumpass Hell Trail — was closed due to snow.
Knowing this, we were slightly bummed beforehand, but to our surprise on the way to Lassen, the National Park Service updated their official website with announcements for the 4th of July weekend. The first update shared that the Bumpass Hell Trail was officially open, which we took as a good sign. The second update disclosed that all campgrounds were full, which at first seemed like a disadvantage for us because we were hoping to score a first-come, first-serve campsite for the remaining two nights of our trip. But on the bright side, we could rely on our trusty RV, so if all else failed, we were prepared to park in Lassen National Forest and sleep somewhere in the outskirts of the park. Campsite or no campsite, we were left with the peace of mind of having a comfortable place to sleep at the end of the day.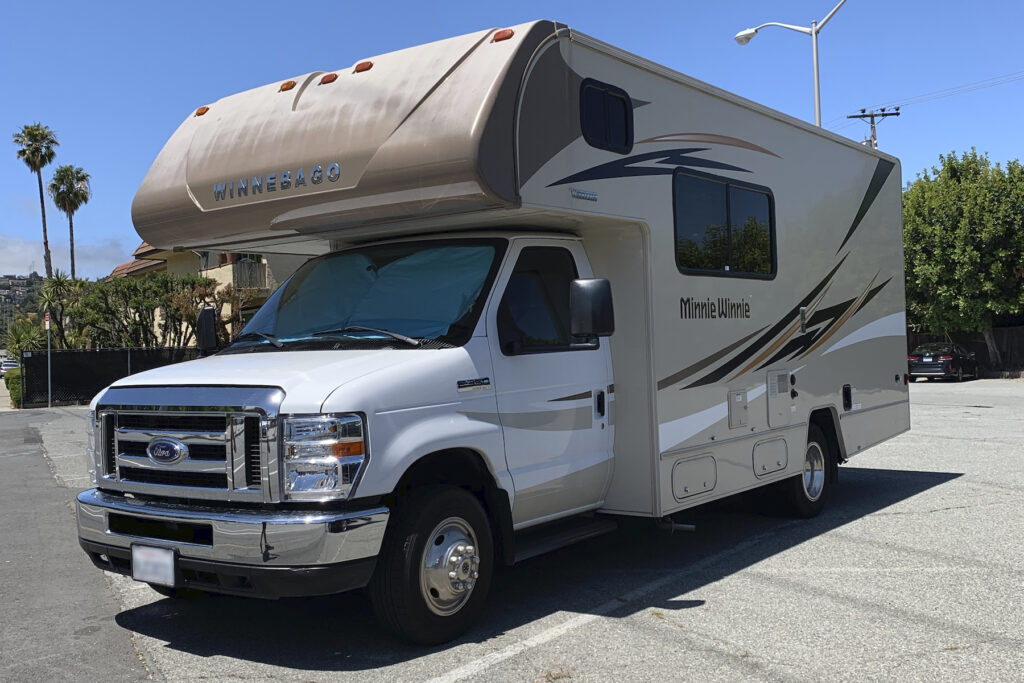 On our second day, we decided to drive to the Manzanita Lake Campground, in hopes of getting a first-come, first-serve campsite. We got there just after 9:00 AM, spoke to the campground host, and with luck still on our side, we were able to get a campsite!
With everything falling into place for the rest of the day, onto Bumpass Hell Trail we went. As we made our way to the trailhead, we drove past Lassen Peak and the beautiful blue Lake Helen. Lassen Peak is another volcano located within the park, with a steep five-mile hike.
After expecting it to not be available on this trip to Lassen, we finally ended up at the destination we'd all been most excited for: Bumpass Hell Trail. In total, the complete hike is roughly six miles round-trip and good for all skill levels.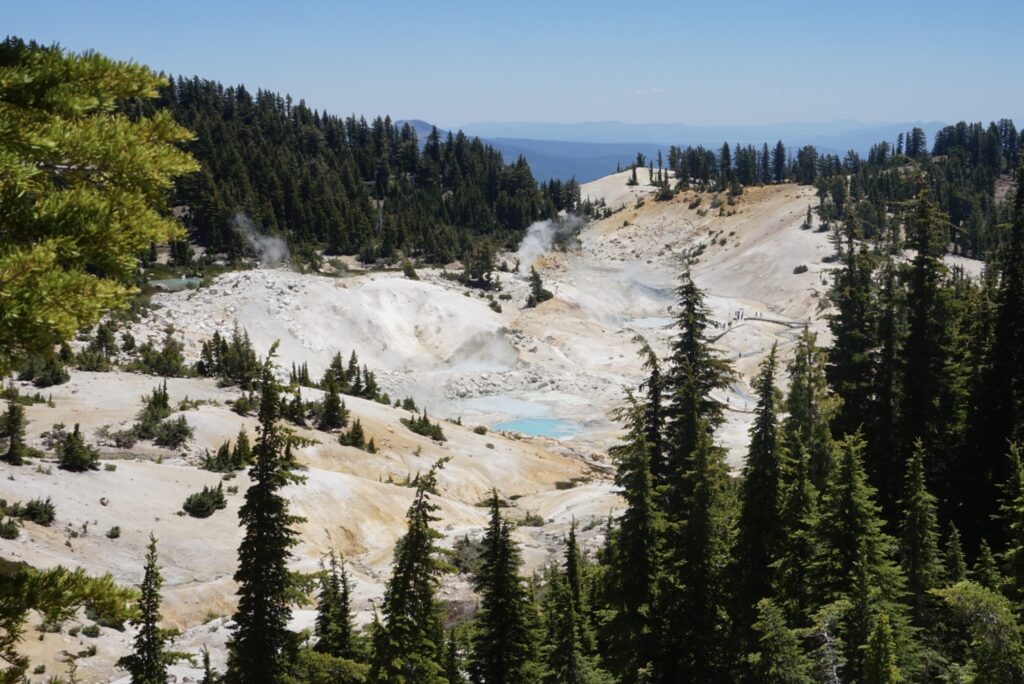 As you get closer to the boiling pools, you'll get a better idea of how the trail got its name, but its geological beauty is an absolute wonder to behold. A manmade boardwalk allows you to get up close and personal with the hydrothermal pools and bubbling mud, too.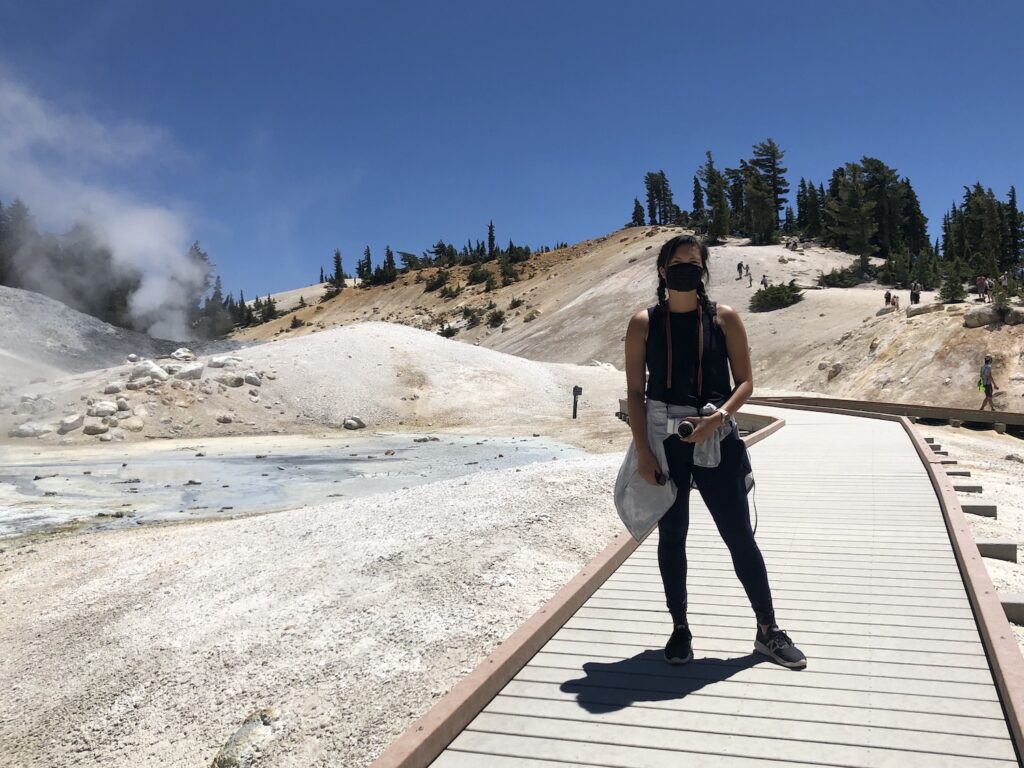 For a trail that suits a variety of hikers ranging from beginner to advanced, this view deserves a ten out of ten.
At the end of a full day hiking under the sun, it felt incredibly refreshing to be able to take a nice warm shower and curl up in a cozy bed. In the middle of a pandemic, with hygiene and cleanliness playing a larger role in everyone's daily lives, it was also extremely convenient to have our own private bathroom readily available.
Day 3: Manzanita Lake Campground
Another major advantage of camping in an RV is that your sleep isn't interrupted by the scorching hot sun when it's over 70 degrees at sunrise. We woke up each day surrounded by all of the creature comforts we could possibly want. Every morning, we had the ability to brew ourselves a cup of coffee and freshen up before exploring the beauty of Lassen, feeling totally invigorated and refreshed.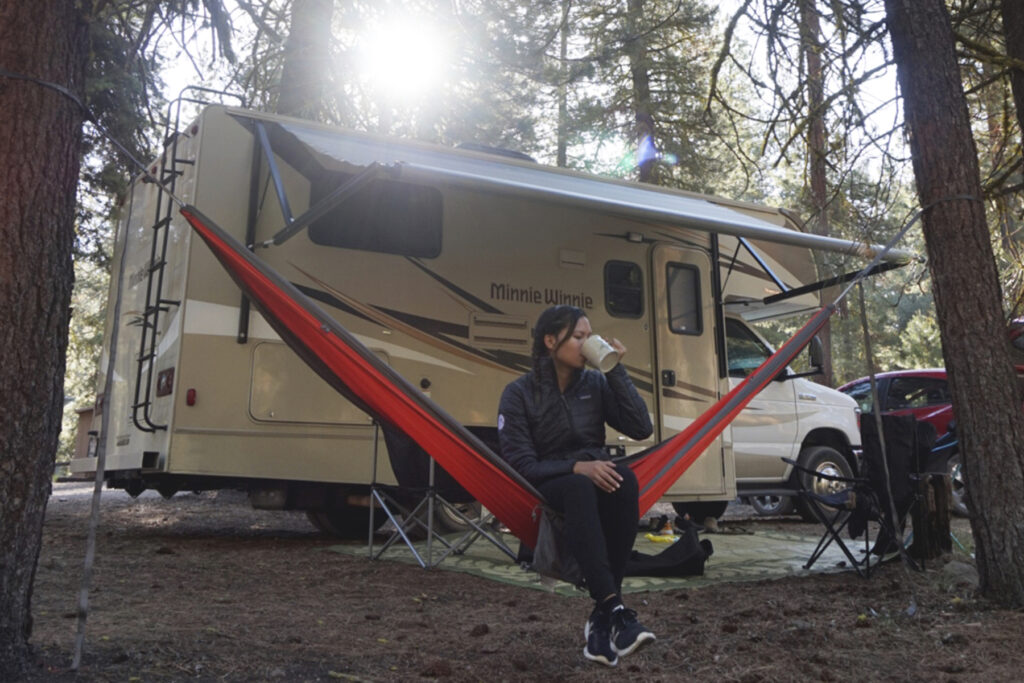 We spent our third day relaxing at the campsite and making the most of our house-on-wheels. One key takeaway from this experience is that having an RV makes camping seem so easy. You feel like you can enjoy the great outdoors for far longer durations than even an experienced camper could do in just a tent.
Right before sunset, we hiked around the Manzanita Lake Loop. A beautiful wander alone, but was made even more majestic by an eagle and its eaglet taking flight.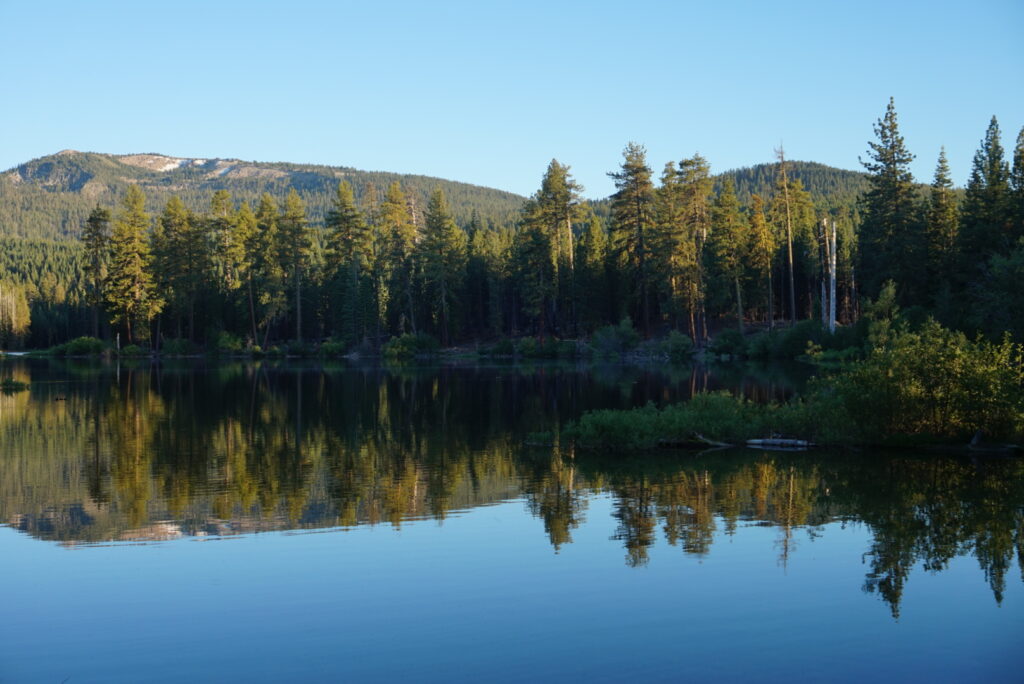 Day 4: Homeward Bound
As we made our way home after a much-needed getaway, there was one final exciting element about being in an RV in the time of COVID-19: with a majority of restaurants not offering dine-in seating, being able to sit around our own private dining table in a location, even as utilitarian as a parking lot, was a game changer. Long gone are the days of worrying about dropping crumbs on your car seat.
Overall, traveling in an RV was the best decision we could have possibly made for this trip and I highly recommend it to anyone who craves a change of scenery during these unprecedented times. If you're not sure what the best type of RV is for you, check out this helpful guide for a full rundown on all the different types of RVs out there. Before you know it, you'll be hitting the road on an RV adventure of your own.
Thank you to VacationRenter and Outdoorsy for making this experience such an incredible one!